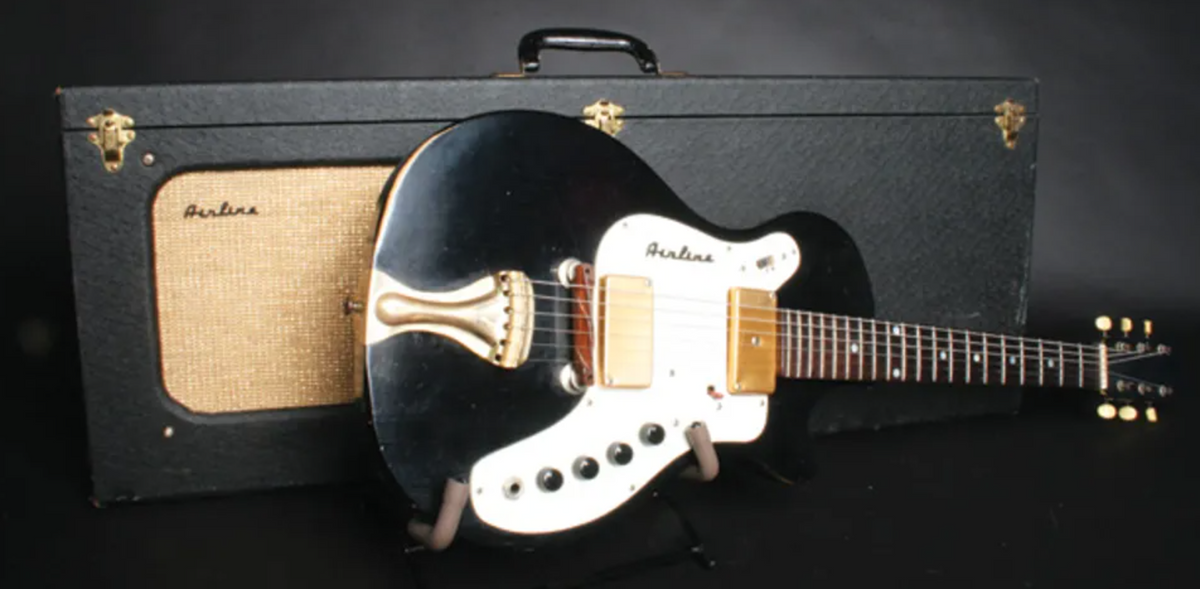 Photo by Chris McMahon
For much of the 20th century, Chicago was the epicenter of musical instrument manufacturing and distribution. Here, guitarist Daniel Ivankovich shares two-dozen favorites from his personal collection.
Chicago built guitars the way Detroit built cars.
For much of the 20th century, the United States was largely rural and people tended to buy guitars and other musical instruments from catalogs. Chicago's centrality—with access to the Mississippi River, the St. Lawrence Seaway, and later the rails and highways—made the city a major manufacturing, commercial, and distribution center. It's no accident that catalog and retail giants Sears, Roebuck & Co. (for many decades America's largest retailer), Montgomery Ward, Spiegel, and others were founded there, and that these retailers played a critical role in the creation and distribution of guitars, amplifiers, and other musical instruments.
"From the 1930s through the early '60s, Chicago was the world capital of guitar making," says Daniel Ivankovich, AKA Chicago Slim, guitarist for the Chicago Blues All-Stars, orthopedic surgeon, and medical director of the OnePatient Global Health Initiative. "National, Supro, Harmony, Kay, Silvertone—they were all made here by the hundreds of thousands."
"British musicians were enthralled by anything black and from Chicago. When the guys in England heard and saw these blues guys with their crazy guitars and outfits, they were copying every piece." —Daniel Ivankovich, Chicago musician/guitar collector

Those companies and others headquartered in Chicago shared and swapped parts and designs and sold to the same distributors. Due to the low cost and wide distribution of their instruments, they produced far more guitars than Gibson or Fender. Some of their instruments were of dubious quality, often dismissed as "dime store guitars," but others were—and are—excellent. More important, the ready availability of these guitars led to their prevalence in blues, country, early rock 'n' roll, and the British Invasion.
"You can't deny the influence of Chicago blues and Chicago-built guitars on contemporary rock," says Ivankovich. "British musicians were enthralled by anything black and from Chicago. When the guys in England heard and saw these blues guys with their crazy guitars and outfits, they were copying every piece."
Ivankovich has spent decades assembling the collection of Chicago-built guitars featured on these pages, and his vast collection includes all the major Chicago manufacturers and the dozens of brands under which their instruments were marketed. "Those department store guitars were very innovative," he says, referring to the building materials and manufacturing methods used to mass-produce the comparatively low-cost instruments. "I've got picture after picture of artists who played Montgomery Ward guitars because they were affordable. They were everywhere. Maybe there wasn't a Gibson dealer in your town, but there was a Sears, Roebuck catalog or store."

"Where else could you find highly figured maple like this at a budget price? The sharp double cutaway is what sets this Airline Barney Kessel Kay apart from other semi-hollow body guitars of the era. Three Kay 'Kleenex Box' pickups scream bad-ass versatility and the Dakaware selector switch offers four pickup options, the last of which creates an out-of-phase type tone," Ivankovich says. Photo by Chris McMahon.
Chicago-built guitars, like the bluesmen who played them, were discounted—until they received third-party validation from England. "Racism and segregation were too pervasive," says Ivankovich. "In the United States, Hendrix was a prophet without honor. He had to go to England to get discovered. Hendrix started playing on a Supro Ozark. Eric Clapton played a Kay Jazz II and a Thinline. Jimmy Page, Jeff Beck, and all those guys had various Chicago guitars that they'd seen the blues guys playing. Jimmy Page certainly knew about Supro amps! Those guys were studious, looking at pictures and figuring things out. Half a world away, they were getting Chess 45s, Kay guitars, and Supro amps."
Let's take a closer look at some of the Chicago brands that helped shape guitar history.

"This is a roots rocker's boyhood dream," Ivankovich says of this Danelectro 1457, which was sold between 1964 and 1966. "The guitar is a double-cutaway, 21-fret design with a Masonite-covered pine body, Masonite pickguard, two lipstick pickups, stacked volume and tone knobs and a 3-way switch. The case amp barks through an 8-inch Jensen speaker powered by 5 watts of tube-tremolo saturated voicing via a rectified single-ended 6V6 power section."
Photo by Chris McMahon.
Silvertone
In terms of sheer numbers, Silvertone may be the most successful musical instrument brand ever, yet they didn't make their own guitars. The Silvertone name, owned by Sears, Roebuck & Co., adorned instruments made by many Chicago-based manufacturers, including Harmony Guitars, Kay Musical Instruments, and Valco, who manufactured and sold guitars under the National, Dobro, Supro, and Airline brands. The Silvertone brand offered nationwide distribution via the Sears catalog, which reached virtually every household in the United States, rich or poor, black or white.
"All the big department stores got into private-label selling, and not just for musical instruments," says Bruce Zinky of Supro USA/Zinky Electronics. "It's an advantage, since you don't have to compete on price with any other store with a proprietary branded product. Montgomery Ward was selling Airline against the Silvertone product at Sears, Roebuck.

"Biltmore is a very rare off-shoot Harmony brand. The detail and finish quality on this square neck
Hawaiian guitar is astounding," Ivankovich says. Photo by Chris McMahon.
Sharp eyes might note that the Airline guitar could be Valco-made, and the Silvertone might be Danelectro. The customer bought what was available in their town. There was no Internet. There was no Guitar Center. There wasn't a lot of choice. You bought what you could get, and in a small town, the Sears, Roebuck catalog was often the first and only choice."
New Jersey's Danelectro and Japan's Teisco also built Silvertone instruments. Korea's Samick Musical Instrument Co. recently revived the Silvertone brand.

"This Sovereign Deluxe Jumbo is an amazing piece of sonic eye candy," Ivankovich says. "With its tobacco burst and double pickguard, it holds its own against most any acoustic of the era. The Jazz Artist [right] was Harmony's answer to jazz players looking for a higher quality instrument. H68 pickups are modified double-mustache types."
Photo by Chris McMahon.
Harmony
For the better part of the 20th century, the Harmony Guitar Co. was one of the world's largest and most successful musical instrument manufacturers. According to Tom Wheeler's American Guitars: An Illustrated History, they made half the guitars built in the United States, thanks to their role as the principal instrument supplier to Sears, Roebuck.
Harmony produced mandolins, ukuleles, guitars, and other instruments under the Harmony brand and under the Silvertone brand for Sears. They also made private-label instruments for other retailers under the Vogue, Valencia, Johnny Marvin, and Monterey brands, according to Westheimer Corp., which now owns the Harmony brand.
Harmony was founded in 1892 and bought by Sears, Roebuck & Co. in 1916. Harmony reported annual sales of 250,000 units in 1923 and 500,000 in 1930, according to Wheeler. For perspective, in 1974, a total of 2.3 million fretted instruments were sold.

"The Vibrajet is plain cool. Even if the tremolo was often unusable, the gold foil DeArmond pickups give it a voice of its own," Ivankovich says. Photo by Chris McMahon.
In a move that illustrates Sears' manufacturing muscle and marketing prowess, the company purchased the brands, but not the factories, of instrument manufacturer Oscar Schmidt Co. in 1939. These included Schmidt's La Scala, Stella, and Sovereign brands, according to American Guitars. Oscar Schmidt is now part of U.S. Music Corp., which also owns the Washburn brand. Washburn was never connected with the Silvertone lineup of builders but had deep connection to Chicago blues by virtue of proximity to Chicago's Maxwell Street Market, where Lyon & Healy, creators of the Washburn brand, were headquartered.
Harmony and Sears parted in 1940, but Harmony continued to grow, propelled by the baby boom, the rise of folk music, and the emergence of rock and roll. But by the end of the'60s Asian imports began to erode market share and profits. The U.S. recessions of the '70s brought rising unemployment, inflation, surging energy costs, and higher credit prices. Harmony went out of business in 1975, but the brand has been revived, and Westheimer sells Harmony guitars to this day.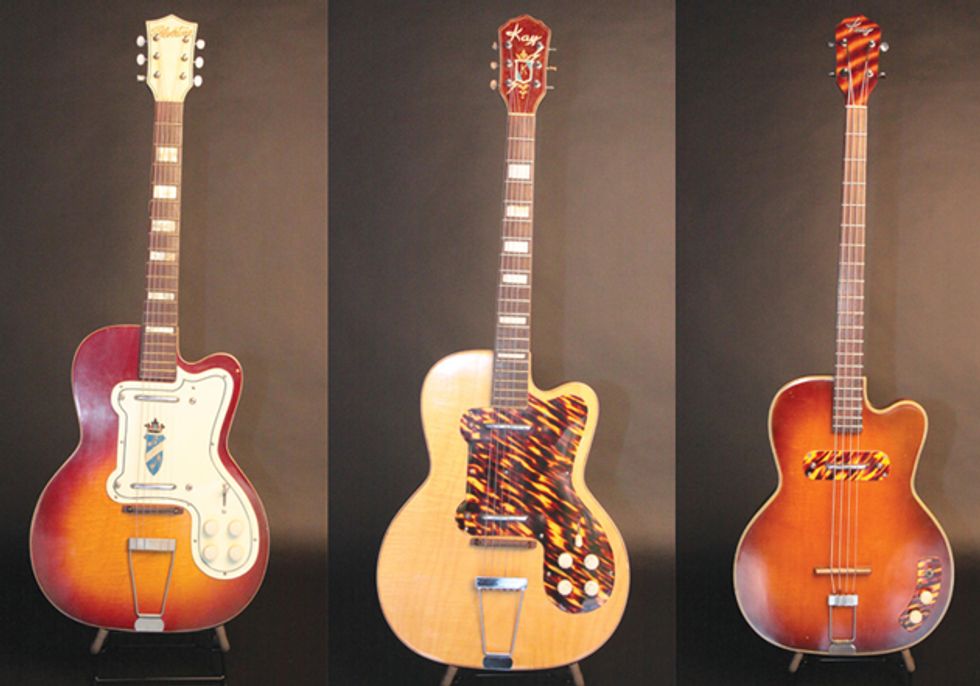 "Jimmy Reed's signature guitar was a semi-hollowbody with twin blade pickups," Ivankovich says. "The Thin Twin is shown here with Silvertone (left) and Kay headstocks (middle), and the Howlin' Wolf Bass (right). Photo by Chris McMahon.
Kay
Despite being a high-volume manufacturer, Kay had roots in old-world manufacturing. The company originated as the Groeschel Instrument Co., which later changed its name to Stromberg-Voisinet. The brand became Kay in 1928 when Stromberg-Voisinet employee Henry Kuhrmeyer purchased the company. (That same year Stromberg-Voisinet released the Stromberg Electro, one of the first electric guitars to hit the market.)
Like Harmony, Kay built and sold stringed instruments under its own brand and a slew of others, including Airline and Sherwood Deluxe (for Montgomery Ward), Custom Kraft (for St. Louis Music), Old Kraftsman (for Spiegel), Orpheum (for Ward's Catalogue), Penncrest (for J.C. Penney), plus Silvertone and Supertone for Sears.
"There was no internet. There was no Guitar Center. There wasn't a lot of choice. You bought what you could get, and in a small town, the Sears, Roebuck catalog was often the first and only choice." —Bruce Zinky, Supro Amps

Kays tend to rank higher than Harmony guitars in quality and price, but below Gibsons. The Gold Kay archtops, created to compete with premium brands such as Gibson and Fender, featured distinctive pickup covers that are sometimes referred to as "Kessel boxes" (after guitarist Barney Kessel, who had a signature Kay model) or "Kleenex boxes." Another hallmark is the Kelvinator headstock with its huge gold and pearl plastic ornamentation.
In 1955 Kuhrmeyer sold his portion of the company to Sidney Katz, formerly of Harmony. The company rode the rock 'n'roll wave through the mid '60s, expanding into new markets and new products, including amplifiers and budget guitars. (Kay outsourced the amp production to Valco.)
The company opened a new larger plant outside of Chicago in 1964, where, according to Wheeler, they were building 1,500 guitars per day, distributed to 7,000 retailers nationwide via 45 distribution companies. Kay was sold in to jukebox manufacturer Seeberg Corp. in 1965, and then to Valco two years later. By then guitar sales were in decline, and the company was auctioned off in 1969, according to kingofkays.com, a site dedicated to Kay guitars. The assets went to Syl Weindling and Barry Hornstein of W.M.I, which imported Teisco Del Rey guitars from Japan. The Kay brand then was applied to imported instruments in the early '70s.
In addition to guitars, Kay made high-quality upright basses. That division was acquired by Engelhardt-Link, which still produces instruments.

"The Supro Ozark features the powerful Valco string-through pickup at the bridge," Ivankovich says. "It's most famous for being Hendrix's first electric guitar. Jimi's was an off-white, 1957 Supro Ozark 1560s that his father bought for him in 1959 at Myers Music in Seattle for $89. This screamer is paired with a rare blue Tolex Supro 1624t amp."
Photo by Chris McMahon.
Valco
In many ways, Valco's story is a classic American tale of reinvention, which is to say that separating fact from fiction is difficult and possibly pointless.
We do know this much: Before there was Valco, there was the National Stringed Instrument Corp., a California-based manufacturer of resonator guitars dating back to the '20s, and the Dobro Manufacturing Co. National created steel-bodied guitars, notably the "tri-cone," which used three resonating metal cones to amplify the sound, and the "biscuit," which featured a single resonating cone. Then, as now, guitar players wanted to be heard, and that desire drove the development of these resonator guitars and the electric guitars and the amplifiers that would soon follow.
George Beauchamp, one of National's founders, is credited by some with creating the "Frying Pan," an electric lap steel guitar, in 1931 with Adolph Rickenbacker. Rickenbacker had founded Ro-Pat-In Corp., which became Electro String, which eventually evolved into Rickenbacker International Corp. He worked at National, and later at Dobro, and was largely responsible for the production methods that made it possible to mass-produce metal and Bakelite guitar bodies.

"Single-cutaway Valco Res-O-Glas guitars came in many flavors," Ivankovich says. "The basic models were the Holiday and the Sahara, which evolved into the more elegant Coronado, Val Trol, and Martinique models. The pickups are humbucker sized, but they're single coils. In the higher-end models, the bridge pickup is the patented Silver Sound pickup, featuring two magnetized poles with the coil in the bridge base. It attempts to deliver an acoustic sound. By today's standards it falls way short of that, but it's an interesting tone." Photo by Chris McMahon.
In 1927 or '28, John Dopyera, another National's founder, started Dobro Corp. with his four brothers. They also produced resonator guitars and were direct National competitors. (The Dobro features a different resonating device, a single bowl-shaped resonator, which Dopyera developed but kept from National.)
The Dobro name is a mash-up of "Dopyera" and "brother," and which also means "good" in Slovak, the brothers' native language. Dopyera retained some National ownership rights and responsibilities, and there was what we would now call "co-opetition" between the companies. They effectively merged in the early '30s, becoming the National Dobro Co.
Louis Dopyera and employees Victor Smith and Al Frost bought the company around 1934 and renamed it Valco, combining the first letters of the founders' first names. In 1936 they relocated to Chicago to be near suppliers and other manufacturers, according to Victor Smith, as quoted in Wheeler's book. Other Dopyeras started other guitar companies in warmer climates.
Using parts from Harmony and Regal (another significant Chicago-based guitar manufacturer), they built wooden-body resonator guitars, Spanish guitars, lap steels, and later, electric guitars and amps. Regal also built resonator guitars using Valco parts, selling them under its own brand. Valco created the Supro brand, applying it to Regal- and Harmony-built student acoustic models. They later used the Supro brand on electrics, amps, and bass guitars. They also introduced the Airline brand, under which they sold the same guitars and through Montgomery Ward.

"Norman English was a lap steel player who ran a music studio in Lansing, Michigan. He had a good relationship with Valco and was able to order custom instruments directly from them. English Electronics' Tonemaster brand offered several sought after lap steels, Res-O-Glas guitars and amps," Ivankovich says of these Tonemasters. The lap steels have a 25-inch scale and Valco's legendary string-through pickups. Ry Cooder's Coodercaster guitar is based on the Valco string-through-bridge pickup and single-coil neck configuration. Photo by Chris McMahon.
To those outside the manufacturing industry, these business relationships may seem counterintuitive. But to those in the industry, it's business as usual.
"Our sports-focused nation may imagine a competition between companies," says Zinky. "But these companies were just trying to sell a few more units. Collaboration between factories was all good, because everyone got paid. When you have machinery that breaks down, or one factory with an overstock of necks, you do what you must to alleviate the problem. When you have a big contract or order you can't fill, you do what you must to fill it."
Despite this genius for adaptability, Valco went out of business in 1968, a year after merging with Kay. America's guitar lust had waned, the economy slowed, and cheaper imports flooded the market.
"The industry just keeps chasing the cheapest source," says Mike Robinson, president of Eastwood Guitars Inc., which now owns Airline and other vintage guitar brands and sells their replicas. "It wasn't that different in the '60s. But now you see less of the exact same models with the exact same parts, only with different brands. The only exceptions are the very least expensive Fender and Gibson copies, because those are such generic designs."
Though mass produced and frequently dismissed, these department store guitars are different from most guitars built now, in that they were built in the United States by people who were more likely to play them than, say, a factory worker in Korea or Indonesia. And many of them were, and remain, genuinely fine instruments that are increasingly sought after by collectors such as Ivankovich.
"The late-'50s guitars had a neck shape that was easy to play with small hands, but felt substantial, even if you had big hands," notes Zinky. "The pickups always sounded musical. And then there were the amps. Every Supro amp from the '30s through the '50s sounds like a good rock record when you turn it all the way up—except for the ones that sound like fantastic rock records. I don't believe that can be said for any other brand."

"J.B. Hutto was never an official endorsee, but he's often associated with a red Supro or Airline Res-O-Glas guitar," Ivankovich says. "Hutto featured one on the cover of his Hawk Squat and Slidewinder albums. Jimmy Reed used many different Valco guitars and often played the J.B. Hutto model in the studio and live. Jack White re-invigorated the model when the White Stripes made their debut using the Montgomery Ward Airline Res-O-Glas guitar. White's visibility has made this model the most collectible of all Airline guitars. Though not as high profile due to its rarity, the Airline Professional was gorgeous and, with its 3-pickup versatility, allowed players to shape almost any tone."
Photo by Chris McMahon.
The Department Store Guitar Revival
Nowadays the Kay, Supro, National, and Silvertone brands are enjoying renewed popularity. Replicas of these distinctive guitars are common, and bands such as the Black Keys, Grizzly Bear, the National, and the White Stripes and using these instruments (and their reproductions) to create something simultaneously new, gritty, and authentic.
"Every time someone hits with one of these time machines, it makes everything that's old new again," says Ivankovich. "That's what's so cool about Jack White and the Black Keys discovering the Harmony and Airline stuff. It's the same mentality that drove the blues guys: The other stuff is too expensive! Who the hell can pay $10,000 for a Les Paul? Go get an Airline, a van, and trailer."