Subdued style takes nothing away from the feel and function of this future-leaning, performance-oriented flattop.
Excellent build quality. Player port provides an intimate playing experience. Super-smooth and inviting playability.
Some traditionalists may find the midrange-forward voice brash. Player port will be one style compromise too many for some.
4
4.5
4.5
4
Gibson's reputation as a builder of iconic electric guitars sometimes obscures its reputation as a builder of iconic flattops. But even among an acoustic lineup stacked with legends, including the J-45, L-00, and J-200, Gibson's Hummingbird is an instrument with pop-culture star power. And even music fans that don't know a Gibson from a Goya recognize and are attracted to its extroverted beauty.
---
Lacking the Hummingbird's striking cherry sunburst finish and pickguard etched with flora and namesake avian adornment, the G-Bird, from Gibson's Generation Series, is unlikely to spur the same sense of recognition among more casual guitar spotters. But it's a well-made, walnut-and-spruce-bodied guitar made entirely in the company's Bozeman, Montana, facility. It's the first dreadnought from the Generation line I've played. (I didn't get to play the G-45 or G-Writer cutaway when I reviewed the smaller G-00 and larger G-200.) But it is certainly the most balanced and satisfying of the Generation series I've encountered.
Mr. Fancy Sheds Its Frills
Gibson's introduction of the Hummingbird in 1960 was almost certainly a response by Gibson to Martin's reliably successful dreadnoughts. And though the round-shouldered J-45 dreadnought that preceded it was an unqualified success, Gibson must have felt the square-shoulder profile was a key to chipping away at Nazareth's domination of the dread market. Clearly, Gibson also felt that a little flash would go a long way in distinguishing their own square shoulder, and the Hummingbird was born.
If you've spent years longing to cradle the Hummingbird in its showiest guise, I suppose the G-Bird could be something of a letdown. But if you're into the purely functional end of guitar design, the G-Bird's virtues are apparent from the start. The satin finish feels inviting rather than a concession to a more accessible price. The neck, which is fashioned from utile, an African mahogany alternative, is textured in a very noticeable way. It's not rough exactly, but it's not satin-smooth either. It can take a minute to get used to, but in the end it tends to feel welcomely worn-in rather than unfinished. All the same, curious shoppers used to flawlessly smooth necks should spend some time with the guitar to see if it is a bother. Texture preferences aside, the advanced profile neck feels great in hand. It's thicker than Gibson's slim-taper profile—most noticeably toward the nut. But it is hardly chunky, and the soft U shape of the profile feels like a great compromise between some of Gibson's fatter vintage shapes and the slim profile, which can feel a little slender.
The fretboard, with its comfortably rounded edges, uses a flatter 16" radius rather than Gibson's standard 12" radius. I suppose the flatter radius leaves room for lower action, which will be nice for players more inclined to a softer touch. The action felt great as it came from the shop floor, however, and it left a lot of room for digging in and strumming with a vengeance without inducing fret buzz. The striped ebony fretboard also looks great, and the Generation Collection's signature single-bar inlays are a cool touch of modernity that zest up the instrument's otherwise austere aura. Construction details, by the way, reveal close attention to detail. And where I saw less-than-perfect kerfing and glue work on the earlier Generation Collection guitars I reviewed (bracing, kerfing, and other internal construction are easy to see through the player port), the build quality is close to immaculate here.
A Provocative Port Promotes Play
Gibson could have made the Generation Collection of guitars satin-finished, no-frills takes on their classic shapes and been assured of some degree of marketplace success. But the design and marketing of the G-Collection, as it also known, focused to a significant extent on the player port, a bass-side, player-facing second soundhole that Gibson says was considered as far back as 1964. Upper-bout soundholes are common in small-batch, high-end acoustic circles. They are less common among large-scale production acoustics. In pure style terms, they are a polarizing element. And I'm inclined to agree with those purists that like to look down and see a pretty expanse of uninterrupted wood grain on the upper bout. But while the rubber-ringed port (and the constant peek at the guitar's innards that it affords) can be jarring, there is no doubt that it makes for a more immersive playing experience.
If you're strictly old-school and accustomed to a single soundhole, the effects of a first, forceful strum can be a touch disorienting. The G-Bird, by virtue of its spruce top and walnut back and sides, already has a midrange-leaning voice that can, at times, sound almost brash compared to the combatively mellow, strong-in-the-fundamentals sound of a mahogany-backed Hummingbird or J-45. The player port emphasizes that mid-forward tone signature, and if it's not your cup of tea, you could end up put off in the space of a few strums. But time spent with the G-Bird reveals much about the player port's upside. Light, even tentative play—the kind that often goes with the songwriting process—feels more immediate and alive. And in a related way, fingerstyle dynamics are enhanced in a manner that encourages focus on technique and harmonic nuance. Interestingly, the player port can also teach a performer a lot about what an engineer hears and what might sound good in front of a microphone. And the way the port gives immediate feedback about your dynamic touch reinforces lessons about how to approach a recording situation.
The Verdict
At nearly $1,800, the G-Bird is not a bad deal for a U.S.-made flattop that reveals a careful eye for quality and detail. It's a super-smooth player. The L.R. Baggs Element Bronze electronics are simple and elegant in sound and function. The walnut-and-spruce tonewood recipe is balanced, but very midrange heavy. This makes the guitar a nice fit for many contemporary recording settings and methodologies, but it might sound a bit bright for those who associate the Hummingbird with earthier mahogany tones. Finding out how the G-Bird fits into your musical universe really demands a trip to a shop where you can play one. But players less bound by tradition—on both the sound and style front—may well revel in the tone alternatives the G-Bird puts at one's fingertips.
Gibson G-Bird Demo | First Look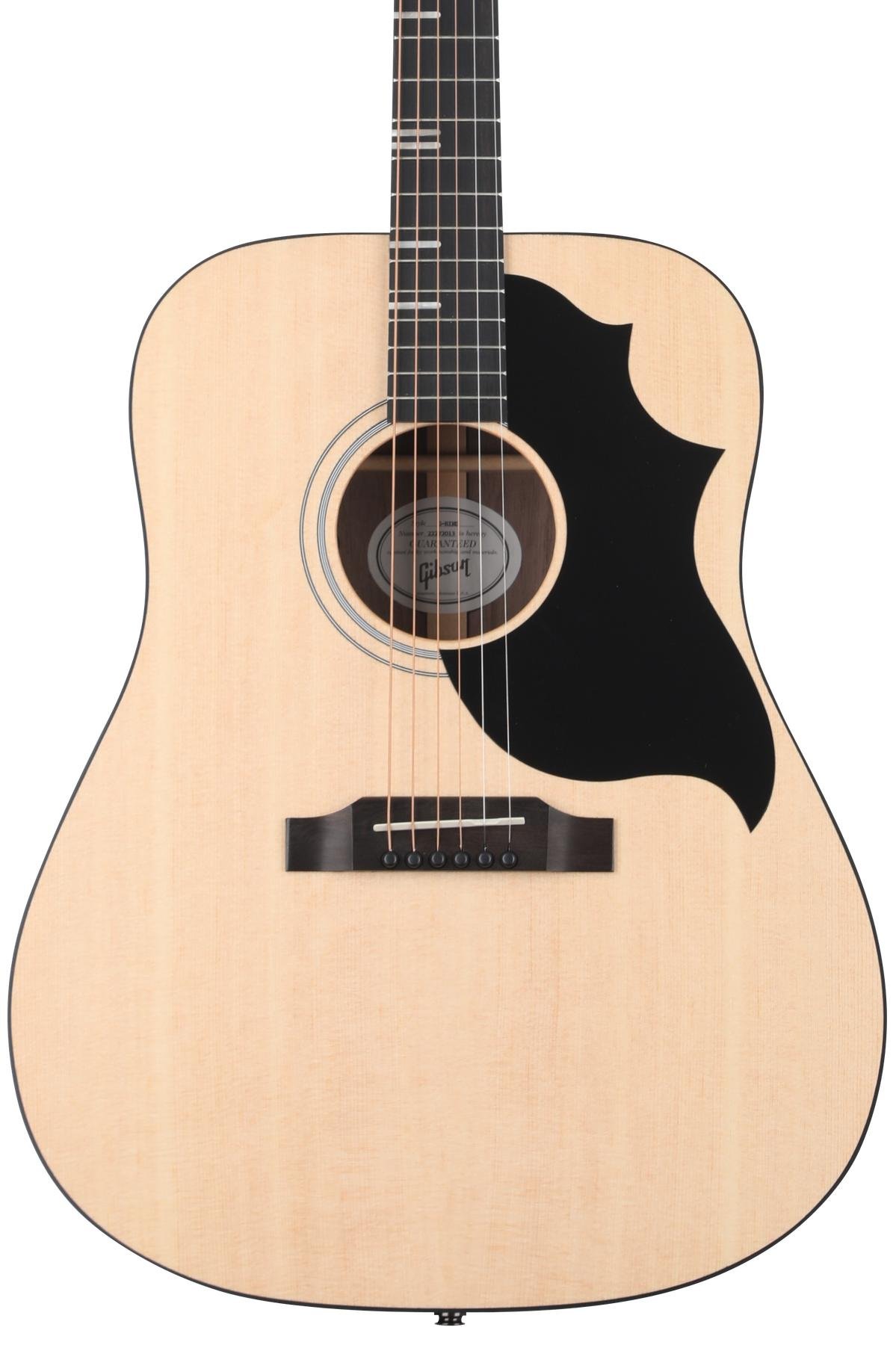 Gibson