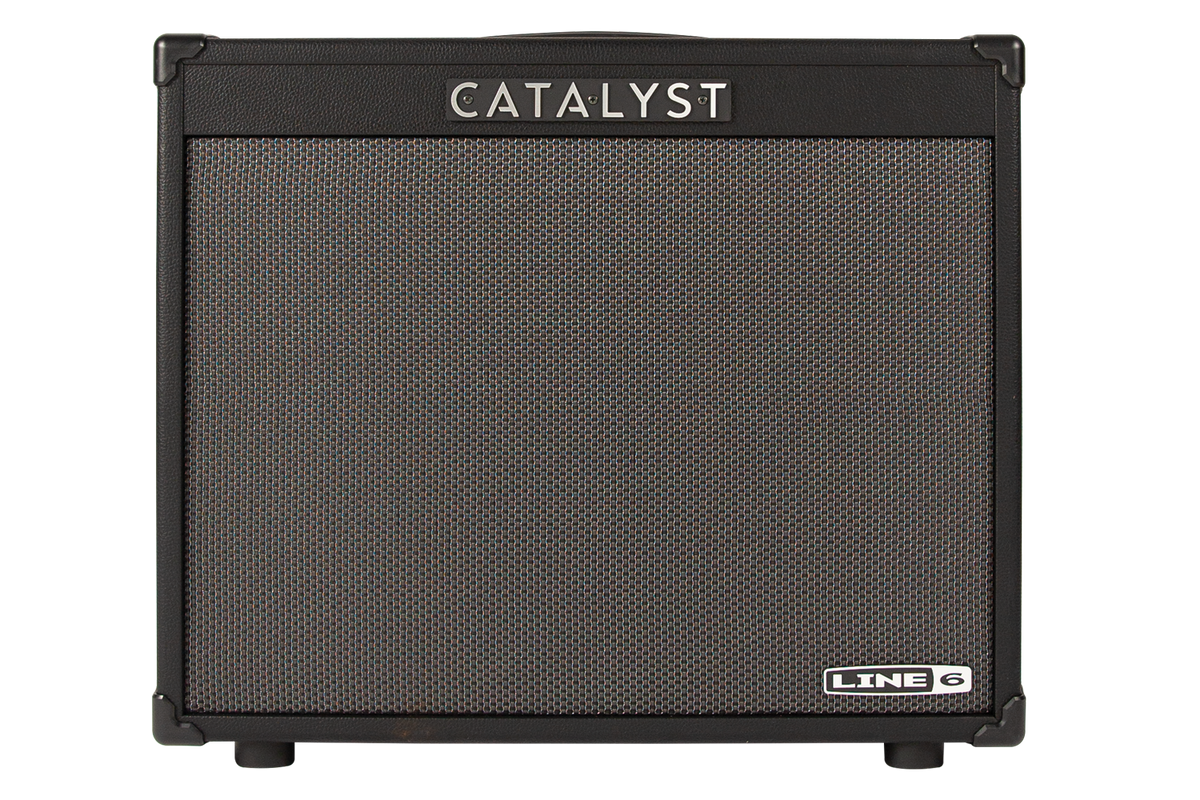 A modeling amp in vintage disguise.
Pros: Great balance between digital power and simplicity. Lightweight and super affordable. Nice app for editing.
Cons: Footswitch not included. Some functions are not intuitive and require a look at the manual. No digital readout.
4
4.5
4
5
Line 6's Catalyst series is the latest in a generation of amplifiers bridging the gap between digital modeling's enormous possibilities and many players' desires for old-school simplicity. These amps offer detailed, convincing amp models—but not too many of them—in a compact, vintage-style design that makes avoidance of option fatigue a priority. The very accessible prices also make the series a direct competitor to Boss' ultra-successful Katana amps. The Catalyst is offered in three models: Catalyst 60 and Catalyst 100 (both of which have one 12" speaker), and the Catalyst 200, which has two 12" speakers. For this review I tested the Catalyst 100, which sells for a very modest $399.
---
Simple Complexity
The Catalyst has plenty of bells and whistles. On the surface, though, it looks a lot like a simple, conventional 2-channel amp. There are knobs for boost, gain, bass, mid, treble, presence, channel volume, effect, reverb, and master volume. There's also a knob that lets you choose from six original amp models: clean, boutique, chime, crunch, dynamic, and hi gain. Mini buttons let you save and choose between two channel presets or engage manual mode, where what you see is what you get. Other mini buttons allow you to engage boost, tap tempo, and select effects and a tuner. On the back panel is an output power knob that lets you choose from mute, ½ watt, 50 watts, and 100 watts. There's also a USB jack, a DI out, and an effects loop.
Six Amps in One
There's not enough space in this review to cover all the amp models in depth. And I suspect that for many players even just a few used through the full range of their clean and dirty variations will be everything they ever need. Still, the Catalyst's abilities and potential—especially relative to its price—will excite any potential user.
I started my own experiments with the boutique voicing at the ½-watt output setting. Predictably, there's not a lot of output in this mode, though it's a lot of fun as a practice amp. At the 50-watt output setting, though, I could hear and feel the amp in a more complete way. There was headroom to spare and it's impressively dynamic and responsive to picking nuance. And it was surprisingly easy to get SRV-style bite out of otherwise clean, blues-tinged phrases—again, very impressive. The useful boost knob lets you dial in extra kick, and, thoughtfully, each amp model has a specifically tailored boost voicing. In boutique mode higher boost settings added a lot more gain to the amp model's cleanish sound, and the saturation sounded and felt organic.
The chime model, loosely inspired by a Vox amp, is warmer and thicker than the boutique model in cleaner settings. But when I engaged the boost (with the knob at noon) and set the gain knob around 11 o'clock, the amp positively screamed—generating an aggressive and at times piercing sound that would reward a player with a commanding approach like Eric Gales or a 1960s-influenced guitarist who loves the potency of single-note lines.
The high-gain model, meanwhile, is a fire-breathing beast. With the gain at 11 o'clock, there is plenty of bottom end, and the sensation of the amp moving air becomes more apparent. Engaging the boost softened the attack slightly, which made soloing more liquid. But there wasn't much of a difference through the range of the boost knob from noon to max. The amp model is pretty saturated to begin with.
There was headroom to spare and it's impressively dynamic and responsive to picking nuances.
No Jumping Through Hoops Running Loops
Using the clean model, I ran my Yamaha UD Stomp delay through the effects loop. The results were dimensional and often sublime. The power-amp-in feature lets you plug in a pedalboard and play it directly into the Catalyst 100's power amp. I used another setup, with a Mesa/Boogie V-Twin preamp pedal, directly through the Catalyst's power amp and it sounded phenomenal. And even though the preamp is bypassed in this mode, the boost function is still active. Set at 10 o'clock, it added a nice final touch to the Mesa/Boogie preamp's clean channel, making it sound discernibly richer. In my humble opinion, just the power amp and speaker cabinet alone are worth the $399 price.
Though Line 6's acclaimed HX technology is embedded in the Catalyst, the company did a good job of keeping options easy to manage and navigate. There isn't an endless buffet of effects, as you might expect. There's a standalone reverb, and apart from that you can only use one additional effect simultaneously, unless you bring your pedalboard to the party.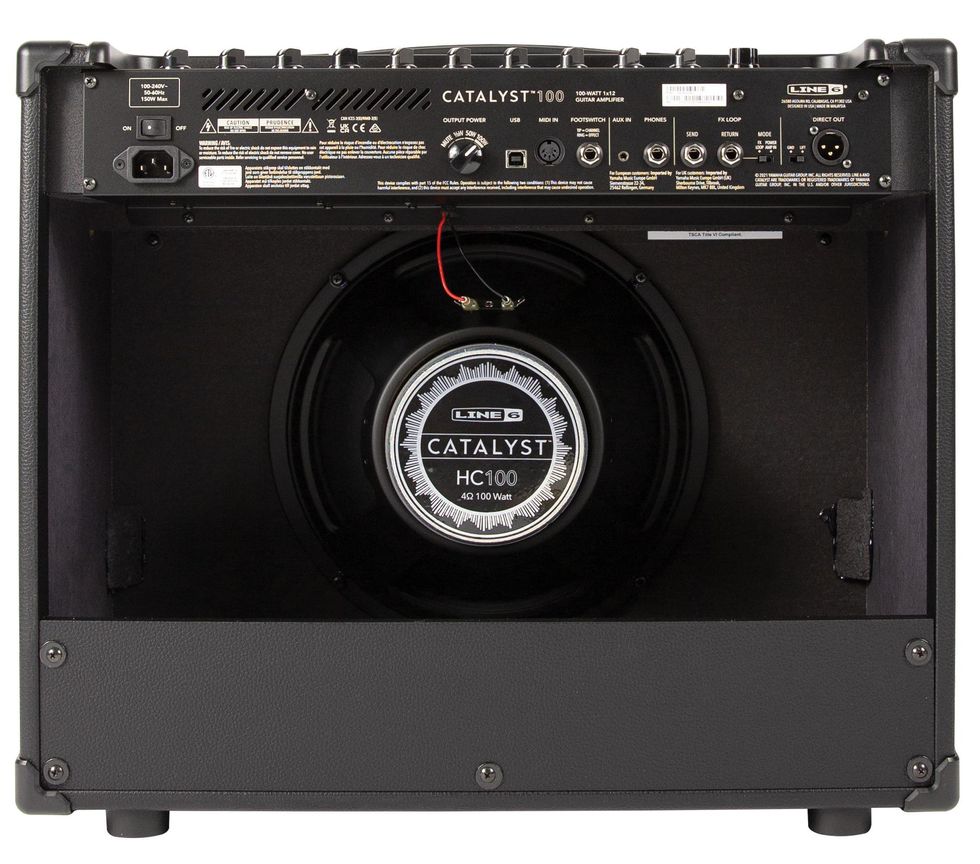 In total there are 18 effects, grouped into three categories: delay, modulation, and pitch/filter—each with a corresponding LED in green, blue, or purple, respectively. If you've used Line 6 products before, many of these excellent effects (and the color coding) will be familiar. There's the fabulous dynamic "ducking" delay, some modulation models based on iconic pedals like the MXR Phase 90 and others, and some classic Line 6 pitch/filter effects like growler synth and synth strings. If you do want to use more effects simultaneously, the effects loop is an excellent way to patch in external effects.
The USB hookup, by the way, enables connection to a computer so you can use Line 6's editing software, which allows you to dive deep into tone editing or just fine tune a few things. I imagine that, in reality, most users will just figure out how to get a couple of core sounds directly from the amp, save them, and just go with that. But it's always great to have options, and if you're someone that actually maximizes the capabilities of modelers and editors, you'll have a field day with the app.
The Verdict
For any guitarist looking for an all-in-one, plug-and-play setup for practice sessions, live shows, and recording (you can record directly using both USB and the built-in DI with cab simulation), the Catalyst, at $399, is pretty tough to beat. It's got more features than many players will need, but what will count for most of the target audience is how much you can accomplish without diving too deep. And though the price might suggest otherwise, Catalyst isn't just for beginners or intermediate players. Any professional guitarist that's tired of dealing with tube related maintenance and expenses will be happy with many of the sounds here.
Rhett and Zach unpack the big news for secondhand guitar sellers and buyers: Sweetwater has launched their new Gear Exchange. How does it compare to Reverb, Craigslist, and Marketplace? To find out, Zach takes the site for a spin and buys a pedal. He calls the process both "very easy" and "normal." They discuss the pros and cons of the various used-gear outlets and share tips for not getting got when buying gear. Plus, Zach grew a mustache, Mythos Pedals is moving, and he talks about his forthcoming line of Strat pickups inspired by Hendrix's reverse-stagger setup.
Sweetwater vs. Reverb

Expanding on the innovations of Cort's original 8-string multiscale, the KX508 Multi-Scale II features an updated okoume body and a specially designed Fishman Fluence Modern Humbucker.
The KX508 Multi-Scale II is the second iteration of the eight-string KX508, Cort's first multi-scale 8-string guitar introduced in 2020. Like its predecessor, the KX508 Multi-Scale II has a visually stunning poplar burl top in a Mariana Blue Burst finish. Beyond its visual appeal, the poplar burl is an ideal tonal complement to Cort's newly introduced okoume body. Okoume is known for its light weight and ability to improve tonal clarity. It has a tight low-end and highly articulate high-end, which matches the overall sonic characteristics of the KX508 Multi-Scale II. The multi-scale, measuring 26.5 to 28 inches, offers a punchy low end while maintaining a familiar feel and tension on the treble strings, which allows for speedy runs and string-bending. Players have unhindered access to the high frets thanks to the low-scooped heel.

The 5-piece maple and purple heart neck not only provides strength and stability, aided by a spoke nut hotrod truss rod, but a strong and focused sound. The Macassar ebony fingerboard (15.75-inch radius) offers smooth playability along the 24 frets with teardrop inlays. Macassar is an ideal tonewood for high-gain applications because of its ability to cut through a dense mix. At the top of the neck, the 2 7/32-inch nut width (56.5 mm) is surprisingly comfortable for an 8-string guitar and is even suitable for players with smaller hands. The individual hardtail bridge with string-thru-body design results in greatly improved sustain, superb string separation for enhanced articulation, and precise intonation. Deluxe locking machine heads offer reliable tuning as well as easier and quicker string changes.

The Cort Sessions | KX508 Multi Scale II Electric Guitar
MSRP $1699.99 USD

MAP $1199.99 USD
For more information, please visit cortguitars.com.
The Tour Collection is defined by a minimalistic, vintage-inspired aesthetic, top-of-the-line components, and a simplified electronics configuration featuring new, custom pickups by Supro.
Available in the collection is the 16-inch-wide double-cutaway DC, the 15-inch-wide single-cutaway SS, and a 14-inch-wide Mini DC. Each model comes in three finishes: Slate Blue, Solid Wine, and Solid Black.

Every detail of the Tour Collection was chosen to achieve retro minimalism. Small diamond fingerboard inlays match 1930s-style diamond f-holes, and an undersized Throwback Scroll-style headstock achieves excellent head-to-body balance. The collection also features satin nickel hardware and custom Vintage Deluxe Grover tuners with a 15:1 gear ratio. Each model also features a simplified two-knob electronics configuration with 50s-style wiring to retain top-end clarity upon rolling off the volume knob. The neck shape in the Tour Collection is similar to the slim C-shape found throughout the D'Angelico line, but with more thickness in the shoulder to allow for snug hand fit as well as extra sustain. Medium Jumbo fret wire and a 12-inch fingerboard radius allow for quick navigation of the fingerboard while also prioritizing comfort for both rhythm and lead playing.
In 2020, Supro and D'Angelico became part of the same family of brands under Bond Audio. At that time, EVP of Product Ryan Kershaw and CTO Dave Koltai began designing custom pickups under the Supro name for the Tour Collection project.
"Supro Bolt Bucker pickups were designed to offer the tone of the most sought-after vintage "PAF" pickups from the late 1950's. Scatter wound, just like the originals, Supro Bolt Buckers utilize 42-gauge enamel wire along with a mixture of Alnico II (neck) and Alnico V (bridge) magnets to provide the perfect balance of warmth and clarity with unrivaled articulation and note bloom." - Dave Koltai, Chief Technology Officer at Bond Audio.
Introducing the Excel Series Tour Collection | D'Angelico Guitars
All models are available for pre-order and will be in stock this holiday season. US MAP $1499. For more information, please visit dangelicoguitars.com.
The Cream Amp is a handmade low-gain overdrive pedal based on the Electra Distortion circuit.
The Cream Amp was designed to deliver full dynamics amp-like dirt to your clean and crunch amp or to another pedal in the chain without altering your tone too much. To add some grit at low volume or to make your amp sound more full, use the Drive control to set the gain and the Level control to match with your amp.
​Two knobs to control Volume and Drive
Shielded inputs/outputs to avoid RF
Filtered and protected 9VDC input
Daisy-chain friendly
Current draw: 7.5mA
The Cream Amp pedal is hand-made in Barcelona with carefully selected components and has a price of 100.00€. The pedals are available and can be purchased directly from the Ananasheadonline store.
For more information, please visit ananashead.com.