Revv Tilt Overdrive Review
A session man's take on the sound of a great tube amp—without the glowing glass.
Wickedly great EQ controls. A very musical range of overdrive tones.
Tight control can be a bit too subtle.
5
4.5
4.5
4.5
The Tilt is a new collaboration between Revv and session ace Shawn Tubbs that combines a robust medium-gain overdrive with a nuanced clean boost. Around Nashville, Tubbs has a reputation for burning lead lines and immaculately crafted tones. Designed to emulate the feel and response of a cranked single-channel amp, the Tilt absolutely nails the mission at hand. The overdrive circuit is based on LED clipping and features a rather simple control setup with volume, gain, bass, and treble. On the other side you have a 12 dB clean boost with two rather interesting controls: tilteq and a three-way tight toggle switch.
I tested the Tilt with my HSS Fender Stratocaster and a T-style Schroeder Chopper TL into a clean Fender Hot Rod Deluxe. Starting with the overdrive, I was quite impressed with how accurate and clear the EQ controls were. There were useful settings throughout the different frequency ranges. The drive was softer in the midrange than I was expecting but allowed for richer harmonics as I moved through different pickup positions. Not surprisingly, the sound of a dirty, cranked Princeton came to mind as I was exploring the width of the gain control. Mike Campbell tones for days.
It's not likely that anyone would mistake the Tilt for a high-gain monster, but with the gain cranked it does an admiral job of emulating Marshall-style tones—especially when you kick in the boost. The standout feature on the boost side is the tilteq, which simultaneously affects the lows and highs depending on which direction you turn it. My setup with the Schroeder was a bit bright, so I was able to surgically slice out some high end with ease with both the EQ and toggle switch, which affects the overall voicing of the boost. While none of us will get the exact same tone that Tubbs is famous for, the Tilt can shine a brighter light on the best parts of what you sound like.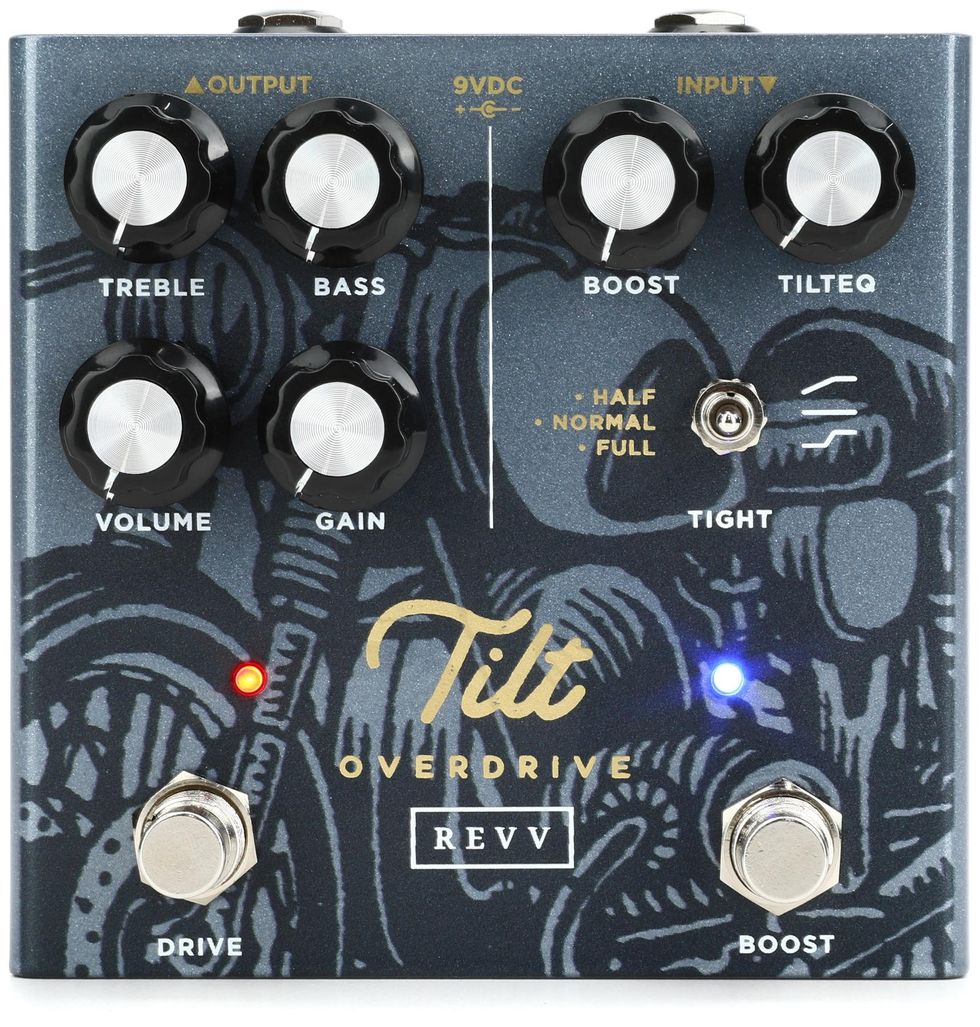 Collaboration between session/stage/YouTube guitarist extraordinaire Shawn Tubbs and Revv found Dan Trudeau
Exceptionally natural amp-like OD tones that are highly responsive to your playing
2-band drive EQ and tilt boost EQ for exceptional tone shaping capabilities
3-position tight switch to cut out the mud on higher boost settings
Road-worthy construction, with a blue sparkle finish and custom Shawn Tubbs graphic
Top-mounted 1/4-inch inputs to save room on your pedalboard
Revv