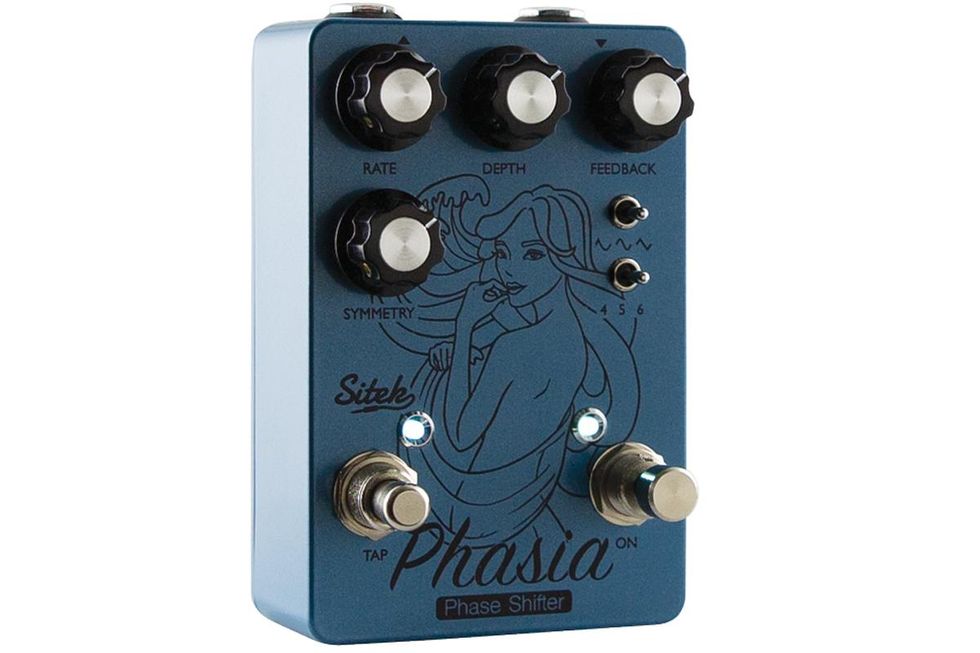 An analog phaser that walks the waveforms between simplicity and subversive modulations sounds.
Unique features and sounds for its price category. Intuitive. Capable of sounds beyond simple phase. High-quality build.
Might be expensive for players that don't utilize the most unusual sounds.
4.5
4.5
4.5
4
It's easy to overlook the expressive potential of a phaser if you use a simple, 1-knob version of the effect. Old horses like the Small Stone and Phase 90 may be perfect in their simplicity. But paradoxically, when you really listen to the depth of those basic pedals' voices—rich with ephemeral, passing overtones and harmonic complexities—you hear how varied and nuanced phase can be with precise wave-shaping control.
---
Sitek's analog Phasia opens up many secret corners of the phaser experience without a clumsy, complicated control set. There's a modest learning curve because these controls are interactive and have expansive range. But it's easy to use, and with tap tempo, selectable waveshape options, and variable 4-, 5-, and 6-stage settings, Phasia delivers unexpected treats that defy basic phaser categorization—all without inducing option anxiety or making the pedal impractical for stage use.
Sitek Phasia Review by premierguitar
Listen to Sitek Phasia Review by premierguitar #np on #SoundCloud
Tri-Lingual and Gifted
Phasers can come across as domineering and one dimensional if you're in the wrong mood. Phasia is far from one-dimensional, though. It readily moves from weird to seamlessly integrated with your guitar voice. This leaves ample room for different pickups and effects to speak, and it's responsive to changes in guitar tone and volume.This open, agreeable nature—combined with flexible controls—make Phasia capable of subtle to mind-melting extremes.
Phasia's stage-selection switch is one key to its extra headroom and adaptability. The 4-stage voice has a distinctly vintage patina. It's simultaneously elastic and soft around the edges, though there is also a snorkel-y midrange emphasis. The phase effect can be subdued at low depth settings—a nice option to have. But it's beautiful to hear the combination of chewy and soft contours at advanced settings. And it excels in faux-rotary style settings where the pulses take on an organic edge.
The 6-stage voice is more complex. Listening to a given waveform at the same rate, depth, and feedback in this mode can be like watching the rippling undulations on a creek versus observing rolling offshore swells. There's more color and complexity in the 6-stage modulations—at certain settings you might even perceive compound subdivisions within the overtones of a waveform. If you like to foreground your phaser in bold, weird style, the 6-stage voice delivers.
The 5-stage is the real revelation, and it does much to set the Sitek apart. This voicing is extra clear and smooth, perceptibly warmer, rounder, and more EQ-neutral, which means more of your guitar and amp voice shines through. It leaves ample room for dynamics, and bass notes in particular ring with detail. If you're a jazzist communicating complex chord voicings, a producer that likes to leave space and flexibility in a mix, or a fingerstyle technician that doesn't want to obscure rhythmic emphasis, I can't imagine a better range of textures than Phasia's 5-stage mode.
This open, agreeable nature— combined with flexible controls—make Phasia capable of subtle to mild-melting extremes.
Mutating the Classics
Phasia's basic controls—rate, depth, and feedback—all have expansive and useful range, from subtle to freakishly undulating. But the other controls contribute much to the whole once you master their sometimes elusive functionality.
The symmetry control, for instance, doesn't reveal its magic easily. It can be subtle, or just not jive with what you're trying to accomplish. But when you get the feedback, rate, and waveshape recipe just right, the Phasia can almost transcend phasing entirely. In the highest quarter of its range, the long-taper/short-rise settings can sound like soft, contoured delay echoes or even gentle envelope filter squawks. In the opposite direction, the long-rise/short-taper settings sound like a cross between a Vox Repeat Percussion's staccato tremolo pulses and a reverse reverb. Each of these settings can totally recast an otherwise mundane riff.
The waveform control is trickier to wrangle. The triangle wave is peakier and vowely. The sine wave is smoother but still very vocal. The hypertriangular setting, in general, has the most soft-edged modulations. But all these qualities can become more enhanced or mild depending on where you set the symmetry, depth, and feedback controls.
The Verdict
Sitek's Phasia is a joy to use. Not all of its virtues are immediately obvious. And some differences between waveshape and symmetry settings can be pretty hard to perceive at low depth and feedback settings. But this subtle-to-robust wave-shaping power and the easy, intuitive means of accessing the breadth of those sounds makes Phasia a star. Between the mellowest and maddest extremes there are smooth, intoxicating rotary-style sounds, Uni-Vibe style undulations, and slow-cycling modulations that warp time while leaving room for overtones, pick detail, and other effects to breathe. At 250 bucks it's not an inexpensive solution, and before buying you should really make sure that the subtler corners of the Phasia's performance envelope are textures you'll really use. If you're the kind of player, arranger, or producer that likes to stack effects, or just likes the options that come from using a more spacious and versatile phaser, the Phasia is an elegant, unique, and capable modulation tool.