Rig Rundown: Lukas Nelson & Promise of the Real
One of Americana's rising stars (and a son of an outlaw legend) goes deep on his vintage Gibson, using a dual-amp setup, and why he eschews most pedals.
Lukas Nelson and bassist Corey McCormick hung with PG's John Bohlinger before their rocking show at Nashville's historic Ryman Auditorium to talk gear.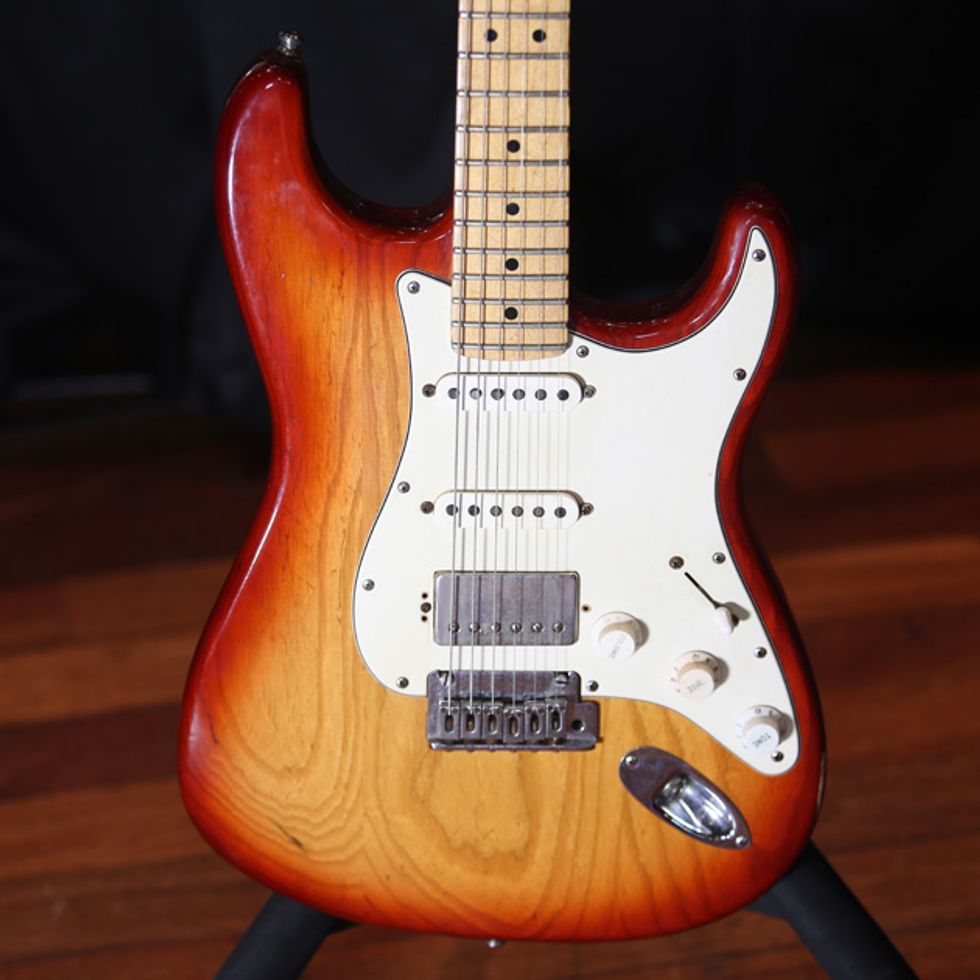 As a backup, Lukas Nelson plays this '90s Fender Strat, which was the first guitar Nelson bought with his own money. It was retrofitted with what is probably a Rio Grande humbucker in the bridge.
Lukas Nelson's No. 1 is this 1956 Gibson Les Paul Jr. This mostly stock Jr has a MojoAxe bridge to help with intonation. Gibson is currently making a signature replica of this guitar. It stays strung with DR Pure Blues (.011–.014–.018–.028–.038–.050). Nelson's leather guitar straps are made by Cody Hixon.
For acoustics, Lukas Nelson goes with his Gibson Bob Dylan SJ-200 Player's Edition with an L.R. Baggs Anthem pickup. The SJ stays strung with DR Strings (.013–.017–.026–.034–.045–.056). (His famous outlaw father mistakenly took the Jumbo for a charity guitar and signed it on his bus while Lukas was away.)
Lukas Nelson runs two Magnatone amps—a Stereo Twilighter 2x12 and a smaller Stereo Panoramic 2x10 for a bit more grit.
Lukas Nelson runs a Mogami cable from his guitar to a Boss TU-3 tuner. From there, he sends the signal to either a Boss Blues Driver or occasionally an MXR Micro Boost (not pictured). The signal then goes through a Radial Twin City ABY Switcher. For the most part, you are hearing a guitar straight into two (loud) amps.
Corey McCormick tours with one bass, a Yamaha BB fitted with a Hipshot Bass Xtender to drop the low E a full step. His BB is strung with either DR Legend Flats or DR DDT strings.
McCormick runs two amps: an Aguilar AG 700 for his clean tone and an Aguilar Tone Hammer 700 for dirtier sounds. The amps feed an Aguilar SL 4x10 and an Aguilar SL 2x10.
Whereas Nelson runs very few effects, Corey McCormick has a lot of tonal options on the floor. He plugs his bass into a Boss TU-3 chromatic tuner. From there, it hits a Noble Preamp/DI, a Radial Twin City ABY Amp Switcher, an Emma Electronic Discumbobulator, an Electro-Harmonix Micro POG, a Fat 314.C chorus, a Wampler Low Blow Overdrive, a Dunlop Cry Baby Mini Bass Wah, an Eventide H9, and an Electro-Harmonix Holy Grail Nano. Everything lives on a Pedaltrain Classic 2 pedalboard while a Voodoo Lab Pedal Power 2+ supplies the juice.
Click to subscribe to our weekly Rig Rundown podcast:

American Stage Cables:https://www.daddario.com/AmericanStageRR
---
---