The godfathers of thrash metal show off their signatures axes, explain why they bow at the alter of Marshall, and King and Holt talk about their different preferences for Kahler and Floyd Rose bridges.
Premier Guitar's Chris Kies is on location in Chicago, IL, at the Aragon Ballroom, where he catches up with Slayer's Kerry King and Tom Araya along with temporary guitarist Gary Holt who talk each talk about their own signature guitars and explain why Slayer only uses Marshall heads. Plus, King explains his unique cabinet configuration.
Kerry King's Rig
Guitars

Slayer was playing what King described as an "old-school" set on this tour focusing on material from early albums like Show No Mercy, Hell Awaits, and the two metal must-haves South of Heaven and Reign in Blood. His main guitar is his signature 2nd generation B.C. Rich Kerry King V loaded with his signature EMG KFK 85 in the bridge and a Sustainiac in the neck (which he uses on the intro to "Dead Skin Mask") along with a Kahler 2315 tre. This guitar is also loaded with a switchable preamp, but according to King, he doesn't use it that much because he prefers the boost/10-band EQ built into his signature Marshall head. Other signature B.C. Rich guitars he had with him included a Warlock (currently reserved as a backup), a 25th Anniversary V-Tribe, and two more V's—one with an orange flame tribal and another with red and black tribal artwork—which feature King's standard accoutrements like EMG 81/85 pickups, a maple body with a neck-through design, and Grover Mini Rotomatic tuners.
For strings KFK relies on Jim Dunlop strings—.009–.042 for D#, .010–.046 for C#, and .010–.056 for B—and .88 Tortex Triangle picks with custom graphics.
Amps

A trio of his signature Marshall heads that are based on "The Beast," his original JCM800 head, powers King's backline. All three are on all the time and are routed through six Marshall Mode Four cabs. King has a very specific reason for how and why he only uses six Marshall Mode cabs because paired with his signature heads King believes "that because those cabs have more wood in them they create a sound that feels heavier, that's feels tuned lower, and is just fuller."
All of the cabs are all on the floor and wired in a parallel format—if you're facing the cabs from the audience, one Marshall head powers cabs one (far left) and four, the second head powers cabs two and five, and the third head goes through cabs three and six—so he gets a constant wish-wash of his sound no matter where he stands on stage. For his clean tone,
King goes direct to FOH.
Effects

King keeps things pretty simple with his pedalboard. He starts with a Dunlop Zakk Wylde wah because it's "nastier" than other wahs, and then the signal goes through an MXR Flanger, and an MXR ZW44 Berzerker Overdrive. The other Dunlop Cry Baby wah isn't currently being used.
Tom Araya's Rig
Basses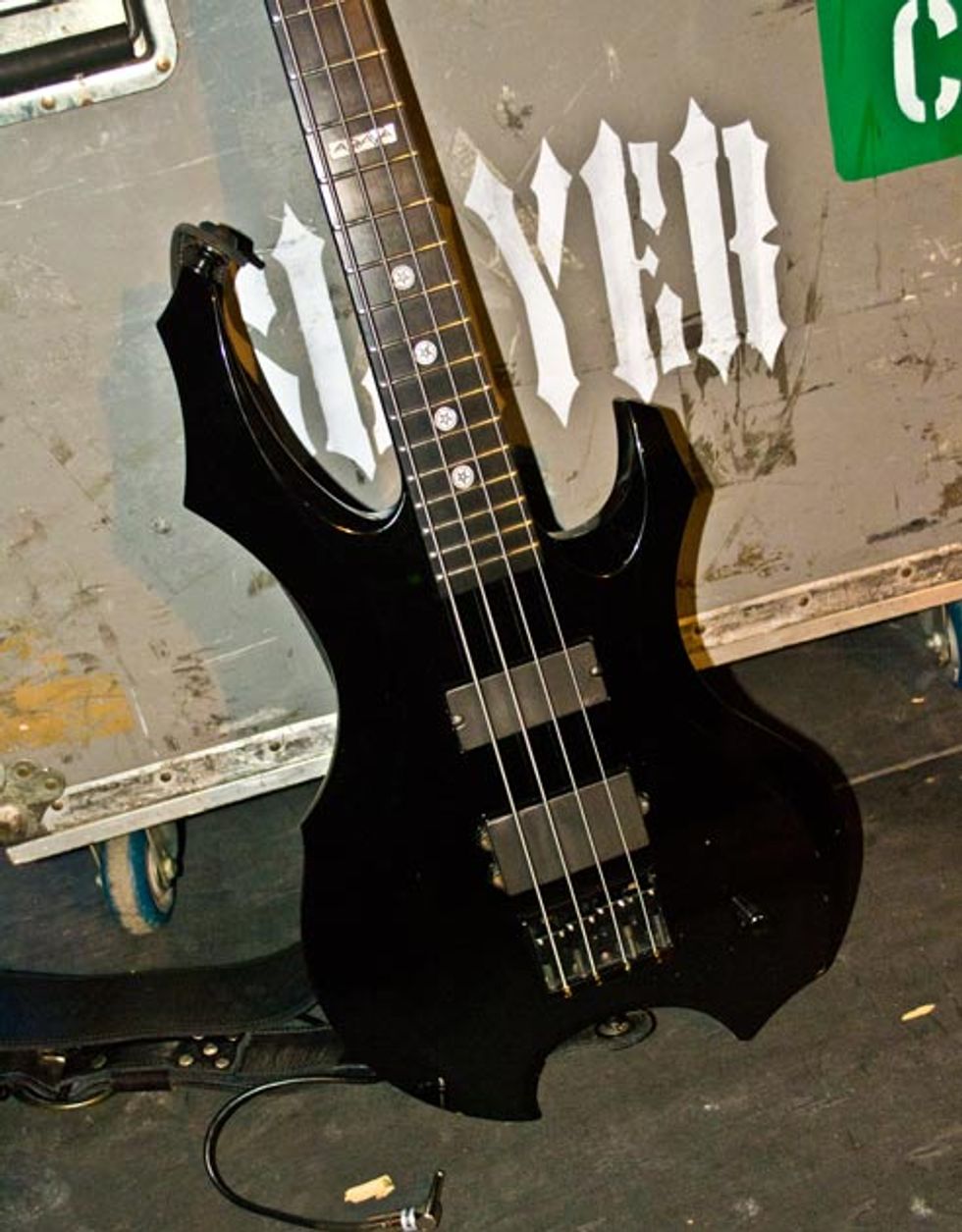 On a typical show, unless something goes wrong, bassist Tom Araya relies on one bass—his signature ESP model. It includes active EMG pickups, an alder body, and an ebony fretboard. His current main has an EMG HB in the bridge and a P in the neck, while his backup has a set of single-coil Ps. After Tom's recent neck surgery, his brother and tech Johnny created a custom harness that connected to the back of the bass to support most of the weight. He uses standard Jim Dunlop Heavy .050–.110 strings on all his basses.
Amps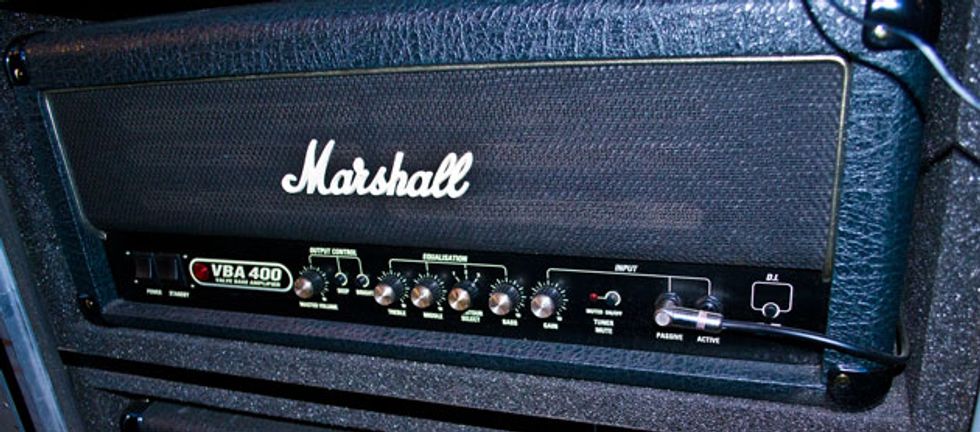 Araya uses a pair of stock Marshall VBA400 heads, which are powered by eight 6550 tubes. He also uses a dbx 160A compressor/limiter, which is always on. According to Araya, he is looking for a "piano-like sound with lots of brightness and punch."
Gary Holt's Rig
Guitars

Guitarist Gary Holt brings an army of V-shaped guitars on the road with Slayer. His most well-known axe is this Schecter signature Damnation model with a "blood splatter" finish that was built for the Big 4 show in California. It has a mahogany body and neck with a Floyd Rose bridge and EMG pickups. Holt mentioned this should be available as a new model from Schecter in 2014. As a tribute to deceased co-founding Slayer guitarist Jeff Hanneman, Holt brings out this custom tribute V for the last two songs in the set, "South of Heaven" and "Angel of Death." According to Holt, this is the only one in existence and if Slayer ever called it quits, he would "take it home and hang it up on the wall." Another main Schecter Damnation V is one with the
Reign in Blood
artwork on its top—which he nicknamed Domino because the red looks like marinara sauce.
Amps

Three Marshall DSL100 heads serve as Holt's source for his sound. He had tried a few different models before settling on these because he needed more gain and wasn't getting enough from the other Marshall heads he was using.
Effects

Most of Holt's effects are housed in his rack. From his guitar his signal goes through a Shure wireless system and then into an Ibanez TubeScreamer—which is always on to "pimp slap the front end" of his Marshalls—a custom boost pedal made by a friend of Holt's, a Pigtronix War Hog, and a TC Electronic Shaker Vibrato. Also housed in his rack are a Rocktron PatchMate Loop 8, MXR Smart Gate Pro, TC Electronic G-Major, and a Radial JD7 splitter. On his minimal pedalboard out front Holt uses a Dunlop Kirk Hammett Wah, a Doomsday Armageddon distortion, and a TC Electronic Vortex Flanger.