When you're one of the most recorded guitarists in Nashville, you make sure you can cover all the bases. Watch this in-depth look at the amazing vintage guitars, rare amps, and massive pedalboard that inspires one of Nashville's first-call session players.
Tom Bukovac has recorded over 600 albums with artists as diverse as Steven Tyler, Carrie Underwood, Don Henley, Willie Nelson, Blake Shelton, Stevie Nicks, and Sheryl Crow. PG's John Bohlinger caught up with "Buk" in his natural habitat, Blackbird Studios, where he was just finishing day one of a two-day tracking session for the new Gary Allan album.
Because one never really knows what's going to be needed on a session, Bukovac usually brings a lot of options. One favorite is this 1961 Gibson SG Les Paul in a custom factory black finish. It's estimated there were only three of these made. This SG, like all of his electrics, stays strung up with D'Addario NYXL .010s.
Bukovac is known as a 335 whisperer. His current favorite is this 1958 Gibson ES-335.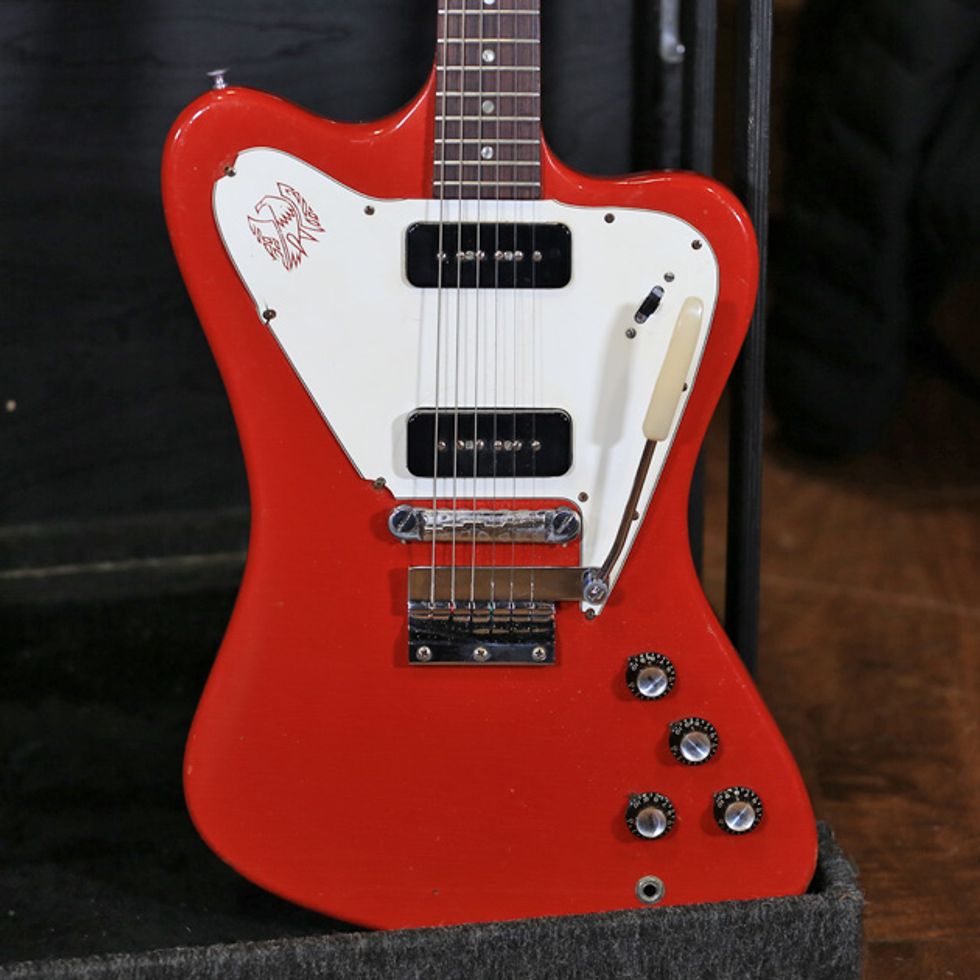 Bukovac's 1965 Gibson non-reverse Firebird I features a very rare Ember Red finish that came straight from the factory.
For some Bigsby goodness, Bukovac plays a 1961 Gretsch 6120.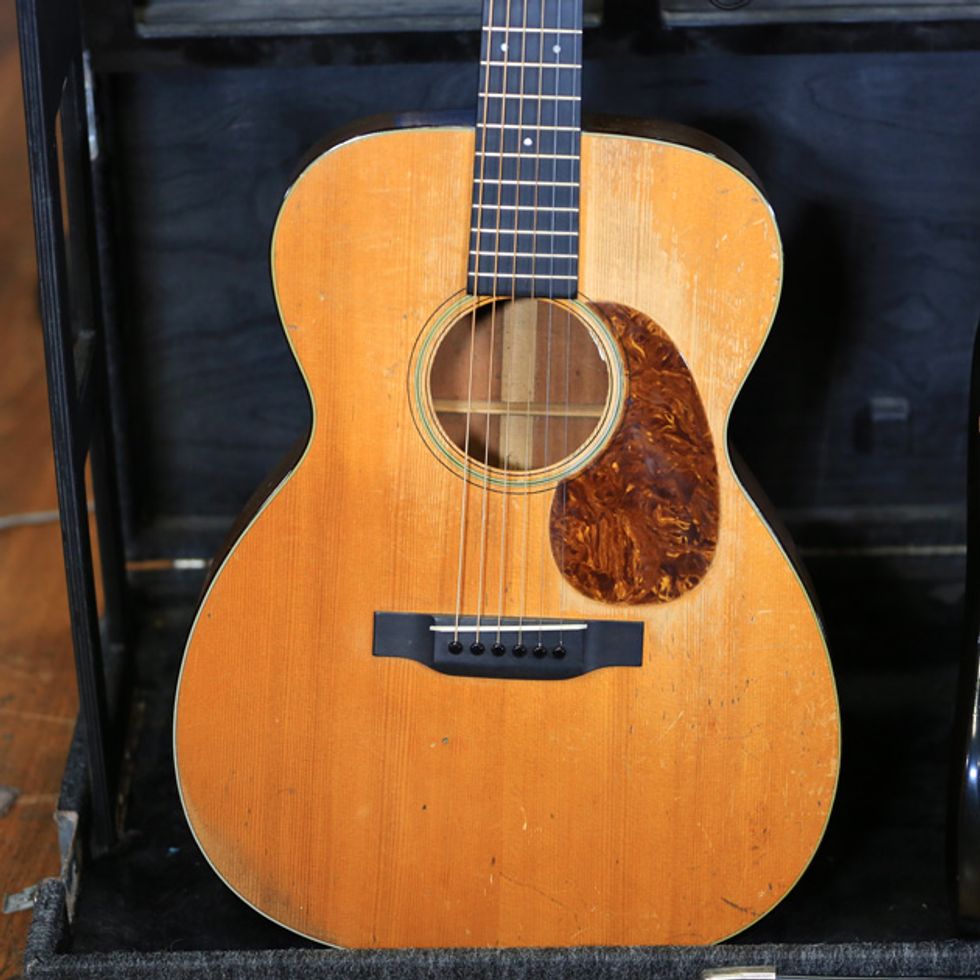 Bukovac reaches for this 1938 Martin OOO-18 strung with D'Addario .012s when he needs some acoustic vibes.
Buk typically carries four different amp heads on sessions. Each head can be switched to feed a Bogner 2x12 cab loaded with a pair of older Celestion 65 speakers. On the top of the amp stack sits this '68 100-watt Marshall Super Bass.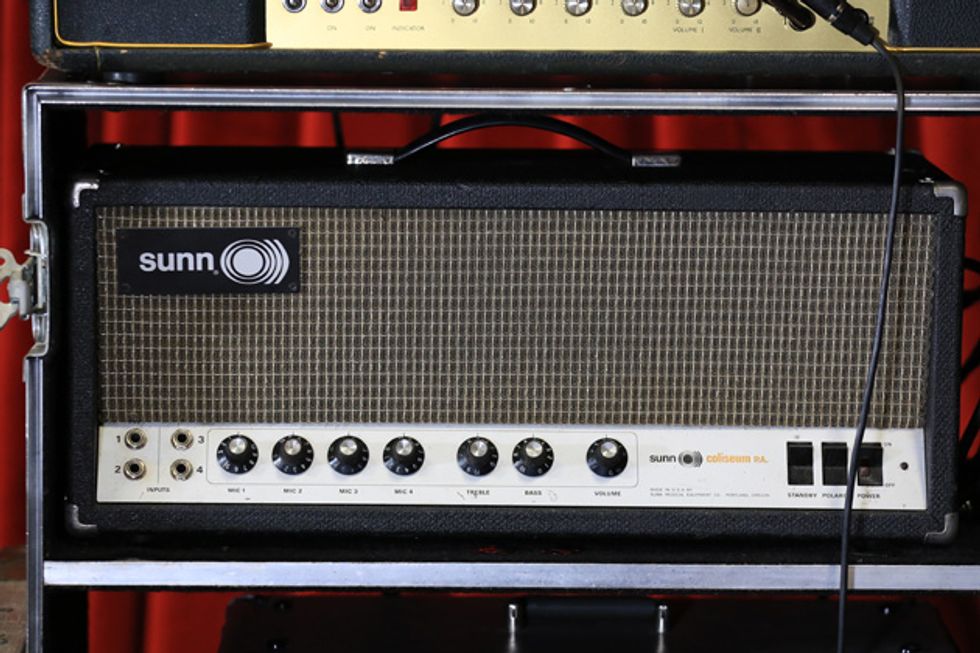 Next up is Bukovac's rare 1968 Sunn Coliseum PA head. It's the same model that was used by Leslie West on "Mississippi Queen."
This 1990 Matchless HC-30 is one of Bukovac's most prized amps. It was one of the first four Matchless amps that were made on founder Rick Perrotta's kitchen table.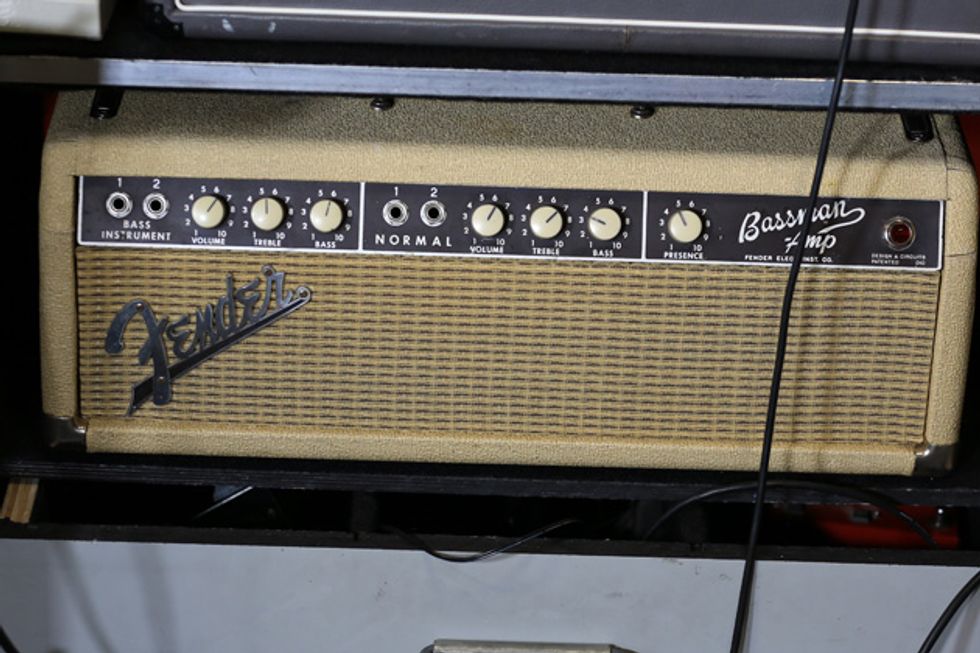 Last but not least is Bukovac's 1962 Fender Bassman.
For a combo amp, Bukovac uses this 1960 Gretsch 6161. (This is the amp you hear throughout the Rundown.) Originally the 6161 came with two oval 6" by 9" speakers and a tweeter, but the previous owner switched it to a single 12".
Barry O' Neal at XAct Tone Solutions built this and several of Bukovac's other pedalboards. Essentially, the board is divided into two sections: gain and effects. The gain section includes a Vertex Boost, (connect to a Dunlop expression pedal), a rehoused Nobels ODR-1, an Analog Man King of Tone, an old ProCo Rat, a Greer Lightspeed and a Spontaneous Audio Son of Kong. On the other side of the board, there is a Boss GE-7, an Ibanez PQ-9, an EarthQuaker Devices Dispatch Master, a Line 6 M9 with a JHV-3 mod, a Strymon Brigadier, a Strymon Lex, an Eventide H9, an Electro-Harmonix POG 2, a Boss VB-2, a Boss TR-2 with a Robert Keeley mod, and a TC Electronic Polytune. Bukovac also carries a few drawers of extra pedals that he subs in if it fits the songs, such as a Collision Audio Devices Black Hole Symmetry, a 1973 EHX "Ram's Head" Big Muff, and more.
The last piece in Bukovac's signal path is this Ebo Custom E-Verb built by local musician and amp builder Eric Borash.
Tom Bukovac would like to thank:
Greg Voros and all the guys at Gruhns
Nick Drushel and all the guys at Glasers
Eric Borash at Ebo Customs
Barry O' Neal at XActone
---
Click below to listen wherever you get your podcasts:
---
D'Addario American Stage Cables:https://www.daddario.com/AmericanStageRR
---