Will Ray's Bottom Feeder: 2002 Folk-Art Fender Strat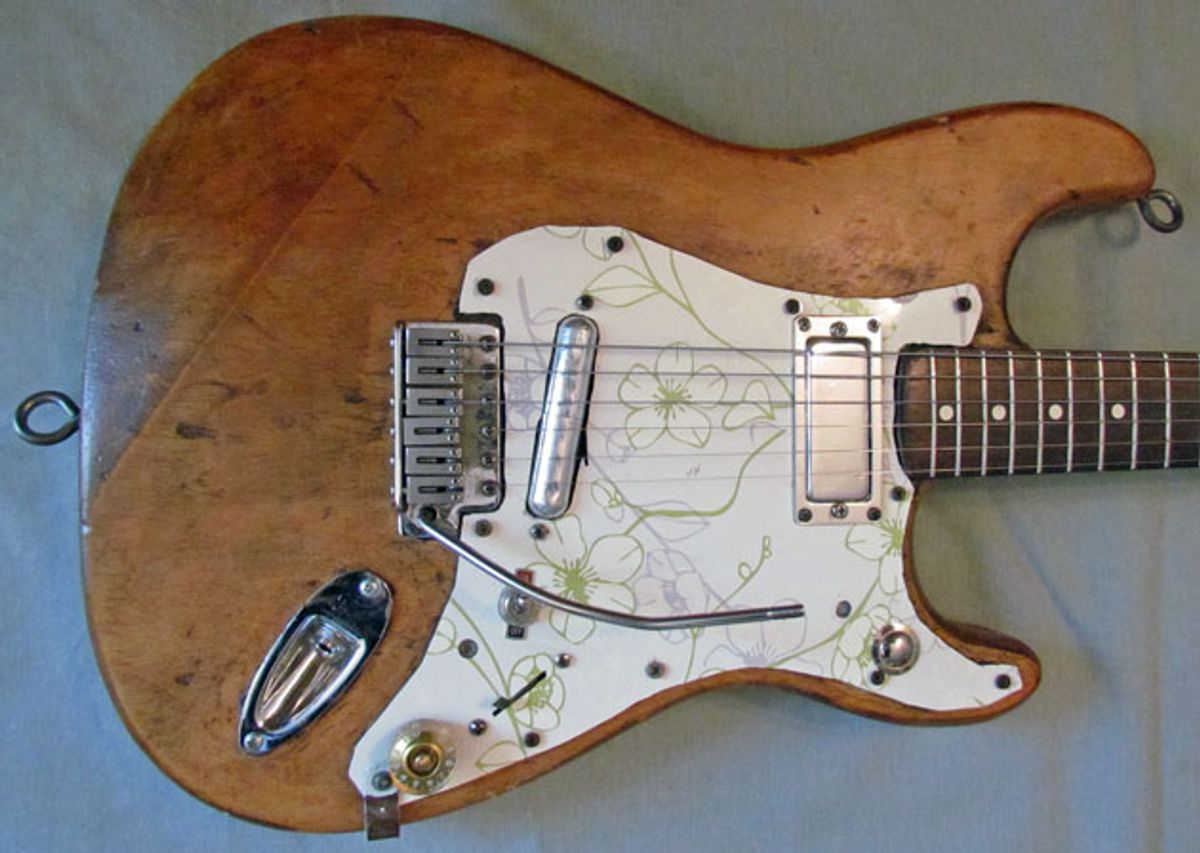 Can you get a good deal if you buy a guitar on the sidewalk?
One of my favorite 6-string events is South Carolina's Spartanburg Guitar Show. It's only about an hour from my house, and I always seem to walk away with something. On my most recent visit, I rode down with fellow Asheville guitarist David Holt. As we were strolling toward the venue, we encountered a guy leaving the show with a cool-looking, well-thrashed Fender Strat strapped around his neck (Photo 1). Darn, I thought, too late to snag that one.
I asked if he'd bought the Strat at the show and was surprised to learn he'd simply been trying to sell it but had no takers. He handed it to me to try out. Because of its old, heavy strings and high action, it played terribly. I noticed the tremolo was adjusted incorrectly, leaving the bridge poking up too high. An easy fix, if you're handy with Strats. The seller also showed me where the headstock had been split and repaired before he got it (Photo 2). It looked like a decent repair to me.

Photo 2
On the plus side, this thing just dripped mojo. The 2002 Fender body had been stripped of its original black paint and stained in an artsy way to look older. The original pickguard had been removed and replaced with what looked like a piece of kitchen countertop with floral designs. It had a mini-humbucker neck pickup and a lipstick bridge pickup, wired to a 5-way selector switch, a mystery 2-position switch, and a single volume control. A push-button kill switch on the lower bout was configured to mute everything when pressed. But the icing on the cake? The eye hooks and C-clamps that served as strap buttons (Photo 3). This guitar resembled a piece of folk art.
The original pickguard had been removed and replaced with what looked like a piece of kitchen countertop with floral designs.

David and I were in a hurry to see the show, so I quickly negotiated the price down from $200 to $125. Logic said no, but my gut said yes, so I pulled out the cash and paid the owner. David stashed the Strat in his car, and then we explored the entire show. I didn't see anything there I wanted more than what I'd just bought.

Photo 3
Bottom Feeder Tip #385: Sometimes you must quickly make a gut decision about buying a guitar. It's a gamble, but the more you know about setup and repair, the better your odds of coming out ahead.
Back home, I got to work. After a preliminary cleaning, I tested the pickups (both worked), put on new strings, and blocked off the tremolo with a piece of wood to lower the action and keep the guitar in tune.
So how does it sound? Listen to my audio samples. The 5-way switch blends the two pickups in strange ways I rather like. The extra 2-way switch allows you to set a lower volume for rhythm, and then hit the switch to play a wide-open solo. This guitar has been played a lot, and I will continue to uphold that tradition.