Hot-Rodded Fender Guitars
A look at the history behind Fender''s Hot Rodded line of guitars
Instead of answering a specific question for "Trash or Treasure" this month, I decided to support Premier Guitar's hot rod theme by researching and evaluating some hot-rodded guitars. In particular, I looked into the history of Fender's Hot Rodded line of guitars that they have been producing since the late eighties. The term hot-rodded is most often used by car enthusiasts, and refers to making cars more powerful or "souping them up." In the guitar industry, hot-rodding a guitar often implies giving the guitar more power, typically by altering or changing the pickups.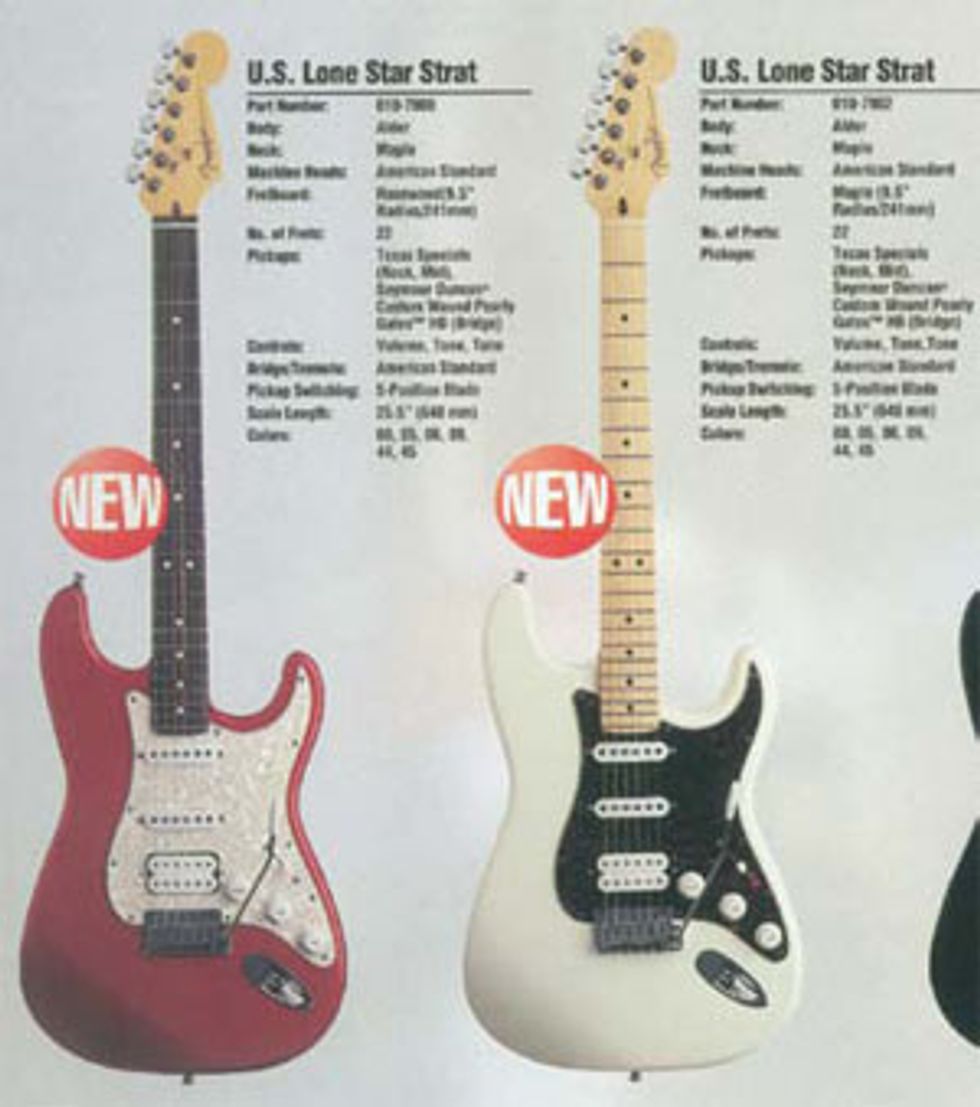 1996 Fender catalog displaying the Fender Lone Star Stratocasters
Fender released their Stratocaster guitar in 1954, and for the first thirty years of production, the guitar received very minor changes in pickup configuration. The Strat, in all traditional applications, features three single coil pickups that have helped shaped the sound of several notable artists, including Eric Clapton, Yngwie Malmsteen and Jeff Beck. Besides the Thinline Telecaster, Fender never really dabbled with humbucker pickups. As the metal and hair bands of the eighties began to dominate the music scene, it was evident that Fender was going to have to change their guitars simply to keep up. ESP, Jackson, and Charvel were building pointy guitars with extremely high output pickups— something Fender had really never experimented with.
After the sale of Fender from CBS to the group headed by the late Bill Schultz, management began to restructure Fender to make it profitable again. In the late eighties, Fender introduced two new lines of guitars, called the HM (Heavy Metal) and the HRR (no literal translation, but the catalog indicates H stands for "history," and my best guess is the Rs stand for "Floyd Rose" and "Hot Rodded").These new, hot-rodded Strats featured a DiMarzio humbucker with coil tapping abilities in the bridge position. After the initial release, Fender took notice that players wanted more "beefed-up" pickups in their guitars, and more Strats became available with new, hot-rodded pickup configurations. Fender offered the Japanese-built HRR '50s Strat (maple fingerboard) and the HRR '60s Strat (rosewood fingerboard) until 1995. In 1993, Fender introduced the Richie Sambora Signature Stratocaster that featured a DiMarzio humbucker pickup as well.
2007 Fender '57 Stratocaster Vintage Hot Rod in Candy Apple Red finish, courtesy FMIC
In 1996, Fender introduced the Lone Star Strat, which would become the first guitar in the Hot Rodded Series that was announced in 1998. Although this type of guitar had been offered by Fender since the late eighties, this was the first series actually bearing the Hot Rodded name. The Lone Star Strat featured two Texas Special single coils and one Seymour Duncan Pearly Gates Plus humbucker pickup. Other models introduced in 1998 were the Roadhouse Strat (three Texas Special single coil pickups), and the Big Apple Strat (two Seymour Duncan Pearly Gates Plus humbucker pickups). All three models retailed for around $1200. These guitars were produced through 2000, and in 2001 the American Strat Texas Special models were introduced. The Lone Star, Roadhouse, and Big Apple were basically all renamed the American Strat Texas Special, American Fat Strat Texas Special, and the American Double Fat Strat, respectively.
Fender continued to offer the popular combination of a Floyd Rose tremolo and a humbucker bridge pickup Strat until the early 2000s. Fender has also produced several Mexican-built and Japanese-built Stratocasters with hot-rodded pickup configurations. In 2007, Fender announced three new American Vintage Reissue models with hot-rodded pickup configurations. The '57 Strat has a DiMarzio Tone Zone pickup in the bridge position, the '62 Strat has a reverse-wound pickup in the middle position, and the '52 Tele has a Seymour Duncan Vintage mini-humbucker pickup in the neck position. These guitars can be purchased new for around $1650 a piece. These hot-rodded Fender guitars continue to command steady market values. In excellent condition, the Japanese-built HRR models are valued between $400 and $500, the Hot Rodded Series from the late 1990s are valued between $700 and $900, and the Floyd Rose Strats are valued between $1000 and $1200. Most of these values are about 75 percent of their original MSRP, which is a pretty decent return for a five- to fifteen-year-old guitar.
There is no question that players want options when it comes to guitars. Hot-rodding a guitar is certainly an easy way to expand a player's tone and sound, which has made it a very popular option. Fender, along with several other manufacturers, continues to experiment with pickup configurations, manufacturers, and layouts.
---
Zachary R. Fjestad
is the author of the Blue Book of Acoustic Guitars, Blue Book of Electric Guitars, and the Blue Book of Guitar Amplifiers. Questions can be submitted to: Blue Book Publications Attn: Guitar Trash or Treasure 8009 34th Ave. S. Ste #175 Minneapolis, MN 55425 800-877-4867
bluebookinc.com
guitars@bluebookinc.com