Interview: Ronnie Earl - Blues Shaman
Photo by Michael Kurgansky
It's all about spirit for the Broadcasters' leader—from channeling mentors such as John Coltrane and Hubert Sumlin, to battling inner demons, to releasing good vibes from the stage to his audience.
When asked if he considers himself prolific, blues guitarist Ronnie Earl says with a laugh, "I don't know if I would call myself prolific at anything." With a career spanning close to 40 years (25 of those with his band, the Broadcasters) Earl isn't one to oversell himself. On his latest album, the stellar Just for Today, Earl's brand of blues is exquisitely captured in its natural environment: the stage. You see, the blues is a living, breathing thing and according to Earl, it's all about bringing the audience—and their energy—into the performance. "When you bring it down, then you have the ability to bring the audience in. If it's always sonic overload then the audience doesn't have a chance to breathe and rest," he says. "The universe doesn't have a chance to breath and rest either." The last few years have become a return to form for the Broadcasters. At one time, the touring schedule was heavy and it began to take a tool on Earl's health. "I'd gotten something called clinical depression and also bipolar disorder. It stopped me dead in my tracks and I didn't exactly know what to do. I was out of the loop for maybe 10 years. There can be a lot of stigma attached to mental health issues, but I came through it due to the love of my wife and God and the 12 steps," says Earl. Now that he's on the other side of his struggles, he keeps a relatively busy touring schedule, but doesn't plan on returning to the pace of 200-plus gigs a year that broke him in the early '90s.
That spiritual connection to the music goes back to when Earl caught a Muddy Waters gig in Boston while he was studying special education at Boston University. Unlike the Bonamassas and Langs of the world, Earl wasn't a child prodigy. In fact, he was a rather latecomer to the guitar. "I really wanted to graduate. It was important to me. I really didn't start playing until my second year in college, just playing acoustic guitar and folk music," he shares. Influenced early on by Neil Young and the Allman Brothers, it was the Waters performance—with guitarists Louis Myers and Pee Wee Madison—that ignited Earl's love for the blues. "I was too nervous [to speak with Muddy]. But he played for six nights and I went every night," Earl recalls. After his epiphany during the Muddy Waters shows, he branched out and discovered the music of B.B. King. "I thought this was very 'adult' music with the band wearing tuxedos. Compared to the other hippie music I was listening to," says Earl. "It was grown-up music. This is the real deal."
Photo by Michael Kurgansky
Earl was first inspired to pick up a Gibson Les Paul due to his love of Duane Allman's playing. "I played slide, but man, I could never play like him. I ended up with a Strat because of people like Magic Sam and pictures of Otis Rush," he says, but his current Strat-of-choice is a '62 fiesta red model, named "Mahalia" after legendary gospel singer Mahalia Jackson. His signal chain is about as pure as it gets with Earl plugging directly into a pre-CBS Fender Super Reverb. "I'm 60 years old and people just weren't using pedals when I started, except for maybe Jimi Hendrix. I've never been a distortion person since I play through a Fender Super Reverb and they are pretty warm-sounding amps," describes Earl.
Although some of the tracks on Just for Today have been recorded by Earl on previous albums, the tributes to both Hubert Sumlin and John Coltrane stand out as some of Earl's most emotive and expressive playing in recent memory. It was shortly after Howlin' Wolf passed away that Earl first met Hubert, and the two developed a brotherhood that lasted until Sumlin's death in 2011. "He was one of the most beautiful and spiritual people I've ever met. I went to bat for him with my record company at the time, Black Top Records. We ended up making two albums and I got all the great people in Boston to make the record. Hubert was very happy," says Earl. Those two albums, Hubert Sumlin's Blues Party and Healing Feeling, breathed new life to Sumlin's career and introduced him to a new generation of fans.
Ronnie Earl's Gear

Guitars
1962 Fender Stratocaster in fiesta red (named "Mahalia")
Amps
Pre-CBS Fender Super Reverb
Strings, Picks, and Accessories
.010 gauge strings and medium picks ("The sound is in the person, not the gear.")
Earl's jazz influence dates back to when his father took him to see titan jazz musicians in New York City. "In high school I was turned on to John Coltrane. I used to go see these great jazz shows with my father at Carnegie Hall, like Charles Mingus and Dizzy Gillespie. I would go see Rahsaan Roland Kirk at the Village Vanguard and George Benson playing in Central Park—before he was singing," remembers Earl. During his solos, Earl's jazz influence never strays far. The dark minor blues of "Equinox" gives the band time to stretch out beyond the realm of a swing feel and explore more extended harmonies and sounds. When asked about Coltrane's influence, Earl brings it back to the ethereal. "I don't think anybody sounds like him. He stands alone," Earl says of the great saxophonist/composer. "He had a very supernatural gift and this very beautiful sound."
The combination of a deeply spiritual side and an ability to translate that to soulful and heartfelt music is a rare trait. Earl lays it all out on every gig with the goal of becoming one with the audience. "I play for a long time and afterwards, I am exhausted. Maybe it's my blessing after playing for so many years, but every night we're getting to the point of this beautiful kind of godlike sense of compassion and passion and love in the music."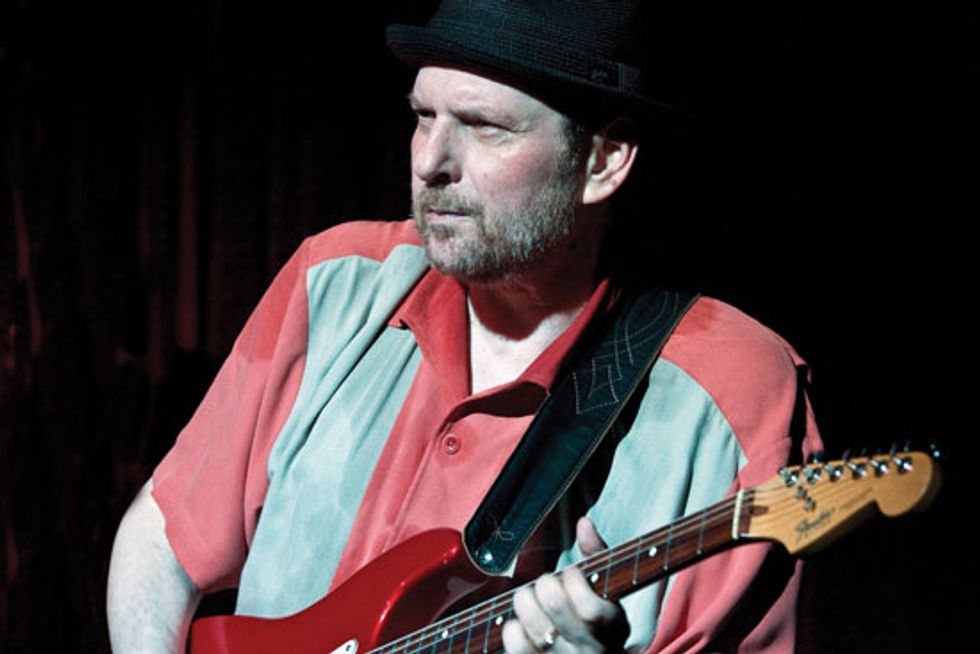 Photo by Michael Kurgansky
YouTube It
Taken from a 1996 performance in Germany, Earl and the classic Broadcasters lineup tear through their classic shuffle, "Blues for the West Side." Watch Earl bring the band down to a whisper at 3:05.

After telling a touching story about Hubert Sumlin, Earl dives into a tribute to the late, great blues master. The double-stops at 2:53 pay fitting homage.

Jimmie Vaughan invited Earl to sit in with his band during a stop in Lowell, Ma. Both guitarists take extended solos over the slow blues made famous by Jimmie's younger brother.