Mesa/Boogie Announces Flux-Five EQ, Throttle Box EQ, and Boogie EQ Pedals
Each new EQ pedals offers a different take on some signature features.
Petaluma, CA (March 17, 2014) -- Mesa/Boogie is excited to announce the addition of the new Throttle Box EQ, Flux-Five and Boogie Five-Band Graphic EQ pedals to its line of award-winning guitar pedals.
Inspired from the possibilities discovered during development of the original Throttle Box gain pedal, the team at Mesa has taken the award-winning platform to a new level of versatility with the addition of the Boogie Five-Band Graphic Equalizer. "With limitless curve possibilities, the graphic equalizer expands the potential for sonic diversity across all playing styles as well as being able to unleash sonic Mayhem. Like the original, this new model includes two modes but here they are controlled by a HI/LO footswitch that enables you to have two gain regions to choose from during live performance," said Doug West, Director of Marketing at Mesa/Boogie. Additionally, the Graphic Equalizer can be assigned to either or both gain modes so that it becomes active upon mode selection. The designers at Mesa also fitted a MID CUT control that allows global scooping of the "mids" in addition to whatever the player might want to do with the graphic sliders.
Mesa's second new offering, the Flux-Five, builds upon the success of the original Flux-Drive and its expressive gain that has been so popular among artists and players across all genres. Again, the new Flux-Five adds Mesa/Boogie's classic Five-Band Graphic Equalizer and footswitchable HI/LO performance modes featuring a HI TRIM control to the already versatile Flux-Drive package. The result is increased shaping power and enhanced stylistic and performance versatility.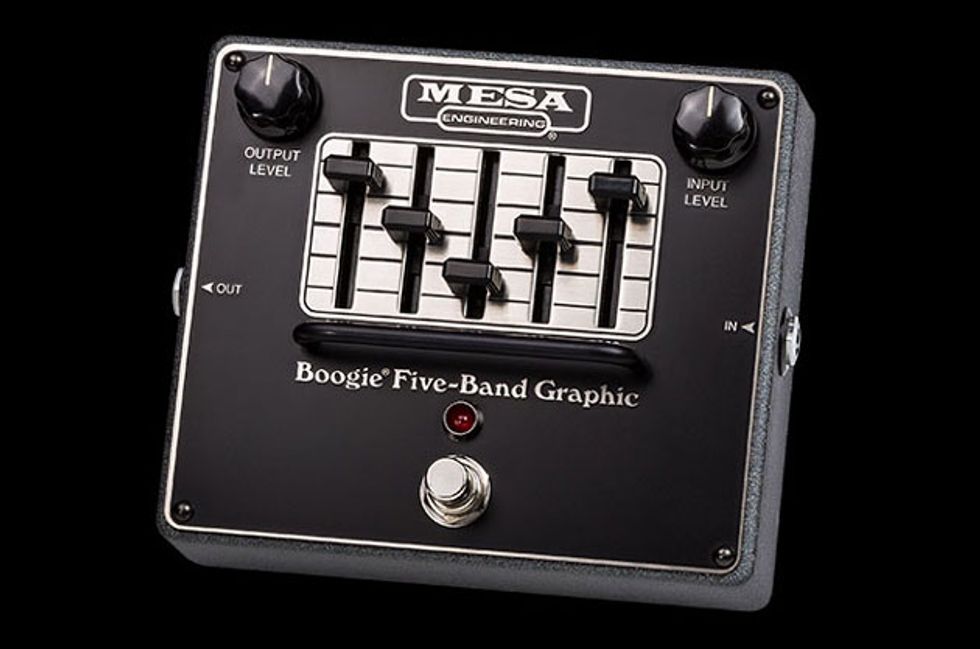 The third new addition to the Mesa/Boogie pedal family is the Boogie Five-Band Graphic EQ. For well over four decades now, Mesa/Boogie's on-board graphic EQ has been at the heart of chart topping guitar sounds and it's hard to ignore the impact its now-classic "V-Curve" has had on modern guitar sounds and popular music. The new Boogie Five-Band Graphic EQ gives guitarists this powerful tool in a stand alone pedal format, packing the same tone shaping power and hand-built quality as those found in Mesa's high-end amplifiers.
For more information:
Mesa/Boogie