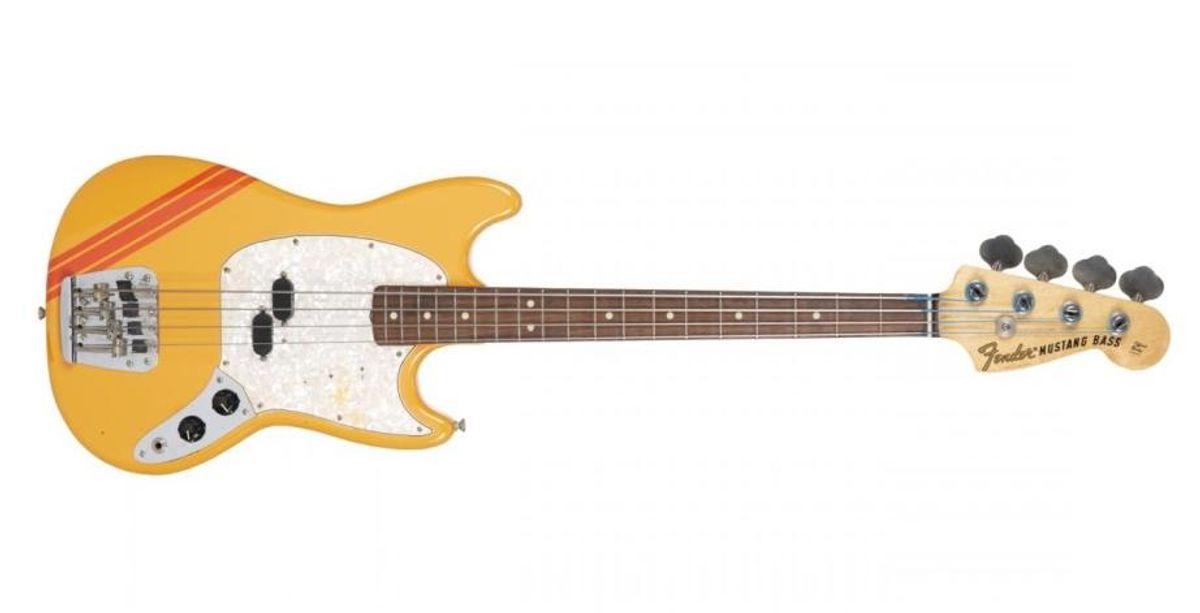 Photo by Julien's Auctions
In his final Bass Bench, our columnist ponders what innovations will come next.
Roughly 70 years into the history of the electric bass, I find myself wondering: Is there a target in the evolution of our instrument? Are we aiming for superb playability, the highest tuning stability, tonal superiority and versatility, ergonomics and comfort, or even all of these things?
---
In our capitalistic world, there's usually one thing that rules it all: money! The site ventured.com features statistics and lists relating to the value of just about anything, and that includes the most expensive basses ever—right next to the most expensive fish and banjos. So, is this list full of the most cutting-edge instruments with advanced technology, giving us a glimpse into the evolution of the bass guitar?
Well, the basses at the top of the list do not give us that impression. Instead, they're rather old tech. In first place is a 1969 Fender Mustang played by Bill Wyman on the Rolling Stones' 1969 and 1970 tour, which sold at auction for $384,000. Of course, the Mustang was originally designed to be a budget bass, featuring racing stripes to appeal to young students.
The second on the list is a $250,000 luxury bass made from "premium materials" by luthier Jens Ritter, featuring 24-karat gold inlays and hardware, plus knobs topped with diamonds. It might still be a good, well-playing bass, but that's obviously not where the money went.
A Hofner 500/1 sporting Paul McCartney's autograph is third on the list of the most expensive basses ever.
Photo courtesy of wikimedia.org
In third is another collectible piece: a Hofner 500/1 Violin bass signed by Paul McCartney, followed by James Jamerson's 1961 Fender Precision. The list continues with either signature models, ornamental inlays, or sought-after, rare custom colors. The Rickenbacker 4005 "Lightshow" bass, featuring lights all over the body that change color based on the notes played, even makes an appearance.
This list is further proof that it's the story of a bass—its origin, rarity, who owned it, or who signed it—that drives its value more than innovation. And, of course, it's collectors and not players that spend that much cash. But what if all those efforts would have gone right into a musician's practical or tonal needs?
Our basses have to be visually appealing, and it's fun for them to have a cool story, but instruments aren't just collectibles or fashion, and a little innovation here and there wouldn't hurt—especially since so many manufacturers' sites praise exactly that. Every other industry accepts R&D as a cost factor that customers must pay for. The music industry instead invests in either cost savings or ornamental luxury, keeping customers amused with an ever-recurring cycle of fashionable items. And besides tradition, fashion is often the real enemy of innovation.
Besides tradition, fashion is often the real enemy of innovation.
Remember those optical pickups from "A Closer Look at Optical Pickups" [May 2021]. An evolutionary product that requires an idea and costly efforts in R&D and, finally, patents? Or how about Just L. Pauls from Spain, who, almost a decade ago, thought he invented a 3D pickup and convinced his family to spend a small fortune on the patent? In the end, there was no money for a good website or even a demo musician and the project soon folded. What innovation will come along and actually succeed at capturing our imaginations and finding an audience?
On a personal note, this is the 120th Bass Bench column, which means it's been running for exactly a decade now. It's time for me to take a break and focus on my main business and get down my backlog that has skyrocketed in recent years.
It wasn't only 120 deadlines to meet, but also some details I wasn't super-interested in and never intended to learn about, but had to, knowing it was going to meet an expert audience. In the end, it has helped me to connect a lot of dots, both historically and technologically, which I'm extremely thankful for.
A huge thanks to all the great people at PG for allowing and helping me to do this, and to all who commented and read what I had to say. I feel honored I could do this, and, who knows, maybe—or hopefully—I'll return at some point. Thank you!
Looking for more great gear for the guitar player in your life (yourself included!)? Check out this year's Holiday Gear Finds!
Outlaw Effects introduces their next generation of NOMAD rechargeable battery-powered pedal boards.
Available in two sizes, NOMAD ISO is a compact, versatile tool that offers the convenience of a fully powered board plus the additional freedom of not having to plug into an outlet. NOMAD ISO is ideal for stages with limited outlet availability, quick changeovers, busking outdoors, temporary rehearsal locations, and more!
NOMAD ISO builds upon the legacy of the ultra-convenient and reliable NOMAD rechargeable pedalboard line originally launched in 2018. The brand new NOMAD ISO editions feature eight isolated outputs (1 x 9V DC, and 1 switchable 9V/12V DC) for even more versatility and clean, quiet power. With an integrated lithium-ion battery pack boasting 12800mAh capacity, NOMAD ISO can fuel a wide array of pedals, and will last over 10 hours* on a single charge.
Each NOMAD ISO pedal board includes adhesive hook & loop pedal-mounting tape, eight (8) standard DC connector cables, and one (1) reverse polarity DC cable, giving you everything you need to build your ultimate "off-the-grid" rig. A rugged, road-ready padded gig bag with shoulder strap is also included, to safely protect your gear while you're on the move.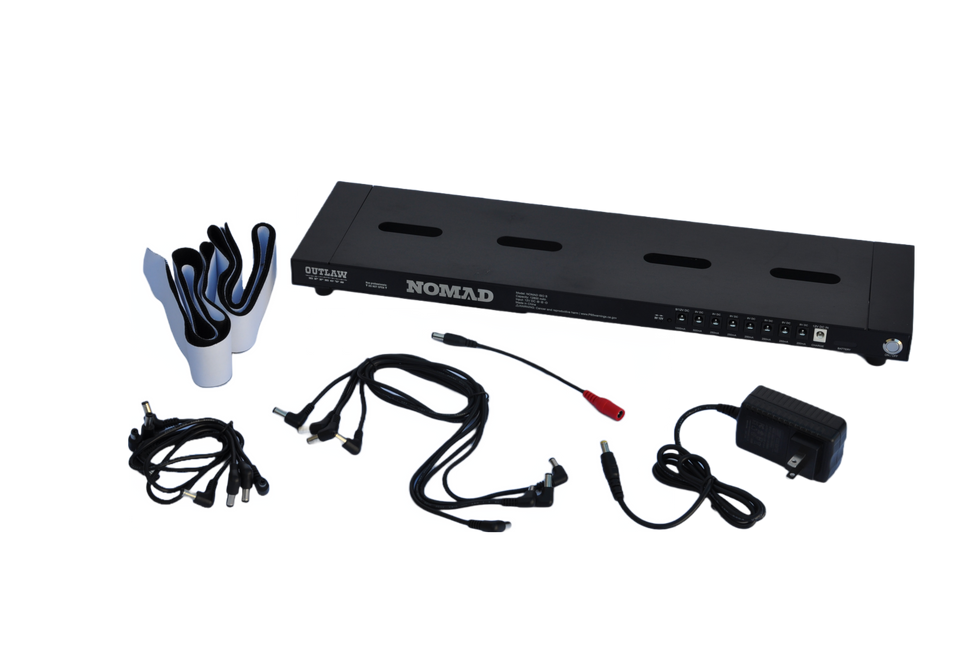 Dunable announce new Minotaur model featuring Grover Rotomatic Keystone tuners.
The Minotaur's DNA is rooted in their classic Moonflower model, which Dunable discontinued in 2017. However, they have long since wanted to create a fresh take on a carved top guitar design, and various attempts to rework the Moonflower led them to a brand new concept with the Minotuar.
Dunable's goal is to give the player a guitar that plays fast and smooth, sounds amazing, and gives maximum physical ergonomic comfort. The Minotaur's soft and meticulous contours, simple and effective control layout, and 25.5" scale length are designed to easily meet this criteria.

Dunable Minotaur!
Features
25.5" scale length
Dual Humbucker
one volume, one tone, push pull for coil splitting
Grover Rotomatic Keystone tuners
Grover Tune O Matic bridge with brass Kluson top-mount tailpiece
jumbo nickel frets
12" fretboard radius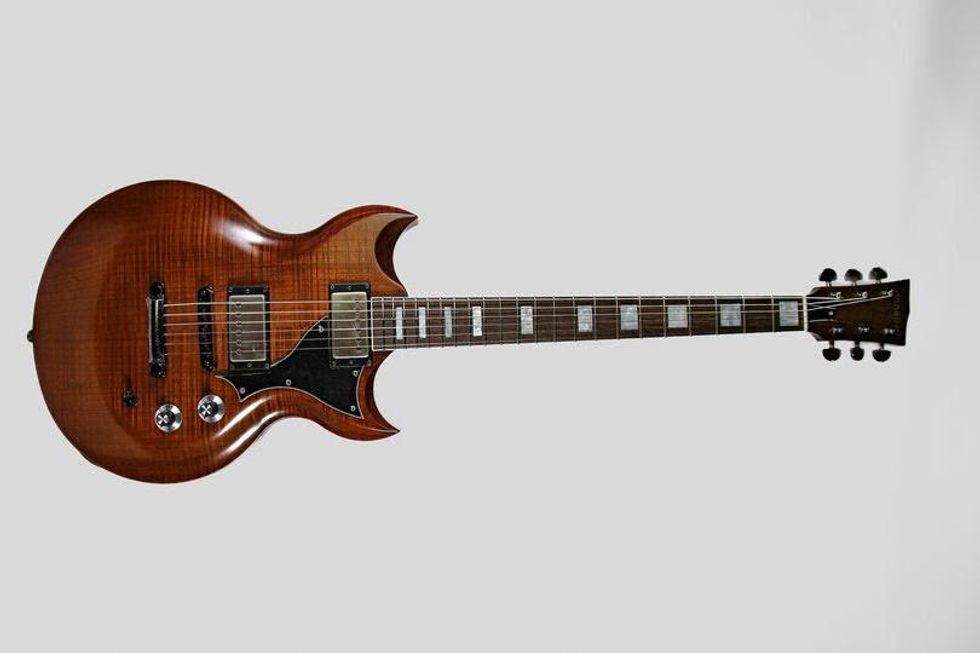 Dunable
This full-amp-stack-in-a-box pedal brings a new flavor to the Guitar Legend Tone Series of pedals, Missing Link Audio's flagship product line.
Adding to the company's line of premium-quality effects pedals, Missing Link Audio has unleashed the new AC/Overdrive pedal. This full-amp-stack-in-a-box pedal – the only Angus & Malcom all-in-one stompbox on the market – brings a new flavor to the Guitar Legend Tone Series of pedals, Missing Link Audio's flagship product line.
The AC/OD layout has three knobs to control Volume, Gain and Tone. That user-friendly format is perfect for quickly getting your ideal tone, and it also offers a ton of versatility. MLA's new AC/OD absolutely nails the Angus tone from the days of "High Voltage" to "Back in Black". You can also easily dial inMalcom with the turn of a knob. The pedal covers a broad range of sonic terrain, from boost to hot overdrive to complete tube-like saturation. The pedal is designed to leave on all the time and is very touch responsive. You can get everything from fat rhythm tones to a perfect lead tone just by using your guitar's volume knob and your right-hand attack.
Features 
Three knobs to control Volume, Gain and Tone
Die-cast aluminum cases for gig-worthy durability
Limited lifetime warranty
True bypass on/off switch
9-volt DC input
Made in the USA
MLA Pedals AC/OD - Music & Demo by A. Barrero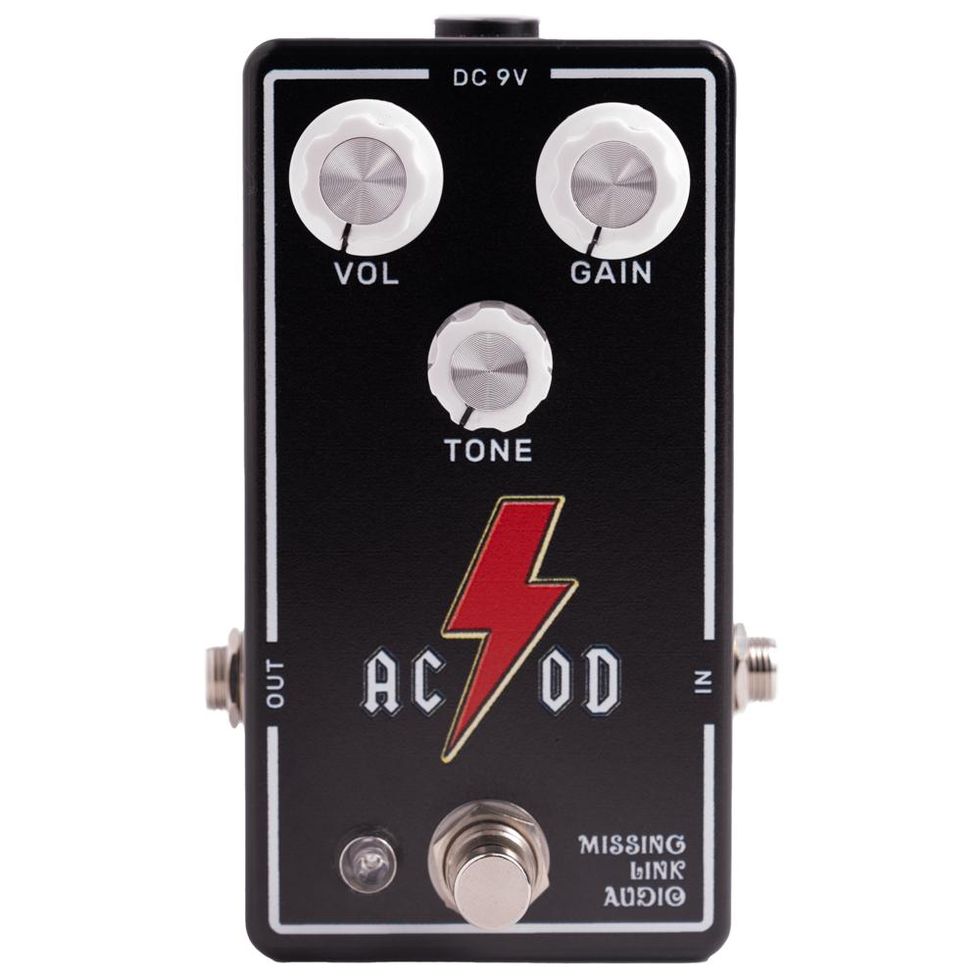 www.mlapedals.com.