Jol Dantzig's Esoterica Electrica: Guitarist Tall Tales (Reports, Rumors, and Rolling Thunder)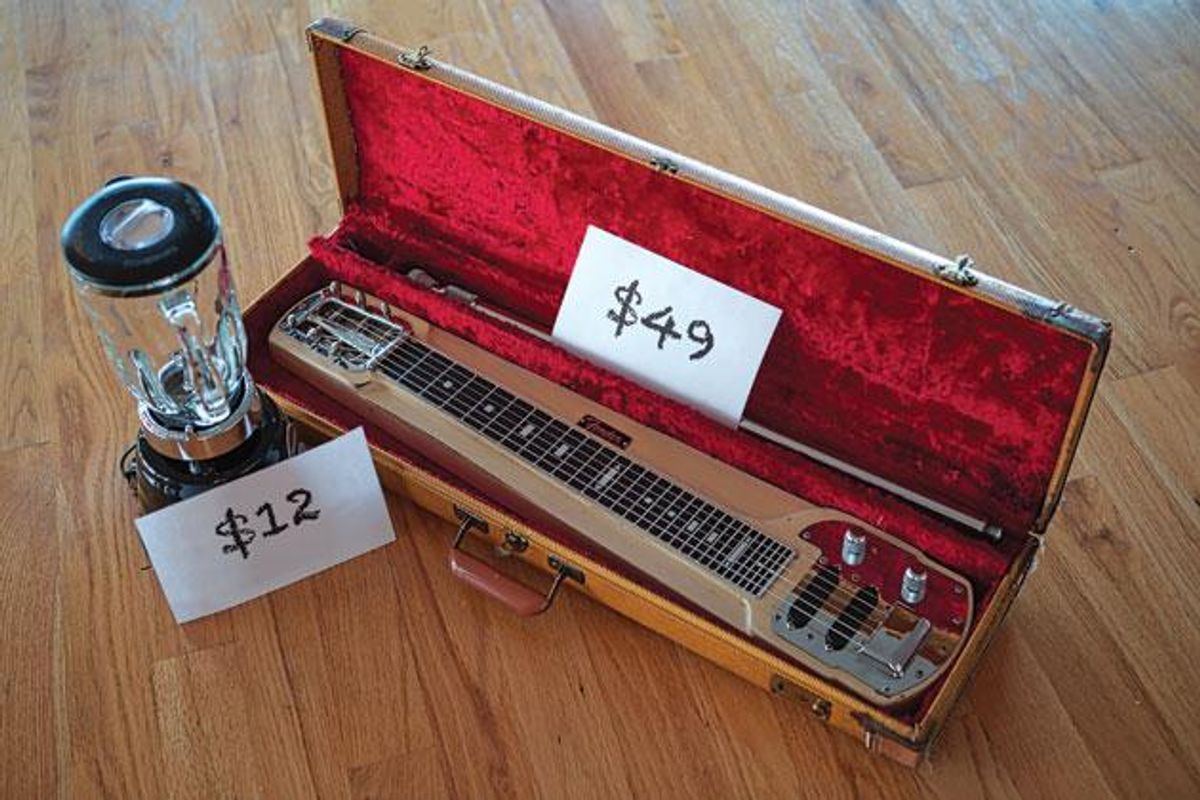 Tall tales abound in our intriguing world of guitars.
As the story goes, our friend P.L. is lucky to be alive. His is a harrowing tale told with relish and flair. And I've heard the tale on several occasions—each time altered slightly to play to the listener. Our humble narrator was able to shade the words in such a way as to draw in his audience, and he craftily peppered the story with details gleaned from previous conversations that resonated with each of us.
As a pro bassist and instrument builder, P.L. was hardly the first prevaricator/storyteller/musician: He's just one of a long line of yarn-spinners. We've all heard stock stories that make the musicians' rounds. There's the story of the Vietnam casualty whose mint 1956 Stratocaster had languished in a closet in his childhood home, only to be discovered by a collector during a chance conversation with his parents. The purchase price? It was well below market value, but not an insult. They just wanted it to go to a good home where it could be appreciated.
Another favorite anecdote is about the band-demo disc (remember those?) that was passed along by a friend of a friend, only to be tossed into a record company executive's wastebasket and never heard. But instead of joining the towering pile of unsolicited demos in the trash, this one skips off the basket's rim and lands next to a bookshelf hidden from view. Inevitably, the mythical demo is found when the boss-man's ten-foot putt goes long, the disc is discovered, and curiosity leads him to play it then and there. The rest, of course, is platinum history.
There are plenty of others: the yard-sale Les Paul Junior snagged for $75, or the guy who traded in a '52 Tele and some cash for a new model in 1999. Then there's the story of an ounce of cocaine or a bag of weed hidden inside a pawnshop guitar purchase. I've heard about a duplicate shipment from Musician's Friend that yielded a matched brace of Jackson Soloists—twice.
I'll add my own favorite to the compendium of questionable fables. In the early 1970s, my vintage-guitar-store partner met an older woman whose deceased husband had been a guitar player. Naturally, he asked if she still had his instrument, and if it was for sale. She led him to a brown Lifton case. Inside was a dead-mint 1959 sunburst Les Paul. She refused to take more than $200 for it. Wait: You've heard that one before? Well, let me return to our friend P.L. and the one tale you probably haven't.
Then there's the story of an ounce of cocaine or a bag of weed hidden inside a pawnshop guitar purchase.

The scene in question was the large stage in Chicago's Aragon Ballroom, a grand hall able to hold 7,000 patrons, and this particular evening was incapable of holding a single soul more. In other words—sold out. Without fail, P.L. would begin his saga with "When I was in Chicago …" (It was always unclear whether this referenced the city or the band of the same name.) "We were headlining the Aragon as a freak thunderstorm rolled in," he'd continue. Through a clever flashback, we'd be informed that our hero had discovered—moments before going onstage—that his bass was suddenly in need of emergency fretwork. "It was most likely caused by a combination of the high humidity and rough handling from the stage crew," he surmised.
Luckily, a quick adjustment, fret dress, and a final polish with some four-aught steel wool set things right as rain. "There was no compressed air available," he intoned, "so I wiped up with a towel as best I could and ran onstage just as the lights went up." This remark struck a chord with me, as only days before this particular telling, we'd talked about how the insidious steel-wool fur was attracted to pickup magnets, and could only be thoroughly expelled with a strong, focused stream of air. Surely, I thought, some residue must have remained.
The storm outside matched the fervor of the audience as the band's set progressed. The massive lighting rig occasionally flickered and crackling could be heard through the sound system. Still, the band and our brave bassist carried on in anger, as though their virtuosity and attitude could hold back the weather.
As the bass solo reached its crescendo, it seemed as though triumph was in hand when a thunderbolt touched the power lines and both the stage lights and amplifiers went dead. The static electricity from the discharge swept down the bass rig's cable to our friend's pickups, and ignited the steel wool with a brilliant, fiery flash that Ace Frehley would have approved of. The audience gasped as the flames leaped skyward. Luckily, our raconteur was insulated from certain death by his thick, rubber-soled boots.
After a moment of stunned silence, the power came back on as if by cue, and the room erupted with a standing ovation. The band finished their set to deafening applause, and as the patrons poured out into the streets, the rain had stopped and the sky was clear. The paying public was surely satisfied to have witnessed true rock 'n' roll magic.
Every now and then when I hear a new musician's yarn­ (or re-hear an old one), I hold my tongue and think of the night that the Chicago fire returned to entertain—over and over again.