Jol Dantzig's Esoterica Electrica: Identity and Authenticity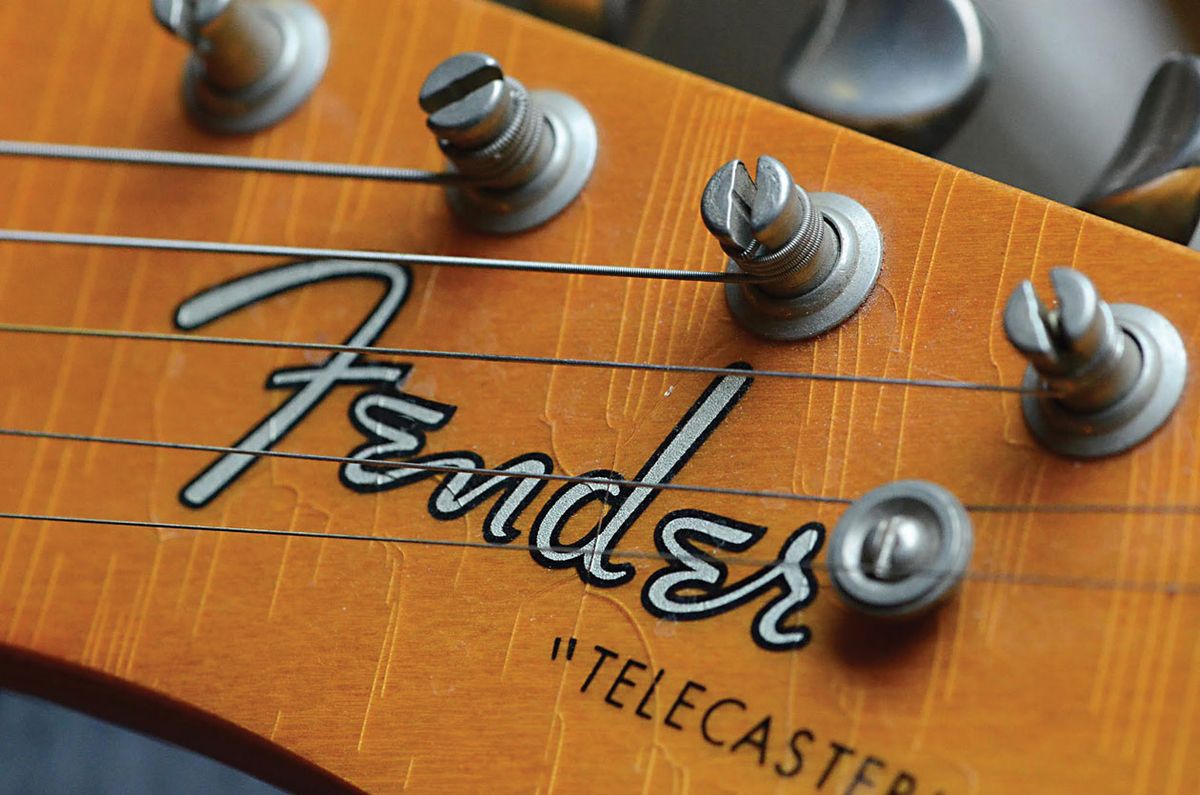 Does that beautiful battle-worn axe in the window have tales to tell from stage work, or from bench work? And does it matter?
Lunch is one of the best times of the day for office and factory workers, second only to quitting time. Inside the sprawling brick mill building in New Hartford, Connecticut, that housed Guild, Ovation, and Hamer guitars, they had a cramped lunchroom on the second floor just across from the freight elevator. And the aging refrigerators there were stuffed with soda cans, bottles, and brown paper bags, each marked with its owner's name. The engineering department, however, had its own methods—namely two, 6-foot chest freezers. These coffin-like units were used for weather testing and storage of the carbon-fiber materials used on Adamas model prototype projects. (Occasionally, there were food items stowed in there, too.)
In 1997, my first year in New Hartford, I decided the freezer could be used to inject some character lines on my reissue Telecaster. I'd had it for 10 years and it still looked like a new pair of sneakers. My colleagues looked on in disbelief as I put my mint Tele into the deep freeze, but to my surprise (and their relief, I suppose), no check lines had appeared after 24 hours. Those telltale lines of age so beloved by vintage geeks are the result of expansion and shrinking of a brittle, nitrocellulose-lacquer finish. This typically happens over time, but it can be forced with sudden temperature changes. My experiment was intended to mimic what happens when you bring your guitar inside from a cold winter's day and open the case in a warm room. My guitar, however, was finished with a catalyzed poly so loaded up with plasticizers that it was immune to temperature shocking. It's also why it looked like a bowling ball. I was disappointed. And, apparently, I was not alone.
Over the decades, both furniture makers and luthiers have sought a way to make traditional finishes more durable. Unfortunately, the addition of additives to make lacquers more elastic—and therefore more resistant to scrapes, bumps, and bangs—usually has unwelcome side effects. That super-glossy, plastic-y look and feel just doesn't impart a warm, vintage vibe to a guitar. Still, these finishes are popular with manufacturers whose warranty liabilities outweigh the advantage (and risk) of using a brittle nitro. To be fair, modern poly finishes have come a long way towards offering the look and feel of old-school lacquers, but to my eye and hands, they just aren't as welcoming. Today's nitro-lacquer formulations are better than even just 10 years ago, but they are still more fragile than urethanes and polyesters.
I found it amusing that guitarists would pay an excise for what previously would have been a factory second, at best.
But just as the guitar-as-appliance mentality was ruling the market, a strange thing occurred. Vintage guitars—particularly beat-up ones—started to trend upwards. The idea that an old guitar with a hammered finish was cool was, no doubt, fueled by the saint-like stature of Stevie Ray Vaughan and his battered No. 1 Stratocaster. This launched a whole micro-industry of guitar refinishers who could distress your guitar like a pair of used blue jeans. Eventually, even Fender's custom division embraced the idea by introducing the "Relic" and "Road Worn" series of guitars. I found it amusing that guitarists would pay an excise for what previously would have been a factory second, at best.
Still, there I was, putting my own Fender into a deep freezer for exactly the same reason. What did I hope to gain? Chipping and cracking the finish on a guitar doesn't make it play or sound any better. Your friends aren't going to think you've been slogging through endless midnight sets in smoky honky-tonks and blues bars. So, what is the deal with buying a brand-new instrument that looks like it came from a pawnshop? My best guess is that it is personalization, and a little bit of projection. When collectors authenticate instruments from photographs and videos—like Bob Dylan's "Newport" Stratocaster—it's the fingerprints of wood grain and wear marks they look for.
Back when I actually played out regularly, my guitar got worn the legit, musician way. Every scrape and ding had a story. Here's the slice from the crash cymbal from a Saturday night at Humpin' Hanna's in Milwaukee, there's a gash from the dish a jealous girlfriend pitched at me, and so on. Scars are marks of battles and experience, and they identify both people and things. But authenticity cannot be faked. As much as I appreciate a dead-mint Shelby Mustang, the battered and bruised one that raced at Riverside in 1966 wins the goose-bump contest. Those scars are real. I had a 1952 Les Paul with a semi-circular dent on the top where a padlock got dropped on it—not long before it was stolen. You can bet if I ever see that guitar again, I'll recognize it. I'll also wonder what new stories it could tell me now.