Jazz virtuoso Lionel Loueke joins us in contemplating who we'd put at the helm while making the album of a lifetime. Plus, musical obsessions!
---
Q: If you could make an album with any producer, alive or dead, who would it be?
Lionel Loueke — Guest Picker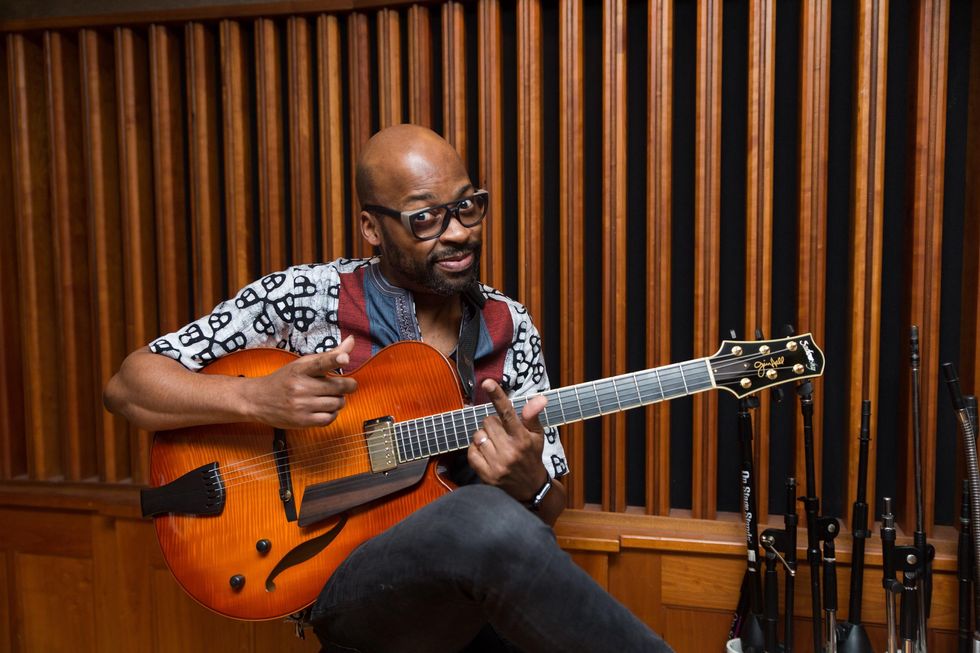 Photo by Elan Mehler
A: Quincy Jones. He's done so much. He's someone I'd love to work with just to get a different experience. I love his work but the main one for me is Michael Jackson's Thriller. I know him personally: I went to Morocco with him when he was presenting the Global Gumbo All Stars, and I also worked with him in the studio when I was playing with Herbie Hancock on his new project. Quincy wasn't producing, Terrace Martin was the producer, but it was so good to be in the studio with all those great musicians.
Photo by Sam Santos
What I really like about Quincy is how he detects talent. Producing is one thing, but he finds the right musicians who have something unique or different to say. I mean, Ray Charles … he's produced so many greats in all genres.
Lionel Loueke's Current Obsession:
Right now, my obsession is all about the drums. I feel like I present myself as being a frustrated drummer, because I play a lot of percussion on the guitar and I started as a percussion player, so it's always been part of what I do. I'm not looking to be a drummer, I just feel really connected to any percussion instrument, and I feel drums will help me go even deeper in my musical multitasking.
I think it was Miles Davis who said that every musician should try to play drums. And I truly believe that because with the drums you have four parts of your body to synchronize: legs, arms, feet, hands. When it comes to rhythmically thinking, drums are something every musician should try.
I just talked to my friend, drummer Ferenc Nemeth, who has been playing in my band for 20 years, about buying a drum kit because I don't have one. Right now, I have drumsticks and I'm beating on everything [laughing].
Matt Dunn — Reader of the Month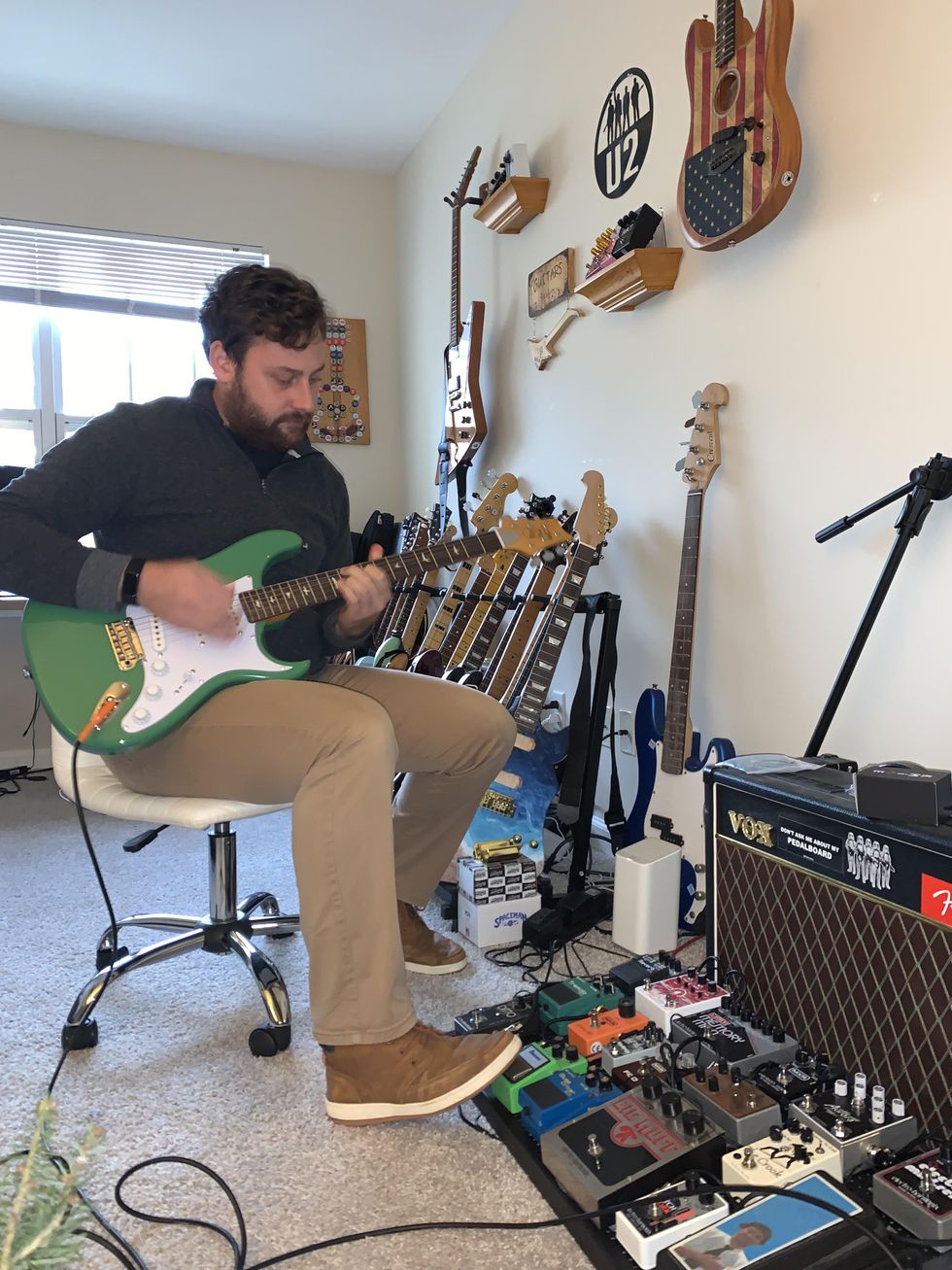 A: I would probably pick Brian Eno/Daniel Lanois specifically because of their work on The Unforgettable Fire album with U2. While I'm mostly into punk/garage rock, I was always so blown away by early U2 records and their approach to songwriting. I would do anything to write my own versions of "Bad" or "A Sort of Homecoming" with their guidance and production.
U̲2 - The Unforgettable Fire CD2 Deluxe (Full Album)
Matt Dunn's Current Obsession:
Bad Religion. Despite being a punk fan my whole life, I was always more into English and East Coast bands. I recently tried to expand my world to include those SoCal punk bands and I cannot find anyone better than them. "Streets of America," "American Jesus," and "We're Only Gonna Die" are on repeat.
Ted Drozdowski — Senior Editor
A: It's a toss between T Bone Burnett and Daniel Lanois.
I love the low sound T Bone perfected with his own The True False Identity and Alison Krauss/Robert Plant's Raising Sand. But I'm crazy about how Lanois brings the ambient playbook to roots music, producing great albums for Dylan, Emmylou Harris, the Nevilles, and more.
Ted Drozdowski's Current Obsession:
I'm in the early stages of working on a feature-length film incorporating songs, storytelling, psychedelic lighting, original artwork, and aerial dance. How could I not be obsessed about it?
Nick Millevoi — Associate Editor
A: The Flaming Lips and Dave Fridmann. I can't begin to predict how my music and their vision would really come together, and that's what I love about the idea of working with those guys. Every Lips album and side project is completely immersive and multidimensional. It would be a dream to tap into their whole technicolor vibe and see how they'd handle sounds, arrangements, and writing firsthand.
Flaming Lips - See the Leaves
Nick Millevoi's Current Obsession:
Eighties drum machines. I'm deep in the throes of an obsession: I recently bought an Alesis HR-16 and the sounds are so sick—and so '80s! —but it has opened up a potential gear wormhole.
Rhett and Zach unpack the big news for secondhand guitar sellers and buyers: Sweetwater has launched their new Gear Exchange. How does it compare to Reverb, Craigslist, and Marketplace? To find out, Zach takes the site for a spin and buys a pedal. He calls the process both "very easy" and "normal." They discuss the pros and cons of the various used-gear outlets and share tips for not getting got when buying gear. Plus, Zach grew a mustache, Mythos Pedals is moving, and he talks about his forthcoming line of Strat pickups inspired by Hendrix's reverse-stagger setup.
Sweetwater vs. Reverb

A highly versatile sonic tool, the pedal can deliver a broad range of tones – everything from mild, wonderfully organic overdrive to medium-gain crunch with a richly satisfying midrange kick.
The pedal is a collaboration between Shnobel Tone and guitarist, songwriter, composer, and record producer Frank Simes. Based in Hollywood, Simes' long list of credits includes work with A-list artists such as Don Henley, Stevie Nicks, Warren Zevon, RodStewart, Roger Waters, Roger Daltrey, and Martha Davis from The Motels. Additionally, Simes was the musical director for The Who for many years.
Its touch sensitivity makes it a perfect choice for guitarists who rely on precise right-hand technique, and it cleans up nicely when you roll back your guitar's volume knob.
Frank Simes Overdrive features include:
Three knobs: Volume, Gain, and Tone controls
True bypass foot switch
Top mounted power and in/out jacks
Hand-built with through-hole components
Crinkle-coated diecast aluminum enclosure, dimensions 4.7 x 3.7 Inches
Standard 9v center negative power – no battery compartment​
Frank Simes Signature Overdrive
Shnobel Tone's Frank Simes Overdrive has a suggested retail price and MAP of $249.
For more information, please visit shnobeltone.com.
The Reference II Series 112 and new 115 feature a new look, ceramic magnets, and Poplar ply shells.
​With gigging musicians in mind, portability was paramount to the design of these cabinets, which still feature all of the power that you expect from Bergantino. Using a lightweight Poplarply shell and Baltic Birch baffles to encase the ceramic-based speakers, these cabinets are extremely easy to transport, while still packing all of the low-end presence and warmth that is required for professional bassists in any genre of music. Covered with rugged tolex finishes and cloth grills, these cabinets look as good as they sound and provide long-term durability that is required for the wear and tear of touring and gigging musicians.
​The Reference II Series utilize ceramic magnets with vented pole pieces for the fullest and roundest low-end possible. Along with their high-power handling capability, the Reference II Series cabinets boast versatility fit for players who utilize fingerstyle, pick, slapping, and tapping techniques. Their presence and punch matches their low-end output and produce an accurate, full-bodied, and authentic representation of your bass guitar in both live and studio settings.
Reference II Series 112
​The Reference II Series 112 is new and improved, featuring the tone that bass purists love, but in a lighter package without sacrificing any of the full-bodied, robust properties that have made this a favorite. The 112 can achieve any sonic palette you desire while faithfully reproducing the natural tone that comes directly from your bass and your fingers. Many bassists love the Reference II Series 112 because of the "blank canvas" it provides the player seeking a solid, no-frills bass tone, and this updated edition upholds that, but with noticeable improvements. Seamless, tight, quick, and responsive, this cabinet is the right choice for players of all levels.
Reference II Series 115
​After receiving many requests to bring back our 115 cabinets, lovers of rumbling low-end can rejoice, as the latest edition to our lineup is here to maximize your bottom end with a responsiveness second to none. We've taken everything our players loved about our previous15" offering, shaved some weight, and updated its design to fit our high standards of the Reference II Series. With our proprietary speaker curves, it can be made to sound full and modern or vintage and rolled off, but never dry. The 115 cabinet provides a massive sound in a lightweight, easily transportable package that is ready for small venues, arenas, and everything in between.
Reference II Series 112: $1059.00
Reference II Series 115: $1099.00
These Cabinets Currently Shipping in the USA. For more information, please visit bergantino.com.
The Royale was designed to deliver loud and vivid clean tone with a responsive, tactile low end.
Designed to offer massive headroom, the 50-watt Royale Head lets you indulge in smooth clean tones at even higher volumes on stage without any breakup. Select between class A and class AB modes, with its variable mode switch, so you can choose between gushing Supro tone or a punchier, tight midrange response.⁠

Introducing the Royale Head & Extension Cabinet | Supro
The Royale 1x12 Extension Cabinet features the custom Supro BD12 high-power driver, offering the same mid-range punch and clean articulation as the Royale combo but with additional stage volume. ⁠More info: suprousa.com.
Royale Head | $1,499⁠.99⁠
Royale Cab | $669.99