Tunes We're Spinning Over and Over Again This Summer
Vanessa Wheeler joins us in naming the tracks we're currently playing "on repeat." Plus, our latest musical obsessions!
---
Q: What's your "on repeat" song/album right now and what drew you to it?
Vanessa Wheeler — VAVÁ
Photo by Derrick K. Lee
A: I've been listening to the Tycho remix of MUNA and the Knocks' song, "Bodies," consistently since it was released back in September 2020. I don't know if I can say that it's so much an "obsession" at this point, but a tune that makes it onto most of my playlists because of how I used to be obsessed with it during a time when I was both sad and yet dancing. The original is a fun song to be sure, but the Tycho remix brings in these satisfying acoustic drum samples, smoother and more subdued synth samples, and extended breaks between verses that allow the listener to really sit within the mood. I'm not even sure what the song is about, but hearing words like "bodies in the basement" and "I've been thinking about home," combined with the aforementioned, speaks to a certain kind of melancholy or longing for something that seems impossibly far away.
The Knocks & MUNA - Bodies (Tycho Remix) [Official Visualizer]
Vanessa Wheeler's Current Obsession:
I'd been looking for a little, black acoustic guitar that wouldn't break the bank —something I could travel with that sounded good and felt comfortable to my primarily electric-guitar-playing hands.
I was lucky enough to get a Taylor GTe Blacktop. I love how slack the short scale makes the strings feel, how compact the neck width is without feeling miniature, and the way it sounds particularly good with fingerstyle playing.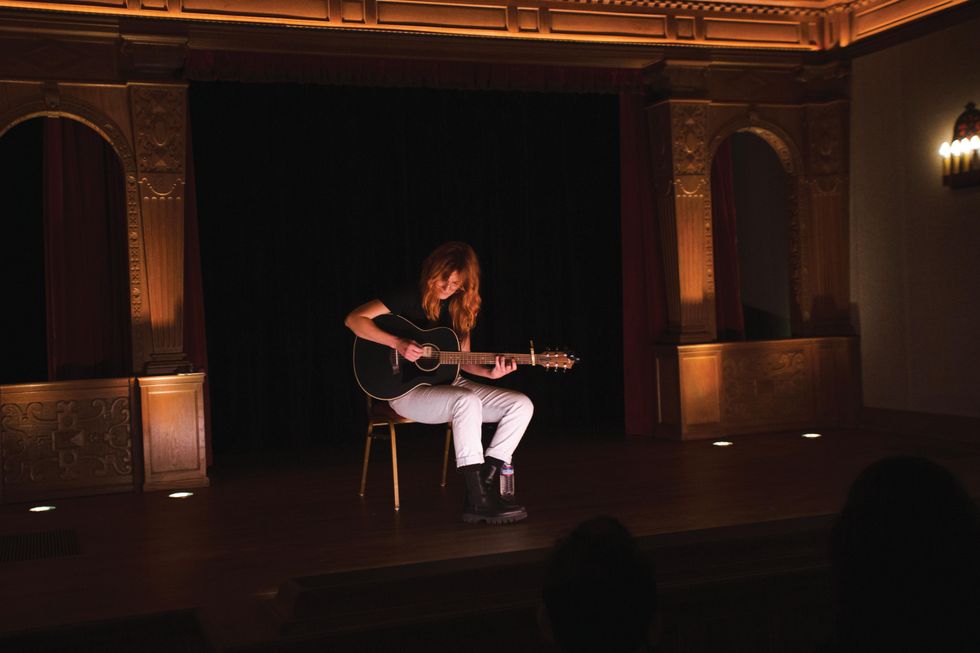 I recently played it unplugged in a beautiful 75-seat theater on the grounds of the Greystone Mansion in Beverly Hills, and it performed beautifully. As a traveling musician, I know I can pop this "little" guitar in an overhead bin and take it everywhere I go.
Joseph Torres — Reader of the Month
A: "In the Nick of Time," from Ken Burns' The War documentary. Ken Burns always knows how to pick good music for a documentary series, and this is no exception.
In the Nick of Time
This song drew me in because it gives an adventurous feeling when listening to it, like you're a fighter pilot in the middle of an epic dogfight.
Joseph Torres' Current Obsession:
The bass guitar. While primarily a guitarist, I've been playing bass on and off for the past seven years now. Until a few months ago, I'd lost interest in it and wanted to focus more on being a guitar player. However, as I kept listening to Cream, I kept paying more attention to Jack Bruce's bass parts. Jack Bruce has become a tremendous influence on me ever since. He, Geezer Butler, and James Jamerson have convinced me also to play more with my fingers. You get a more intimate connection with the instrument that way.
Tessa Jeffers — Managing Editor
A: Lord Huron's "Your Other Life." A friend included it on our road-trip playlist, and the instant it came on, I knew it was gonna be my track of the summer.
Lord Huron - Your Other Life (Official Music Video)
I've spun it every day for the last month. The swooning strings, terribly romantic bass line, and ohhh the singsong of a love gone wrong but still strong. Absolutely mesmerizing!
Tessa Jeffers' Current Obsession:
Musician biographies and memoirs. I've read dozens and dozens, but last month I finally finished Slash's bodacious (and ridiculous) larger-than-life tale. I just found Willie Nelson's My Life and Alicia Keys' More Myself at a used bookstore, so I'm set for a while.
Nick Millevoi — Associate Editor
A: "Synchro System" by King Sunny Adé. The sound on this track is so hip—it's like musical sunshine. The interaction between the acoustic percussion and the interlocking guitar and steel riffs creates a hypnotic texture, and the '80s production elevates the whole vibe.
Syncro System - King Sunny Ade & His African Beats - 1984
I keep watching live videos from this period, and "Synchro System" is always a set highlight, complete with dance instruction.
Nick Millevoi's Current Obsession:
My Strat XII. After spending the early 2010s touring the U.S. and Europe with this guitar, I needed a long break. But now, I'm obsessed once again! It's great for tight, clean riffs, and it keeps being the magic "something" that makes my recordings bloom.