Reader Guitar of the Month: Daphne Blue "1968" Stratocaster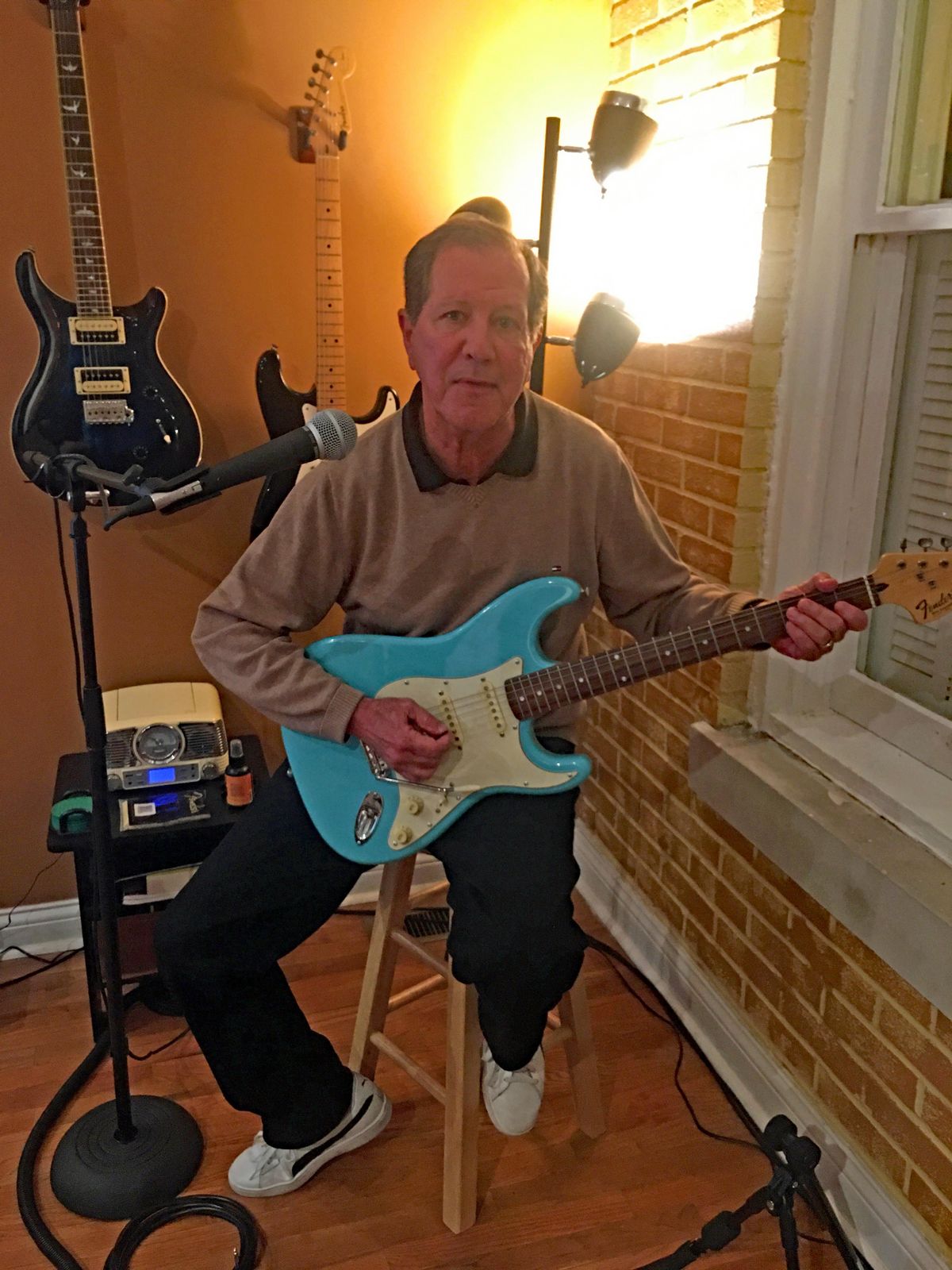 Regretting that his 1968 "Hendrix" Strat got away, a guitarist decides to recreate it 50 years later.
It's 1968 and I'm a 13-year-old Hendrix wannabe, like a thousand other teenage guitar players. In a pawnshop on Elm Street in Greensboro, North Carolina, hangs a brand new olympic white Stratocaster with a rosewood fretboard, oozing Hendrix vibe (many pawnshops were official Fender dealers back then). It hung there for a year, gaining a stain from the neck hanger which looked like the infamous burnt cigarette mark you see on some Strats. I worked an entire summer painting fences to earn the $300 it took to take that guitar home. (I worked the next summer to earn enough to buy a '69 drip-edge Pro Reverb).
---
Fast-forward to 1975 and I'm a college student playing with a friend in dorms and such on campus. He convinces me to buy a bass, since my Strat and his acoustic guitar were a mismatch. So, I naively sold my 1968 Strat and bought a new 1975 P bass for $175 (it was $5 more for the custom black color). These are two of several instruments that "got away" from me over the years.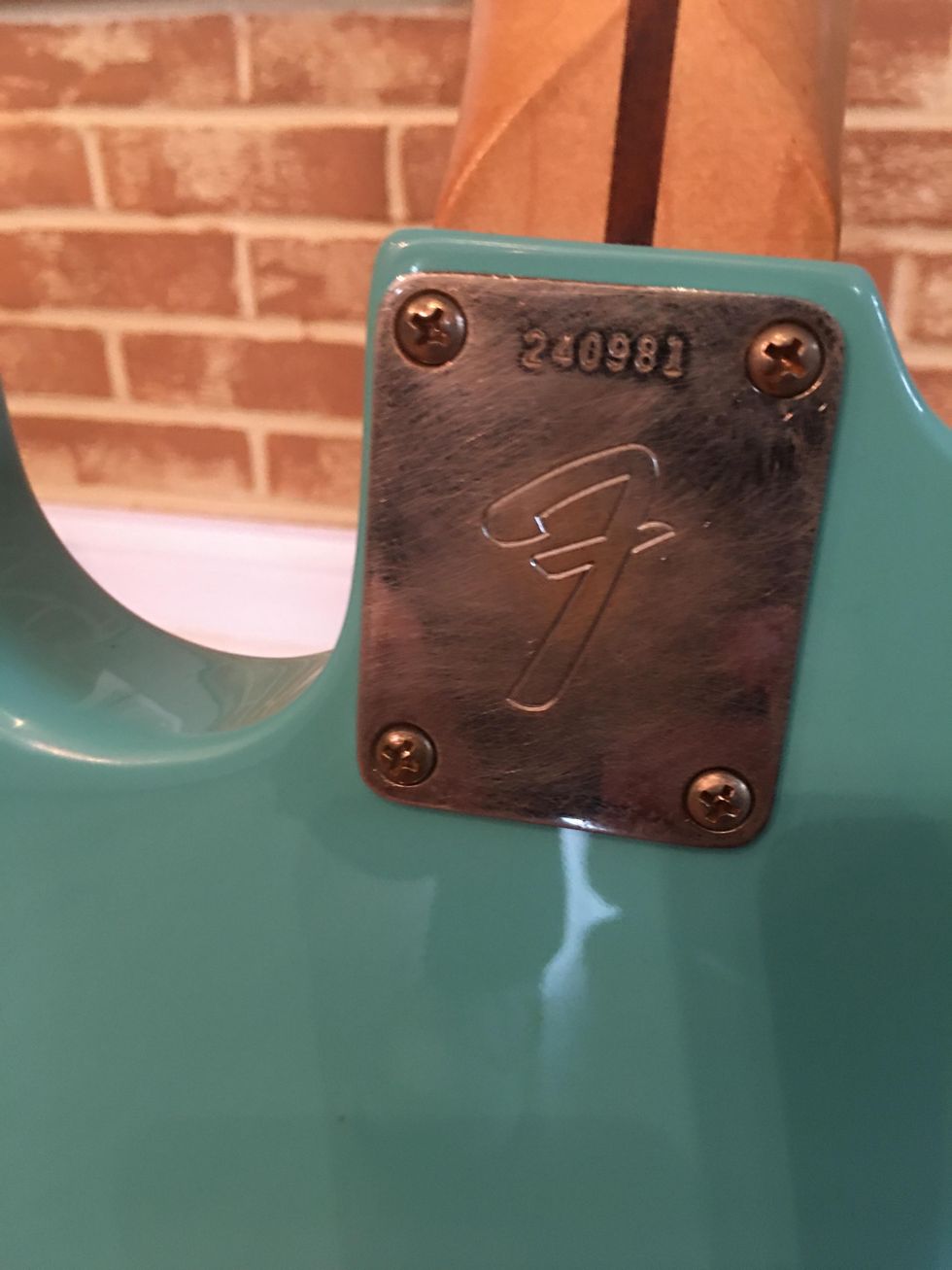 In 2017, I found a Squier Strat neck on Craigslist with the late '60s/early '70s wide headstock. It sparked the idea to recreate my 1968 Strat. The only thing I couldn't find was the right "white" body. Most are cream, not really faded olympic white. So, I settled for daphne blue.
The neck has a reproduction 1968-1970 Strat decal. The serial number for those years was stamped on the neck plate. The neck plate I have is a reproduction with the Fender "F" on it and Serial #240981 (from the Jimi Hendrix Woodstock Strat). The body is poplar from Guitar Fetish's XGP line. Tuners and neck plate are relic'd. The pickguard was purchased loaded with Fender Custom Shop 1969 reissue pickups.
The pickguard features:
New Fender Custom Shop '69 Stratocaster Abby (Abigail Ybarra) pickups initialed and dated by Abby
New Fender '60s-style 5-way toggle switch
New Fender CTS pots (top quality, if you know them)
New Fender/Switchcraft output jack (with two wire leads for easy installation)
The same American-made, top-quality, cotton-wrapped (shielded) wires used in the Fender Custom Shop (double-cloth jacket has a waxed cotton outer braid and a Celanese inner braid, just like Leo Fender used)
High-quality, no-lead soldering tin free from oxidation (the same type that's used on high-end stereo systems)
New Fender pickguard with matching pickup covers and knobs
The tremolo bridge is from a Jimi Hendrix reissue Strat (purchased from Stratosphere). I completed the build with setup on December 29, 2017, and the entire project cost about $500.
It stays in tune better than any other guitar I own and is my favorite … second only to my 1990 Clapton "Blackie" Strat that my wife gave me as a wedding present in 1991.

Send your guitar story to submissions@premierguitar.com.