A '56 Sparkle Jet with Fuel to Burn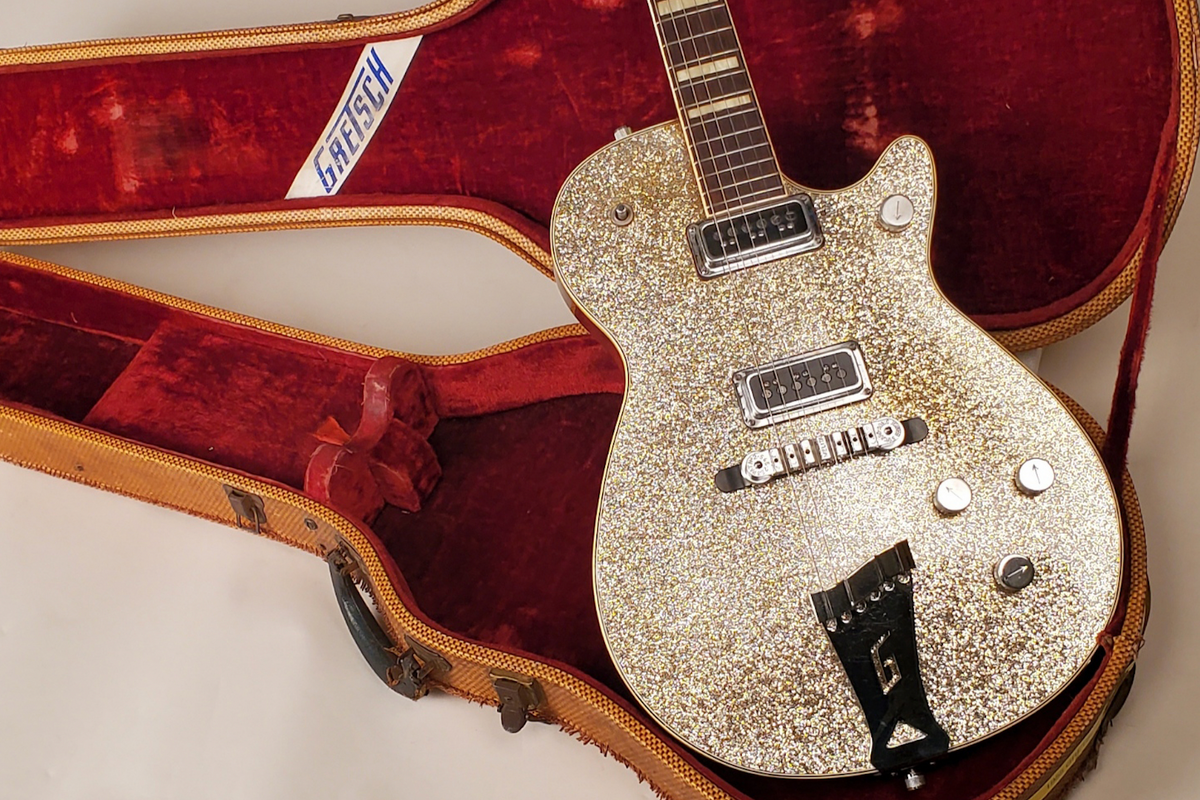 This one-owner Gretsch shows its age, but plenty of exercise and fresh air have kept its binding and hardware intact, and its single-coils singing.
To fall in love with a vintage Gretsch, one often needs a strong heart. Say you chance upon a closet find: a '60s Country Gentleman that has been carefully stored for decades. You open the case and what do you see? Often, rotten binding crumbling off the body, and the rot's corrosive fumes have wreaked havoc on the hardware.
---
This month's featured 6129 Silver Jet does not pose such an issue. The guitar has only had one very active owner. According to Reverb seller Guitars West, based in Southern California, it was that owner's only guitar. He bought it new in 1956, likely for around $255. Then, from rockabilly club nights to bar mitzvahs, it traveled with him to every gig. With scuffs and buckle rash, the guitar has the play wear to prove it, while the binding—having never been enclosed for long—is intact.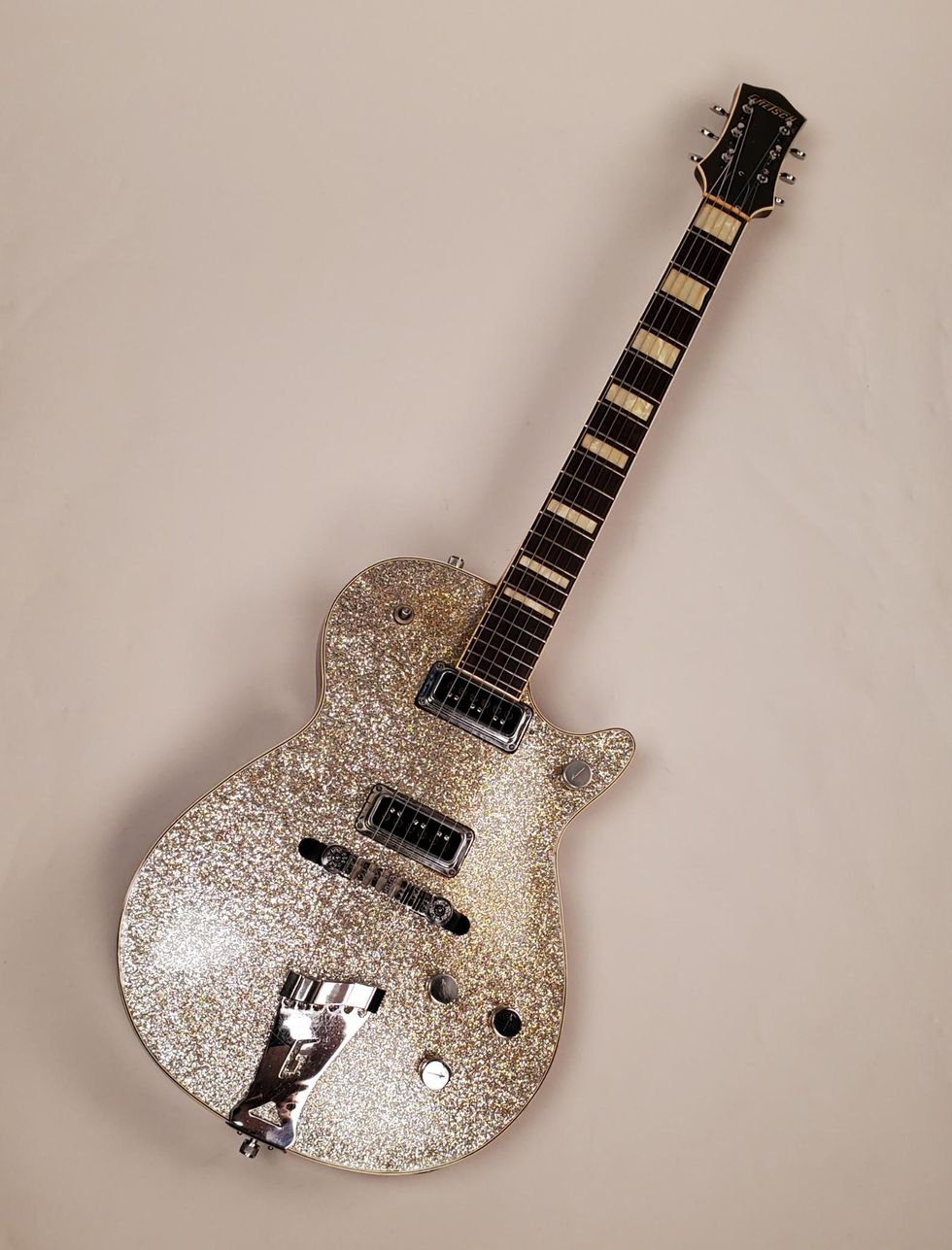 From rockabilly gigs to bar mitzvahs, this 1956 Gretsch Sparkle Jet has led a long and active life, which has kept its binding and hardware intact.
One can imagine these DeArmond pickups roaring through a Dual Twin amp and rising above the din of a honky-tonk—that sparkle top gleaming like a misplaced disco ball, its silver sparkle aging to a golden patina. At some point, the guitar lost its pickguard. At another, its neck joint was reset. (Wood glue deterioration is another ailment common to old Gretsches.)
By 1958, those beautiful block inlays would become the more common thumbprint style and the single-coils were swapped for Filter'Trons
But it's easy to see what made that first owner fall so hard, as, pickguard aside, this Jet still has its original parts. Notice the knobs' straight-arrow position indicators, only found on Gretsches from '55 to '57. Its Melita bridge was one of the first to offer individual string-length adjustments. This guitar has the classic Gretsch control set: pickup selector on the upper bout, master volume by the cutaway, master tone in the lowest spot, and neck and bridge pickup volume dials. By 1958, those beautiful block inlays would become the more common thumbprint style and the single-coils were swapped for Filter'Trons. In the early '60s, Gretsch grounded this design by making all Jets double-cutaways.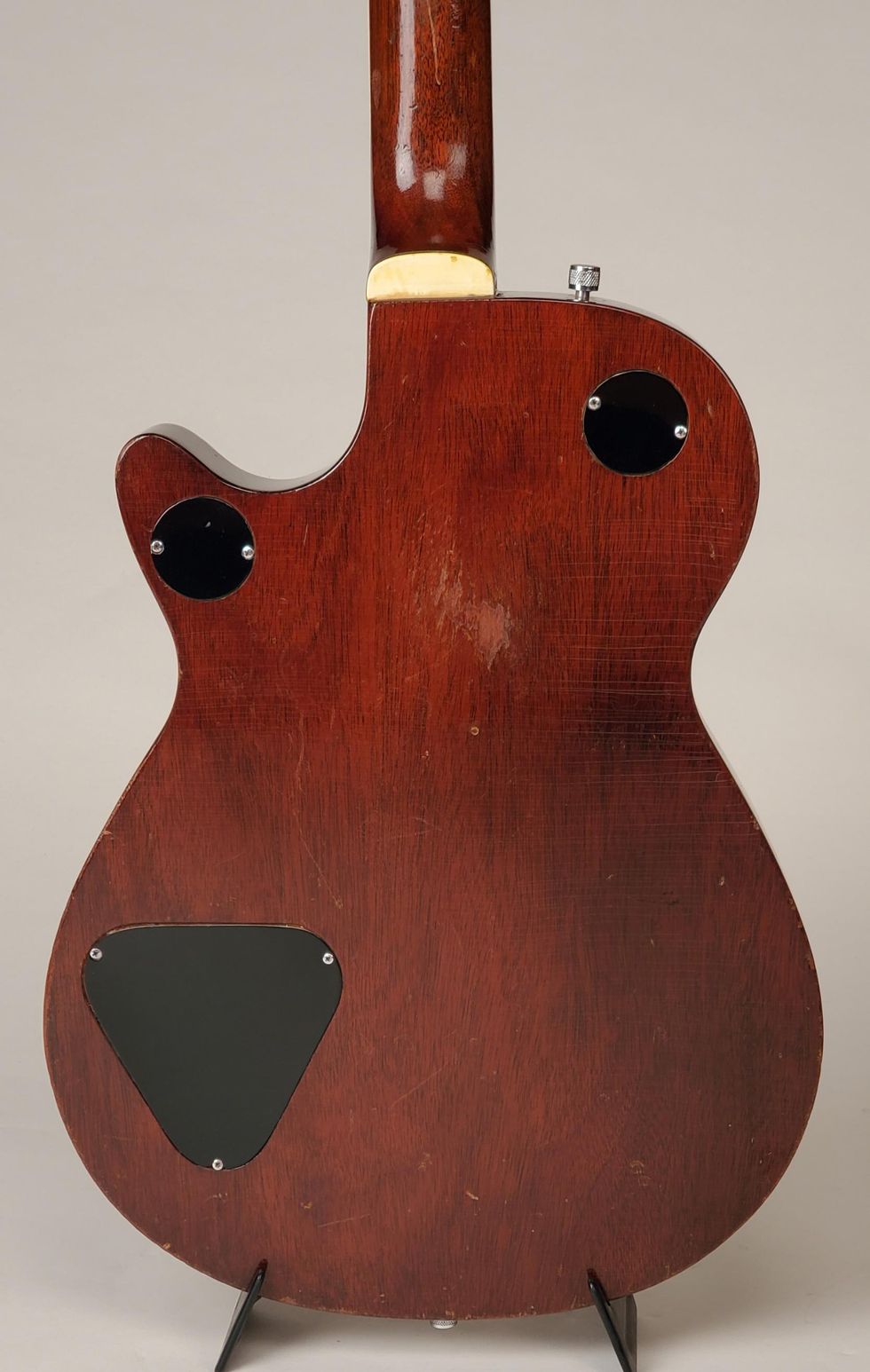 Among this instrument's signs of age are belt rash and a neck-joint reset, which is common for '50s Gretsches.
A revived Gretsch brand reintroduced the single-cut 6129 in 1989. The late Chris Cornell played a gold sparkle reissue in Soundgarden's "Black Hole Sun" video, sparking a Sparkle Jet renaissance. For 30 years, they've been continuously available in one form or another, including 2021's G6129T-89 Vintage Select Sparkle Jet—an exacting recreation of the now-vintage '89 reissue.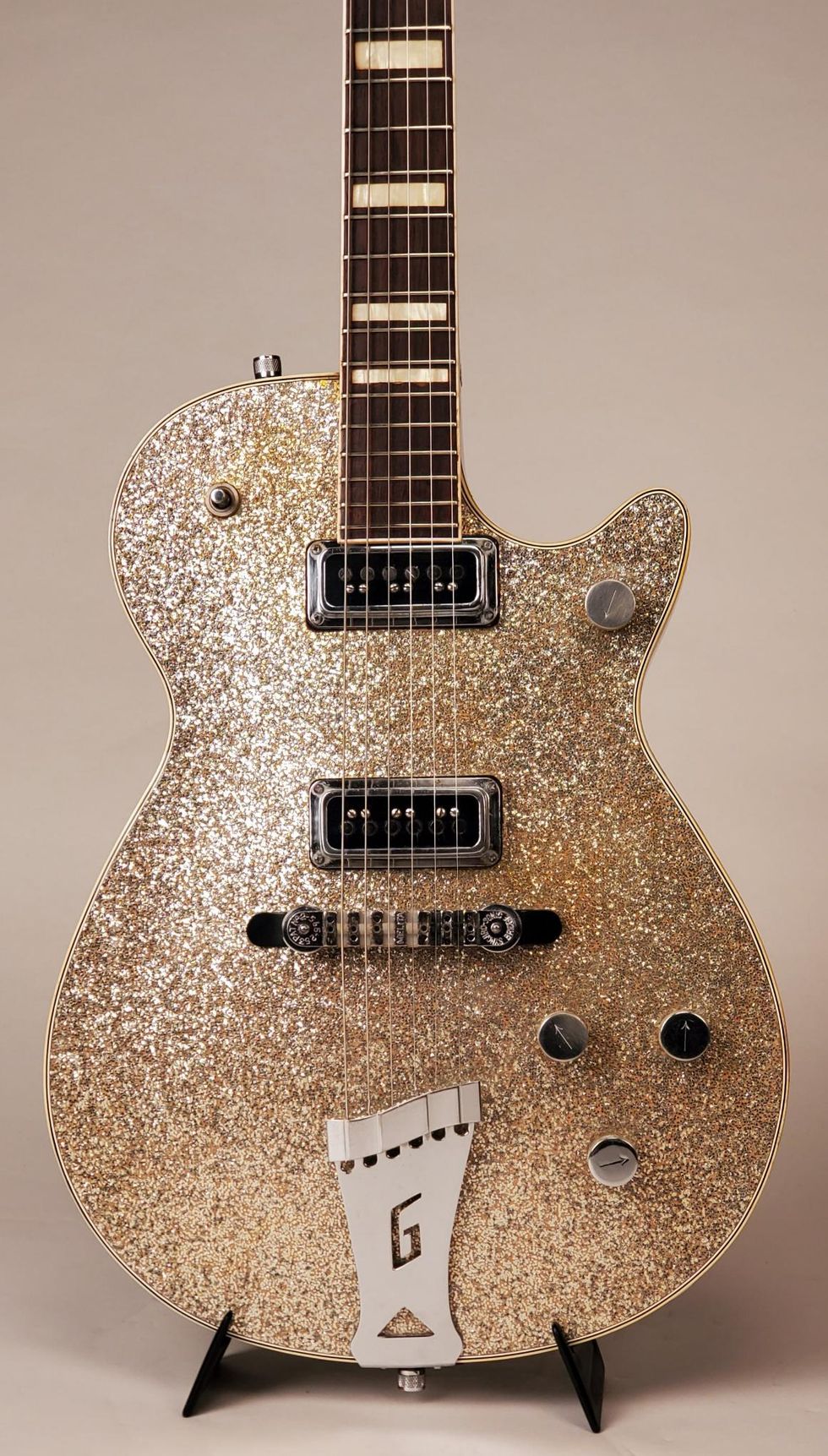 Under those pickups covers are a set of single-coils. Filter'Trons became standard in 1958. The Melita bridge was among the first to offer individual string-length adjustment.
Original '50s Silver Jets in pristine condition are rare—for the reasons mentioned above—but recent examples have sold north of $10,000. This particular Jet, having quite a few miles on it but still plenty of fuel, is currently listed for $6,895.
Sources for this article include Gruhn's Guide to Vintage Guitars by George Gruhn, American Guitars: An Illustrated History by Tom Wheeler, and the Reverb article "What's So Special About the Gretsch Sparkle Jet?" by Ron Denny.