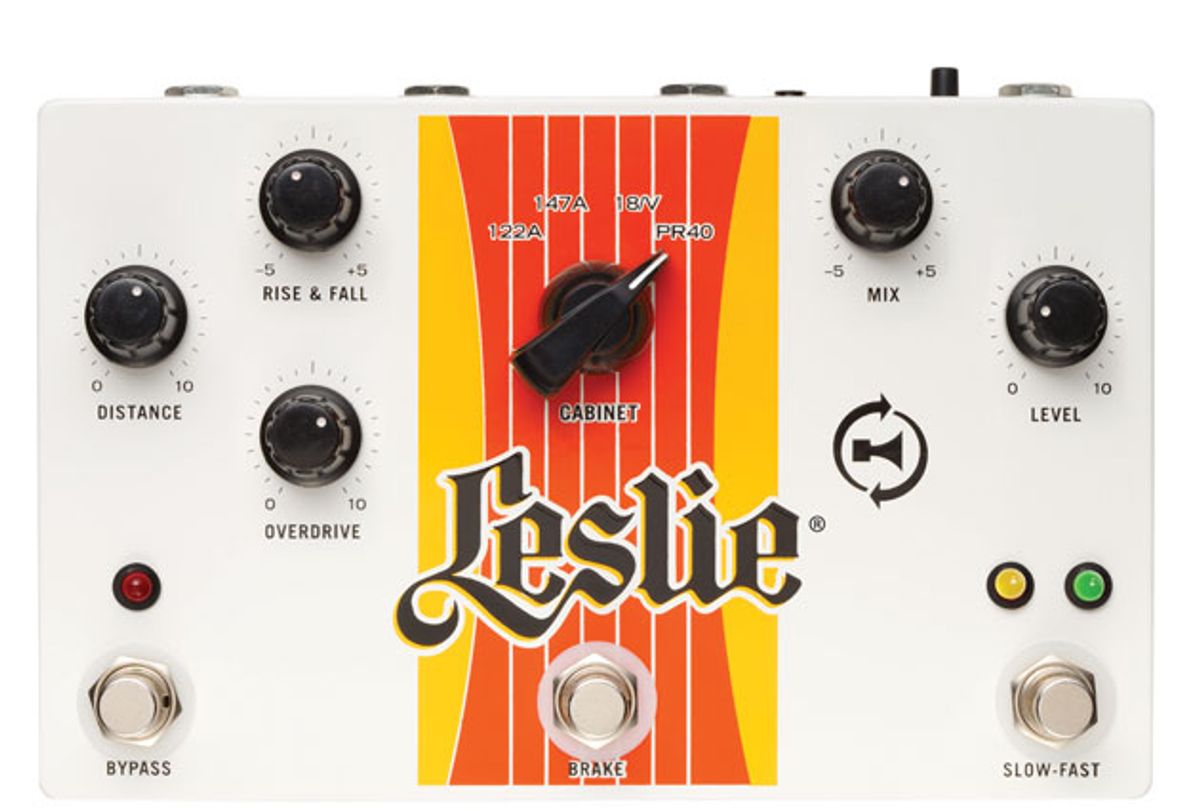 Many have tried to mimic the Leslie sound via stompbox. Has Hammond finally nailed it?
There's an old adage: "Ain't nothing like the real thing."
This saying holds particularly true in relation to guitar gear. Try as they might to emulate the sound and feel of the original item, there's usually some vital, indescribable element that's missing from digital simulations and even many analog recreations of classic gear.
In the world of effects, one of the hardest sounds to simulate realistically is a rotary speaker. A rotating speaker is part vibrato and part phase-shifter. Its sound, sometimes overdriven, is always lush and larger than life. A rotating cabinet is a physical presence that creates a powerful, pulsing aura in the very air around itself. If you've ever stood close to a Leslie at full-tilt, you know it can inspire feelings of awe and even trepidation as it shakes, rattles, and rolls like a living, breathing beast.
Over the years many companies have tried to shrink the might and majesty of these 150-pound behemoths into more portable formats. While many have claimed success (and a select few have actually come close), after careful listening we always seem to end up right back at the first sentence on this page.
Leslie at last? Thankfully, the engineers at Hammond/Leslie finally decided to throw their hats in the ring in an attempt to create the ultimate digital rotary speaker simulator in a convenient stompbox format.
Inspired by the success of the onboard digital Leslie in the Hammond SK1 organ, the 002-Leslie pedal aims to capture all the sound and soul of the genuine article without the backbreaking weight, cumbersome size, or costly maintenance.
At 7.5" x 4.5", the 002 is only slightly larger than your average effect pedal. It features stereo ins with a +6 dB gain-boost switch, allowing it to accept a variety of levels. Stereo outs allow routing to multiple amps or mixer channels.
From subtle vibrato washes to full-on, dirty Texas organ tones, the 002 serves them up with stunning accuracy.

At first glance, the 002's front-panel controls may seem a bit out of the ordinary compared to the standard stomper. But once you get your head around their functions, you'll find it quite simple to coax luxurious Leslie tones from just about any instrument or amp.
Cab control. Front and center on the pedal is the cabinet selector rotary switch, which chooses between four classic Leslie cabinet profiles: 122A, 147A, 18V, and PR-40. Each is modeled on the unique tonal qualities of its historic namesake.
Each cab simulation has preset rise and fall speeds that are accurate to the rotation speed of the Leslie model it's based on. The rise & fall control lets you adjust these speeds while preserving the original cabinet's high-to-low speed ratio. The distance control allows you to adjust the position of a virtual mic from zero to three feet from the virtual cabinet, as if you were listening at varying distances.
From here the controls get a bit more familiar, yet still retain Leslie-specific characteristics. The overdrive control emulates the beautiful, non-linear, dynamic distortion of the classic 40-watt tube front end of the Leslie 122/147 models. Turning it up adds a warm, subtle edge that breaks up more when the input signal increases. The mix control adjusts the balance between the treble (upper horn) and bass (lower speaker) rotors, while the level control sets overall output.
The 002 also has three footswitches: slow/fast toggles between the classic Leslie "chorale" and "tremolo" speeds. Brake decelerates the virtual rotors to full stop, while bypass disengages the effect. From subtle vibrato washes to full-on, dirty Texas organ tones, the 002 serves them up with stunning accuracy.
Best of all, none of the 002's settings sound overly bright or sterile like a chorus can, nor excessively modulated like many vibratos tend to be. There is a decidedly realistic quality to the 002's sound, and it's pleasantly analog-sounding for a digital box. The 002's effect never really goes over-the-top, but works like a real rotary, adding dimension to your sound.
The Leslie pedal proves that sometimes there
is
something like the real thing. Even better, it proves that you can get that "real thing" at a decidedly lower cost—and with less physical commitment—than ever before. For more info on the 002-Leslie visit www.hammondorganco.com.