Funky custom Js and punchy Ps help this low-end maven earn gigs and nail tones from Motown to Miley and all points in between.
The Musician's Institute grad—who's backed up the likes of Miley Cyrus, Fat Joe, Ty Dollar Sign, Dallas Austin, Remy Ma, Aussie Troye Sivan, and (normally) touring with Panic at the Disco—bassist Nicole Row carved out some time just before releasing her debut solo single "Headspace," to virtually welcome PG's Chris Kies into her Cali tone retreat. In this Rig Rundown, she goes through her stable of Ps, Js, and custom basses, details how the neck profile dictated her connection to the Jazz model, and details her powerful pedalboard that amps up the snarl, bite, and oomph.
---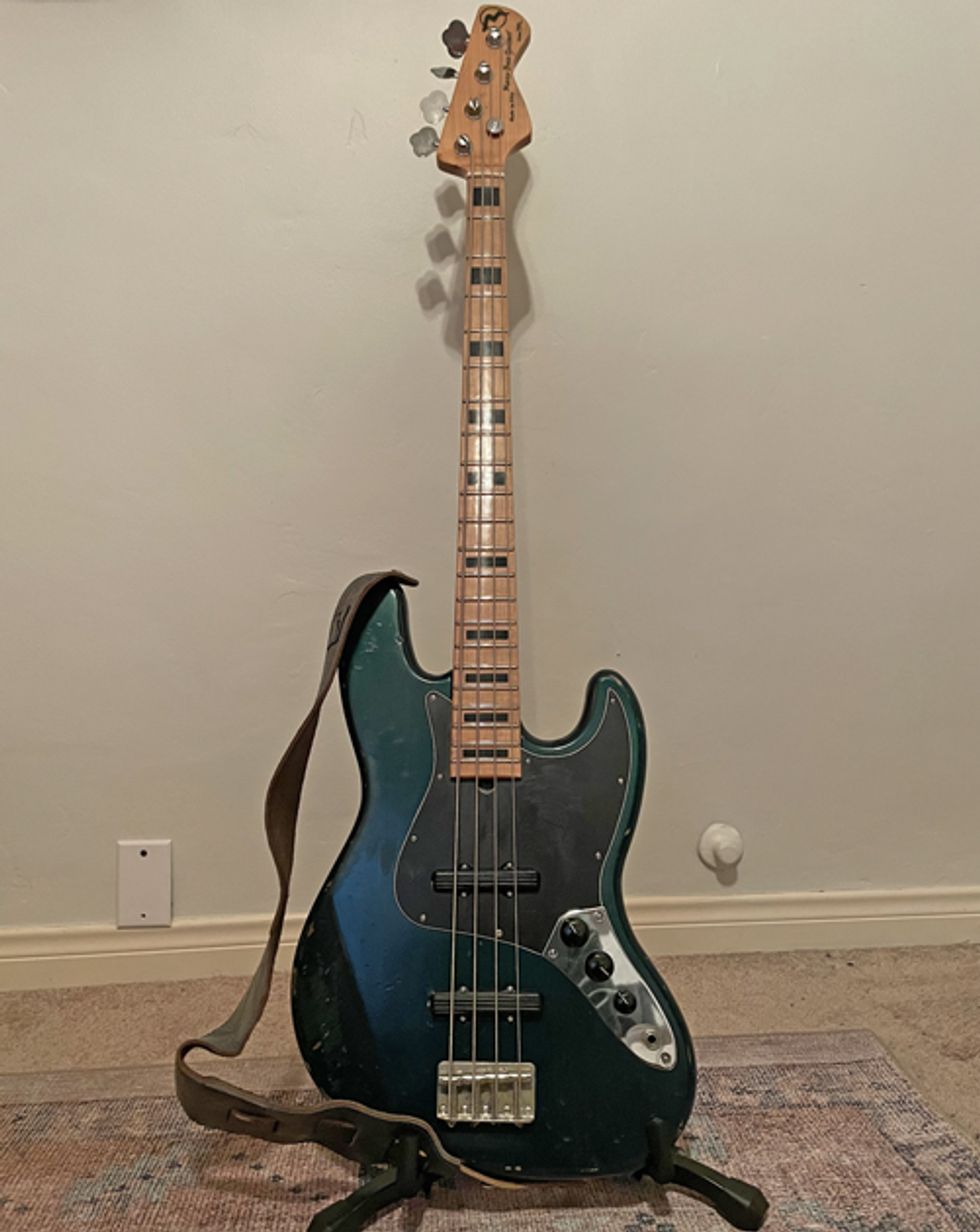 Possibly Nicole's freshest bass is this custom Marco Bass Guitars TFL 4 model that she scored during quarantine and has yet to gig with it. While luthier Marco Cortes does have base models he builds off, he doesn't produce the same instrument twice so some notable highlights on this model are the handwound single-coils, 34.5" scale, maple neck and fretboard with large block inlays, and its relic'd forest green finish. She plays exclusively with her fingers and uses Thomastik-Infeld strings in 4- or 5-string sets.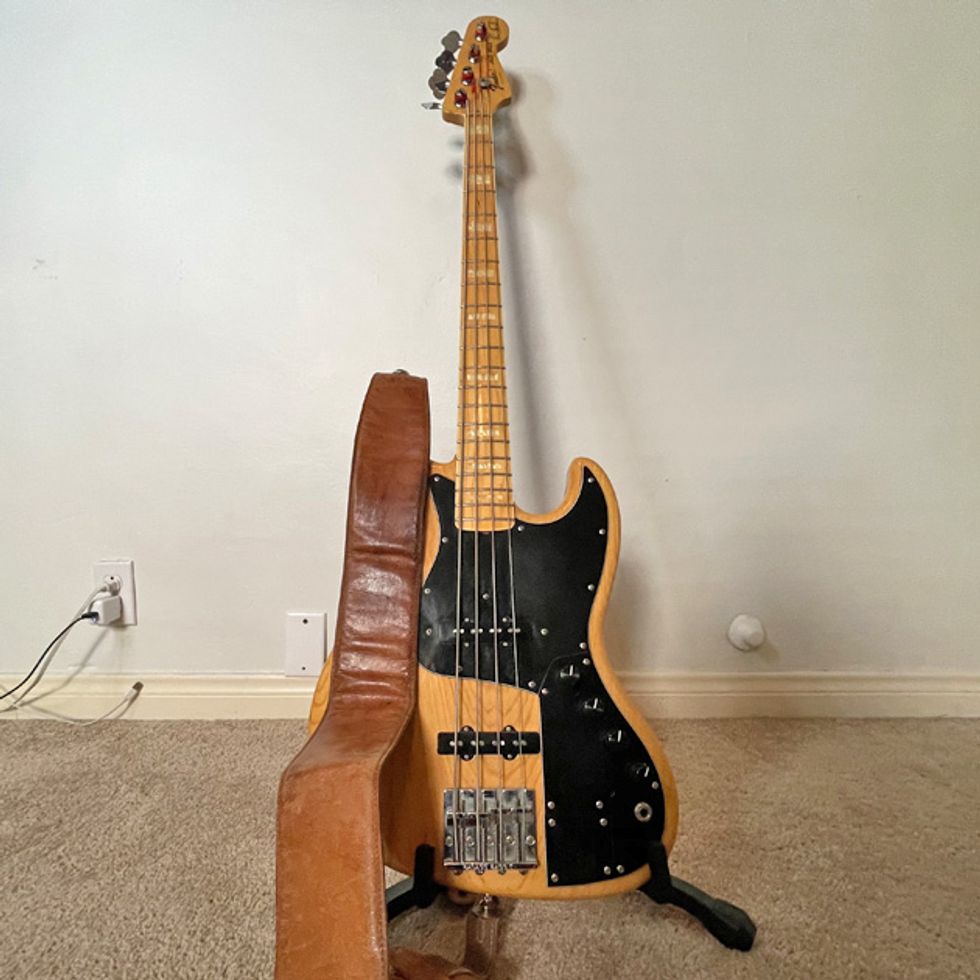 "If it's my choice and my sound, it's this bass." Nicole's sweet baby is this 1990s Fender Marcus Miller Signature Jazz Bass outfitted with an onboard Sadowsky preamp that "bumps and is really funky and bright" (probably why she only plays it in active mode). She's owned this one the longest so she feels most comfortable playing when it's in her hands making it her fly bass, her session bass, and her show bass.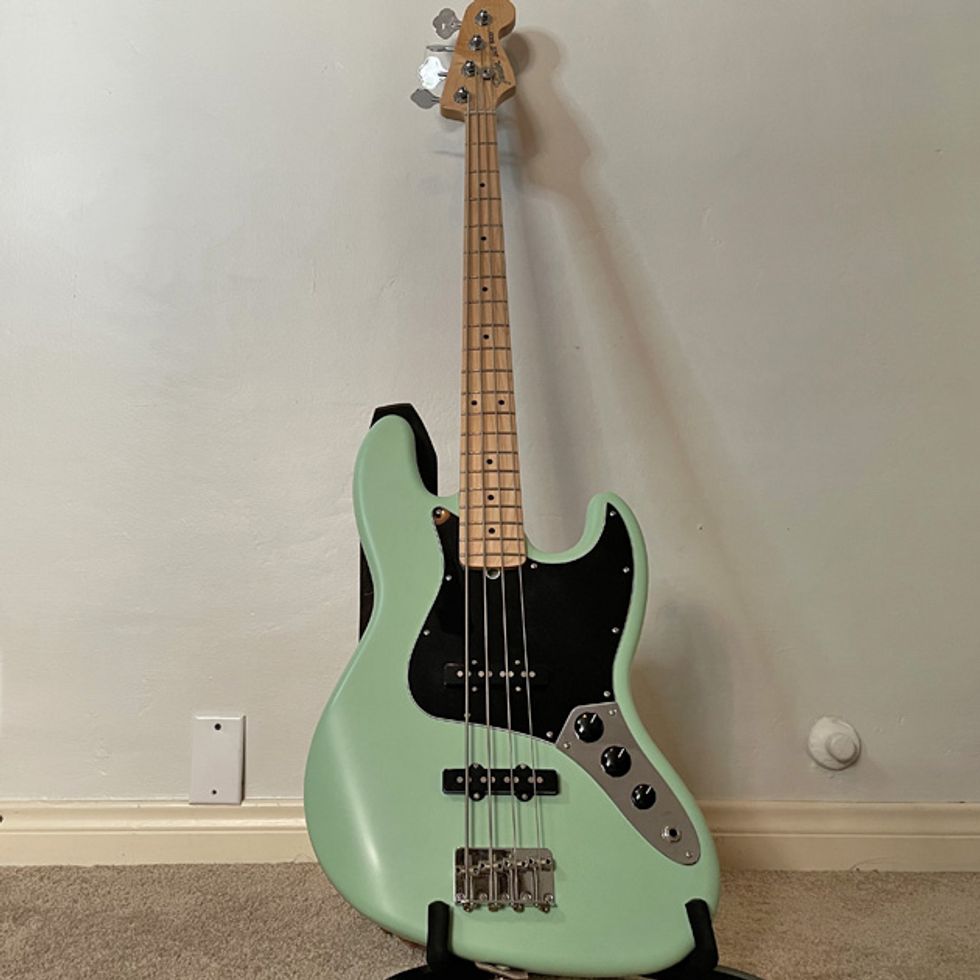 "This bass would sit well with Vulfpeck because it's bright and excels at staccato funky parts," says Row about the above Fender American Performer Jazz Bass in the popping satin surf green.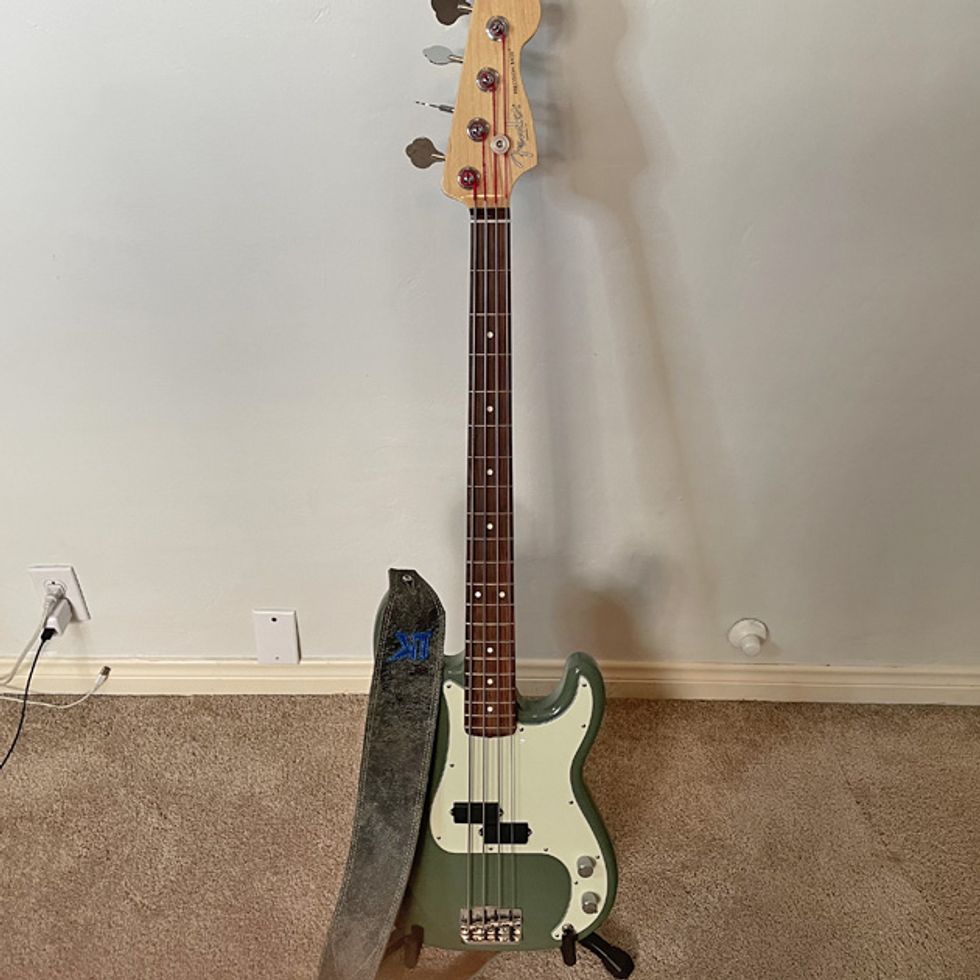 Here is Nicole's contemporary Fender P that's been upgraded with a set of passive Bartolini P-bass pickups.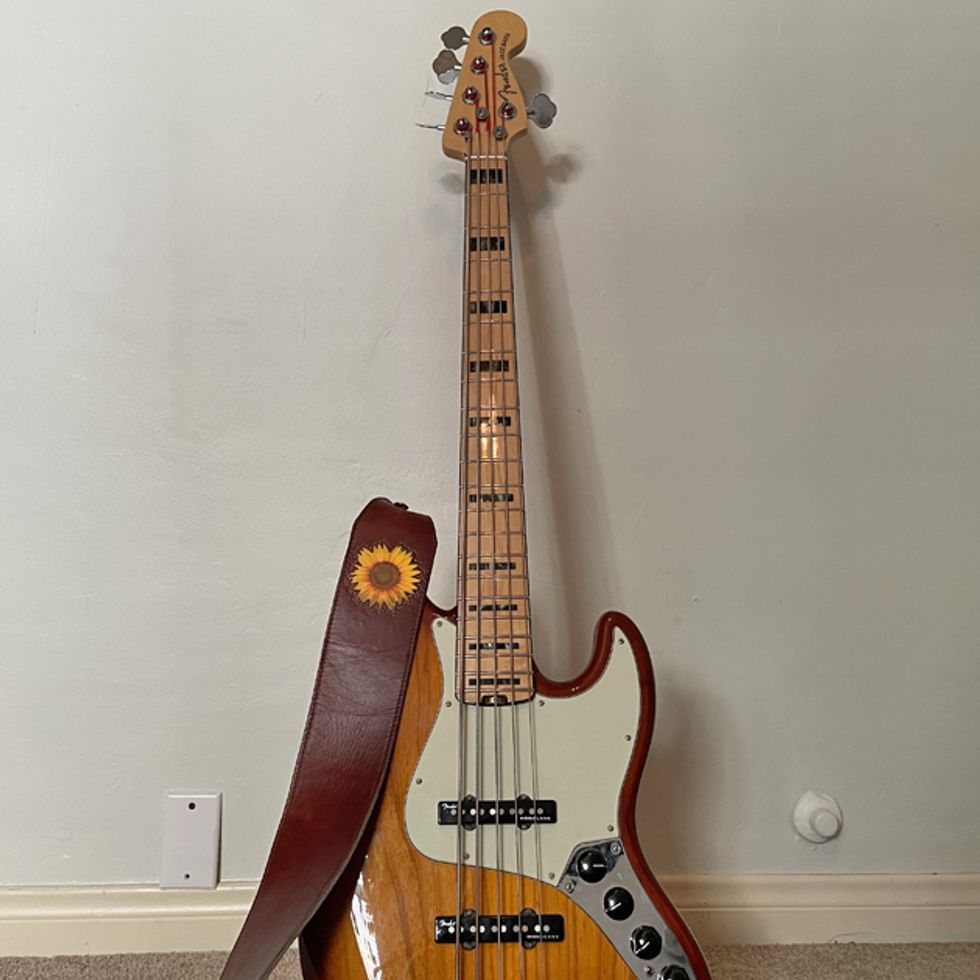 If you've seen Nicole Row onstage supporting Brandon Urie and the rest of Panic at the Disco, you've seen her thumping on this Fender American Elite Jazz 5-string. "I've started to really rely on it with Panic because it cut through (the mix) and has more high range than most of my basses."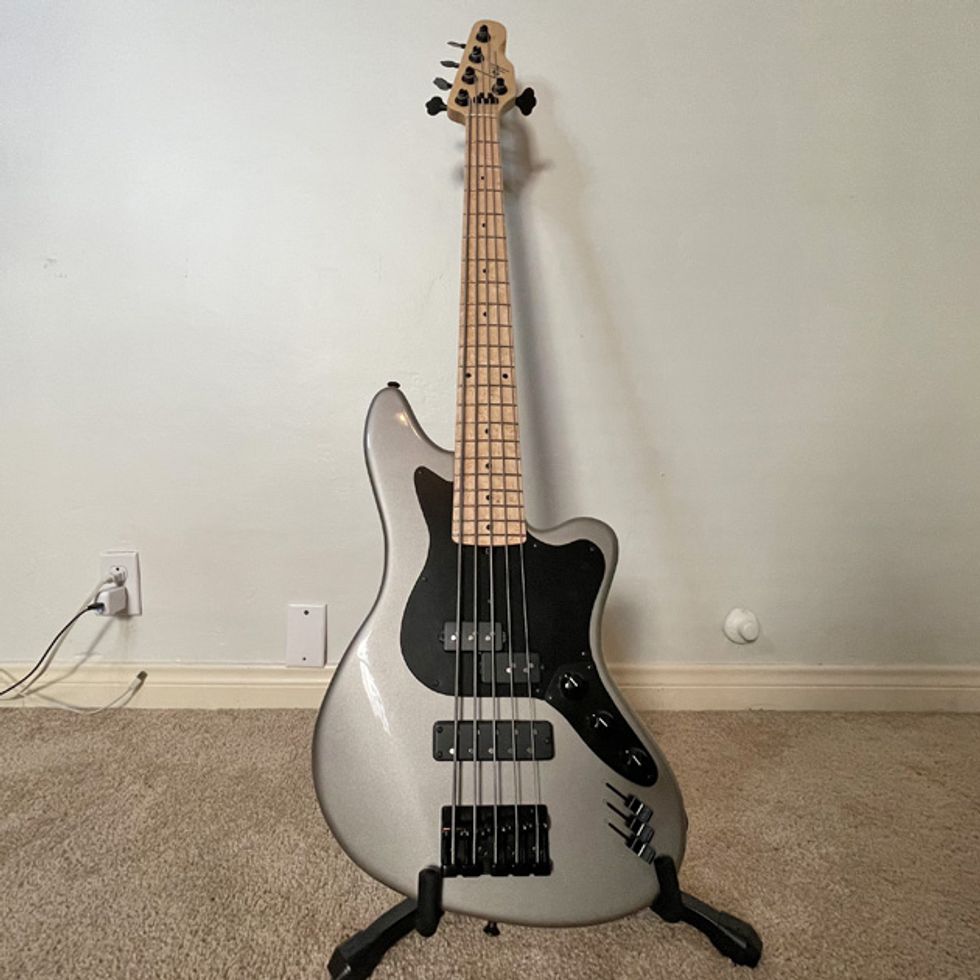 Nicole met luthier L. Ellis Hahn at NAMM while she was still apprenticing under bass-building legend Roger Sadowsky. She's since navigated her own career and started designing under the L.E.H. Guitars banner. So far she has one model (available in 4- or 5-string) called the Offset and features a 34" scale, 21 frets, a weight-reduced body with chambers towards the neck for improved balance, a Nordstrand 3-band preamp custom wired to "boost only" with graphic fader EQ, and Nordstrand BigRig5 (bridge) and NP5 (neck) pickups.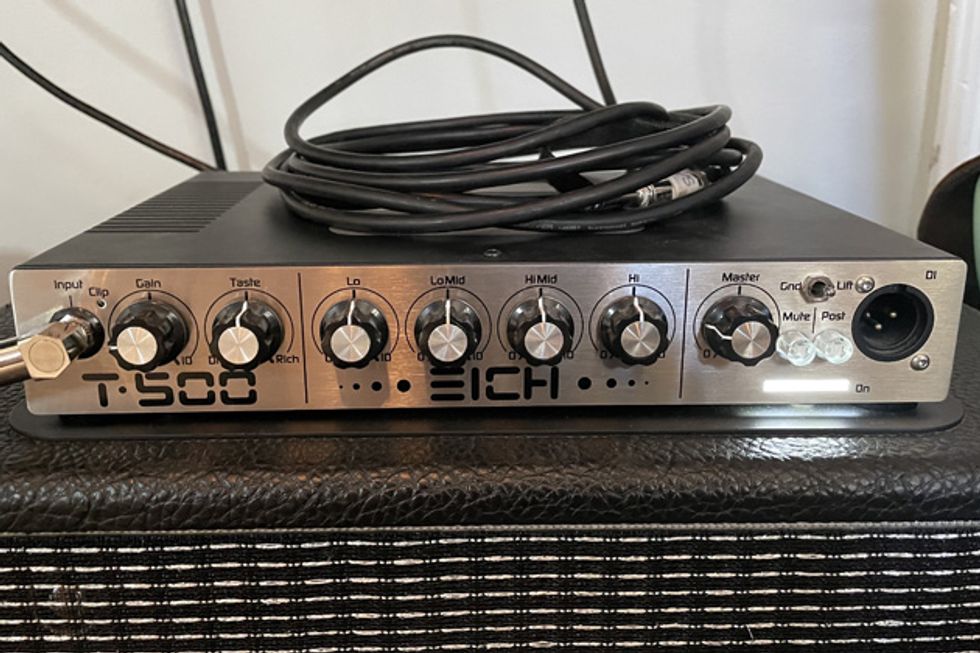 Typically, on tour with Panic, Nicole would be rocking the 1000-watt Eich T-1000, but for at-home (and most non-arena gigs) she's happy playing the above T-500.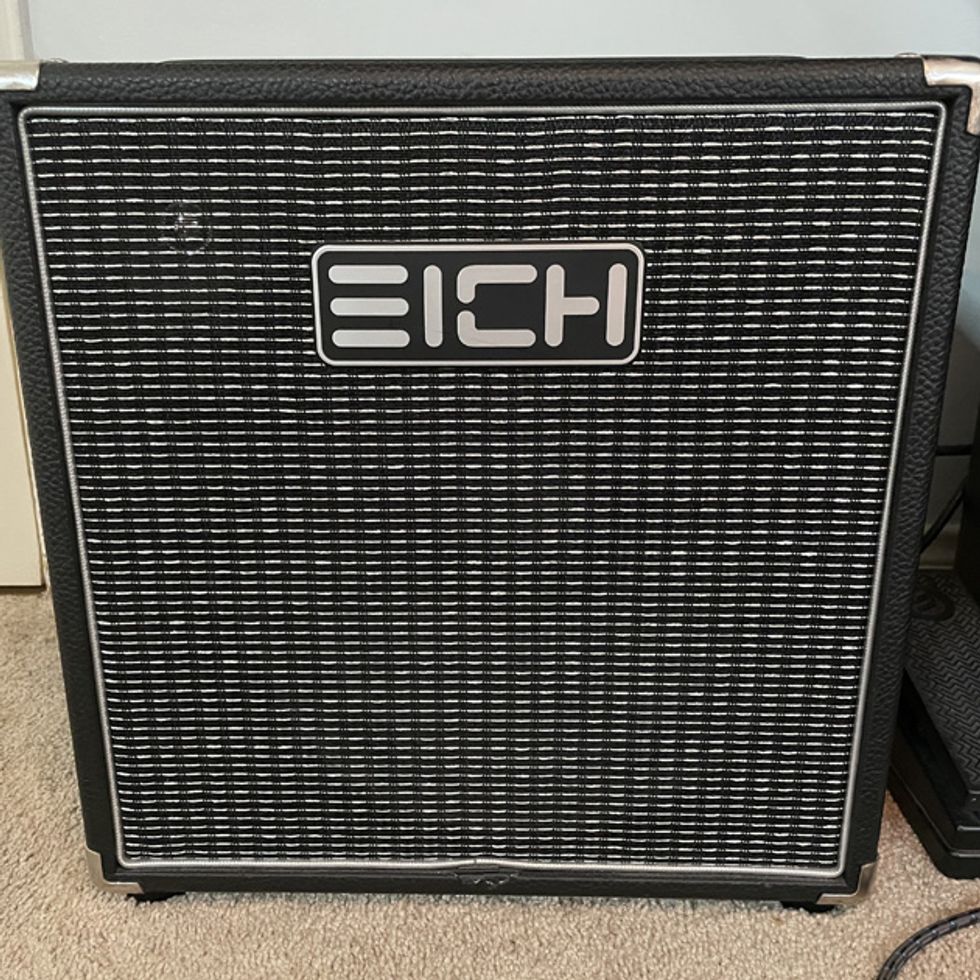 Again, on tour she cranks her Eich heads through cabs stacked with 10" and 15" speakers, but for home jams like this Rundown, she's been bonding with their 112XS cab outfitted with a ceramic speaker.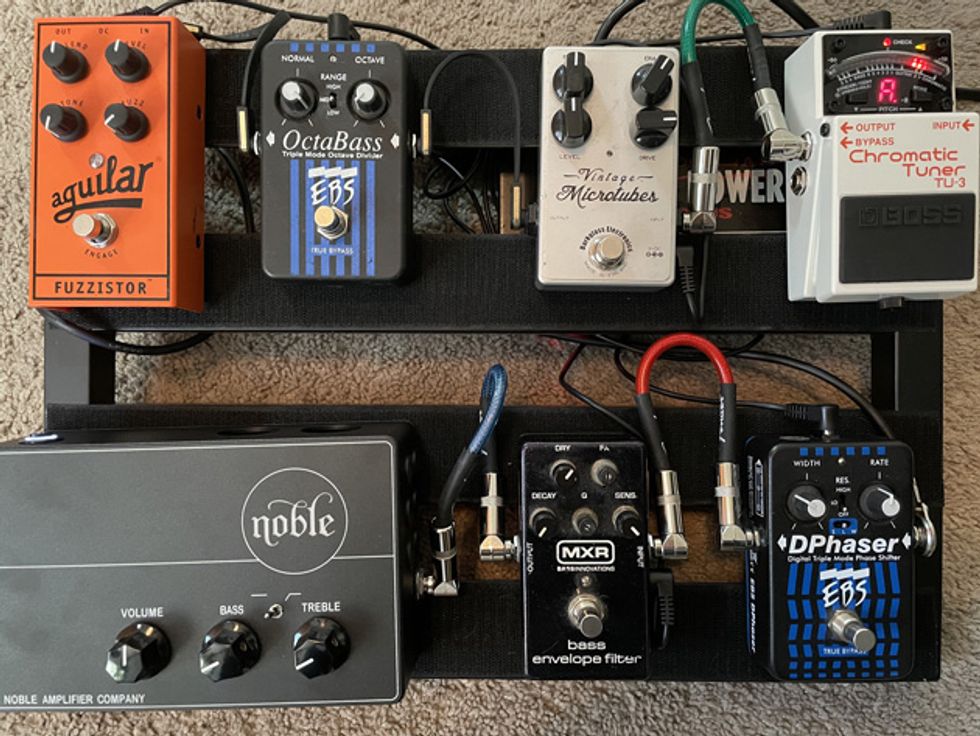 By bass standards, this is a massive board! However, these half-dozen pedals allow Nicole to cover all her bases (pun intended) for any gig, session, or audition. For her Panic days, two of her most-kicked pedals are the Aguilar Fuzzistor and Darkglass Vintage Microtubes for band's nasty, snarling indie-rock anthems. She uses the EBS OctaBass for its lower-voiced grumbles and when stacked with other pedals can mimic a vintage synth. For silkier, underwater tones, she'll engage the EBS DPhaser and when it's popping off in funkytown she'll hit the MXR Bass Envelope Filter. And at the behest of her bass-playing homies, she recently acquired the Noble Dual Vacuum Tube Preamp/DI Box.
[Updated 1/20/22]