These Fat Wreck-label punkers keep it stupid simple with single-humbucker, classic-custom recreations for their ripping Ramones downstrokes and pogo-ready choruses.
Wyoming has a punk-rock scene? Well, if it does, Teenage Bottlerocket are its seminal stars.
---
Formed in 2000 by twin brothers Ray (bass and vocals) and Brandon Carlisle (drums), and eventually fortified by guitarist Kody Templeman and bassist Miguel Chen, the full-throttle four-pack have continuously proven you can have big fun with little gear. (When Miguel joined TBR in 2008, Ray moved over to guitar, and drummer Darren Chewka has filled in for Brandon since his untimely passing in 2015.)
Over the course of eight LPs and three EPs (mostly on Fat Mike's Fat Wreck Chords), their sound has changed about as much as their cover art. And that's just been slight-hue variations of the TBR logo. But that's okay, because their brand of pop punk is lighthearted, fast, frenetic, and infectious, providing a carefree bash full of big hooks and blitzkrieg-ing power chords.
At Nashville's Exit/In outdoor stage, the guitarists detail their custom Jason Ingrodi offsets, how random phone calls and sweat have influenced their pickup choices, and why their Oranges only need a slight CH-1 swirl for solos.
[Brought to you by D'Addario's XPND Pedalboards: https://ddar.io/xpnd.rr]
Ray Carlisle's Jason Ingrodi Custom Guitar
Here is co-founding frontman/guitarist Ray Carlisle's custom Jason Ingrodi, heavily influenced by Johnny Ramone's Mosrites. One departure from Semie Moseley's original Ventures design is the move to a string-thru construction (something Ray stole from his days playing P basses when he started the band with his brother). The lone humbucker is an alnico 5 Wolfetone Marshallhead that aims to be an overwound P.A.F. He relies on D'Addario EXL 110 (.010–.046) strings and has downsized to Dunlop .73 mm picks (and .60 mm on bass) to help his tendonitis.
Teenage Bottlerocket Logo
A close-up of the Teenage Bottlerocket logo that sits at the 12th fret.
Jason Ingrodi Headstock
This Ingrodi headstock could fend off any unruly stage divers.
Orange Rockerverb 100 MkII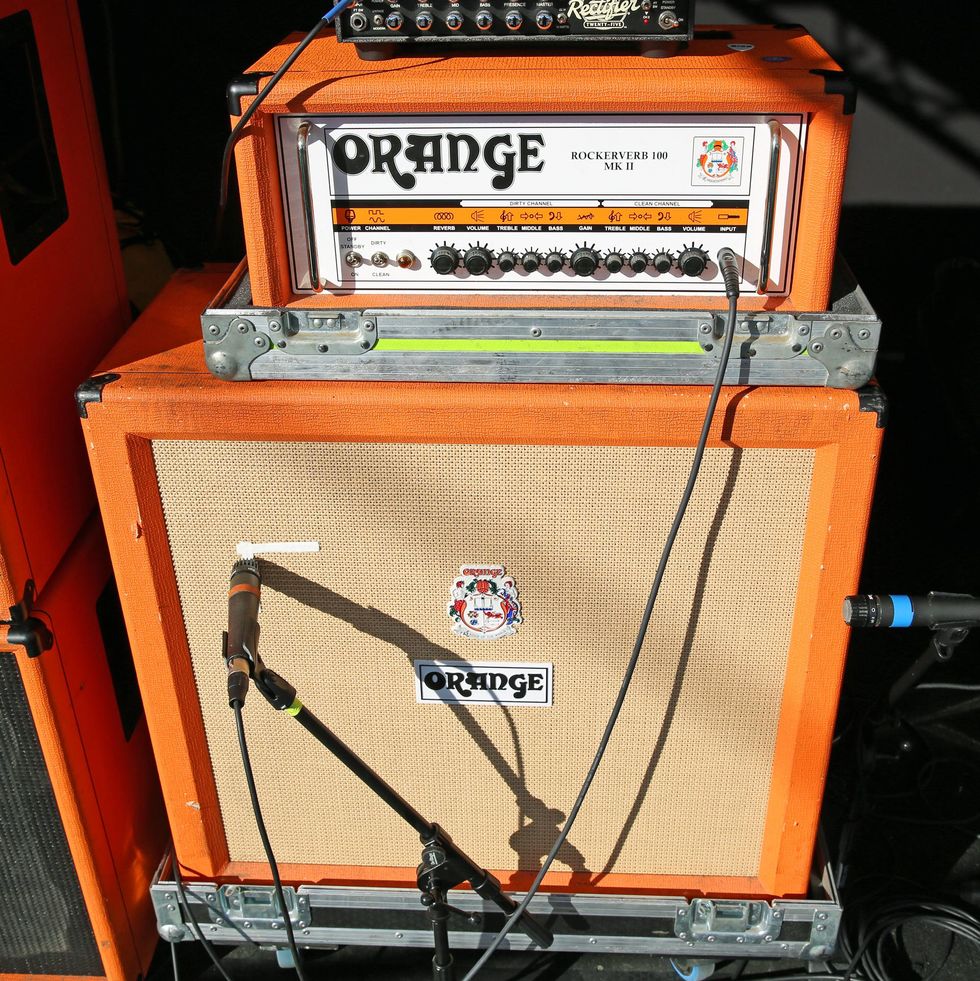 For the longest time, Ray Carlisle's amp of choice was a 1981 Marshall JCM800 50-watt head. That all changed when he was sideswiped by Queers frontman Joe Queer's tone. Queer was using an Orange Rockerverb 100 MkII, and the rest is history. It hits a matching Orange PPC412HP8 4x12 that has Celestion G12K-100s.
Boss CH-1 Super Chorus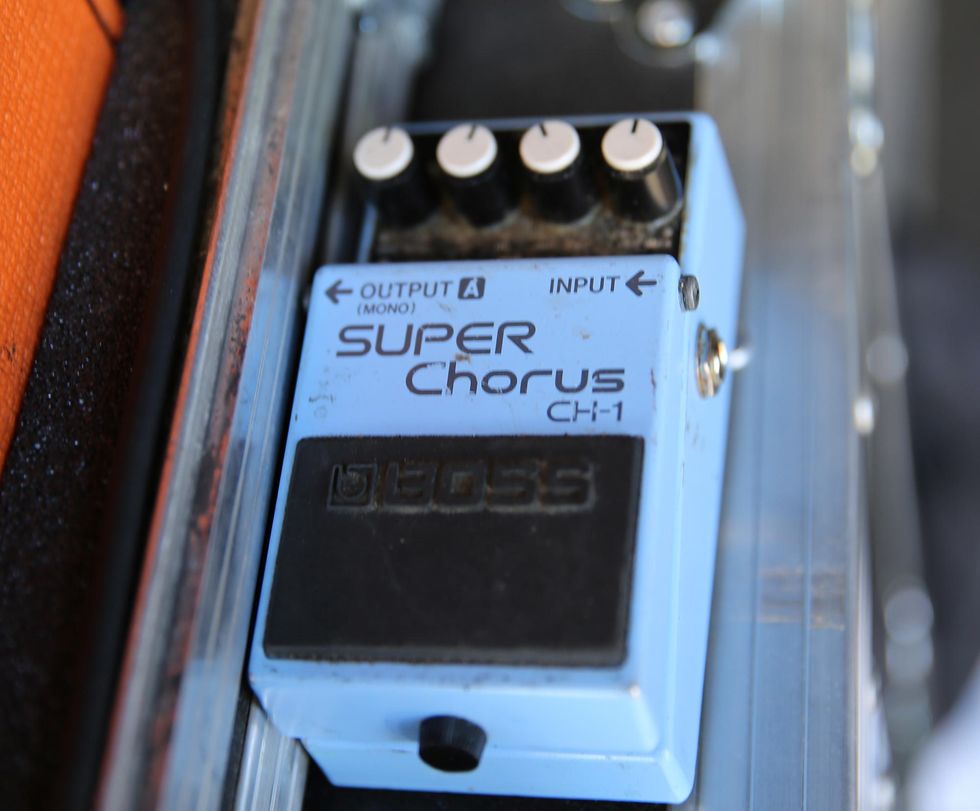 Carlisle's lone pedal is the Boss CH-1 Super Chorus that gets engaged for solos (sometimes).
Kody Templeman's "Jeff" the Jason Ingrodi Custom Guitar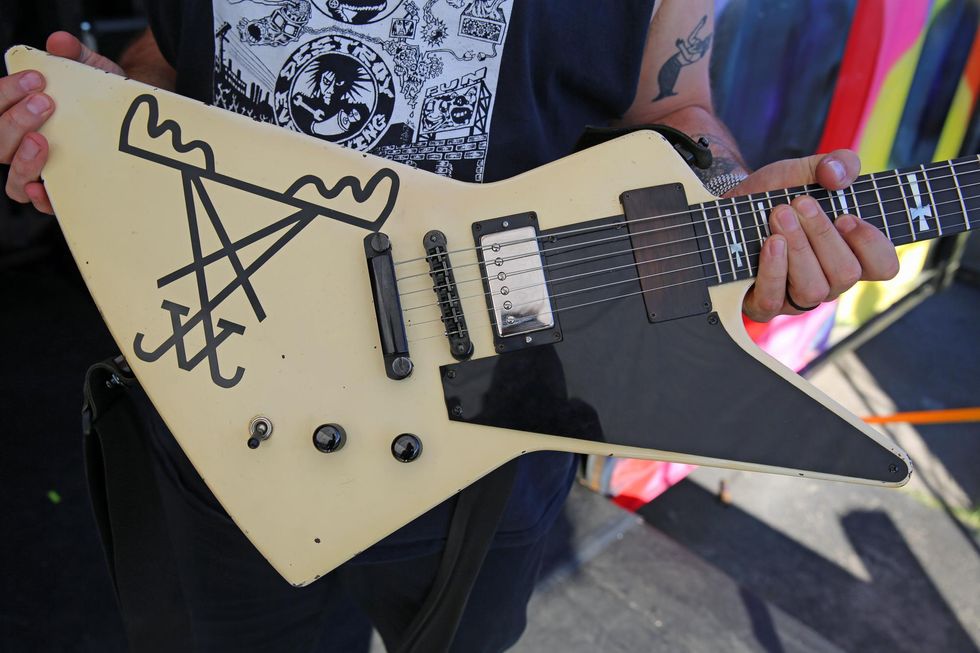 Guitarist Kody Templeman follows Ray's lead and takes the stage with a custom Jason Ingrodi model that's named Jeff. It blends together an Explorer-style body, a T-style headstock, and upside-down cross inlays that were popularized by Tony Iommi and his SGs in Sabbath (starting around Technical Ecstasy and Never Say Die!). This Ingrodi amalgamation originally came with a pair of DiMarzio Super 2s. Templeman would only use the neck pickup when the bridge would short out from sweat. He's since removed the 2s, put in a single Seymour Duncan SH-PG1b Pearly Gates, and covered the vacant neck-pickup slot with a wood cover.
The aforementioned 6-in-line, T-style headstock.
Orange TH100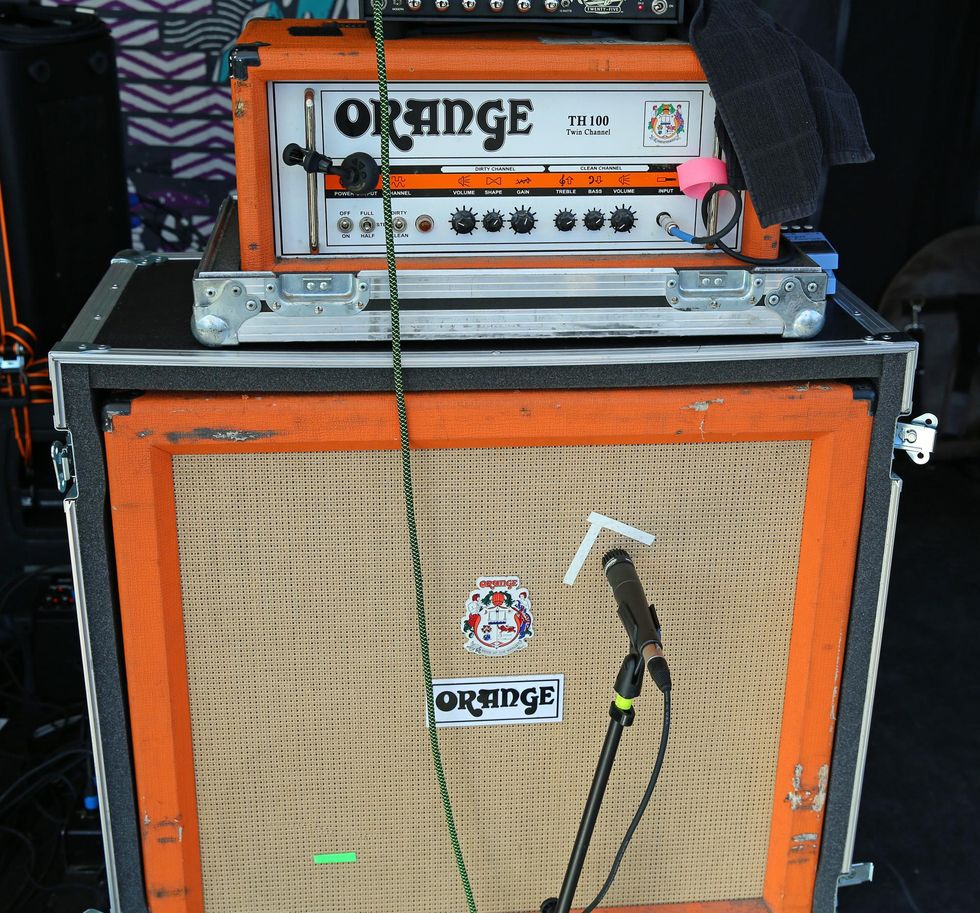 Like his bandmate, Templeman trusts his stage tone to an Orange. His simplistic approach gravitates to the spartan TH100 that has just three knobs for each channel. The 100W head runs into an Orange PPC412HP8 4x12 that also has Celestion G12K-100s. (Not pictured: For lead work, Templeman has a Boss CH-1 Super Chorus and Ibanez Tube Screamer.)
Rhett and Zach unpack the big news for secondhand guitar sellers and buyers: Sweetwater has launched their new Gear Exchange. How does it compare to Reverb, Craigslist, and Marketplace? To find out, Zach takes the site for a spin and buys a pedal. He calls the process both "very easy" and "normal." They discuss the pros and cons of the various used-gear outlets and share tips for not getting got when buying gear. Plus, Zach grew a mustache, Mythos Pedals is moving, and he talks about his forthcoming line of Strat pickups inspired by Hendrix's reverse-stagger setup.
Sweetwater vs. Reverb

A highly versatile sonic tool, the pedal can deliver a broad range of tones – everything from mild, wonderfully organic overdrive to medium-gain crunch with a richly satisfying midrange kick.
The pedal is a collaboration between Shnobel Tone and guitarist, songwriter, composer, and record producer Frank Simes. Based in Hollywood, Simes' long list of credits includes work with A-list artists such as Don Henley, Stevie Nicks, Warren Zevon, RodStewart, Roger Waters, Roger Daltrey, and Martha Davis from The Motels. Additionally, Simes was the musical director for The Who for many years.
Its touch sensitivity makes it a perfect choice for guitarists who rely on precise right-hand technique, and it cleans up nicely when you roll back your guitar's volume knob.
Frank Simes Overdrive features include:
Three knobs: Volume, Gain, and Tone controls
True bypass foot switch
Top mounted power and in/out jacks
Hand-built with through-hole components
Crinkle-coated diecast aluminum enclosure, dimensions 4.7 x 3.7 Inches
Standard 9v center negative power – no battery compartment​
Frank Simes Signature Overdrive
Shnobel Tone's Frank Simes Overdrive has a suggested retail price and MAP of $249.
For more information, please visit shnobeltone.com.
The Reference II Series 112 and new 115 feature a new look, ceramic magnets, and Poplar ply shells.
​With gigging musicians in mind, portability was paramount to the design of these cabinets, which still feature all of the power that you expect from Bergantino. Using a lightweight Poplarply shell and Baltic Birch baffles to encase the ceramic-based speakers, these cabinets are extremely easy to transport, while still packing all of the low-end presence and warmth that is required for professional bassists in any genre of music. Covered with rugged tolex finishes and cloth grills, these cabinets look as good as they sound and provide long-term durability that is required for the wear and tear of touring and gigging musicians.
​The Reference II Series utilize ceramic magnets with vented pole pieces for the fullest and roundest low-end possible. Along with their high-power handling capability, the Reference II Series cabinets boast versatility fit for players who utilize fingerstyle, pick, slapping, and tapping techniques. Their presence and punch matches their low-end output and produce an accurate, full-bodied, and authentic representation of your bass guitar in both live and studio settings.
Reference II Series 112
​The Reference II Series 112 is new and improved, featuring the tone that bass purists love, but in a lighter package without sacrificing any of the full-bodied, robust properties that have made this a favorite. The 112 can achieve any sonic palette you desire while faithfully reproducing the natural tone that comes directly from your bass and your fingers. Many bassists love the Reference II Series 112 because of the "blank canvas" it provides the player seeking a solid, no-frills bass tone, and this updated edition upholds that, but with noticeable improvements. Seamless, tight, quick, and responsive, this cabinet is the right choice for players of all levels.
Reference II Series 115
​After receiving many requests to bring back our 115 cabinets, lovers of rumbling low-end can rejoice, as the latest edition to our lineup is here to maximize your bottom end with a responsiveness second to none. We've taken everything our players loved about our previous15" offering, shaved some weight, and updated its design to fit our high standards of the Reference II Series. With our proprietary speaker curves, it can be made to sound full and modern or vintage and rolled off, but never dry. The 115 cabinet provides a massive sound in a lightweight, easily transportable package that is ready for small venues, arenas, and everything in between.
Reference II Series 112: $1059.00
Reference II Series 115: $1099.00
These Cabinets Currently Shipping in the USA. For more information, please visit bergantino.com.
The Royale was designed to deliver loud and vivid clean tone with a responsive, tactile low end.
Designed to offer massive headroom, the 50-watt Royale Head lets you indulge in smooth clean tones at even higher volumes on stage without any breakup. Select between class A and class AB modes, with its variable mode switch, so you can choose between gushing Supro tone or a punchier, tight midrange response.⁠

Introducing the Royale Head & Extension Cabinet | Supro
The Royale 1x12 Extension Cabinet features the custom Supro BD12 high-power driver, offering the same mid-range punch and clean articulation as the Royale combo but with additional stage volume. ⁠More info: suprousa.com.
Royale Head | $1,499⁠.99⁠
Royale Cab | $669.99