It's ok for a guitar to not sound like a guitar.
As much as we all love juicy, organic guitar tones, it can be just as inspiring to go the opposite way. Combining various modulation effects, envelope filters, oscillators, and more can result in sounds that owe more to Kraftwerk than Led Zeppelin.
Boss SY-1
A compact version of the company's well-known polyphonic synths offers 11 types of sounds each with 11 different variations. It also includes a parallel loop, guitar/bass mode, and expression pedal support.

$212 street
Source Audio C4
An incredibly deep collection of Eurorack-style tones are available via a rather straight-forward 4-knob setup and the companion Neuro editor (available for Mac, PC, and mobile devices). It offers four independent voices, 11 envelope followers, and two programmable 16-step sequencers.

$239 street
Meris Enzo
This multi-voice synth is a digital unit with an analog signal path for maximum clarity and response. It has stereo outputs, MIDI, switchable buffered bypass, and more. On the effects side, it houses two tap-modulated delays, mono, poly, and arpeggiated synth modes, and an extremely shapeable envelope.

$299 street
Electro-Harmonix Synth9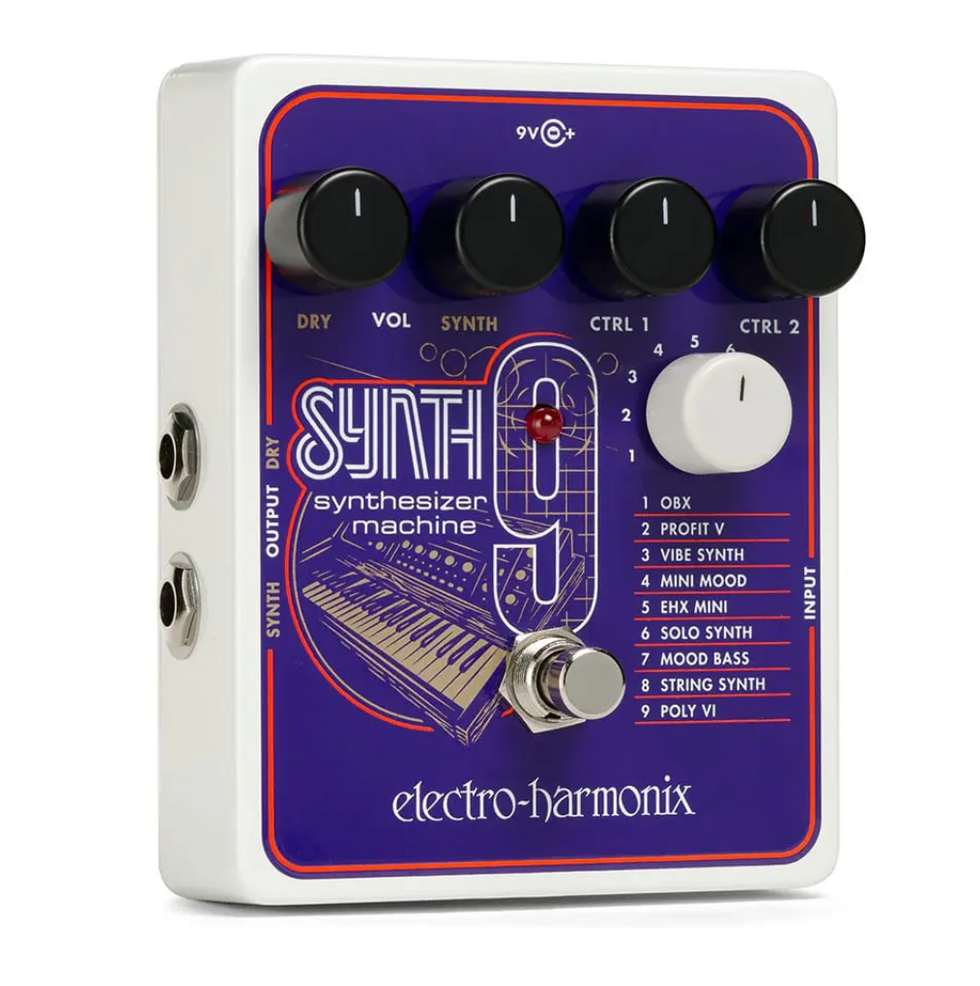 Containing nine different synth voices including emulations of some of the most recognizable synth sounds, this pedal offers independent volume control of both your dry signal and synth signal plus two CTRL knobs that change function depending on the preset.

$247 street
EarthQuaker Devices Bit Commander
This monophonic analog synth offers a three-octave (one up, one down, and two down) range to blend the glitchy with the pedestrian. Depending on what fret you're on, the results can be either destructive or spacey.

$189 street
Pigtronix Space Rip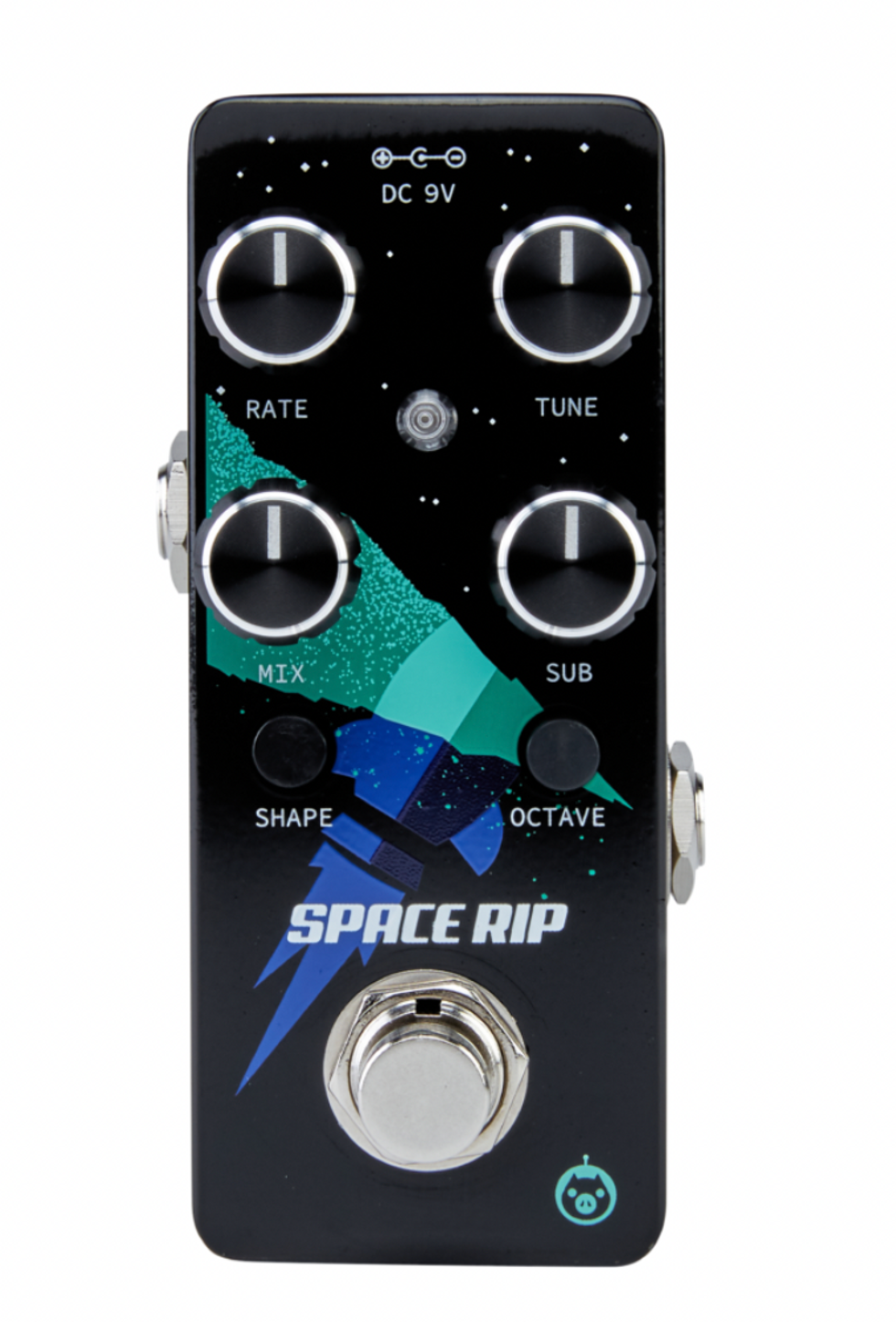 This is tiny pedal that includes an onboard VCO that produces square and sawtooth waveforms that are controlled via rate and tune knobs. It also has an octave button that drops the entire signal down 12 frets.

$179 street
Mooer E7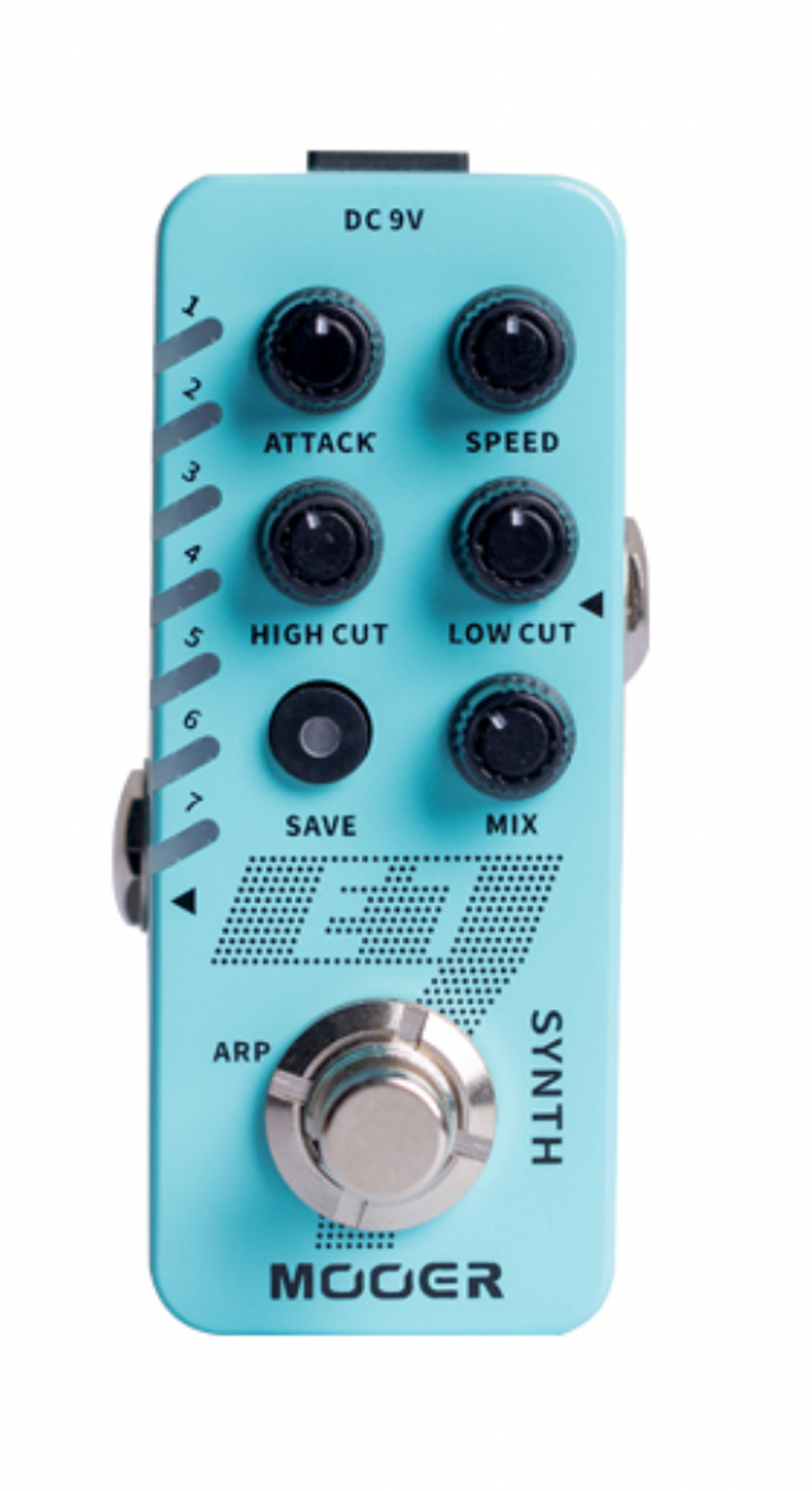 Dig polyphonic synth sounds but don't have a lot of space? The E7 offers seven different types of synth tones, seven slots for presets, and controls for attack, speed, high and low cut, and mix.

$97 street
mooeraudio.com
Empress Effects ZOIA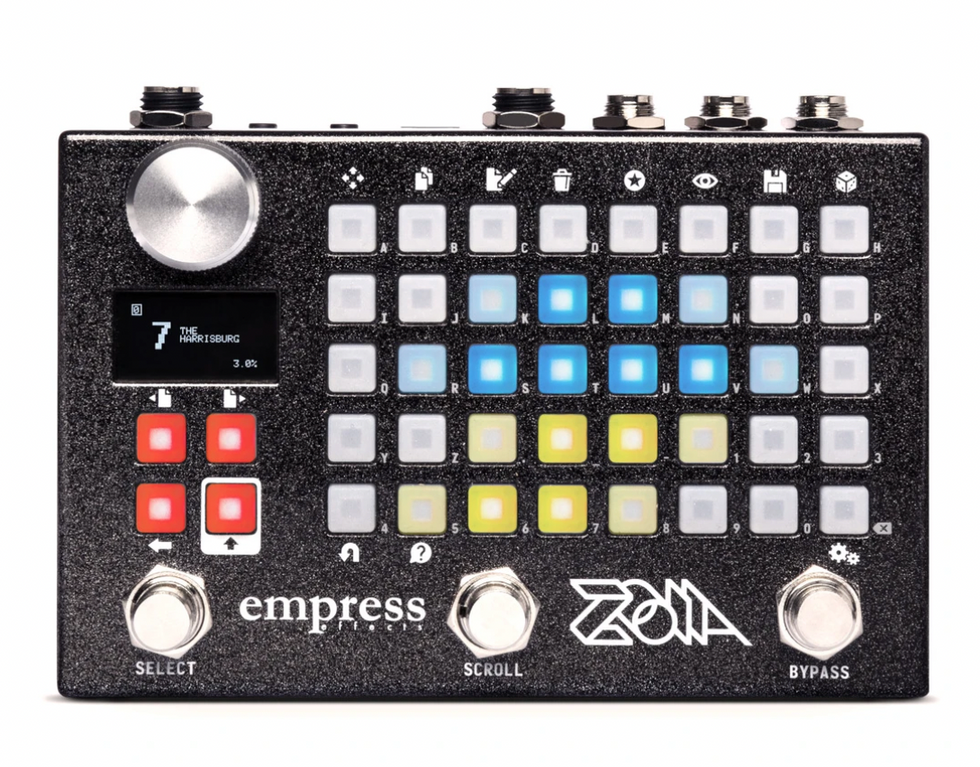 Think of this as a DIY approach to creating your own modular synth. It has a library of more than 80 different modules that cover a host of effects such as delay, reverb, compression, bit crusher, and more. Plus, you can save up to 64 different patches.

$499 street
Red Witch Synthortron II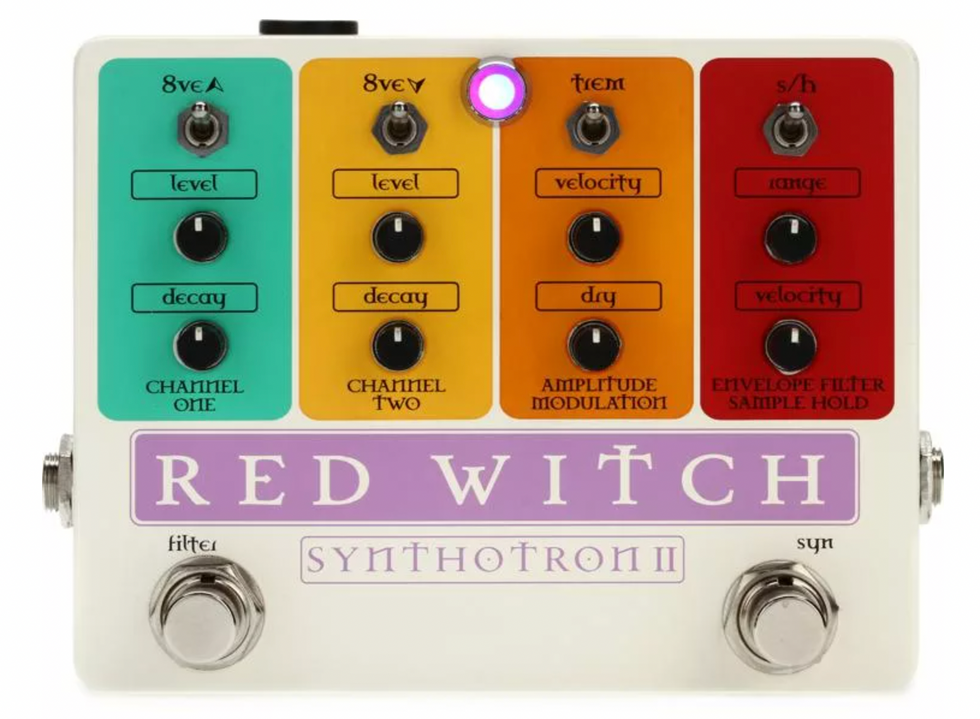 Packed with two synth oscillators, along with dedicated controls for amplitude modulation and envelope filter, this analog machine offers a wealth of different options that range from wickedly weird trem to sample hold, and more.

$279 street
Keeley Synth-1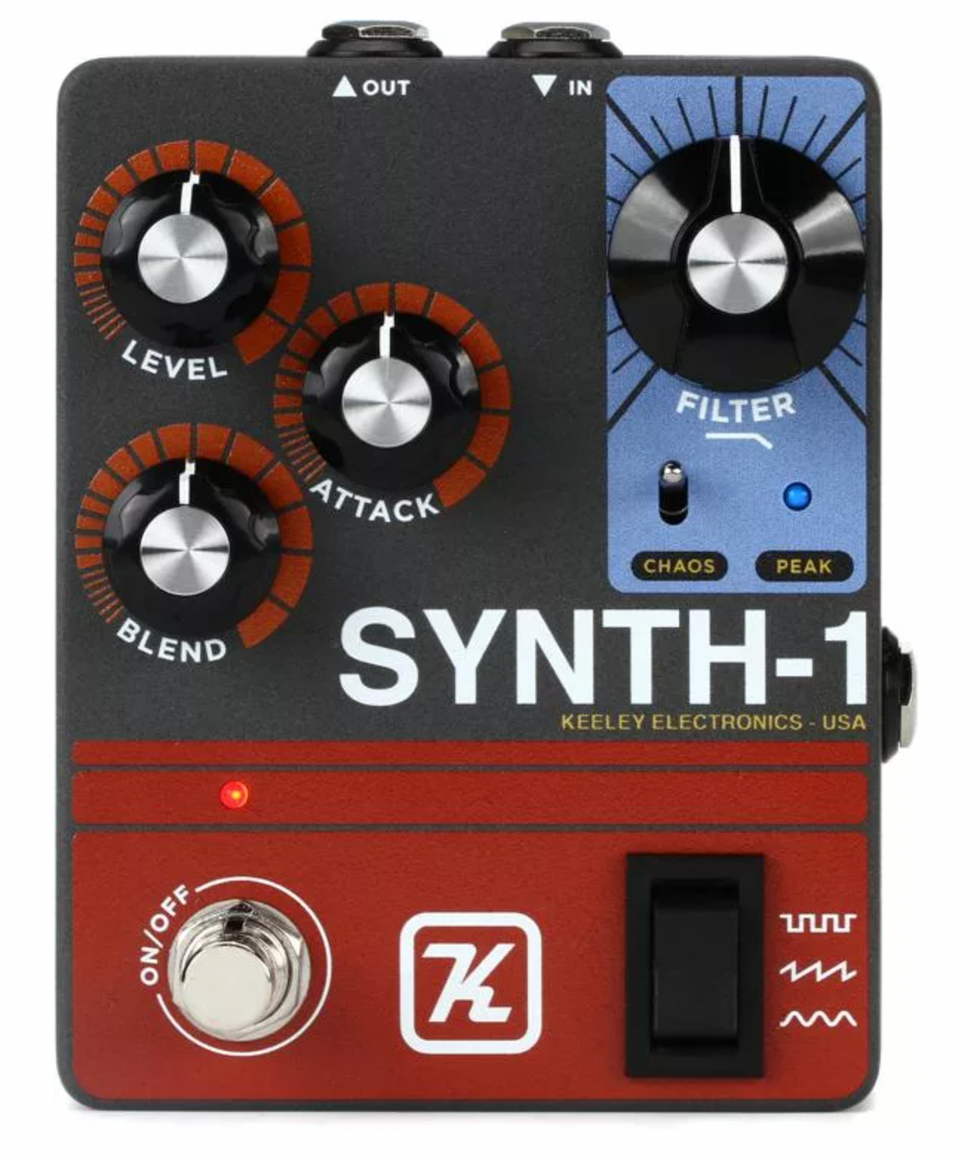 This single-note wave generator offers quite a few different sounds via a relatively simple control set. It has attack, level, and blend knobs along with a powerful filter section that shapes the EQ of the fuzz. You can also hook up a TRS expression pedal to alter the filter in real time.


$179 street
Gibson introduces five pedals in the Maestro Original Collection line, paying tribute its classic models and adding modern features and expanded versatility.

Now, after decades, Gibson has revived the Maestro brand for 2022 with the debut of the Maestro Original Collection line of effects pedals with five new pedals--the Fuzz-Tone FZ-M, Invader Distortion, Ranger Overdrive, Comet Chorus, and Discoverer Delay--all designed, voiced, and styled for the musician looking to shape a unique sound. The Maestro Original Collection pays tribute in sound and style to the brand's pioneering classic models, while staying true to Maestro's trailblazing spirit with modern features, expanded versatility, and advanced tone-tweaking capabilities.
Maestro's influence has shaped music, from the Rolling Stones to the Raconteurs, Pete Townshend to George Harrison, Clapton to Frampton, and the Foo Fighters to the Black Keys. "Maestro was the first commercially successful pedal, it changed everything, and set the entire world of pedals and effects into motion," says Mat Koehler, Senior Director of Product Development, Gibson Brands. "We're using the distinct Maestro aesthetic to develop unique takes on each of these effects in a way that's fun and looks back at the past, but with an awareness of what modern guitarists require. Maestro sounds are relevant to new, casual, and professional level players and everyone at Gibson felt a responsibility and obligation to revive Maestro because it's vital to pedal history."
Maestro Fuzz-Tone FZ-M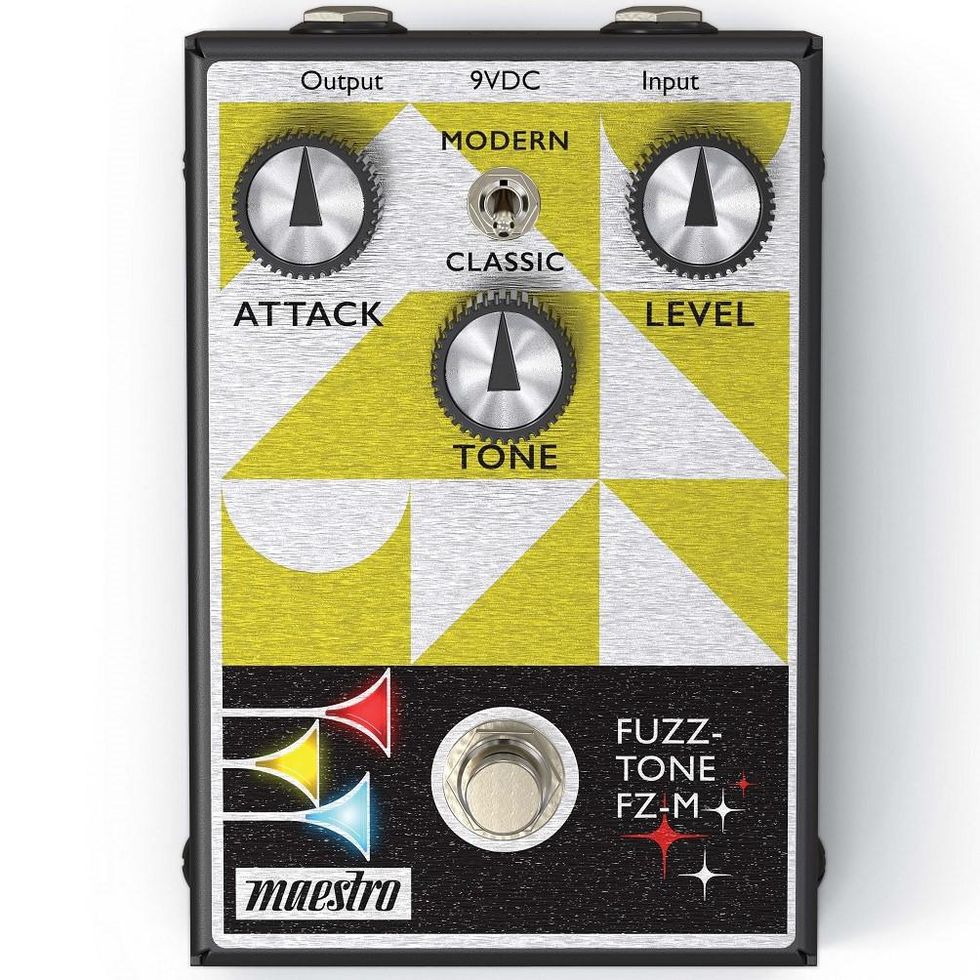 Maestro Fuzz-Tone FZ-M Demo
Maestro Ranger Overdrive
Maestro Ranger Overdrive Demo
Maestro Invader Distortion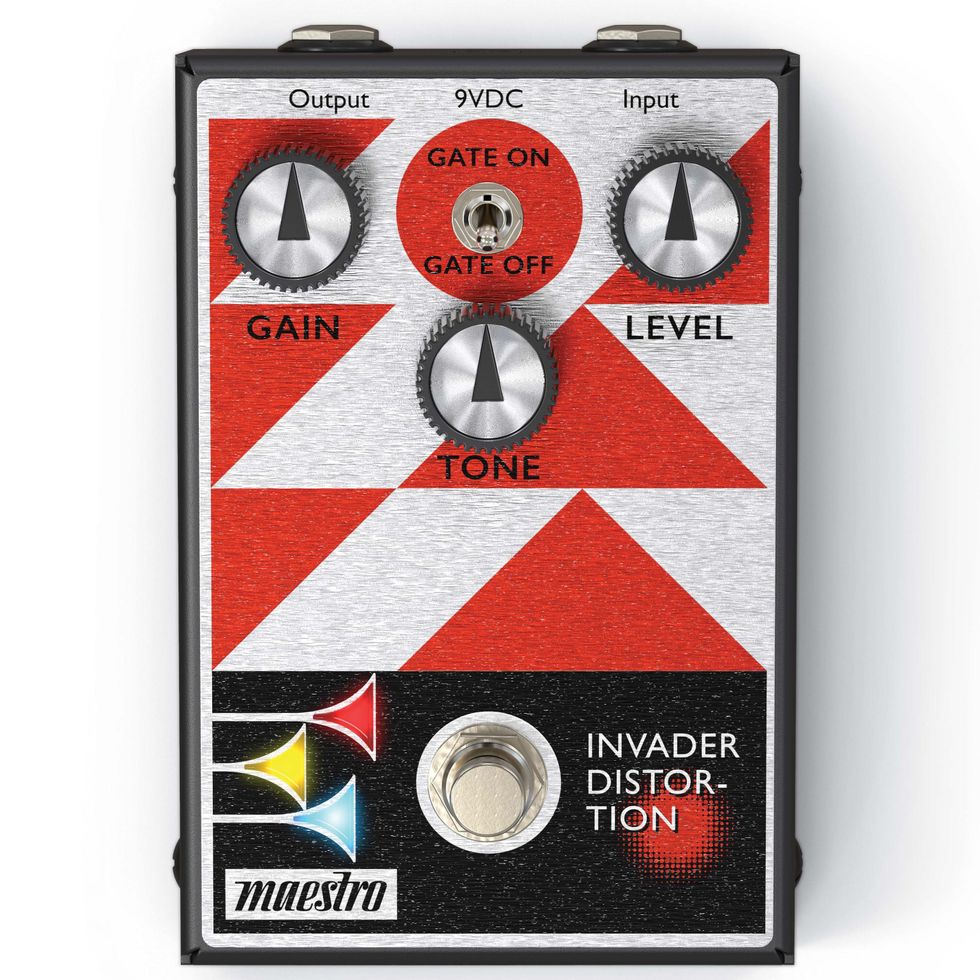 Maestro Invader Distortion Demo
Maestro Discoverer Delay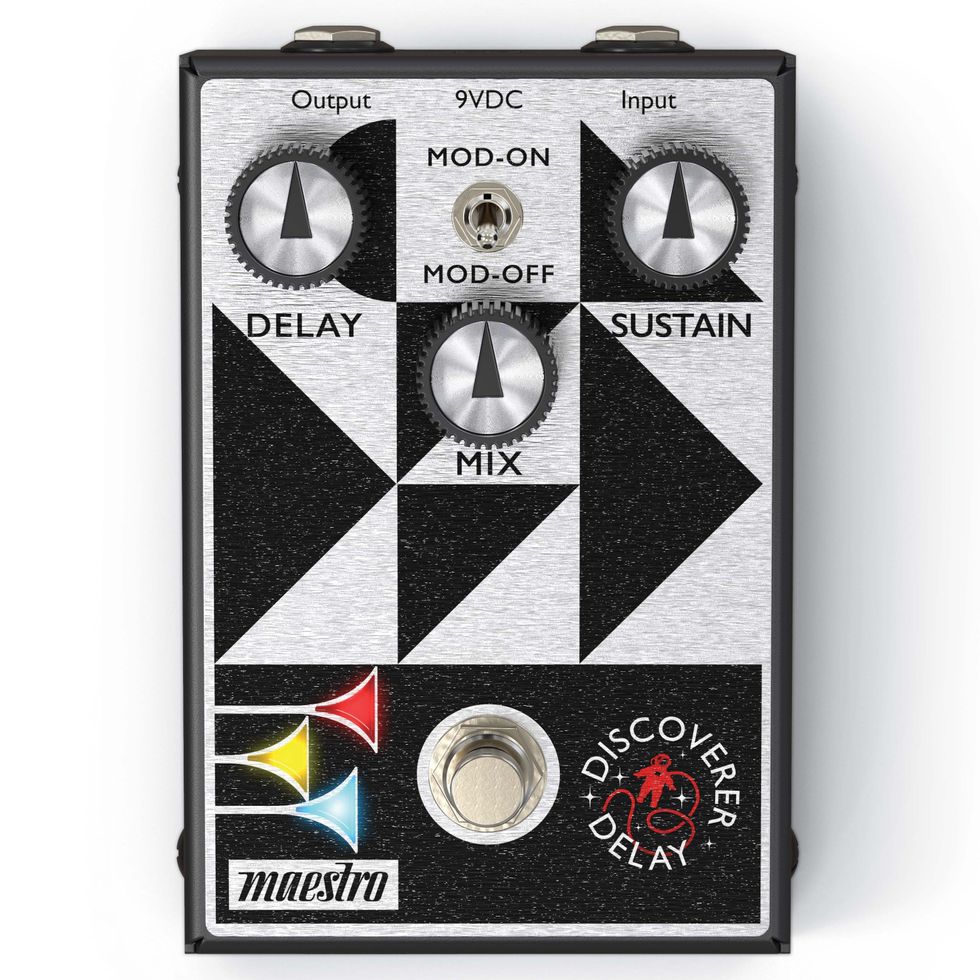 Maestro Discoverer Delay Demo
Maestro Comet Chorus
Maestro Comet Chorus Demo
Switching between contrasting reverb voices doubles the fun.
Smart, versatile, interactive and rangeful controls. Intuitive. Capable of great contrasts between A/B presets. Sturdy enclosure. Effective damping controls tame twee high-octave overtones.
Can't switch reverb voices as you switch presets. Enclosure is big relative to depth of functionality. No-fun styling.
4
4
4.5
4
Fender and reverb go together like gumbo and rice. Historically, the spring tanks in the company's amplifiers and tube-driven outboard units have defined the Fender reverb sound. But in 2018, when Fender released the Marine Layer digital reverb, it did not include a spring reverb emulation. The new Dual Marine Layer doesn't have a spring emulation either. Instead, it's brimming with sounds and functions well-suited for less retro-reverb expressions, including thick chorus textures and shimmer reverb, and has a soft-relay sustain switch that enables momentary creation of ambient beds. It's also capable of some very classy, subdued reverb colors, plus a few that can effectively stand in for spring and plate sounds in a pinch.
The Ring of Green
The Dual Marine Layer is clearly not a vintage design exercise. A switch on the pedal's crown enables illumination of the LED position markers on the knobs—a real asset on dark stages. And like all new-generation Fender effects, the Dual Marine Layer comes in an anodized aluminum enclosure that bends (a bit too much, perhaps) to the tech-industry's prevailing minimalist design ethos. And while the kelly green enclosure is more fun to look at than, say, an iPhone, it lacks the design inventiveness of an old Fender amp or one the company's curvaceous, classic guitar designs.
Surprisingly, for a pedal of this size, the control layout and functions are pretty simple. The top row of knobs includes controls for damping (which darkens or brightens the reverb tails), reverb decay time, modulation intensity, and effect level, and is dedicated to reverb A. The second row of knobs, save for the sustain control, is identical and assigned to reverb B. A small 3-position toggle switch selects between hall, room, and shimmer reverb algorithms. The sustain knob controls the intensity of the reverb bed created by holding down the soft-relay momentary sustain footswitch.
Many players that turn to bigger stompboxes for deep functionality, programming capabilities, and scores of I/O and routing options may be puzzled by the size of the enclosure used here. There are no stereo I/O options, no MIDI or USB connectivity, no effects loop, and just three reverb modes. But in real-world performance and song-creation situations, the generous spacing between controls and switches—and the ease with which you can adjust and move between them without triggering something unintentionally—is invaluable. In this sense, the Dual Marine Layer is truly a performance-centric pedal.
More Space Than Surf
The Dual Marine Layer seems built primarily for contemporary reverb applications—the kind with extra-expansive, dramatic tendencies, replete with harmonic overtones. But while a dedicated spring reverb model is certainly missed here, there are many ways to extract mellow and more traditional textures.
The generous spacing between controls and switches—and the ease with which you can adjust and move between them without triggering something unintentionally—is invaluable.
The most conventional of the available voices—and perhaps the most forgiving—is the room reverb. It's capable of very intimate, small-scale reverb sounds that don't drown in harmonizing overtones and are less susceptible to digital artifacts. It's also a great platform for exploring the Dual Marine Layer's controls, which are sensitive, highly interactive, and capable of great nuance once you're acquainted.
In room mode, setting the reverb time and effect level fairly high while keeping the dampening at brighter settings and the modulation to a minimum yields a pretty satisfactory approximation of vintage spring reverb. But if you use the damping control to darken the signal, take the level down, and reduce the delay time, you get a classy, subdued studio room reverb sound that's a killer contrast with spring-style sounds in an A/B set up. Dial the modulation and the effect level back up again and you have a raft of chorus tones that a young Johnny Marr would love.
Hall mode's expansiveness underscores the importance of the damping control. At darker damping settings, even long delay times and aggressive effect levels make the hall more evocative of a small but reflective chamber—lively, succinct, and a bit mysterious. Take the damping control to its brightest levels, however, and the little chamber becomes a jumbo jet hanger. The high-octave content in these extra-bright damping settings can make extreme reflections sound a bit too choral and twee at times. But the sensitivity and range of the time and level controls are such that middle-ground colors are abundant, varied, and easily transformed into chamber- and plate-style sounds.
Shimmer reverbs usually leave me cold. But here again, the range of the DML's controls yield surprises. Dark damping settings and modest delay times de-emphasize the sometimes sizzling high overtones that can make shimmer verbs sound cheesy, yielding sounds like a long plate instead.
The Verdict
Once you get a hang of the Dual Marine Layer, it's a pleasure to use. There are a few frustrating limitations considering the effect's size. You can't use different voices for reverbs A and B, for instance. And some prospective buyers will lament that Fender didn't use the extra space to accommodate more presets or spring or reverse reverb emulations. On the other hand, the economical design makes the Dual Marine Layer extra easy to use and extra fun. And if you're not obsessed with pedalboard space, you'll find a trove of cool sounds to work with.