It's no secret: Playing solo is one of the hardest things to master on guitar. In this lesson, we'll explore six common "tricks" you can use to bring your solo chops to the next level. And you can apply these tried-and-true techniques to almost any melody.
To start with, you'll need a melody and some chord changes, and I've provided both in Fig. 1. This example consists of an easy diatonic melody and a very common jazz chord progression. They'll provide the basic foundation for our new techniques.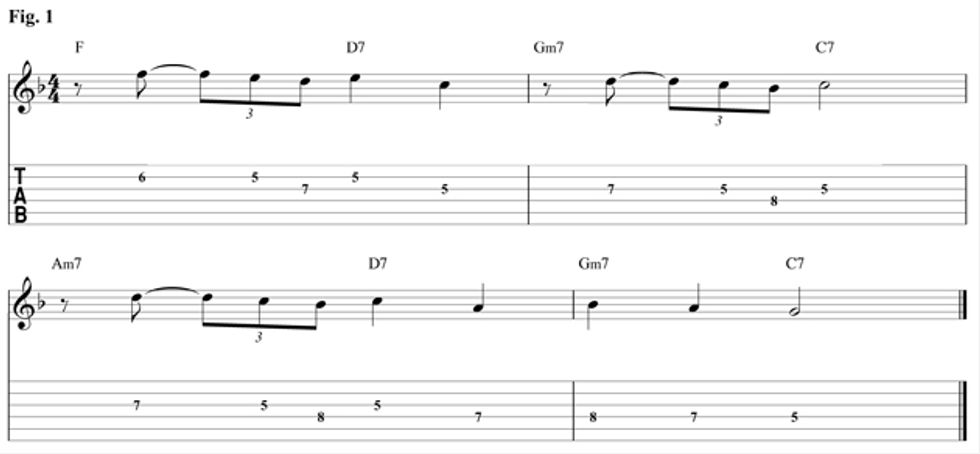 Trick #1: Use block chords
Now that you have the melody and chord changes in your ear, let's apply our first trick. If we look at how the guitar is tuned, it's arranged in fourths with a third between the 2nd and 3rd strings. This makes it very easy to play stacked fourths or quartal chords.
Fig. 2 is written in a "block" style using mostly chords built from stacked fourths, along with a few other goodies. Block-style playing consists primarily of parallel harmony—all the notes move in the same direction with the same rhythm. To add more spice to the sound, I included some quartal voicings from the Lydian mode. You'll notice I'm not really concerned with the bass movement of my chords in this example. Instead, I've focused on harmonizing the melody from the top down using as many fourth intervals as I can without totally compromising the essential harmony.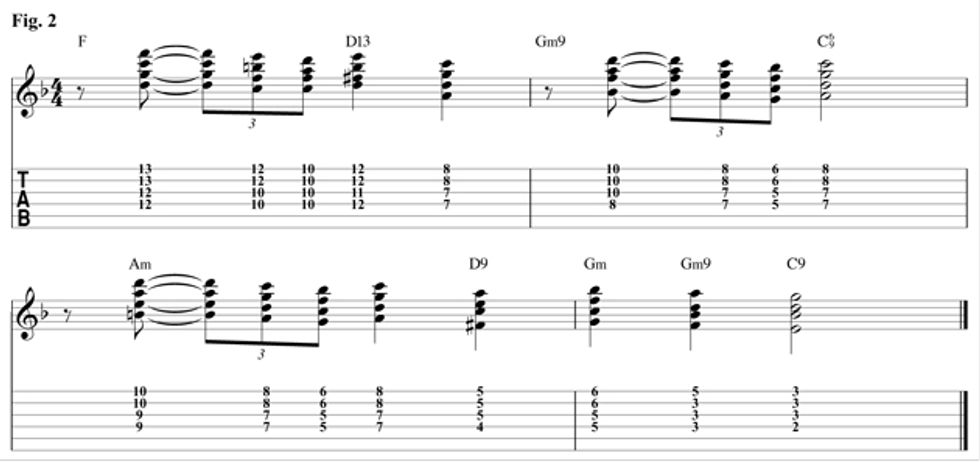 Trick #2: Use descending chord substitutions
Next we'll concentrate on the outer notes of the chord melody, specifically the top note (that's the melody) and the bottom note. I'm going to try to play a descending bass line while maintaining my melody note movement on top. The first note of my melody is F, it also happens to be the first chord we play.
There is a common substitution that you can use to start your downward reharmonization. Use a minor7b5 chord a tritone away from the root with the melody as the top note. So, in Fig. 3 our new chord will be Bm7b5 chord with F on top. From there I'm just basically going through the descending cycle of fifths and substituting the b5 sub for every dominant 7 chord. So, instead of having Bm7b5-E7-Am11-D7-Gm11-C7, I have Bm7b5-Bb9b5-Am11-Ab7-Gm11-Gbdim7-Gm-Gb7.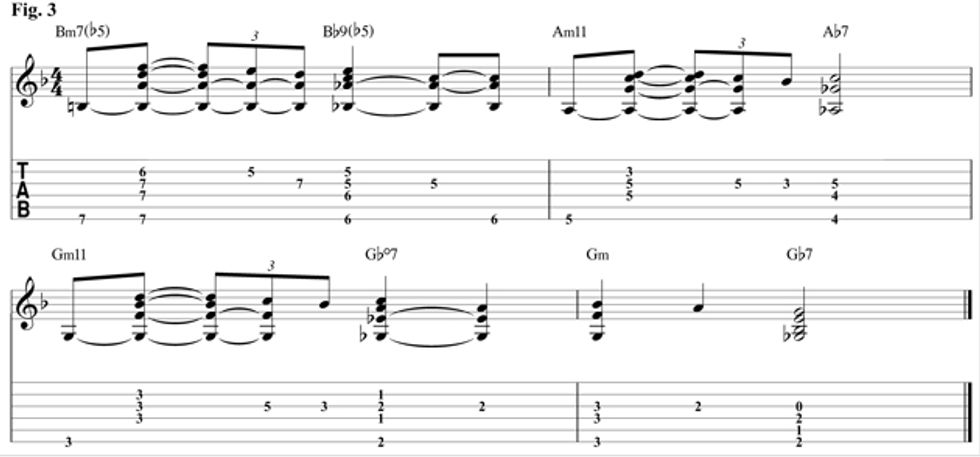 Trick #3: Use ascending chord substitutions
Now we'll go in the opposite direction. When chords are moving in a cycle, they seem to naturally flow through a downward progression. By taking the melody as our top voice and using the bass note as our root note, we'll "go against the grain."
In Fig. 4, notice how I've again pretty much substituted every other chord. This time I'm using mostly diminished chords to achieve the harmonic direction I want to move in. All the diminished chords are functioning as the V chord of the minor chord they precede.