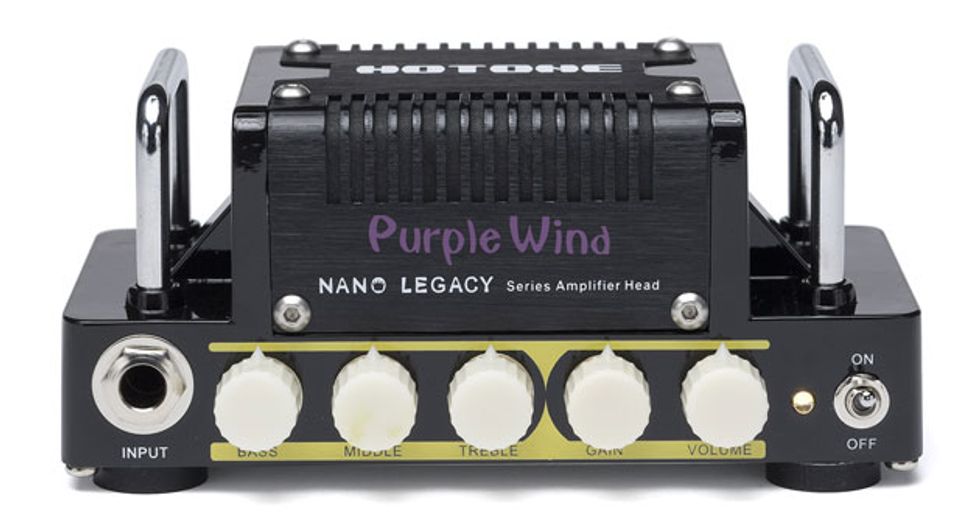 Japan (February 19, 2014) -- Introducing Hotone's Nano Legacy Series Guitar Amplifier Heads, the ultimate companions for guitar players that want serious tone wherever they go. The 5-watt Nano Legacy amp heads produce premium guitar tones in two ultra-compact models: British Invasion (inspired by the legendary Vox AC30) and Purple Wind (inspired by the legendary Marshall Plexi SuperLead 1959). Packed with essential guitar amp features and weighing exactly a pound, the Nano Legacy amp heads are the perfect addition to any guitar player's arsenal.
The sleek Nano Legacy amp heads each feature a front panel consisting of a guitar input, as well as separate Volume and Gain knobs to dial in your levels. Additional tone shaping is provided by a dedicated 3-band (Bass, Middle, Treble) EQ. There is also a bright LED to indicate that your amp head is powered up and ready to go.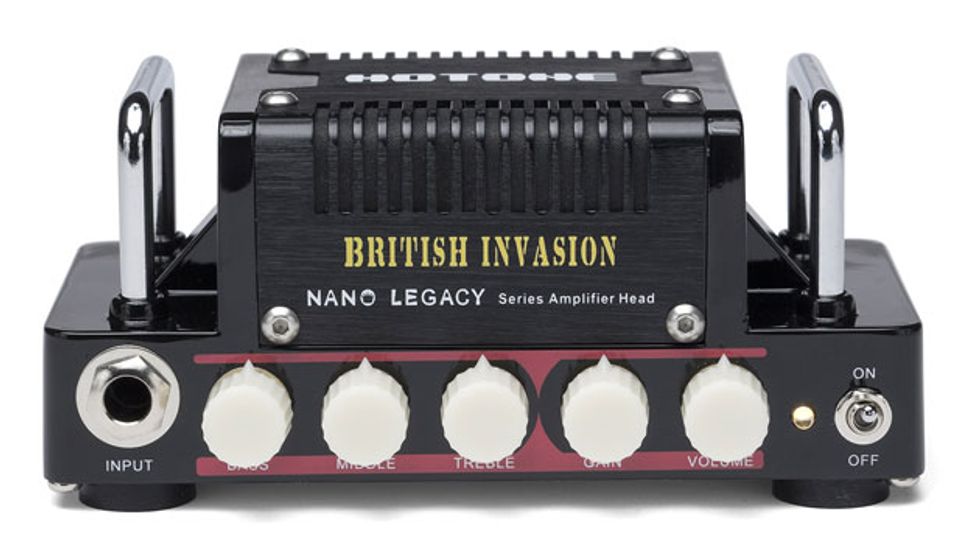 Engineered to be user-friendly and flexible for any setup, the Nano Legacy amp heads can connect to 4, 8 or 16-ohm cabinets using the single speaker output on the back of each unit. Each amp head also features an FX loop (send and return) for integrating external effects, a 1/8-inch Aux input for playing along with MP3 players or smartphones and 1/8-inch headphone/line output for playing through home stereo or computer speakers.
With great sound and maximum portability, Hotone's Nano Legacy Series Guitar Amplifier Heads are optimal solutions for guitarists that want excellent guitar tone for jam sessions, home office settings, bedroom setups and more.
Features:
Ultra-compact, portable guitar amplifier heads
British Invasion: Inspired by the legendary Vox AC30
Purple Wind: Inspired by the legendary Marshall Plexi Super Lead 1959
Separate Volume and Gain knobs
3-band (Bass, Middle, Treble) EQ
FX Loop for integrating external effects
Single speaker output for use with 4, 8 or 16-ohm cabinets
1/8-inch Aux input for playing along with MP3 players or smartphones
1/8-inch headphone/line output for playing through home stereo or computer speakers
For more information:
Hotone Audio