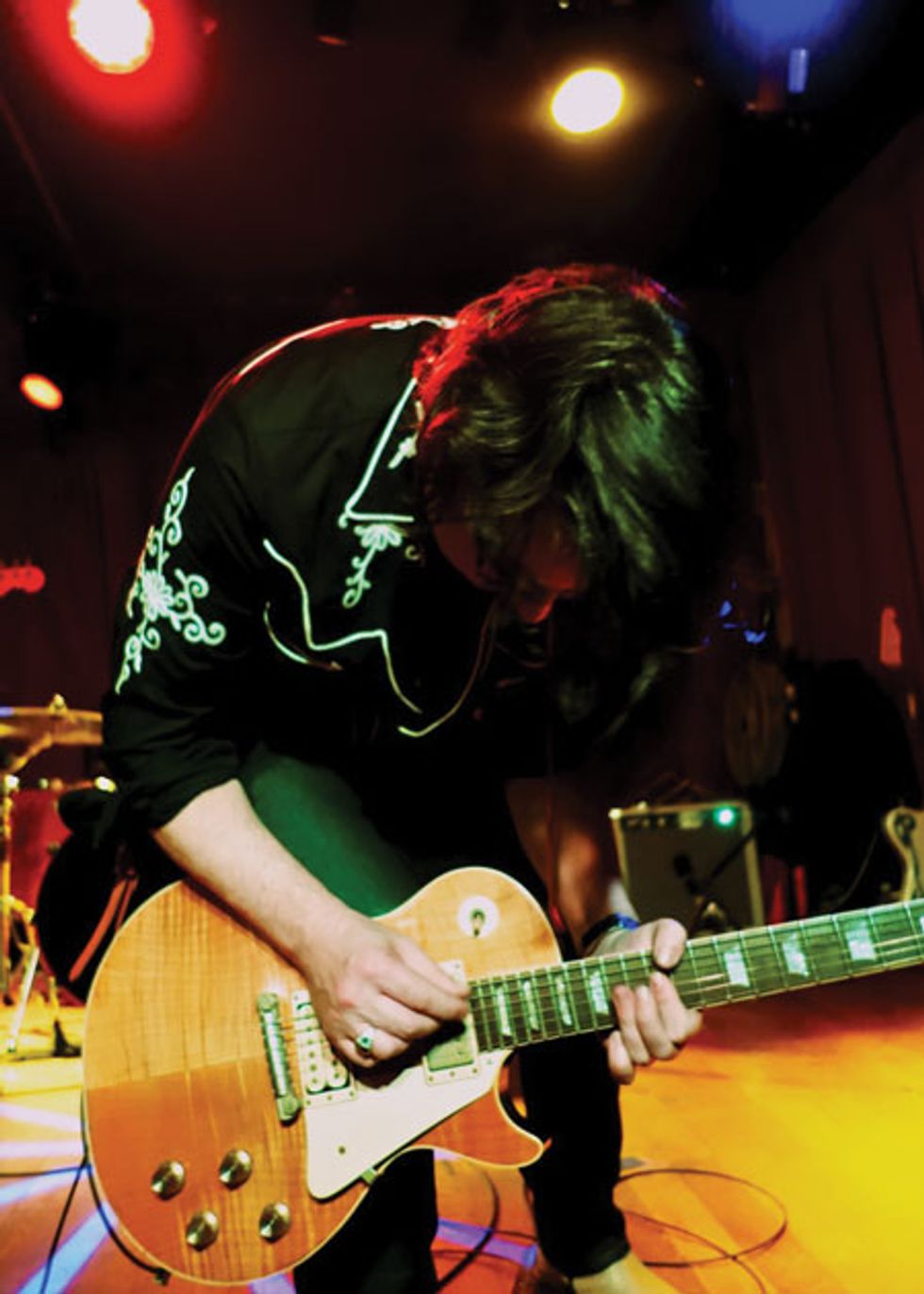 Eric Ambel plays his chambered '55-style Les Paul with the Del-Lords at the CBGB's Festival in NYC. Photo by Linda Rizzo
Some take up guitar to be heroes, strutting their stuff as a solo instrumentalist or a band's blazing lead player. Others prefer to be singer/songwriters, using the instrument to create tunes and accompany themselves. There is yet another type of player who, though he or she might occasionally shred or write songs, finds a primary calling in helping others realize a musical vision. These players are sidemen—or, more accurately, sidepersons.
For these hired guns, a musical career entails recording and/or touring with a succession of solo artists, or as an adjunct to self-contained bands who need a specialist to fill out their sound. These highly skilled pickers might specialize in one style of music, but more often they handle a variety of genres to maximize employability.
Being a sideperson has advantages and drawbacks. On the plus side, you get to play with new players all the time, and you get paid whether or not anyone shows up at the gig. If you enjoy travel, this is the life for you. While other band members are off the road recording their next record, you can be out touring with another artist. For an excellent guitarist who enjoys diverse creative challenges, but isn't interested in the trials and dramas of a cooperative band or the responsibility of a solo career, hired gun can be a fulfilling job.
"The song is the sacred thing here. It's not about your incredible chops and speed. The artist wants you to play the song."
—Will Kimbrough

On the downside, you get paid the same whether the gig is in a theater or a sold-out stadium. There's no job security—being hired for this tour or record is no guarantee you'll be called for the next one. And until you reach a certain career level, you may have to play a lot of mediocre music amongst the plum gigs.
It largely comes down to the difference between being an entrepreneur and an employee. The former (solo artist or band member) entails greater risks for the promise of potentially greater rewards (hit records). The latter (hired gun) offers a paycheck for services rendered, though, like any freelance employee, a sideperson alternates looking for work, doing the work, and, sometimes, trying to get paid for the work.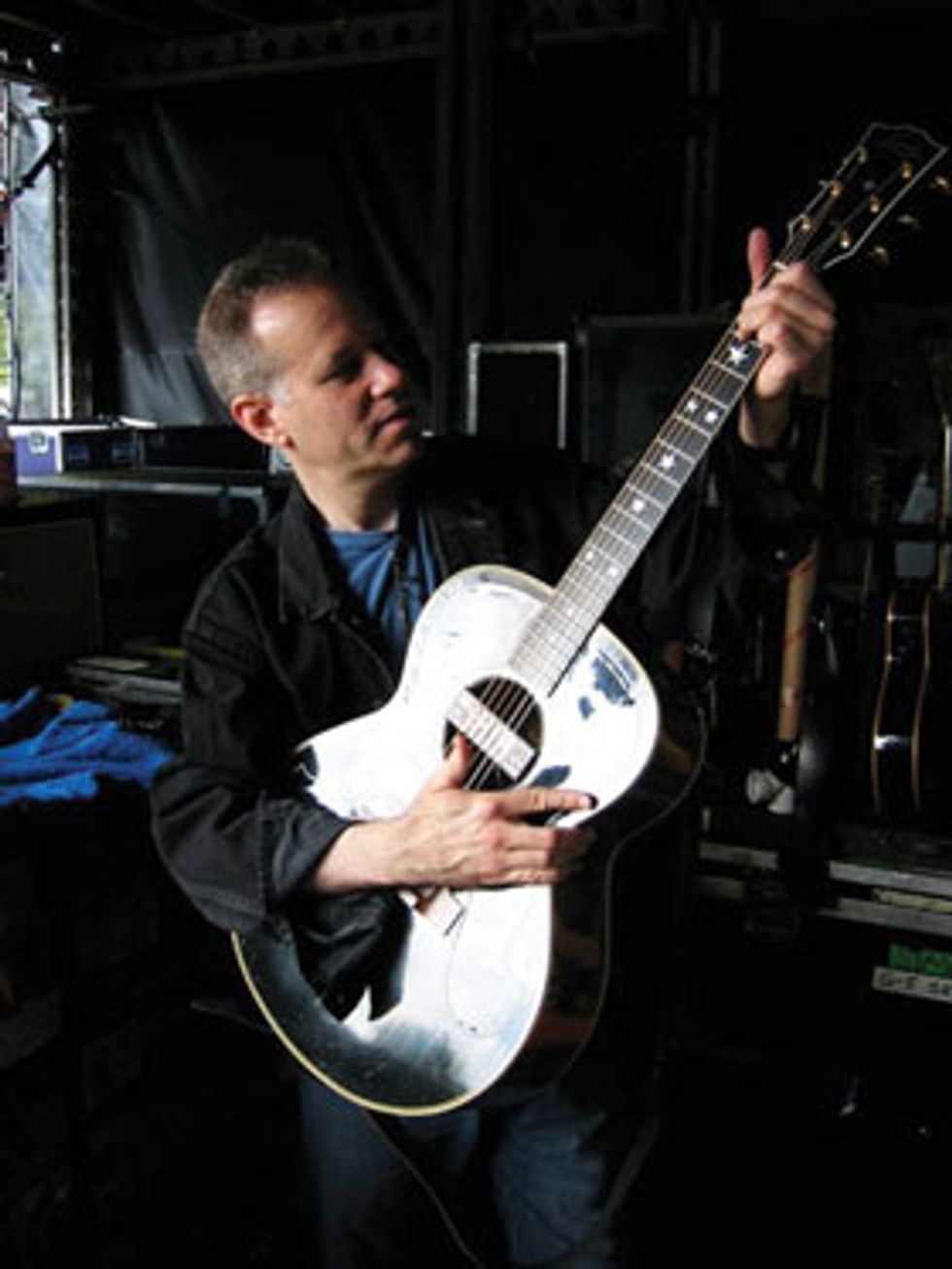 Larry Salzman preps his custom acoustic backstage before a show in London. Says Salzman: "It was made for and played by the Everly Brothers!"
Go for It
If playing for others is the path you choose, where do you start? First you have to get the gig. "Word of mouth is the best way, which means you need to hang out where other musicians hang, and play local gigs and sessions as much as possible while you're the new guy," says Will Kimbrough (Rodney Crowell, Steve Earle, Emmylou Harris, Josh Rouse). To this I would add a tip from personal experience: Don't hang out exclusively with guitarists. They might occasionally recommend you for a gig they can't make or don't want, but non-guitarists are likelier to hip you to gigs that need a 6-string slinger.
Your behavior and demeanor on local gigs and sessions while climbing the music-circuit ladder create an indelible impression. "Most of the time, the recommendation comes from a musician you met on a crappy $50 gig," says Larry Salzman (Blue Nile, David Johansen, Bette Midler). "For that and many other reasons, it's important to take every gig you agree to do seriously." And it's not only musicians you need to impress. "Try not to alienate anyone you meet in the business, no matter how small their job seems to be," says Vinnie Zummo (Joe Jackson, Shawn Colvin, Roger Daltrey, Art Garfunkel). "You never know where someone will end up."
Study for the Test
So you got the call—usually an opportunity to audition. "If you're asked to audition, do your homework," advises Eric Ambel (Steve Earle, Joan Jett). "Check out the artist's latest record and the catalog, too. Nowadays it's not too hard to track down any touring artist's setlist. The setlist tells you a lot about the gig, as will a few current YouTube clips."
You might receive a list of tunes and charts, but not necessarily. If you're told the tunes in advance, learn them from memory. Unless it's 30 songs received the night before (or maybe a jazz gig) no one wants you reading charts. They want to see a level of commitment to the music.