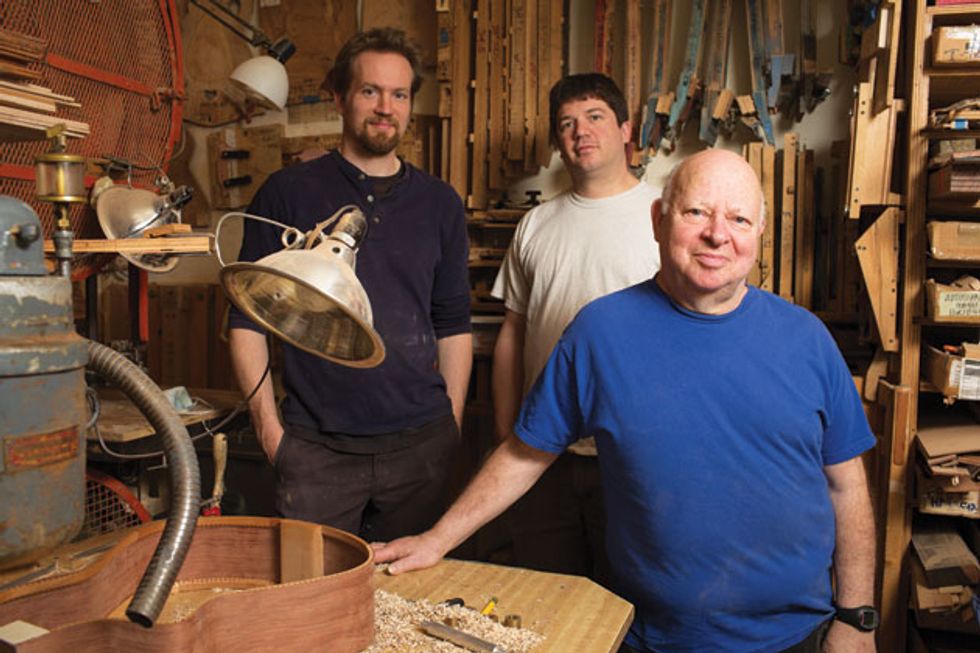 Joe Veillette (right) calls his two right-hand men his "family." Martin Keith (left) has been building for Veillette for 14 years, while Ande Chase (middle) has been with the operation for 10 years. Photo by Michael Bloom.
With so many beloved and acclaimed instruments to his name, Joe Veillette would never be accused of lacking ambition or vision. For almost 40 years, he has produced unique stringed instruments unlike anything else in the marketplace. Yet a recent medical scare inspired new focus and planning in the Veillette guitar shop in Woodstock, New York, and ultimately led to a new product line.
"I had a headache since NAMM in mid-January 2013," Veillette says, referring to the annual National Association of Music Merchants trade show. "By late March, the headache had been with me for three months and it never went away. I got a CAT scan and they rushed me up to Albany Medical Center and said I should've been dead with such a huge hematoma."
After having a drain in his skull for five days, Veillette was eventually released from the hospital and returned to his workshop with new vigor and foresight.
"It was a real wake-up call," he says.
A Man of Function
Joe Veillette (pronounced Vay-ette) was born in Brooklyn, New York, and grew up obsessed with radio. Jackie Wilson was a favorite, along with notable doo-wop and vocal groups like The Penguins and Dion and the Belmonts. An older sister took him to Alan Freed shows, expanding his musical horizons. Veillette sang constantly, but always solo in his room. A random comment about his inability to hold a tune damaged his performing confidence.
In college, Veillette was studying architecture when he received a Gibson J-45 as a gift. "It had a very narrow nut and a very large recess for the truss rod adjustor, which led to chronic breakage of the head piece," he recalls. "It happens to those old Gibsons all the time."
"Coming from an architectural and engineering background, I'm not going to do something because it looks good if it's going to make something less functional." —Joe Veillette

Just after he'd mastered five or six chords, the instrument took a tumble and the headstock broke. The budding guitarist lugged the Gibson to a number of repair shops in Brooklyn and was dismayed by what people proposed.
"I knew enough about engineering to realize that just gluing the thing back together was not going to do it. And then someone told me about a luthier class being given in Manhattan at the YWCA."
Luthier Michael Gurian, who had a shop in Greenwich Village and was beginning to receive praise for his classical instruments, led the class. Over several months, Veillette learned about classical guitar construction, all so he could acquire the knowledge necessary to repair his Gibson. At this point, Veillette had graduated from college and was working as an architectural designer on Park Avenue. Though Veillette described it as a "dream job" in terms of salary and unique opportunities, the work was unfulfilling. He folded up his blueprints and drawings and left after a year and a half.
Veillette says that he really loved guitar building because it gave him a musical outlet, even if he wasn't performing. "I just dove in and it was fun—it was kind of my way of making music, even though I thought I wasn't good enough."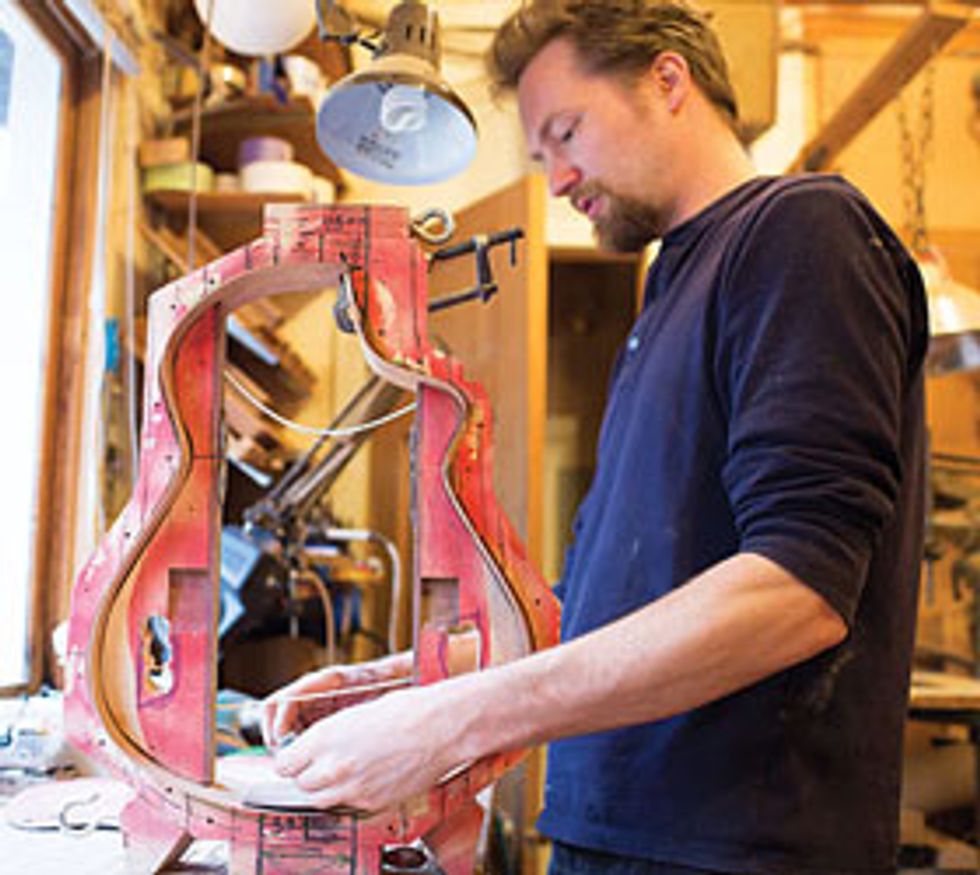 Martin Keith works on a hollow form for a Flyer model in the Veillette Guitars workshop in Woodstock, New York. The treble side of the guitar is being held in place after being bent, the bass side will be added next, and then the end blocks. Photo by Michael Bloom.
His early instruments displayed a restraint and lack of adornment that continues to be a Veillette hallmark to this day. In fact, his second-ever instrument was constructed from a piece of spruce retrieved from Gurian's waste.
"I just wanted to get the techniques down and I figured I'd start doing the pretty stuff later," Veillette says. "But then I found I got such satisfaction out of hearing other people play the instruments that I wanted to make more of them and get better at making things that sound good. And if I wasn't spending time decorating a guitar, then I wouldn't have to charge as much and I could make more guitars and get better. That's my architectural background. I wanted to make tools for musicians. I wanted to make things that did something to help people express themselves. Using more expensive wood and a lot of mother-of-pearl or doing labor-intensive trim and decoration wasn't going to make any more music."
In 1976 that educational background came into play again when Veillette teamed up with another architect, Harvey Citron. Marketed under the name Veillette-Citron, their instruments were promoted by such high-profile musicians as Jorma Kaukonen of Hot Tuna, Jeff "Skunk" Baxter of Steely Dan, and Tina Weymouth of the Talking Heads.
After the Veillette-Citron partnership dissolved in the early 1980s (the pair remain very close friends and confidantes), Veillette switched focus to performing instead of building during a period of self-exile from the workshop. The same pursuit of challenging, fulfilling, enjoyable work that led him to abandon architecture also caused him to put down the planes and turn off the band saws.
"For eight years, I performed with my group the Phantoms, doing a lot of a cappella shows and a lot of band stuff," Veillette says. "We were voted best dance band in the Hudson Valley, we did a lot of gigs in the city, including Radio City Music Hall, and we did background vocals for a lot of people."