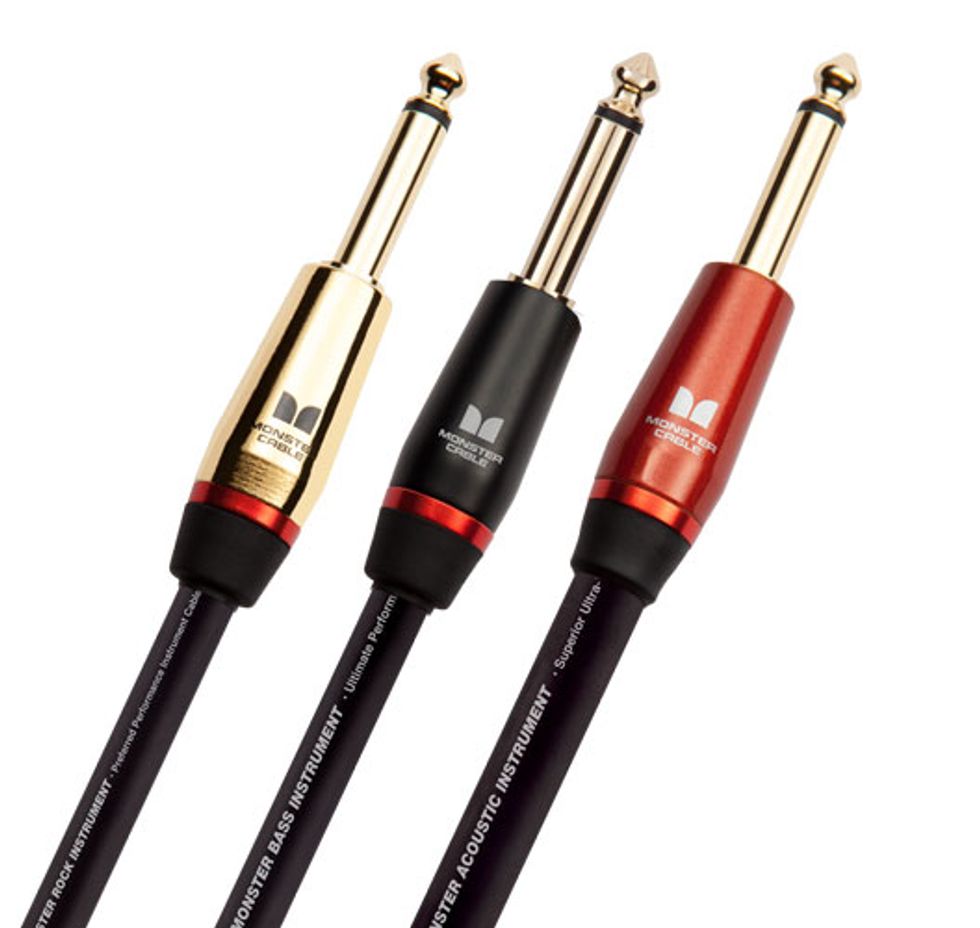 Brisbane, CA (May 7, 2014) -- Monster, a leader in the professional audio industry for over three decades, has released new versions of their Rock, Bass, and Acoustic cables. The line features cable technology that pays close attention to the frequencies inherent to specific types of instruments so players get the most out of their gear.
Monster Rock - tuned to enhance the attack of your solid body electric 6 string guitar with an advanced coaxial design featuring multi-gauge wire networks to maximize your guitar's natural tone and sonic bite.
Monster Bass - designed with a solid core conductor giving more power, definition, and punch to better define your notes and clear up the mud. Tuned to properly conduct low-end frequencies accurately.
Monster Acoustic - featuring Bandwidth Balanced construction to phase align the signal for a more natural reproduction of the full range of frequencies found in acoustic and hollow body instruments.
Strongest Prolink Connector Ever
Monster's new custom design connectors are built to last. The design features a collet strain relief that securely clamps down on the Duraflex jacket when screwed together. This takes the strain and pressure off the solder points locking the cable firmly in place. Connector tip strength has been greatly increased compared to past versions. The connectors' stylish design combines form and function, resulting in a reliable cable that will deliver years of great tone.
Full Lifetime Warranty, the one you may never use
Along with the concept of a premium pro audio cable, Monster also originated the lifetime warranty policy giving players the confidence that if something goes wrong, the company will stand behind its product and keep you playing.
Audio Technology that delivers the full tone of your instrument
Monster Prolink products were developed using advanced proprietary audio technology to create Pure Monster Sound. Spearheaded by company founder Noel Lee and fueled by Monster's 35 years of innovation and expertise, Pure Monster Sound™ delivers the full tone of your instrument with extreme clarity, tight articulation and full bass.
Specs:
Time Correct Windings with multiple gauge wire networks
Bandwidth Balanced construction to phase align signal for a more natural reproduction
Duraflex Outer Jackets for superior reliability and maximum cut resistance
24K Gold Connectors, with a new 2014 custom design based on customer and industry feedback, featuring collet strain relief for durability and resistance to corrosion
MicroFiber Dialectric for better isolation of magnetic fields for improved harmonic detail
Magnetic Flux Tube construction, which improves bass response and natural sonic characteristics
Pricing
21' Monster Rock – angled to straight or straight connectors - $69.95 MSRP
12' Monster Rock – angled to straight or straight connectors - $59.95 MSRP
.75' Monster Rock – angled connectors - $34.95 MSRP
21' Monster Bass – angled to straight or straight connectors - $54.95 MSRP
12' Monster Bass – angled to straight or straight connectors - $59.95 MSRP
.75' Monster Bass – angled connectors - $34.95 MSRP
21' Monster Acoustic – angled to straight or straight connectors - $119.95 MSRP
12' Monster Acoustic – angled to straight or straight connectors - $89.95 MSRP
.75' Monster Acoustic – angled connectors - $34.95 MSRP
For more information:
Monster Products