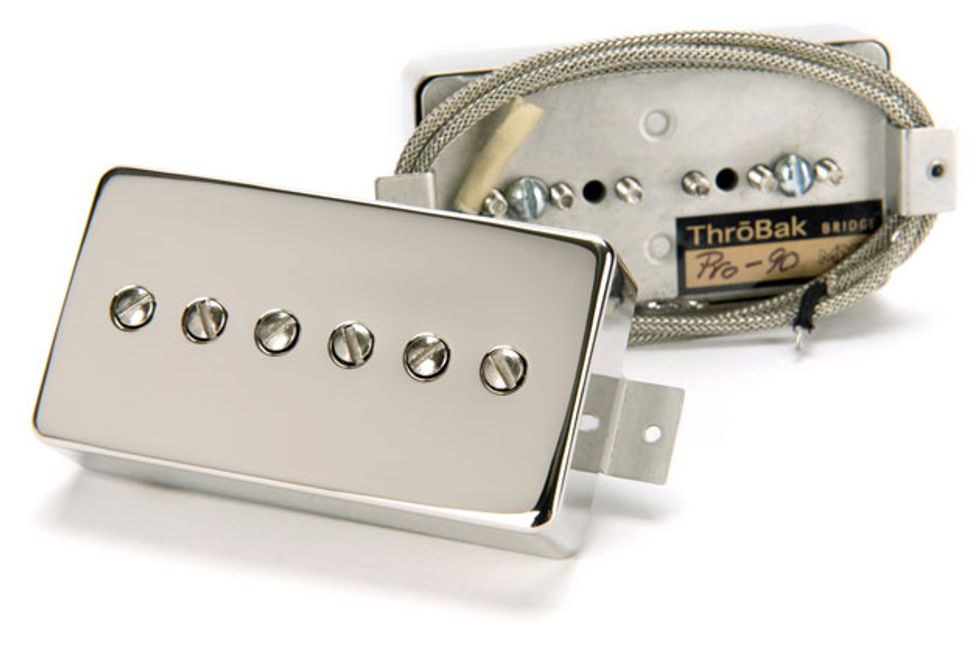 Grand Rapids, MI (October 23, 2014) -- The ThroBak PRO-90, humbucker sized P-90, preserves the construction, materials, and growl of a vintage P-90 pickup by using ThroBak's proprietary Vintage Core specifications. The ThroBak PRO-90 brings a new level of authentic tone and feel to players seeking '50s P-90 growl for their bucker routed guitars. 100% USA made.
The ThroBak PRO-90 is a combination of our new Vintage Core specs. and MXV components: including tinned Brass baseplate construction, vintage ground lug configuration, long Alnico magnets and coils wound with a core of 42 AWG plain enamel wire.
Features:
Neck 7.6K, Bridge 8.2K.
A3 and A4 sand cast Alnico magnets.
Vintage Core tinned Brass baseplates preserve vintage 50's inductance profile.
Vintage Core external ground lug wiring for full sized Alnico magnet installation.
Vintage Core winding process preserves vintage spec. output and tone.
Available in classic pole screw, or Alnico 5 rod magnet P-90 configuration.
ThroBak vintage contour Nickel Silver covers in a variety of finishes.
The ThroBak PRO-90 has M.A.P. (minimum advertised price) of $389.00 per pair or $194.50 for single pickups. Available direct from ThroBak Electronics and authorized dealers.
For more information:
ThroBak