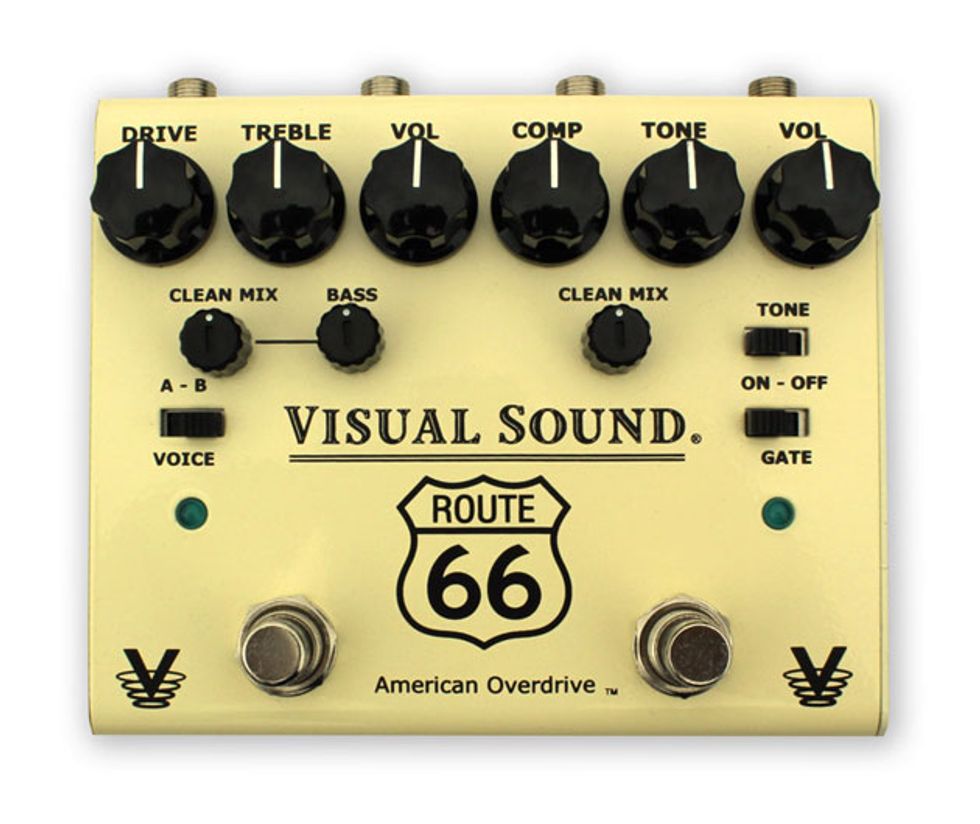 Spring Hill, TN (November 21, 2014) -- Visual Sound is excited to present the new V3 Route 66 American Overdrive pedal, the latest in their critically acclaimed V3 series. Developed by Visual Sound's Bob Weil, and Chief Engineer R.G. Keen, the V3 Route 66 builds upon the classic tones of its predecessors (first introduced in 1999), with even more gig friendly features and greater tonal versatility.
The V3RT66 is a dual pedal that features separate compressor and overdrive circuits in one handy pedal board friendly box. The updated compressor side now has a clean mix knob that allows the user to mix dry signal back into the effected/compressed signal for huge clean sustained tones that haven't lost their attack. The compressor side is excellent for anything from tightening up your sound, to the heavy parallel compression used by today's pros. The compressor side also boasts an improved noise gate that can also be removed from the circuit via a top mounted switch.
The Route's overdrive is all new, and is based on the classic Reverend Drivetrain circuit developed by Bob Weil and Joe Naylor. For a helpful addition, a clean mix control was added to allow various blends of overdrive and dry signal, including all drive or all clean boost. Additionally, a 2-position voice switch allows the user to vary the overdrive tone between bright and open, or more saturated. Due to the V3 Route 66's pure sound, and its clean mix controls, the dual pedal can enhance the sound of guitar or bass, and even keyboards and other electronic instruments.
As with all V3 series pedals, the V3 Route 66 features the Visual Sound Lifetime Warranty.
Street Price: $179
Watch the company's video demo:

For more information:
Visual Sound