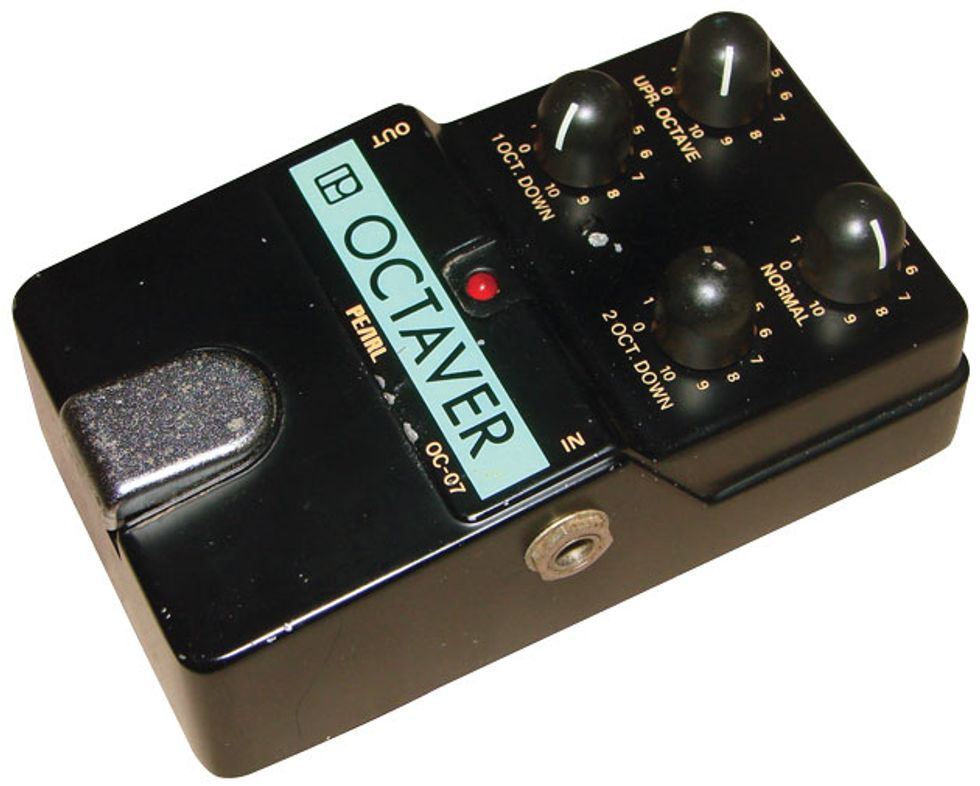 Developed before more polyphonic harmonizers or multiple-octave devices became readily available, the OC-07 is much more suited for creating fake bass accompaniment or fattening distorted single-note lines. Photo courtesy of Eric Mann
Brad Fee, Mojo Hand Fx – Pearl OC-07 Octaver
A word of advice to any guitarist who is planning on going to NAMM (or who aspires to go): Please don't try to impress people. You're not going to get discovered—16th-notes in E minor or blues licks in A are something we've all heard before. That said, I have to give Brad Fee of Mojo Hand Fx credit where its due. After three loud days stationed across from his company's booth at Nashville NAMM last summer, I really enjoyed and appreciated his playing. While succinctly and tastefully demonstrating his line of pedals, Brad consistently sounded like a Mike Campbell- or Keith Scott- style sideman with a weekly church gig in Texas. His company's effects reflect a similar, practical ethos—a traditional design mindset with expanded function and versatility. Given this, I was kind of surprised to find out that a centerpiece of Brad's own pedal collection is a pretty unusual piece that's also being used rather unconventionally.
"I've gone back and forth and bought the Pearl OC-07 Octaver over and over, and now I just can't get away from it" Brad explains. "But I don't think I'm using it the way it's meant to be used. Most people who have an octave pedal like this use it for fattening-up single-note riffs. I just use it for clean chords, sometimes on an arpeggio or a strum, and it gets all glitchy, creating this weird, 'wrong' noise that is kind of out of context and different—almost like a ring modulator, but still something that can be used in a song."
"There are these dissonant layers because it doesn't track that well, and there's noise—but it's subtle and works in a band context." —Mojo Hand Fx's Brad Fee

It struck me as surprising that Brad would prefer the Pearl over more modern, more accurate pitch shifters or doubling devices. Developed before more polyphonic harmonizers or multiple-octave devices became readily available, the OC-07 is much more suited for creating fake bass accompaniment or fattening distorted single-note lines. But the very fact that it's inadequate to Brad's task is kind of what does it for him. "You hit that Em barre chord on the 7th fret, and things go kind of bonkers," he continues. "There are these dissonant layers because it doesn't track that well, and there's noise—but it's subtle and works in a band context. It's not this obnoxious thing that throws things off, but it's interesting enough that you take notice."
Seeing how much he enjoys this unusual effect for himself, I wondered if Brad has considered building a variant for his own brand and customers. "This is definitely one of those devices where you wonder 'Is this only for me—am I the only person in the world who likes this?'" he laughs. "We've put some time and money into developing something similar, but it would require a bunch of components—and with the time we'd have to put into it, we'd have to charge something like $300 for it. And with us being known for more practical, utilitarian stuff, that kind of price for something kind of odd isn't really the right kind of crazy."
YouTube It
Enjoy a glimpse of the glitchy goodness pouring from the Pearl OC-07's guts.