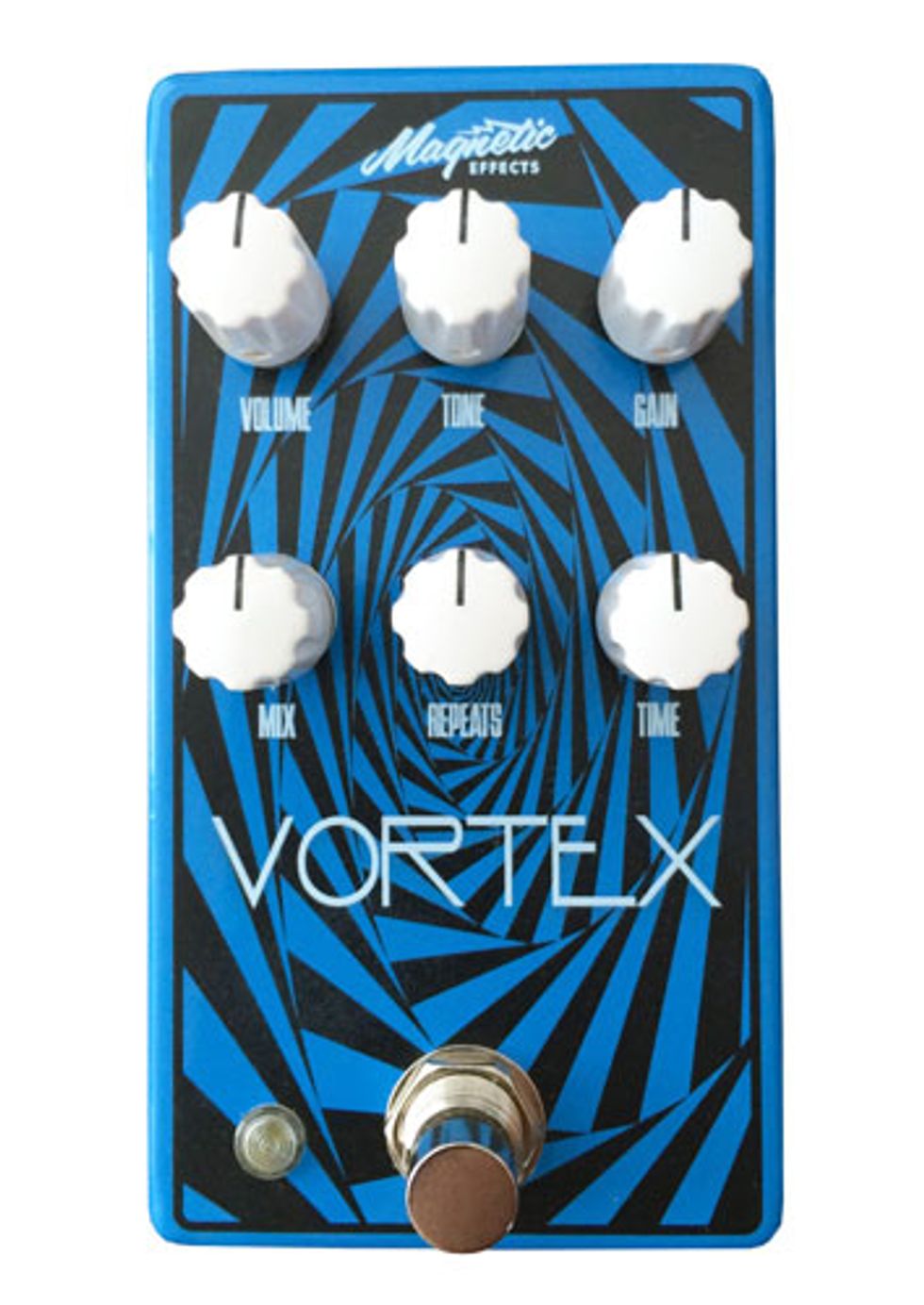 London, England (April 7, 2016) -- Magnetic Effects are pleased to release the Vortex. An incredibly versatile Booster with built in Echo.
The Vortex is a fantastic sounding, open and transparent boost with a gain range that can cover tones from super clean to overdrive. The ability to mix in the Echo circuit is great for adding ambience and space to your tone. The combination of the boost and echo together can really help your tone feel and sound bigger under your fingers.
A total of six controls makes it easy to dial in your desired tone. The Gain control spans a range from clean to gritty. Higher gain settings add increased sustain and harmonic richness which is great when playing leads/solo's. The Tone control allows you to go from bright to smooth and warm and the Volume control has plenty of level available to drive any amp. Time, Mix and Repeat controls give you plenty of options for dialling in delay settings that range from slapback to short echo.
The boost can be used without the Echo simply by turning the Mix control down. Having two effects housed in one enclosure with top mounted jacks and DC socket is a real space saver on pedalboards. Also, the ability to engage both effects with one foot switch makes the Vortex easy to use on stage.
The Vortex has the ability to accept higher voltages up to, and including, 18V. Higher voltages offer increased headroom which can be beneficial for boosting. The Vortex has a high input impedance and low output impedance to help ensure compatibility with other effects in your signal chain.
Features:
Volume, Gain, Tone, Time, Mix and Repeat controls
High input impedance and low output impedance
9V-18 DC centre negative adapter powered
True Bypass switching
Reverse polarity protection
Top mounted Jacks and DC socket
Limited Edition
100% Handmade
$165 street
For more information:
Magnetic Effects