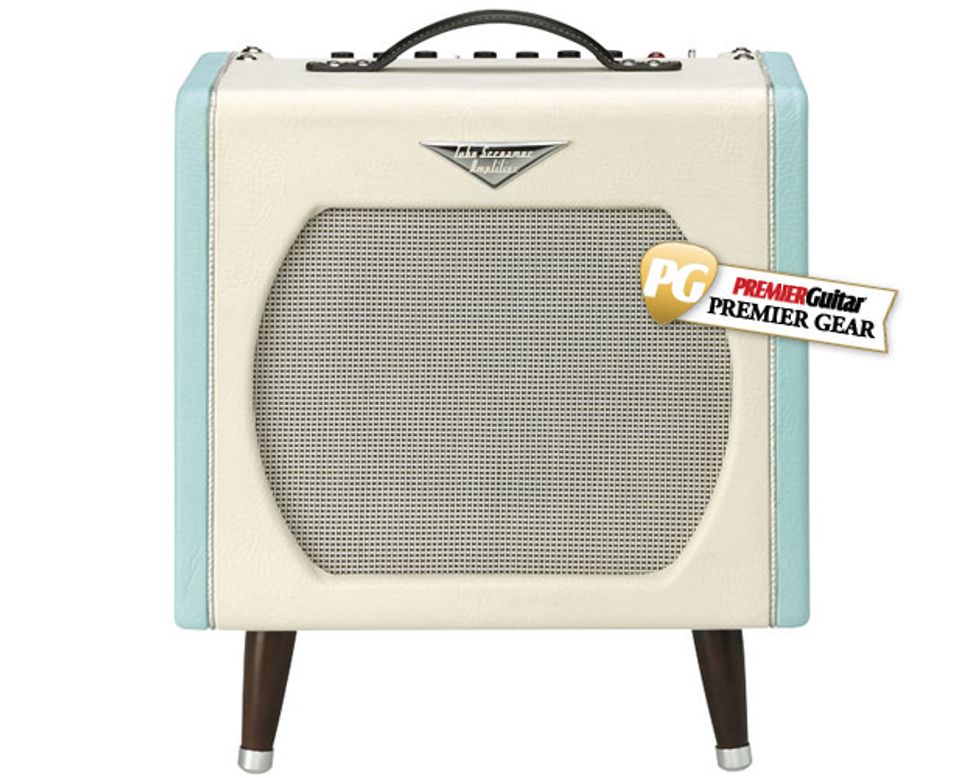 Ibanez TSA5TVR Tube Screamer Amplifier
Recorded with a Fender Tele Deluxe.
After what seemed like a never-ending barrage of micro amps, lunchbox amps, and tweed- Champ revisitations, these days the little-amp deluge is feeling more like a gentle spring drizzle. But while the 6V6-driven Ibanez TSA5TVR Tube Screamer amp—which, as you might've guessed, has an onboard Tube Screamer circuit—is a little late to the party, it's an exceptionally strong and very stylish arrival.
Saturday Night Boulevard Style
Ibanez is typically a pretty forward-looking guitar company. And while they've dabbled effectively in retro styling before in the form of the Jet King, various archtop lines, and elsewhere, the TSA5TVR toys much more overtly and playfully with '50s product eye-appeal via a fusion of that era's amplifier, radio, and television designs (check out those mahogany-toned hardwood legs!) and two-tone vinyl that looks lifted from a '57 DeSoto Fireflite. If it doesn't clash too severely with your interior design motif, it's a pretty cool little piece of furniture.
It probably would be easy to dress any old pile of parts-bin amp components up in clothes this sassy, charge 150 bucks, and make a minor killing. But Ibanez put a lot of thought into making the TSA5TVR sound great. The 8" Jensen C8R and Ruby 6V6 and 12AX7 tubes (both common upgrades for vintage Fender Champ and newer Champion 600 modders) pay considerable sonic dividends in the form of headroom and detail. They also help communicate the flavor of the subtle but lush Accutronics spring reverb. Man, it's nice to hear an amp this small with real spring reverb!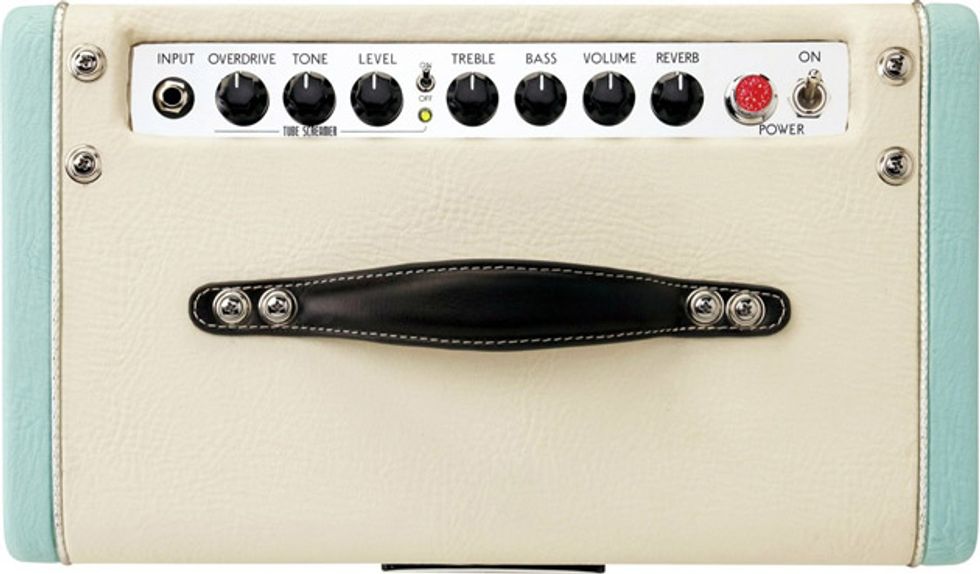 Better still, you can take advantage of the extra air and capacity for tonal complexity with the preamp's very effective bass-and-treble EQ section, which is super-effective for moving between disparate guitar voices and pickup sets. It was as easy to dial in body for a thin-sounding Stratocaster as it was to slim and focus a humbucker-equipped Telecaster Deluxe. The extra headroom also means there's lots of leeway for working with fuzz. This amp would be a go-to if I needed to record reedy '60s garage fuzz or Led Zeppelin-style leads.
It's hard to say exactly what iteration of the storied Tube Screamer circuit is under the TSA5TVR's hood, but it's complete with overdrive, tone, and level knobs, and it feels and sounds like a perfect match for the amp. Light-gain applications sounded great for blues-rock leads and were an especially nice match for humbuckers. Higher gain settings were killer for grinding power chords and generating a compact, slightly compressed distortion that felt bigger than 5 watts and seemed perfect for double-tracked rhythms.
The Verdict
With a great-sounding, well-matched overdrive and a lovely spring reverb, this two-toned Ibanez makes a great case for "less is more." It'll work on a stage with a good PA, provided your band isn't too loud, and it's the perfect amp for a singer-songwriter or a guitarist who accompanies one. It's also a potentially killer studio asset for all the same reasons. But even if it never leaves your living room, this is a superb little amp for practice, demos, and around-the-house jams. —Charles Saufley
Ratings
Pros:
Real spring reverb. Nice speaker and tube complement. Excellent headroom and natural overdrive tones. Tube Screamer overdrive is nice match for circuit.
Cons:
Turquoise two-tone may be too brash for some.
Street:
$399
Ibanez TSA5TVR Tube Screamer Amp
ibanez.com