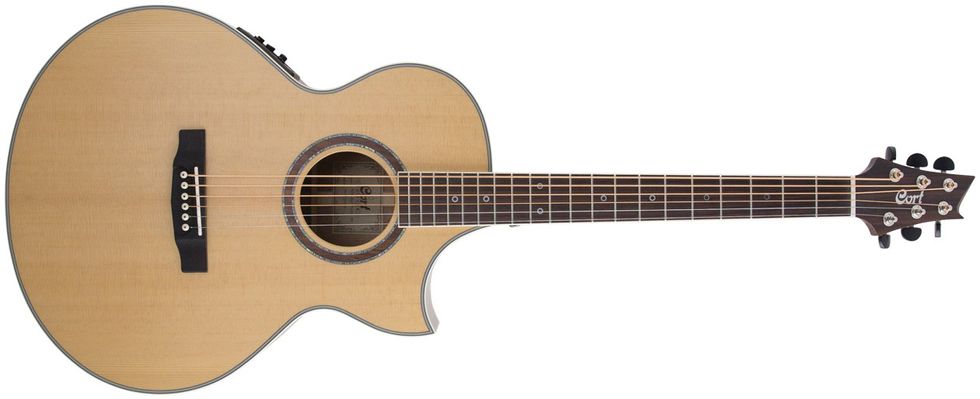 ---
Cort NDX Baritone
---
You know what's weird about baritone acoustic guitar? The fact that more people don't use it!

Tuning an acoustic guitar down a fourth or so below standard drops the instrument smack into cello register. Besides being an intrinsically attractive sound, the deeper tuning adds potent low-end thump to solo guitar performances. It also works brilliantly for acoustic duos. Besides adding bass mass, the altered tuning lets the players perform songs in different positions. (For example, having the standard-tuned guitarist play in G while the baritone player fingers the music in "C" or "D.") This can add beguiling harmonic complexity to two-guitar performances, whether the music is intricate fingerstyle stuff or humble cowboy chords.

Not all players can afford several grand for a fine baritone acoustic if they've already invested in a top-flight standard-tuned acoustic. That's what's so attractive about budget-conscious Asian baritone acoustics from the likes of Alvarez and Ibanez, which sell for under $500. And now Cort has entered the market with a slightly more upscale acoustic bari: the $699 NDX.

Solid Stuff
The China-built NDX bari is a single-cutaway flattop with a built-in Fishman Presys preamp. With its 27"-scale fretboard and a lower bout that's 16" wide by 5" deep, this is a sizeable axe. But it's light, it balances nicely, and the deep Florentine cutaway makes it easy to access all 20 frets.
When you pluck that low 6th string, you feel the
fundamental in your gut.
The top is solid Sitka spruce and the back is solid mahogany. The sides are mahogany laminate. The bridge and neck are mahogany as well, while the fretboard is rosewood. Cool cosmetic details complement the handsome woods, including a faux-abalone and mahogany rosette, neck/back/top binding, an asymmetrical headstock, and nifty black buttons on the Grover tuners. It's a sharp-looking guitar.
It's nicely made, too. The woods are pretty. The satin finish is consistent. The binding is immaculate. The interior work, with its scalloped X-bracing, is clean and glob-free. I'd have guessed this was a more expensive guitar, save for the rather rough fret ends, which are par for the price range.

Fret ends notwithstanding, NDX is relatively comfy thanks to a sleek, slender neck with a relaxed V profile. Still, plan on spending some time getting acclimated if you're new to bari acoustic. The long scale means greater distance between the frets and, thanks to the larger string gauges, the nut width is 1.75". That may only be about 1/16" wider than most standard-tuned acoustics (it's the norm for fingerstyle-oriented axes like Martin OMs), but it can be disorienting until you've played for a few hours. (Consider this an advisory more than a criticism.) The wider-than-usual string spacing and relatively heavy string gauges may also require some practice. But chances are you'll be surprised how easy it is to manage those low strings, thanks to the slim neck and low action above the large frets.
Ratings
Pros:
Quality materials and workmanship. Nice tones, especially when played delicately. Good price.
Cons:
Heavy strumming can sound "splatty." The long, wide fretboard may require acclimation time.
Tones:


Playability:


Build/Design:


Value:


Street:
$699
Cort NDX Baritone Acoustic-Electric
cortguitars.com
Bottom Feeder
When you pluck that low 6th string, you feel the fundamental in your gut. All low notes are taut and defined, and free of floppy wobble. Volume levels are balanced from register to register, with ample body, an attractive shimmer, and ear-engaging complexity.
The onboard Fishman system combines an under-saddle piezo with a miked signal. The unobtrusive control panel includes treble, mid, and bass controls, a feedback-nixing notch filter, phase reverse, mic/piezo blend, and a minimal yet effective tuner. My two demo clips feature the same performance. The first is the guitar's natural sound through a high-end Schoeps small-diaphragm condenser mic. The second is the Fishman system alone. Naturally, the miked sound is more dynamic and nuanced, but the DI sound is perfectly workable for gigs.

From a Whisper to a Splat?
The guitar sounds especially attractive when played softly. Small variations in dynamics produce dramatic tone changes. Fingerstyle and plectrum playing both yield fine results. (The demo clip starts with a fingerstyle excerpt before I switch to a pick at 1:06.)

But the guitar responds best to a light touch. Heavy strumming seems to overload the instrument. Check out the final section of the clip (starting at 1:34), where I strum a repeated chord progression while transitioning from very quiet to very loud. After a certain point, chords seem to splat out, growing papery and compressed. Part of that may have to do with the laser-bright tones of coated phosphor/bronze factory strings.

The Verdict
Baritone acoustic guitar is a fine thing, and Cort's NDX Baritone is a fine way to get there. Its materials and workmanship are terrific for its price range. Tones are attractive, and the guitar is sensitive to performance nuances, especially when played with some delicacy. Big, bold strumming is less successful to my ear (though darker-toned strings may help). But by any reckoning, this is a serious bang-for-buck guitar, and an excellent way to plumb new acoustic-guitar depths. —Joe Gore