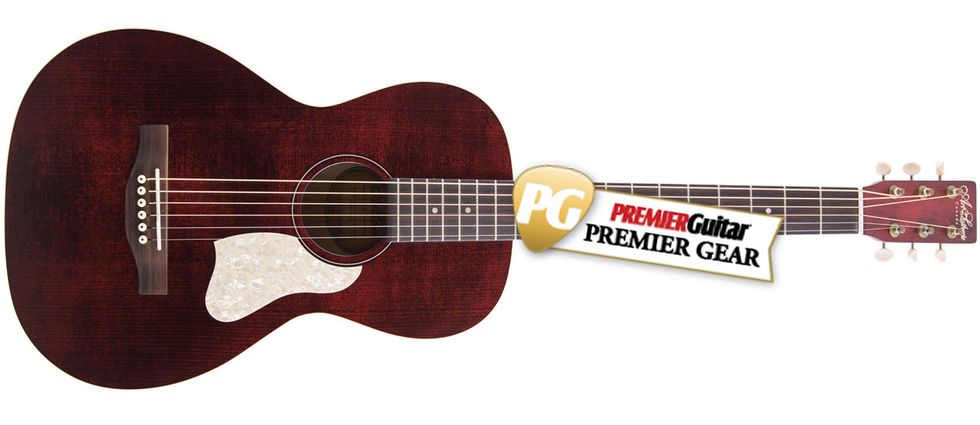 ---
Art & Lutherie Roadhouse
---
At a distance, Art & Lutherie's Roadhouse could be mistaken for a very old guitar. Its slim profile and narrow waist evoke the 1920s Gibson L-1, and its dark, grainy finish looks aged and rustic. But the little Roadhouse is a response to a very modern, resurgent interest in parlor guitars—the small-bodied flattops that reigned supreme before larger-bodied instruments, like the OM and the dreadnought, established dominance with their more powerful voices. And though the Roadhouse, with its Fishman electronics, puts a modern spin on things, it does have a warm, midrange-forward sound that's well suited for old-timey Americana styles and beyond. Better still, the price is pretty old fashioned, too.

Cherry Picking
Art & Lutherie is a Godin family brand. Godin has long maintained an emphasis on North American construction and sustainably sourced woods, and the Roadhouse reflects adherence to these philosophies. The solid Sitka spruce top is paired with back and sides made from layered wild cherry and a silver-leaf maple neck, which are harvested from already fallen trees.

The Roadhouse is available in three different colors: bourbon burst, faded black, and Tennessee red. (Another option, faded cream, is available at retailers but not listed on A&L's website.) Finished in Tennessee red, our review model looks awesome, and the grain in the book-matched back is oriented in a cool chevron pattern. While understated, the ivory-colored tuner buttons, binding, rosette, and bridge pins add a nice counterpoint to the deep red finish.
It's perfect for gentle arpeggio work with ringing open strings and harmonics, and the impressive sustain is also an asset when exploring these textures.
While the Roadhouse sells for less than five hundred bucks, A&L doesn't seem to have cut any corners in construction. The frets are cleanly seated and polished, and the nut and compensated saddle, both Graph Tech Tusq, are tidily shaped and notched. There aren't any defects in the guitar's satin finish, and things are similarly ship-shape inside.

Easy on the Ears and Fingers
The Roadhouse is a sweet playing guitar. The neck is relatively slender in profile, but not overly so, and it feels welcoming over most of its length. At 24.84", the scale length is on the short side for an acoustic guitar, but players who favor Gibson electrics will feel right at home on the neck.

As the compact body suggests, the guitar has a midrange-forward voice with solid fundamentals and subtle overtones. There's a sweetness and richness to the sound as well that might be enhanced by the 12th-fret neck junction. (Compared to a 14-fret guitar, the bridge on a 12-fret typically sits at a position on the top that enhances low-end resonance.)
Ratings
Pros:
Solid-topped, North American–made guitar with a winning sound and style.
Cons:
Includes a gig bag and not a proper hardshell case.
Tones:


Playability:


Build/Design:


Value:


Street:
$449

Art & Lutherie Roadhouse
artandlutherieguitars.com
Fingerpicking a Scott Joplin rag and Robert Johnson's "Terraplane Blues," I was impressed by the guitar's clarity and projection—which was almost certainly helped to some degree by the solid Sitka top and Adirondack spruce braces. Individual notes ring with satisfying attack and true intonation. The Roadhouse's clarity lends itself to open G (for "Terraplane Blues"), open D, and DADGAD, too. It's perfect for gentle arpeggio work with ringing open strings and harmonics, and the impressive sustain is also an asset when exploring these textures.

While the Roadhouse doesn't exactly pack a wallop, it responds well when strummed with a pick in the boom-chuck style. The sound is crisp, with bass notes that are firm but not overpowering. It would definitely be a great choice in the studio for rhythm tracks.

When flatpicking, the Roadhouse sounds focused, if a tad polite. And I was sometimes left wanting just a little more power and grit. Then again, the Roadhouse—despite its name—seems much more about nuance.

The Roadhouse is outfitted with a Fishman Sonitone electronics package, which includes a Sonicore undersaddle pickup and a combo battery box and output jack. The preamp's tone and volume controls are mounted out of sight at the top and underside of the soundhole. The battery compartment and jack sit at the lower bout.

Plugged into an AER Compact 60/3 amplifier, the Roadhouse sounds rich, punchy, and very natural. The electronics are noiseless and the guitar is largely resistant to feedback. The 6-string feels versatile plugged in, too. With the tone rolled back, it sounds almost like a jazz box.

The Verdict
Art & Lutherie's Roadhouse is a fine-sounding, easy-playing parlor guitar with a cool midrange bark. The guitar's Fishman electronics make it ready for gigs or for recording ideas on the fly. And with a street price of $449, the instrument represents a value that's hard to beat. —Adam Perlmutter