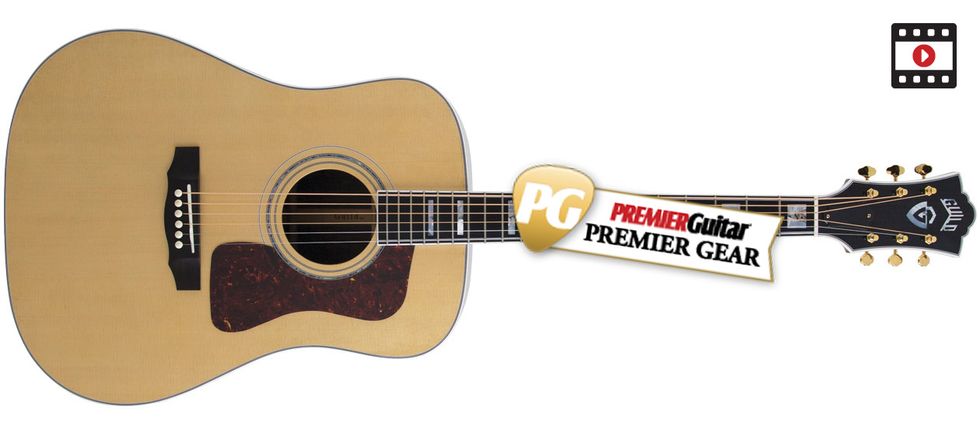 ---
Guild D-55
---
The best Guild guitars are cool and beautifully idiosyncratic instruments. And whether it was a modest mahogany M-20 or an opulent and orchestral-sounding F-212, my favorite Guild encounters made a big impression—leaving me with fond recollections of instruments with style, personality, and enrapturing sounds by the barrel load.

It doesn't take long to hear the individuality in the new and resurrected U.S.-built D-55. It's resonant, responsive, dynamic, and less booming than many rival dreads. And outwardly it suggests that Guild's new custodians at Cordoba grasp the craft, style, and intangibles that made vintage Guilds special. It's a beautiful convergence of art and function that's very satisfying to play.

Goin' Back to Cali
Guild's history is dotted by enough factory moves and transfers of ownership to make a journeyman infielder's career look stable. What I've always found interesting is how Guild's sense of personality has remained more or less intact through those changes. The high-quality D-55 is another testament to the brand's impressive resiliency and the way its legacy seems to inspire luthiers. When Cordoba Music Group bought Guild from Fender a few years back and moved production from Connecticut to Southern California, it wisely retained the services of wizard luthier Ren Ferguson. And though I don't know the extent to which Ferguson is involved in assembly line supervision, the attention to detail you see in the D-55 certainly bears the mark of his influence.
Liveliness under light pick attack will make the D-55 appealing to recording engineers that wrestle with the sonic mass
of bossier dreads.
With a guitar this resplendent in binding and inlays, there are a lot of little details to screw up. But giving the D-55 a close-up once over, it's hard to find anything even slightly amiss. The book-matched Indian rosewood back is beautifully finished and polished to reveal a rich and complex grain pattern, and is bisected by a maple and ebony dots-and-dashes back strip. The ABS binding that surrounds the body and neck is adorned with a super-thin black/white/black pinstripe that echoes the racing-stripe-like inlay that runs the length of either side of the fretboard.
Then there's the beautiful "V-block" triangle-within-a-rectangle abalone inlays, which echo the abalone inlay in the headstock and rosette. The visual sum of these elements manages to be deeply luxurious without being ostentatious: a classic Guild design signature if there ever was one. Perhaps the only real design miscue is the plastic truss rod cover, which feels and looks insubstantial and chintzy for a guitar with this price tag.

Big but Balanced
Although dreadnoughts are the most popular acoustic body type, that doesn't mean they are always the most versatile guitars. Often lacking the harmonic balance of orchestra and grand auditorium sized instruments, dreads can be boomy and lack dynamic range in fingerpicking situations. The D-55, however, is strikingly balanced from low registers to high. It's responsive to a light touch, and is positively sparkling and present when I used a light pick for delicate hybrid picking. The same liveliness under light pick attack (and attack from light picks) gives buoyancy to capo'd chord phrasings and layered rhythm parts—qualities that will make the D-55 appealing to recording engineers that wrestle with the sonic mass of bossier dreads.
Ratings
Pros:
Unique, balanced voice. Killer chord machine. Superb playability and setup. Excellent build quality. Nice balance of fancy and un-fussy.
Cons:
Flatpickers may find individual notes too compressed and controlled.
Tones:


Playability:


Build/Design:


Value:


Street:
$2,999

Guild D-55 Natural
guildguitars.com
At times the D-55's agreeability in low-volume situations does seem to come at the expense of the explosiveness that flatpickers demand from a dread. But if the D-55 lacks the cannon-like impact of a flatpicking standard bearer like a Martin D-28, the trade off is a very pleasing and welcome sense of balance at high volume and under high-intensity strumming and picking. Some of this balance comes from an almost compressed-sounding succinctness that you hear in individual notes. It's an attribute that may frustrate macho bluegrass bullies. But in the context of vigorously strummed vocal backing, studio rhythm overdubs, or jazz-inflected picking chains and clusters, the individual notes translate to clear, beautiful chord voicings and a unique chiming quality that's uncommon in dreadnoughts. And while predicting how a guitar will season is part speculation and part voodoo, I sense these qualities will improve as the wood matures.

The D-55's bass output may lack some of the thump that classic rosewood-and-spruce dread players are accustomed to. But individual bass notes sustain beautifully and in lovely balance with midrange notes—adding up to a sound composite that lends sparkle to ornate fingerpicking filigree and a mellow resonance to alternating thumb-bass patterns.

A lot of the D-55's dynamism (which can feel oddly paradoxical, given how compressed individual notes can sound) is attributable to its slinky playability. It's as good as any dread I remember playing. The action is low but the guitar stays relatively buzz free even when I strum hard with bass-string emphasis and use an extra-heavy pick. And though the guitar came strung with .012s, it felt positively elastic—inviting deep sustained bends, pull-offs, and hammer-ons that expand and extend its expressiveness. It's also a much lighter guitar than some of its weighty '70s predecessors.

The Verdict
Guild fans are usually iconoclasts in some measure. That's a good thing when it comes to the D-55. Because while the new Guild's quality may rival that from more high-profile builders, it bears a very different sonic signature than a popular classic like a J-45 or D-28. It may not be the loudest or most growling dread, but players geared toward dynamic modern styles, singer-songwriters, and studio engineers are bound to dig its civility and balance. At nearly three grand, it's a serious investment. But it is similarly priced to many of its most obvious rivals—many of which are less luxuriously appointed. If you seek a sonic and visual difference from your next dreadnought, the D-55 could return that investment many times over as the years roll on. —Charles Saufley
Watch the Review Demo: