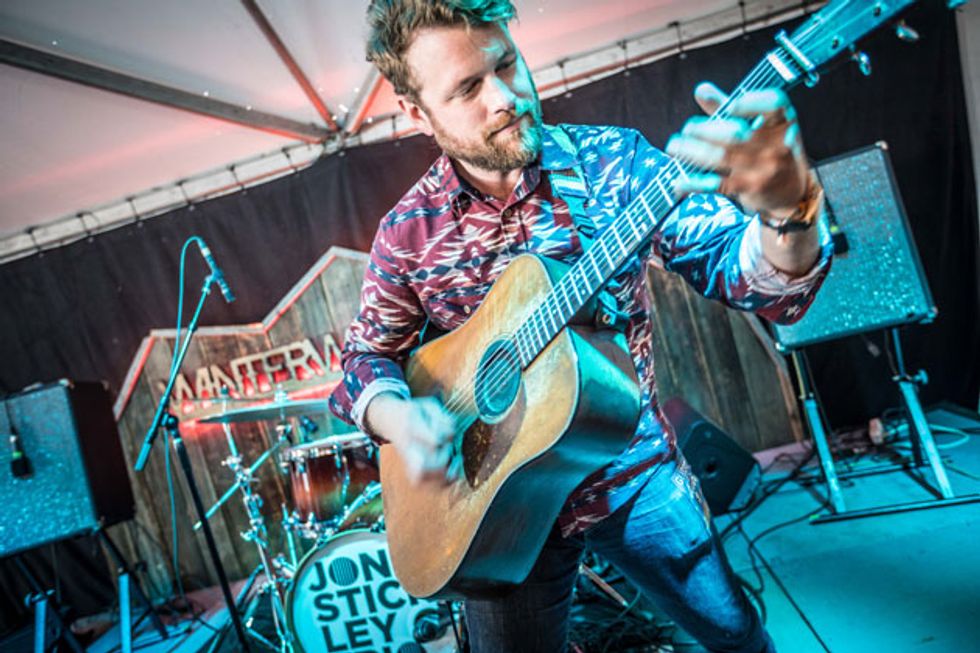 The wear on Stickley's '56 Martin D-18 shows how many miles the trio puts on each year. "I'm working on finding a replacement so I don't have to bring it on the road all the time," says Stickley. Photo by John Ryan Lockman
There is an informal battle between tradition and innovation in nearly every genre of music. Over the last decade or so, bluegrass and Americana have developed more of an independent streak with acts like the Punch Brothers, the Infamous Stringdusters, and the Jon Stickley Trio. Each of these acts combines tradition with innovation in their own way, but don't sacrifice the integrity of their genre. Stickley's trio with violinist Lyndsay Pruett and drummer Patrick Armitage is not a traditional bluegrass group by any means. Many times when they show up to festivals, Armitage is the only drummer on the bill. However, they are just nimble and ambitious enough to navigate EDM-style breakbeats as effortlessly as the old timey standard "Blackberry Blossom."
Stickley grew up in Chapel Hill, North Carolina, with a punk rock heart and a bluegrass soul. The bustling college town offered Stickley the prism he needed to make these somewhat disparate musical worlds come together. He was drawn towards the immediacy and fierceness that populated the town's indie-rock scene. "I loved bands like Superchunk, Archers of Loaf, and Spatula," says Stickley. "They were such off-the-wall bands compared to anything I had ever heard. It was out of tune, wonky, but technical and artsy while being catchy and melodic in a weird, off-kilter way."
The chops Stickley demonstrates on the new Maybe Believe, his trio's second studio album produced by Dave King of the Bad Plus, might suggest he spent much of his formative years hanging out picking at bluegrass festivals, but the truth is that he was rather late to the genre's bandwagon. "I remember the first MerleFest I went to, I saw a young Chris Thile. That kind of blew my mind," Stickley says. At the time, Stickley was taking lessons with a local guitar guru named Hawksi Pope. Through those lessons, he got more into acoustic music and started to play open mics around town with his brother, Jeff, and banjo player Andy Thorn, who has since gone on to play with many jamgrass groups, including Leftover Salmon. "The warm spirit of the bluegrass music scene really attracted me. The summer after high school, I was just obsessed."
Naturally, the punk rock side of Stickley had to make amends with his newfound love for bluegrass. The Stickley brothers and Thorn then formed Crawdad PA, a bluegrass group that saw Jon move to mandolin. "That was my first bluegrass band," says Stickley. "We didn't know too many bluegrass songs, so we just started playing this Dead Milkmen song, 'Dean's Dream' for fun." The "wrong genre" approach that Stickley stumbled into has become somewhat of a cornerstone of his style. Although his group is well versed in the standard repertoire of old-time bluegrass, they don't let those perceptions limit their creativity.
In 2012, after serving time in several regional bluegrass groups, Stickley felt it was time to move out on his own. "I needed something to do," says Stickley. "[Leaving the band Town Mountain] forced me into that role." Originally, the Jon Stickley Band consisted of a more traditional bluegrass lineup, but thanks to a last-minute call for a gig, the trio concept was born. "I couldn't get a bass player, but I could get a fiddle player. My roommate Ryan Oslance was a drummer, so that was the first time I ever did a drums/violin/guitar trio."
"To me, looks matter. I don't want a crystal-clean white Adirondack spruce top on my guitar."

It was through Lyndsay Pruett that Stickley connected with the trio's current drummer, Patrick Armitage. The group had been asked to open some shows for the Infamous Stringdusters in Colorado, and Stickley was in a pinch. "I called him up while I was on tour with Woody Pines. I had never met him or heard him play at all," laughs Stickley. Once Stickley returned to North Carolina, he had a few rehearsals with the group and off they went. "He was kinda in the same position, just looking for a gig. As soon as we decided, 'Hey, let's do this,' he was in." We caught up with Stickley right before another leg of the group's seemingly endless tour to discuss his approach to composition, the pros of playing a relic'd guitar, and just exactly how an Aphex Twin song landed on the new album.
It seems like there's a thread of mixing up styles and genres throughout your last few records.
You're exactly right. When I started early on, it was a very unconscious thing. It wasn't until I started the trio and started to rely more on my own songwriting—basically just needing material and thinking, "Ok, what kind of song should we do now?" That got me thinking back to what's always drawn me to music. How can I tie some of those elements in? I would start thinking about different rhythms, drumbeats, and chord progressions, that maybe wouldn't be typically bluegrass-y. Maybe like punk or emo. And then you start to notice the similarities and you go, "Oh, this has the same chords as 'Wagon Wheel.'"
You've tipped your hat to Tony Rice a few times throughout your career with tunes like "Rice Dream" and "Stickey Rice." When did he become an influence on your playing?
It happened right after high school. I think that's a time when your brain can really latch onto things. What really drew me in was the first David Grisman Quintet album. Andy had it, and I was learning mandolin at the time. The sound of that album and the lead track, "E.M.D," is such an important recording. Everything about it is so deep in so many ways and was a total game changer. That's ground zero for me, as far as new acoustic music. One of the first places I looked to try and learn some bluegrass licks was Tony Rice's playing on the Grisman albums. Then I learned some Tony Rice bluegrass solos with tab. If you've got the muscle memory of certain licks down you can fit those in a lot of different places. Over time, I've really come to love the style, taste, and general vibe that Tony Rice has. They stand apart in this completely different world to me from almost everything I've ever heard.
The trio is really the first group where you've planted your musical flag.
You're right. I've never really thought about it like that. The first solo gigs that I started doing were just a bluegrass band where I played guitar and sang. Then I would usually get bass, mandolin, and banjo or fiddle. I had a couple of original tunes that I had written. On my first solo album, Lions, I had written a handful of instrumentals. My good friend Ryan Oslance, who was living with me at the time and a great drummer, had a crazy, progressive, avant-garde, jazz-rock duo in Asheville called Ahleuchatistas. He was also playing some gigs with me and [banjo player and singer] Shannon Whitworth every now and then. We were just jamming one day and I had put together a bar gig.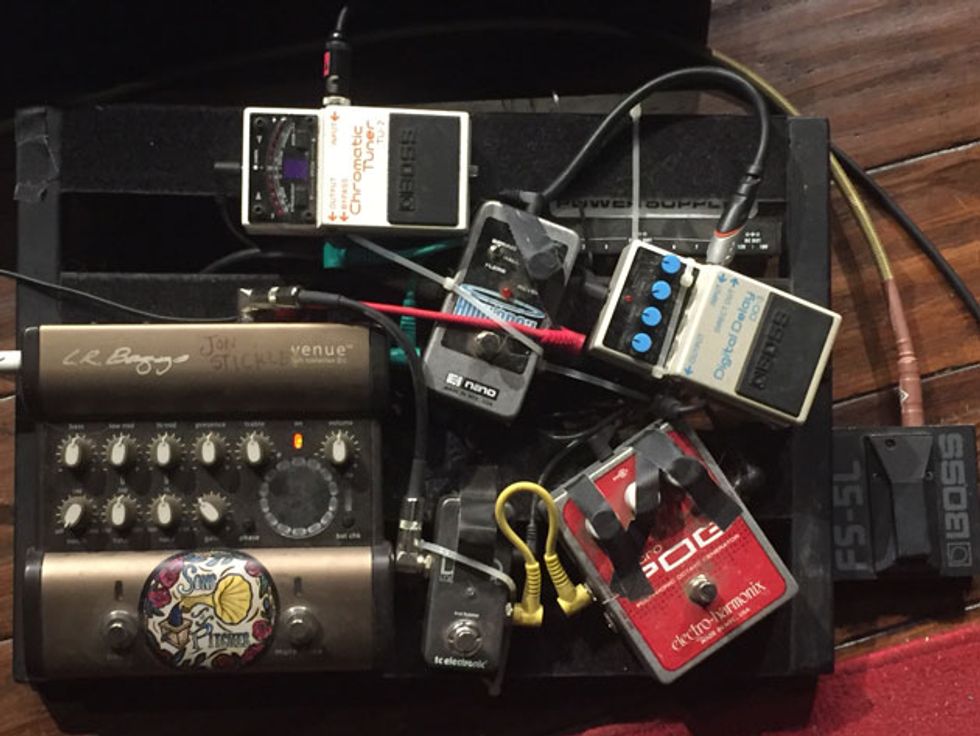 Stickley's modest pedalboard allows him to create lush, layered soundscapes with the TC Electronic Ditto, groovy basslines with the MicroPOG, and get super trippy with the Boss DD-3 Digital Delay.
Was that the lineup for the first trio album?
Well, we had started playing shows with Ryan and then he went to Europe with this other band and kinda stayed indefinitely. I had already booked the studio time to do the album and I wasn't that upset with it because it was such an early thing. We got Mike Ashworth, who is the drummer in the Steep Canyon Rangers now. He was just a guy I knew in town and he came and played drums on the first trio record [2012's JS3]. He's got a super-chill, unique style that really adds a lot to that record.
What was the transition between him and Patrick?
Mike never really joined the band. We were asked to go to Colorado and play a run of gigs opening for the Infamous Stringdusters, and Ryan wasn't available for some reason, so I asked Lyndsey in a pinch about who we should get. She had just played a gig with Patrick. I was like, "It just needs to work for this tour. Let's see how it goes." We only had to learn eight or nine tunes. It went well and we love Pat.
These last two albums seem really connected. You used the same studio, producer, and engineer. However, in a promo video you described the experiences as being very different. Why is that?
I'd say the main thing was that Lost at Last was the first album we'd ever done with Patrick. We started tracking the morning after we met [producer] Dave King for the first time. Patrick had known him, but we'd never met him. It was also the first time we tried to recreate what we did live in the studio. The first trio album was more of an acoustic-picking record with drums. There were very minimal effects and we hadn't been doing the "bass" thing yet, with the pedals. It was a big figuring-out process in a lot of ways, with different personalities and all. Also, we were just trying to think through if we should play it all live or just track it. When we went in for this album two years later, there was a very intimate connection between the band members, a really strong connection with Dave King, and of course [engineer] Julian Dryer's familiarity with recording and mixing us. It was night and day. We walked in and did first takes on five songs.
These songs had been road tested a bit, right?
Yeah. That's the other major difference. We purposely started writing music about a year out from when we were recording this record. A lot of those songs got to grow and develop. There was also some loose sketches of tunes that we wanted to work up in the studio. We wanted to collaborate and develop those ideas once we got into the studio with Dave because we wanted him to have a strong hand in the arrangements.
So there was probably an extra layer of trust with him at this point.
Exactly. I was kind of intimidated by him when he came in, of course, but that went away fast. He is an enormous personality, but I tell you what, I love that guy. He is one of the most kind, humble, good-energied, youthful-spirited dudes ever. He has this Yoda-type personality that's so wise and grounded and wide open and hilarious. You don't even get that from his Rational Funk [instructional drum] videos. We grew to love him and he's a big fan of the band and actually likes us. Going into this one with that relationship with Dave was so much fun.