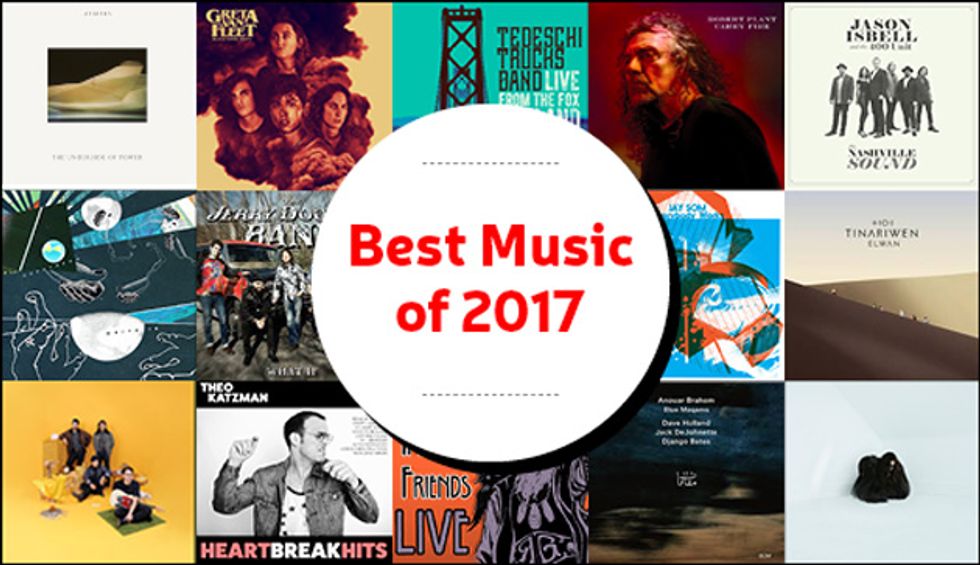 There must be zombies! Despite dire predictions in 2017 about the death of the electric guitar, they were spotted all over the musical landscape—whether in the hands of lions of the instrument, like John McLaughlin, who played his last tour, and Annie Clark, or in the seemingly unlikely mitts of pop idols like Harry Styles and Kesha.
Our editors own choices for the year's coolest albums were equally eclectic, if consistently more 6-string centric. Metal, country, punk, jazz, blues, rock, roots, noise, experimental, and world music were all part of our gang's 2017 smorgasbord of sound—with very little overlap. The Zep-drunk Greta Van Fleet were the sole double-up among our picks, and Neil Young and Robert Plant were the only representatives of the classic-rock camp on our in-house "hit" list.
Otherwise, as we at Premier Guitar look forward toward a bright (and gear filled!) 2018 and wish you and those you love much happiness, join us in celebrating some of the best music of 2017. Maybe you'll discover a few new artists you'd like to hear. There's certainly many among our favorites who aren't household names—yet. Or maybe you'll see a few glaring omissions. Either way, read on and be sure to share your own picks for the year's greatest music in the comments section.