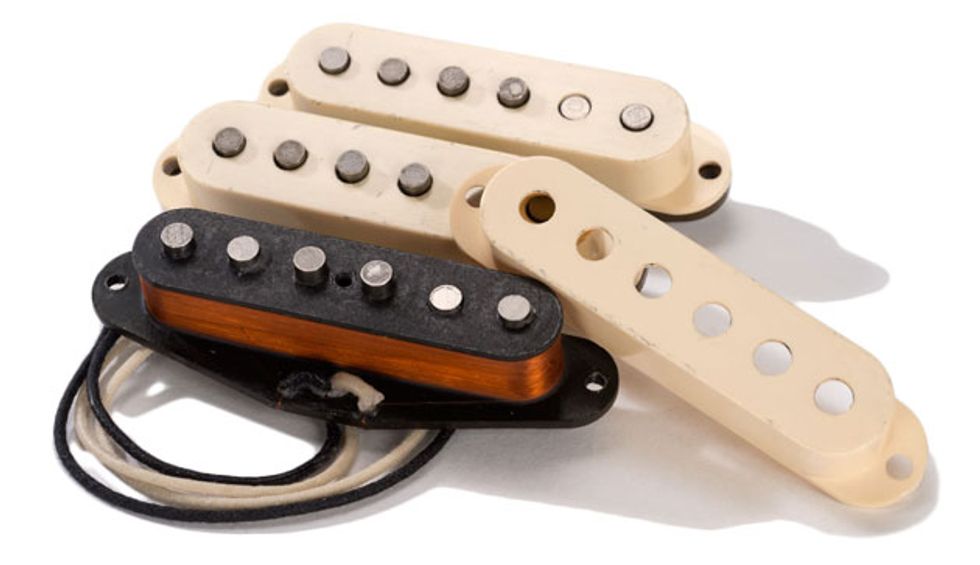 Grand Rapids, MI (May 25, 2018) -- The ThroBak Electronics' '63 MXV Stratocaster pickup set has been meticulously researched to reproduce the distinctive bite and punch of `62/63 era vintage Fender Strat pickups. Wound on the same model vintage ME-481A pickup winder, used to wind early 60's vintage Fender Stratocaster pickups, and assembled using ThroBak's own bobbin flatwork, 42 AWG Formvar magnet wire, custom USA cast long Alnico 5 rod magnets and topped off with ThroBak's custom USA molded nylon covers.
ThroBak's famous attention to vintage correct specs. includes having period correct tooling marks on the nylon pickup covers and using vintage stranded cloth covered pushback wire with un-tinned strands. The final result is a set pickups whose cosmetics are as true to vintage as their incredible tone.
The ThroBak '63 MXV Stratocaster pickup set (Neck 6.3k, Middle 6.3k, Bridge 6.6k) available in Parchment, and Aged White covers for $419.00. (M.A.P.) and with Heavily Aged White covers for $429.00. (M.A.P.). Choose vintage stagger for right or left hand configurations, or with flat pole pieces. Direct at www.throbak.com and from authorized ThroBak dealers.
ThroBak Electronics, located in Grand Rapids Michigan, was established in 2004 to bring the best of vintage tone back to the guitar player of today. Through our lines of vintage inspired effects and period accurate pickups, the ThroBak team is committed to making the highest quality, USA made effects and pickups possible. ThroBak believes that delivering the highest quality every time is what customers expect and deserve. We work every day to deliver on this promise by making tonal tools that inspire us and our customers.
For more information:
ThroBak Electronics