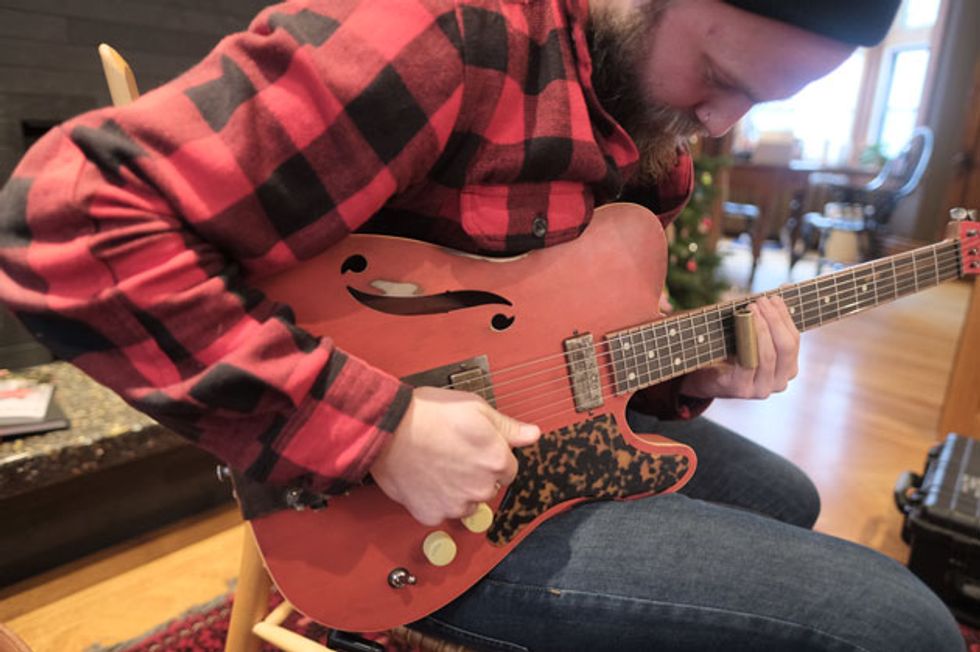 We all dream of an instrument that has such a powerful identity that it inevitably inspires new music. For Joey Landreth, if it wasn't for his Mulecaster—which was built by Matt Eich of Mule Resophonic Guitars—"Forgiveness" would be considerably different. Aside from its hefty metal body, this Mulecaster's main distinguishing feature is a trio of Hipshot palm benders on the 2nd, 3rd, and 5th strings. The main parts of the tune were already tracked before the Mulecaster showed up. "The very first thing I played when I picked up that guitar wound up being the tune's opening head," recalls Landreth. "It took a little refining, but it was right there."
The bad news about this serendipitous matchup is that now the Mulecaster will be a constant companion on the road. "Yeah, another guitar for the boat. It's an amazing guitar, but it's a little too heavy to play all night," says Landreth. Usually, Landreth's main guitar is a Collings I-35 LC semi-hollow loaded with baritone strings and tuned to open C. Since the bari strings don't play nice with the Hipshot, he opted for slightly lighter strings and tuned to open D for "Forgiveness." "Every guitar I have is slightly different," says Landreth. "Some are more vintage and others are more modern. I don't really care because each guitar has its own identity. I just let them be who they are gonna be. Without the Mulecaster, this song would have been a completely different beast." Other than the Mulecaster, Landreth plugged into a Two-Rock Bloomfield Drive, a Fulltone Tube Tape Echo, and a Mythos Mjolnir overdrive, which is a go-to pedal for Landreth. (Word is that Landreth and Mythos are working together to create a signature pedal called the High Road Fuzz.)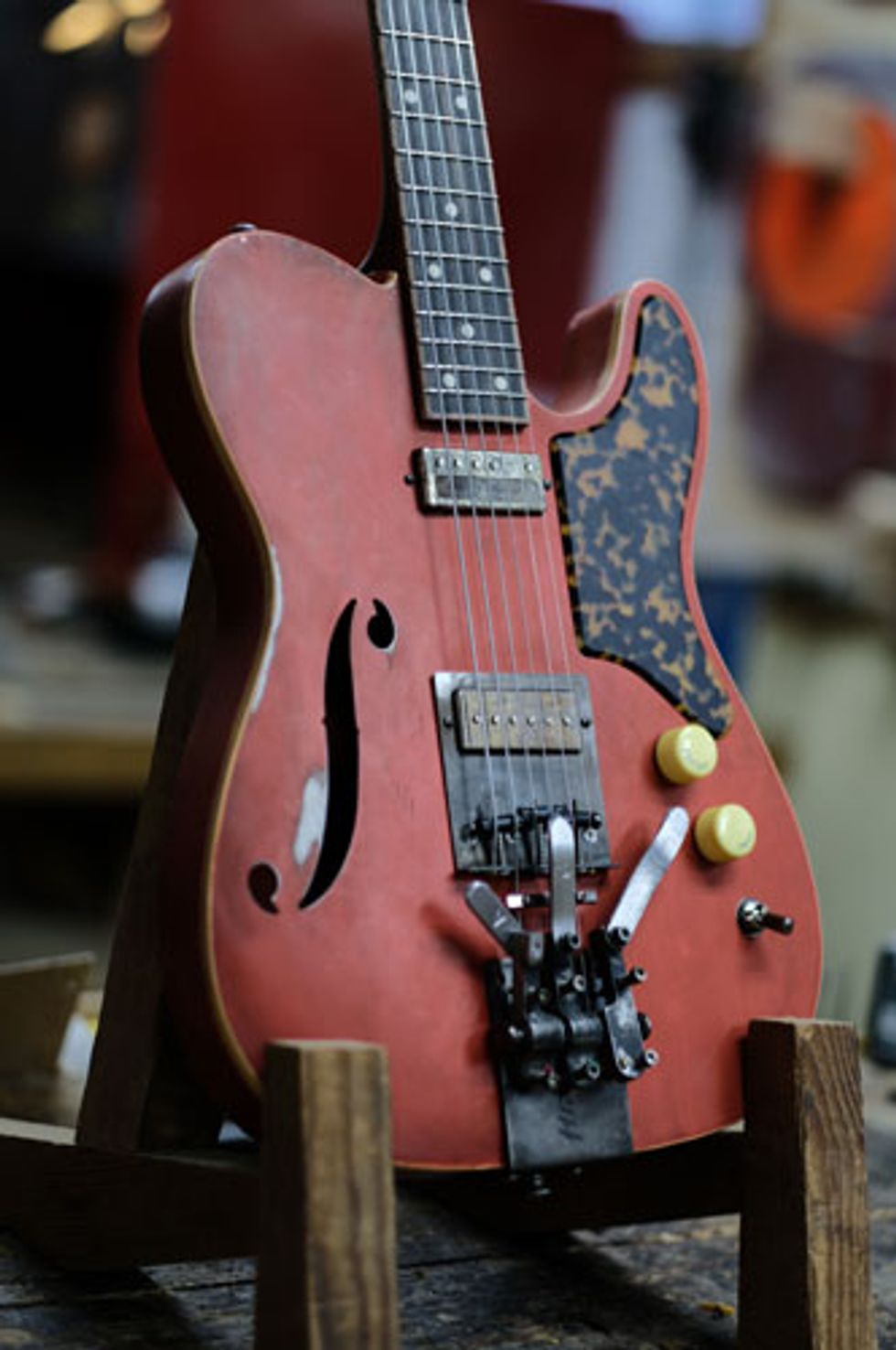 This tune is from a forthcoming full-length that Landreth describes as a "concept" album. He teamed up with Roman Clarke, a fellow musician from Winnipeg, to collaborate on the project. "Forgiveness" was the lone tune Landreth brought into the sessions. "I wasn't really convinced that the tune was gonna go anywhere," he says. "I thought it would be just another tune in the folder for consideration." It was Clarke who saw the depth and beauty in the song and urged Landreth to record it.
A central theme to the song's lyrics is exploring how forgiveness can be perceived. "I started this tune with the chorus. I was toying around with the idea of forgiveness and what it meant to me," says Landreth. "It kinda hit me one day that forgiveness is such a hard state of mind to achieve because we spend so much time being hung up on our own ideas of who's right and who's wrong."
With his solo album nearly finished, an orchestra gig on the books, and a wealth of fans clamoring for another Bros. Landreth album, this roots-rocker is not staring at an empty calendar. If "Forgiveness" is any indication, his future will be chock-full of soulful slide and rumbling, gritty tones.