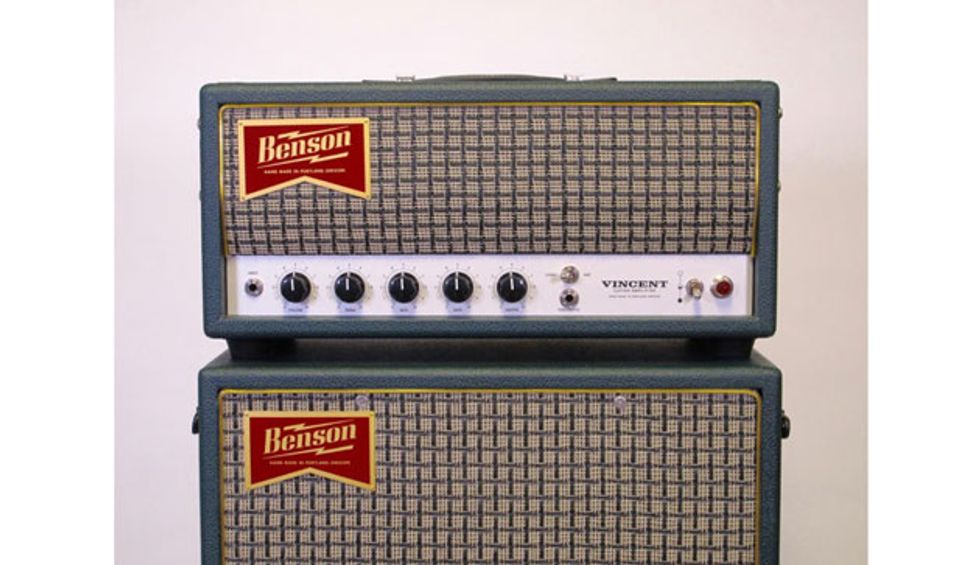 Portland, OR (August 23, 2018) -- Building on the success of their line of hand-wired tube amps and effects, Benson Amps is announcing the release of their first channel switching amp...with a twist. Instead of a conventional preamp tube clipping circuit for the dirt channel, Benson has installed their 1-watt Vinny amplifier directly into the preamp, allowing power tube compression and distortion at any volume level, foot switchable to a pristine clean channel based on their Chimera.
"We wanted to blur the lines between power amp and preamp dirt sounds. The Vincent does this in a way no other amp has before...by inserting a miniature power amp directly into the signal path of the dirt channel, there are zero compromises being made when you step on the footswitch" -Chris Benson
Like all Benson amps, the Vincent is appropriate for most styles of music, offering both shimmering compressed cleans, and a dirt that can be dialed from very subtle coloration all the way to fuzz territory. It is also the first Benson that offers an FX loop...which is pedal level instead of line level for ease of implementation.
The Vincent is offered with a choice of Benson's wide range of finishes, and is paired with Benson's 2x12 dovetailed pine vertical cabinet sporting Celestion G12H30 drivers.
The Vincent head retails for $2,499 (complete head and cabinet for $3,398), and is available either at www.bensonamps.com, or through select dealers.
For more information:
Benson Amps