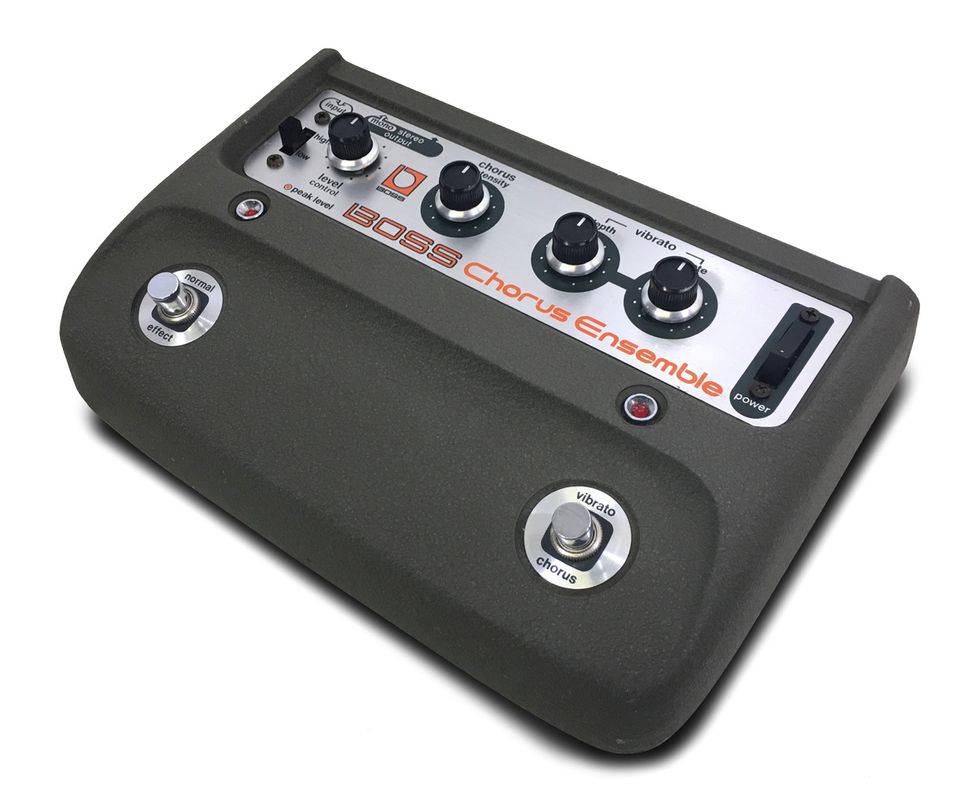 The chorus circuit of the famed Roland JC-120 amp gave birth to the company's first Boss pedal, the CE-1 Chorus Ensemble, which has been used on tracks by the Red Hot Chili Peppers, Rush, the Smiths, and Cyndi Lauper.
Join the Choruses
Roland's Jazz Chorus amplifiers have proven hugely popular since their launch in 1975, finding favor with such bands as the
Police
, the Cure, and Steely Dan. Based on a bucket-brigade device (BBD)—an analog chip developed in 1969 by two engineers at Phillips Research Labs—the amp's distinctive onboard chorus circuit was a hit, so when Roland launched Boss, their fledgling effects arm, it was with the pedal version of the JC's chorus, known as the Chorus Ensemble or CE-1. As the 1970s gave way to the '80s, the sound of chorus was everywhere.
Red Hot Chili Peppers
'
John Frusciante
used a CE-1 on many of the band's recordings, perhaps most notably, "Under the Bridge."
Peter Hook of Joy Division and New Order created his signature bass sound using the original Electro-Harmonix Clone Theory, and Kurt Cobain was another EHX chorus fan, owning both a Polychorus and a Small Clone. The latter contributed greatly to his guitar sound on Nevermind. I've never had a vintage Small Clone, but for over a decade my pedalboard chorus has been the Analog Man Bi-Chorus, which is based on the Small Clone.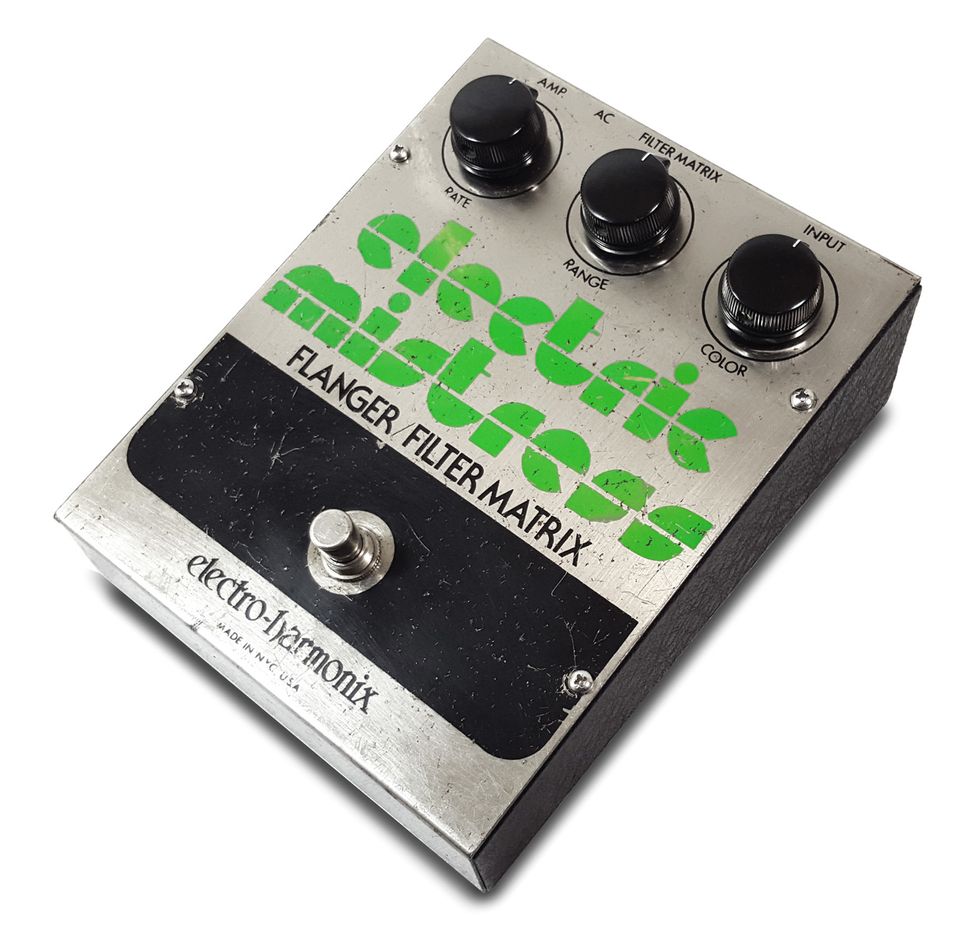 While more recent examples of the EHX Electric Mistress Flanger/Filer Matrix are 9V, the original versions were 18V and had a distinctive tonal quality that inspired some of David Gilmour's epic tones on Animals, The Wall, and his first solo album.
When a Chorus Is Not a Chorus
So, I mentioned earlier—twice, actually—that my favorite chorus isn't really a chorus. It happens to be a flanger designed by David Cockerell for Electro-Harmonix. The original 18V Electric Mistress is the stuff of legend. Nothing that came thereafter bearing the name could touch the first version (of which there were several iterations). David Gilmour and Andy Summers both favored this flanger over then-contemporary chorus pedals. If you get a good one, you'll be unlikely to ever let go of it, but do beware if you're buying untried, for not all 18V Mistresses were created equal. In addition, the effects of age, misuse, and possible tampering by the uninitiated make these an especially tricky vintage item to purchase successfully online. Gilmour adopted his after the recording of
Animals
with Pink Floyd was completed. He used it for much of that tour and it was featured prominently on his first solo album. While the Electric Mistress was only used sparingly while recording
The Wall
, Gilmour had two boards built by Pete Cornish for
The Wall
Tour, with an 18V Mistress on each. Andy Summers used his on many Police recordings.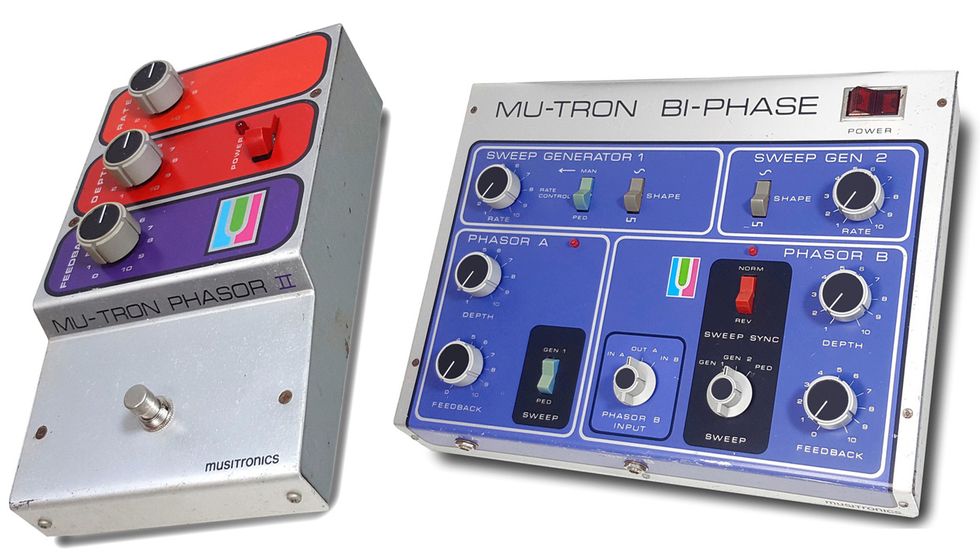 Original Mu-Tron boxes are legendary and have inspired many pedal builders and players with their three-dimensional tones. Their Phasor series of pedals, like the Phasor II (left), were compact and stage-ready, but the Bi-Phase (right) really found its home in the studio, becoming an essential element of dub recordings as well as rock albums, including Smashing Pumpkins' Siamese Dream.
Phased In
Let's get back to phasers. As I said, I could fill this magazine with ripping yarns about this device. I especially enjoy Mu-Tron Phasors, from their first Phasor though the Phasor II, and on to the big daddy that stretched the definition of a pedal: the Mu-Tron Bi-Phase. All are excellent effects, but it's the Bi-Phase that I have to touch on here. It remains a studio essential much loved by dub producers from Lee "Scratch" Perry onwards, and was the effect at the heart of the Smashing Pumpkins'
Siamese Dream
. The album's producer, Butch Vig, has described the Bi-Phase as "One of the secrets to our secret sound—we run everything through it. Everything. It's fabulous." And producer Daniel Boyle reunited 82-year-old Lee "Scratch" Perry with a Bi-Phase for their 2016 album,
Back on the Controls
, highlighting the monstrously proportioned blue phaser's impeccable dub credentials once more.


Producer Tony Visconti was an early adopter of Eventide's Instant Flanger, which appears on David Bowie's 1980 Scary Monsters album. It also played a key role in the soundtrack for the 1984 movie of Frank Herbert's sci-fi novel Dune.
Another remarkable phasing device is the Eventide Clock Works Instant Phaser PS 101. Even though tape flanging was faster for John Lennon than doubling his vocal performances, it was a time-consuming process. Because studio time is expensive, pro audio manufacturers were keen to find a more convenient solution. Enter the PS101 in 1971. This rack unit was the result of Eventide's attempts to create an electronic flanger. It delivered thick, lush phasing and mono-to-stereo effects. The PS 101 became a hit and was used on many classic recordings. Jimmy Page employed it while producing Physical Graffiti, both for his guitar and for John Bonham's kit. Listen to "In My Time of Dying" and "Kashmir" for epic examples. Page also used an MXR Phase 90 live.
---