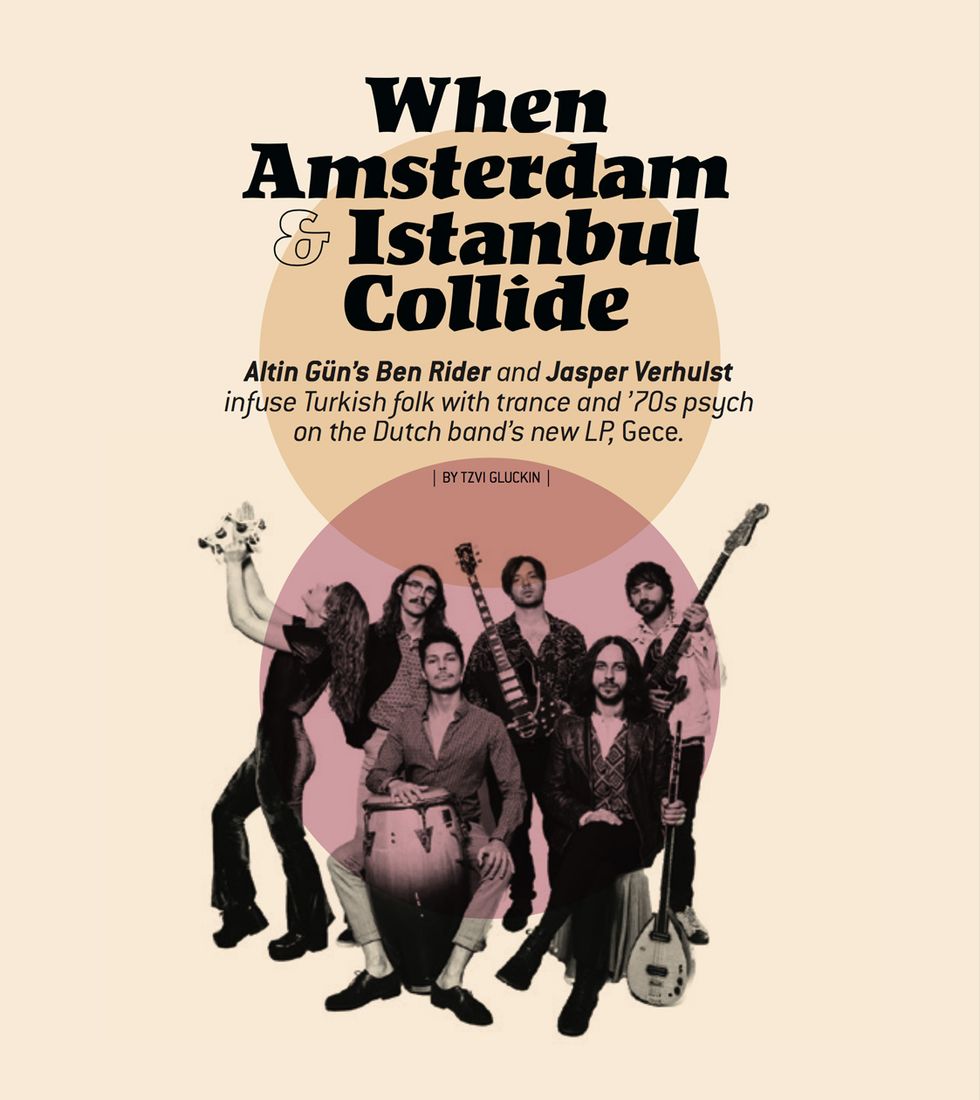 Türk halk müziği—Turkish folk music—is an ancient blend of odd meters, microtonal scales, and unique timbres. To informed ears, it resembles other Balkan and Mediterranean folk styles, Sufi devotional music, and the classical music of the Ottoman Empire. Meanwhile, its lyrical themes are often ambiguous and interpretable as having religious and secular meanings. But it's a distinct form, and, depending on your tastes, can be addictive.
At least, that's what a trio of Dutch musicians—bassist Jasper Verhulst, guitarist Ben Rider, and drummer Nic Mauskovic—discovered during a stop in Istanbul while on tour as sidemen with baroque-pop multi-instrumentalist Jacco Gardner. That trip wasn't their first exposure to Turkish folk music, but it lit a spark that soon became an obsession, and when they got back to Holland—and Gardner put his live band on hold—they decided to give it a try.
The result is Altin Gün (Turkish for "golden day"), their post-Gardner, early-'70s-inspired psychedelic take on Turkish folk. To complete the picture, the three bandmates recruited Turkish-speaking vocalists Merve Daşdemir and Erdinç Ecevit Yildiz (who also plays synths and electric saz, a lute-like traditional Turkish instrument) via a Facebook post, added percussionist Gino Groenveld, and released their debut, On, in 2018. (Mauskovic left soon thereafter, and Daniel Smienk is the band's current drummer.)
Altin Gün's repertoire is almost exclusively covers drawn from modern Turkish folk masters and centuries-old standards. But their music is also infused with a heavy dose of trippy textures and grooves. It's those seemingly disparate elements—the quirky feel and non-Western tones of traditional Turkish folk combined with vintage fuzz tones, warm synth sounds, and a dreamy reverb sheen—that give the band its edge.
"The [4th] and the [3rd] strings, I detune them down, so I'll be able to play along with the saz. I can still play rhythm on the low notes with normal tuning, or solo with the high strings. But the ones in the middle I use to get those microtones." —Ben Rider
Gece (pronounced gee-jeh, meaning "night"), Altın Gün's sophomore release, builds on that concept. The album contains tight unison lines played on guitar and electric saz over a throbbing pulse, like on the opening track, "Yolcu," but also songs like, "Ervah-i Ezelde," which features a psychedelic warble in 7/8. But don't think "7/8" in the Western sense. As we explain in the accompanying "A Turkish Folk Music Primer" sidebar, that 7/8 feels like 2+2+3—one of the quirks that makes it danceable and engaging.
Verhulst and Rider have a deep grasp of Turkish feels, but their approach isn't schooled. They've acclimated to it all completely by ear. "If someone said, 'Play this in 7/8,' I would have no idea what to do," Rider says. "But once I hear it, then I can feel it and do it."
We recently spoke with Verhulst and Rider before soundcheck for their sold-out show at Barby in Tel Aviv. We talked about their no-frills gear, their strictly analog recording approach for Gece, and the tricks Rider uses to play in tune with an electric saz.
Who were some of the artists that triggered the core trio's love for this music when you were first playing in Istanbul with Jacco Gardner?
Jasper Verhulst: It wasn't necessarily that we discovered artists while we were there. I was already listening to some Turkish artists, but after I went there it triggered something in me. I became more passionate about digging deeper into the history of Turkish psychedelic folk music from the '70s.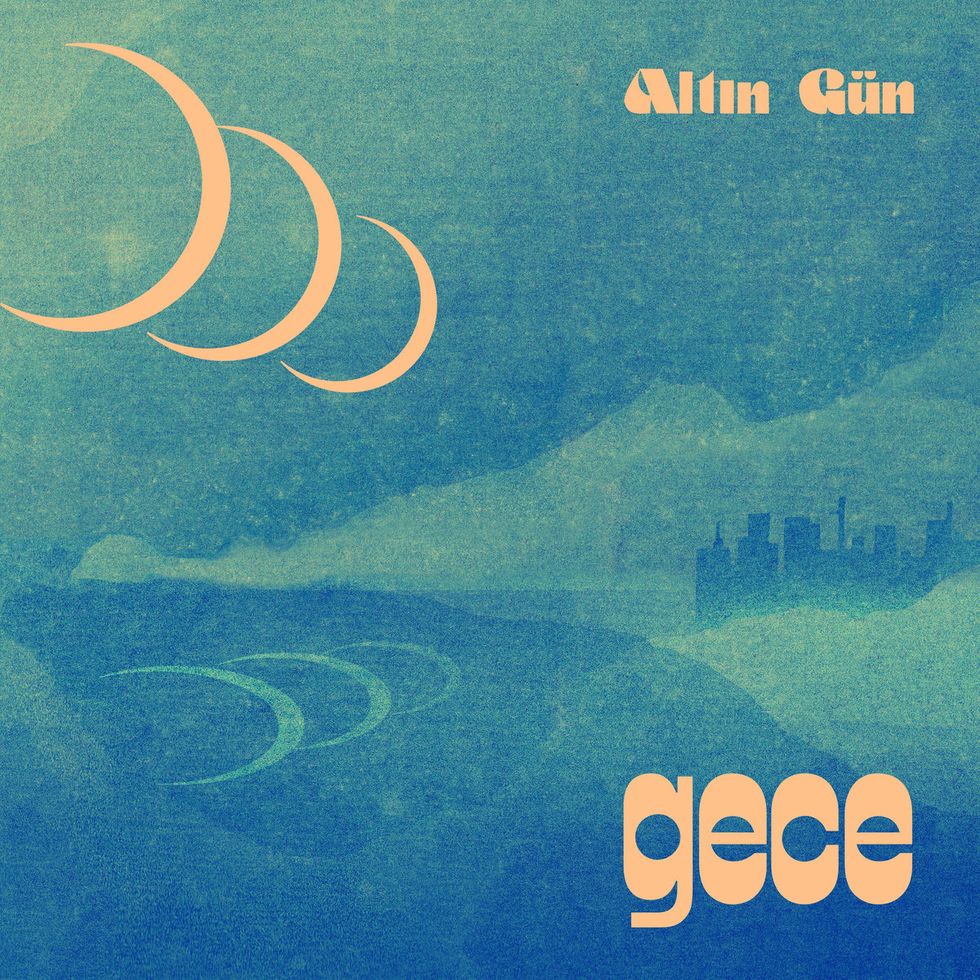 TIDBIT: No Pro Tools for Altin Gün. The group's new album was cut on an 8-track tape machine with a complement of analog gear including old echoes, tape recorders, and spring reverbs.
Ben Rider: We already knew the main artists, like Selda Bağcan, Erkin Koray, and Barış Manço. We had heard those names and their music before, but that trip inspired us to get more into it. We've discovered loads of artists since then. The main one is called Neşet Ertaş. He's a saz player and we play a few of his songs. Verhulst: He's a folk artist who's been covered a lot by Selda Bağcan, Erkin Koray, and also by us. He is from the area where our saz player [Erdinç Ecevit Yildiz]'s parents are from.
Is your repertoire mostly traditional music?
Verhulst: It is only traditional music. On the new album, we have one improvised spoken-word thing, "Şoför Bey," but the rest is all standards and traditional tunes. We play songs by Neşet Ertaş and Âşık Veysel, but also songs with unknown composers.
How do you choose the songs—are you looking for an adaptable melody or a certain type of groove?
Rider: A good melody and something that strikes us, like a passionate way of singing it. But Jasper is the one who mainly does the digging.
Verhulst: Yeah, like a good hook. But it's me and Erdinç. He grew up with the music and I am a record collector. That, combined, leads to most of the options we present to the rest of the band.
Rider: Sometimes it doesn't work. We'll try it and it doesn't really groove, and then we'll just go to another song and that will groove. It's always a process. It's not like, "This is the song—we're going to do it, and that's it." It's all trial and error.
---
---