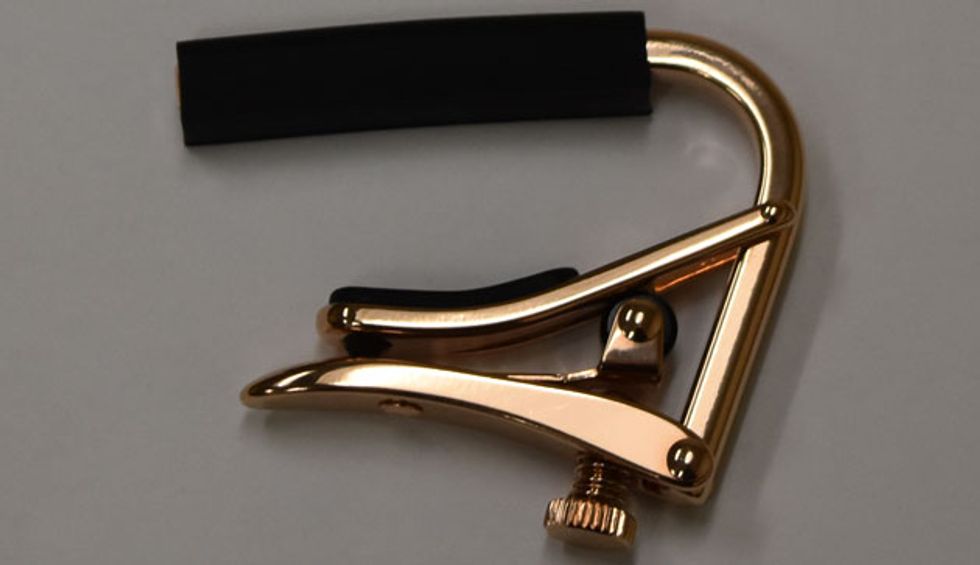 Rhonert Park, CA (September 20, 2019) -- Adding to the company's line of premium capos, Shubb has introduced the new Capo Royale Series, featuring durable gold finishes that deliver long-lasting beauty.
Available in two lustrous finishes – Gold and Rose Gold – the Capo Royale Series brings a distinctive visual flair to Shubb's famed capo design, revered since 1980 for its ability to provide flawlessly clean fretting while keeping the instrument in tune.
For many years Shubb has received requests for a gold plated Shubb Capo. While gold is undeniably beautiful, it is not at all durable; it will wear off far too easily and quickly. It is also famously expensive. Now, Shubb has developed a high-tech technique for creating a gold-toned titanium finish. It possesses all the beauty of real gold, but is as durable as any metal finish in the world.
Befitting their unique, sumptuous appearance, Shubb calls the new line "Capo Royale," and these capos will shine like gold for many, many years. Shubb is producing them in two classic finishes, Gold and Rose Gold.
All five of Shubb's capo models -- Steel String, Classical, 12-string, 7.25-radius and Banjo/Mando – are now available in both the Gold and Rose Gold Capo Royale finishes.
MSRP pricing for Capo Royale: $29.95
For more information:
Shubb Capos