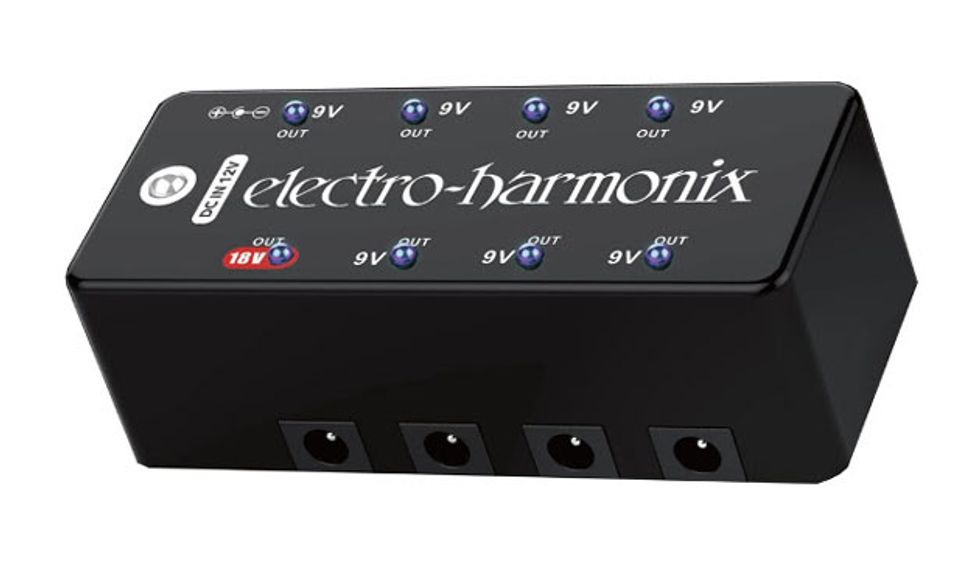 New York, NY (October 16, 2019) -- EHX has unveiled the S8 Multi-Output Power Supply which will power up to eight effects pedals and features outputs that are individually regulated as well as short-circuit protected. The S8 minimizes noise in a player's signal chain and is a convenient solution to unwanted cable mess. It provides one 18V output with a maximum current of 150mA and seven 9V outputs with a maximum current of 250mA per output
The S8 power brick is pedalboard friendly and features compact dimensions: 3.7" x 1.7" x 1.4" (93.5mm x 42mm x 36mm) and a lightweight 4.9oz (140g), yet rugged metal chassis. The S8 includes eight power cables and a pedalboard mounting strip.
The EHX S8 Multi-Output Power Supply is available now and features a USA Street Price of $79.99.
Features:
Provides one 18V and seven 9V outputs
Each output is individually regulated for maximum performance
Short circuit protection design for the individual outputs
Pedalboard-friendly size, rugged metal chassis
Includes eight power cables
Specs:
Power Supply: 12V DC power adapter
9V DC outputs maximum current of 250mA per output
18V DC output maximum current of 150 mA
Not compatible with pedals that do not work in a daisy chain configuration
Dimensions: 93.5mm x 42mm x 36mm (3.7" x 1.7" x 1.4")
Weight: 140g (4.9oz)
For more information:
EHX