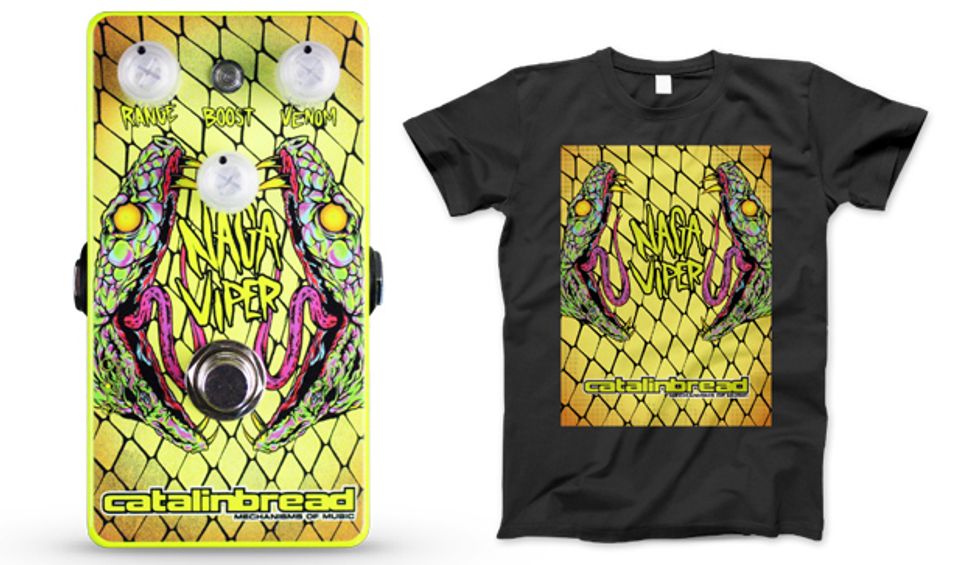 Portland, OR (August 19, 2020) -- Catalinbread Effects has introduced the Gallery Series, a limited edition line of pedals featuring UV-printed, custom artwork. Often, a portion of the profits will go to a charity selected by the artist. The first Gallery Series pedal is the Naga Viper, a treble boost in the vein of the highly revered Dallas Rangemaster; 10% of the proceeds will be donated to Shriners Hospitals for Children. The artwork for the Gallery Series Naga Viper was created by Colin Shawcross and you can find his work at nonheinous.com
The Rangemaster has been used by many influential British guitarists including Tony Iommi, Brian May, Marc Bolan, as well as K.K. Downing and Glenn Tipton of Judas Priest. The Naga Viper is Catalinbread's version of this famous circuit and it adds two controls—Range and Heat—to the original's single Boost control. The Range knob is a continuous control and allows you to go from classic treble-boost to a full-range boost and anywhere in-between. The Heat knob gives you control over the gain level, unlike the original which was fixed at maximum gain.
Catalinbread Effects is offering the Gallery Series Naga Viper for $189.99 and it includes a free Naga Viper T-Shirt.
There are two color variants available: The neon-yellow enclosure is available at catalinbread.com and the black enclosure can be purchased at reverb.com–there is a limited quantity of both colors available. All Catalinbread pedals are hand-built in Portland, OR.
For more information:
Catalinbread Effects