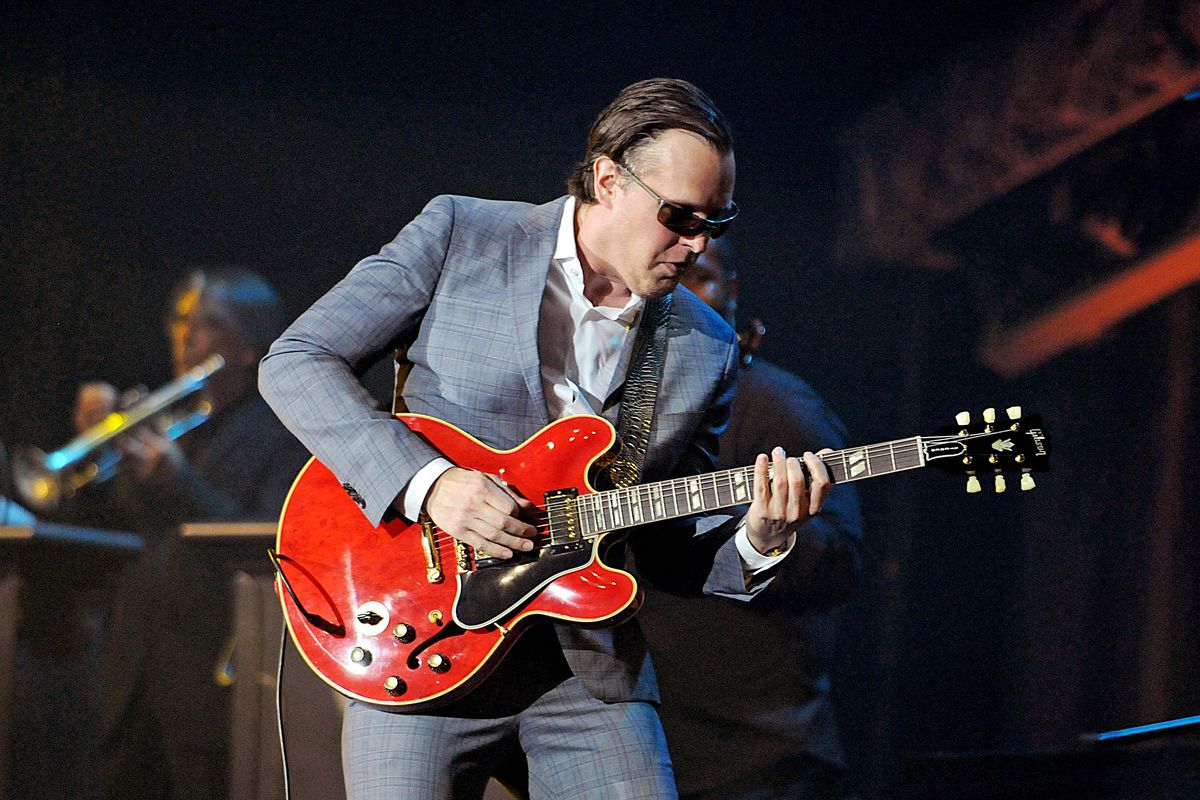 Photo by Steve Trager
For his stylistically diverse new album, the fiery guitar hero steps back from his gear obsession and focuses on a deep pool of influences and styles.
Twenty years ago, Joe Bonamassa was a struggling musician living in New York City. He survived on a diet of peanut butter and jelly sandwiches and ramen noodles that he procured from the corner bodega at Columbus Avenue and 83rd Street. Like many dreamers waiting for their day in the sun, Joe also played "Win for Life" every week. It was, in his words, "literally my ticket out of this hideous business." While the lottery tickets never brought in the millions, Joe's smokin' guitar playing on a quartet of albums from 2002 to 2006—So, It's Like That, Blues Deluxe, Had to Cry Today, and You & Me—did get the win, transforming Joe into a guitar megastar.
---
Since achieving fame and fortune, Joe has spent most of his time in his various residences across the country. He's got Nerdville in sunny California and Nerdville East in Nashville. Both are almost-literal museums that house Joe's arguably unmatched collection of vintage guitars and amps. You will be very hard pressed to come across a finer collection. Yet in 2019, Joe found himself drawn back to New York City.
Joe Bonamassa - "Time Clocks" - Official Music Video
"It's a mid-life crisis. I always wanted to go back to where I lived 20 years ago, but not have to worry about hustling down sessions and gigs to make the rent every month," he says. "For as cool and exciting of a time as it was, it was also a very stressful time. I had this thing in my mind where I just wanted to be able to enjoy New York City and not have the stress of, 'Oh shit, it's either a subway ticket or ramen noodles tonight.'"
In February 2021, Joe went to Germano Studios in Manhattan's NoHo neighborhood to record Time Clocks, aka "The New York Album." Because of the pandemic, this recording session was like no other Joe had been involved with. Kevin "the Caveman" Shirley, Joe's longtime producer, was stuck in Australia due to strict COVID travel restrictions. The two have had a long working relationship and they've been inseparable for most of Joe's career. Shirley produced the guitarist's fifth studio album, You & Me, and has since produced over 30 of Joe's subsequent projects. So, when it came time to record Time Clocks—travel restrictions be damned—they found a way to work together. "We recorded it virtually with Zoom and some other technology where my producer in Australia could get the actual tracks from the session in real time or with about a second latency," says Joe. "It was totally fine. It was an odd record to make because of what we were doing, but it was also an odd time. So, why should anything be normal anymore?"
"I just wanted to be able to enjoy New York City and not have the stress of, 'Oh shit, it's either a subway ticket or ramen noodles tonight.'"
Even with the differences in time zones (Sydney, Australia, is 16 hours ahead of New York City), they found a way to make it work. "We would get there about noon. Kevin's an early riser so he would get to his studio, which is by his house in Sydney, by about 2 a.m. So, we would go from about noon to 6 or 7 at night, and he would go from 2 to 9 a.m., and then take naps."
Time Clocks is full of unexpected twists. It was recorded live as a trio with drummer Anton Fig and bassist Steve Mackey, and then other parts were layered in. The album has a diversity of sounds that belie Joe's blues categorization. "Notches" opens with an Ali Farka Touré-inspired 12-string riff, "Time Clocks" has a country-esque, Americana vibe, and "Curtain Call" is an homage to Led Zeppelin. "My ADD transcends into my musical life. It's a very different record for me. It's not a blues record, for sure. I just try to make records that don't bore me all the way through—we've got this groove covered, we've got that groove covered, let's put a sorbet in, something out of left field," says Joe.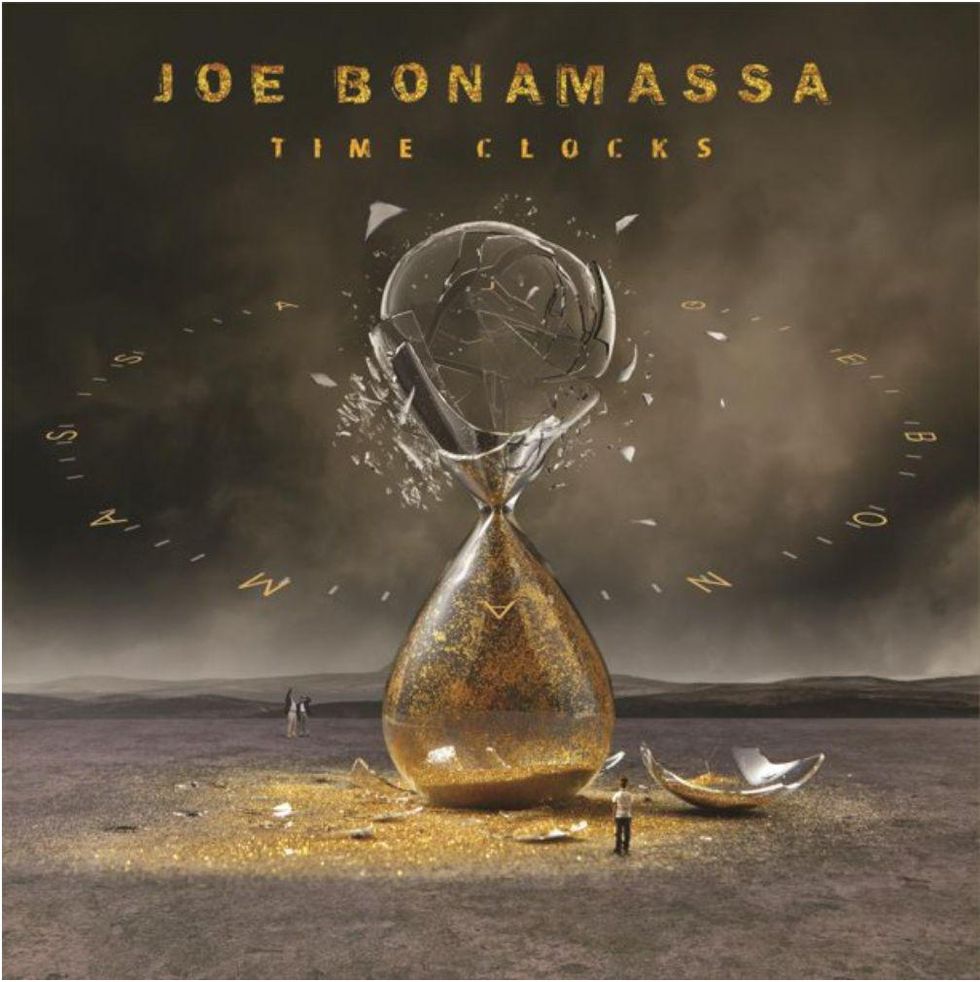 TIDBIT: Bonamassa's longtime producer, Kevin Shirley, had his hands on the wheel again, but remotely. He produced from Sydney, Australia, while the band recorded live on the floor in New York City.
"Some people think that all I do is play blues. I don't just play blues. I play whatever. We've all been in this game for a long time where we can adapt to any musical situation. It's fun. Every once in a while, I'll go sit in with friends. I just sat in with Nir Felder [at NYC's famed 55 Bar]. If I sit in with Nir, I'll be like, 'When these chord changes get too fucking adult for me, I'm bailing.' You just know your strengths and your weaknesses."
For the Time Clocks sessions, Joe used a much leaner gear selection than you might expect, especially given his cavernous collection. "In New York City, you go with what you got. There were only three amps. I had a [JB signature] high-powered Twin sent from our inventory that's still in the spare bedroom in the apartment. I ended up using two Deluxes. I had one Deluxe Reverb and one brown Deluxe," says Joe. We wonder if Joe was referring to a reissue Deluxe Reverb that might have happened to be at the studio, or one of his rare closet classics. He immediately snaps, "Think about that critically and ask yourself again, 'Who are you talking to?'" Point taken, Joe!
Joe Bonamassa's Gear on Time Clocks
"I'm not going to live my life in indentured servitude to the fucking guitar."
Guitars
Gibson Les Paul
Gibson ES-335
Fender Stratocaster
Fender Telecaster
Martin acoustic guitar
Strings

Ernie Ball Burly Slinkys (.011–.052; .011–.056 on down-tuned guitars)
Amps
Fender black-panel Deluxe Reverb
Fender brown-panel Deluxe
'59 Fender Twin-Amp JB Edition
Effects
Klon Centaur
Dunlop Joe Bonamassa Signature Wah
"When I was a kid, I had a black [panel] Deluxe Reverb. I think this is probably one of the ones that I had for 25 years," he clarifies. "The black and brown circuits are totally different, so you get that kind of sweet/salt mix. The brown Deluxe does the real thick midrange stuff and the black does the low and the high. That's kind of always been my M.O. It's never just one amp. You're mid-stacking with amps that don't necessarily do the same thing. The bigger, thicker tones you hear on the solo, that's the high-powered Twin. The more jangly stuff was the Deluxes."
"'When these chord changes get too adult for me, I'm bailing.' You just know your strengths and your weaknesses."
Joe also only used a handful of guitars on Time Clocks. "I don't keep a lot of guitars here," he says. "All I had was a Les Paul, a Strat, a 335, a Rickenbacker 12-string, an old bass from the movie Spinal Tap, the one that Nigel kept telling Rob Reiner not to touch—I actually own that one. But it was less than six guitars. I also used a Martin acoustic. All the acoustic stuff was done with one acoustic.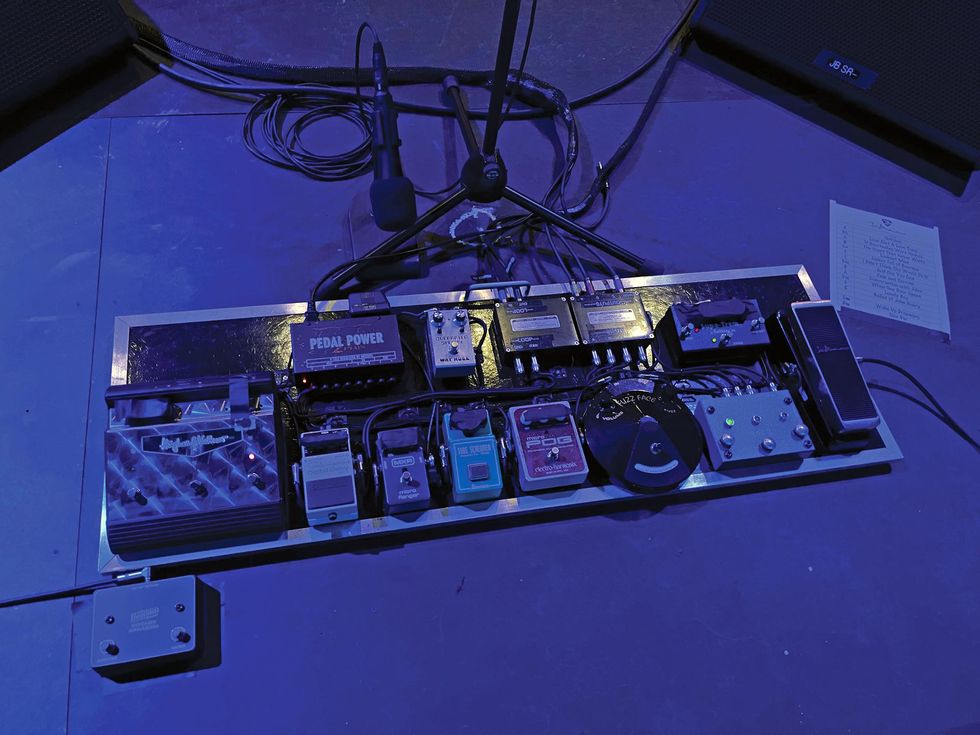 A recent snapshot of Bonamassa's pedalboard.
"In Nashville, I have all my road guitars, but to be honest with you, over the years I've never gotten into this thing where you bring 50 guitars and use five. I did that a long time ago. It's nothing but a photo op. Most of the time I bring a Whitman's Sampler of what I think would work. The days of humping in 50 guitars and setting up six racks of them and going, 'Look what I got'—that's a young man's game. That's for somebody in their 30s."
"I've been playing guitar and cranking amps for 40 years. Do you know the two things that prompt me to run away? Loud music and crowds. It's a paradox, I know."
Joe's newfound minimalism goes hand in hand with living in a New York City apartment, where even playing with an amp on 1 will get you the "broomstick on a ceiling" retaliation. "I've been playing guitar and cranking amps for 40 years. Do you know the two things that prompt me to run away? Loud music and crowds. It's a paradox, I know," he says. "So, when I'm at home and I'm enjoying a very quiet Sunday afternoon, I have zero, absolutely zero, desire to crank an amp. And I have zero-plus-5-percent desire to sometimes even practice on a given day. It gives you a break. It's important to be good at your job on a given day. It's important to also step away and give yourself some perspective, so you're not so consumed by it."
Rig Rundown - Joe Bonamassa [2018]
Every aspiring guitarist—no matter the genre—longs for their day in the spotlight. They too want to be a guitar god and inspire thousands of players and listeners, just like Joe. But what does it feel like on the other side—when you actually win?
The guitarist onstage with his frequent on-tour sparring partner in recent years, bass giant Michael Rhodes.
Photo by Debi Del Grande
"Then a whole 'nother set of circumstances come into play," he says. "It's managing time, managing your energy. It's also trying to keep in perspective what is it that you really do, because sometimes life comes at you twice as fast as it used to. All my energy is dedicated to the fans that keep me in business and come time and time again. That is 100 percent my biggest priority. When distractions and other things come into play that tend to take energy away from what you're supposed to be doing, that's the challenge. I realize I'm a very fortunate person, but I don't make any apologies for it, because, to be honest with you, that's what everybody strives for. Why should I apologize for working hard? I always tell people it's easy to dismiss, hard to replicate. If it was easy, as some claim, then it would be as easy as starting a TikTok. If it was that easy, then anybody could do it. But to be honest with you, anybody can do it. You've got to have the intestinal fortitude and the drive, and the ability to stick it out through thick and thin."
Bonamassa cradles his famed 1959 Les Paul Standard, Lazarus. The guitar was recreated for a limited-edition issue via Epiphone this year.
Older and wiser at 44, Joe, who started performing onstage at age 12, has now found time to explore other things in life besides guitar. He indulges in Law and Order marathons, is on an excruciatingly strict diet with Diet Coke as his only vice, and has found a new passion in cycling. He'll just as likely post details of his Central Park bike excursions on Instagram as he would another guitar-safari vintage find. Even with the potential danger of a career-ending fall, Joe, much like the late Allan Holdsworth—who was also an avid cyclist—is willing to chance it. "If I fall and somehow my career ends on that particular day, then so be it," he says. "I'm not going to live my life in indentured servitude to the fucking guitar. If it's over, it's over. You've got to enjoy your life."
Joe Bonamassa & Tina Guo - "Woke Up Dreaming" - Live At Carnegie Hall
For these new recreations, Fender focuses on the little things that make original golden-era Fenders objects of obsession.
If there's one thing players love more than new guitars, it's old guitars—the unique feel, the design idiosyncrasies, the quirks in finish that all came from the pre-CNC era of instrument manufacturing. These characteristics become the stuff of legend, passed on through the years via rumors and anecdotes in shops, forums, and community networks.
It's a little difficult to separate fact from fiction given these guitars aren't easy to get your hands on. Fender Telecasters manufactured in the 1950s and 1960s sell for upwards of $20,000. But old is about to become new again. Fender's American Vintage II series features 12 year-specific electric guitar and bass models from over two decades, spanning 1951 to 1977, that replicate most specs on their original counterparts, but are produced with modern technologies that ensure uniform build and feel.
Chronologically, the series begins and ends, fittingly, with the Telecaster—starting with the butterscotch blonde, blackguard 1951 Telecaster (built with an ash body, one-piece U-shaped maple neck, and 7.25" radius fretboard) and ending with the 1977 Telecaster Custom, which features a C-shaped neck, a CuNiFe magnet-based Wide Range humbucker in the neck position, and a single-coil at the bridge. The rest of the series spans the highlights of Fender's repertoire: the 1954 Precision Bass, 1957 Stratocaster in ash or alder, 1960 Precision Bass, 1961 Stratocaster, 1963 Telecaster, 1966 Jazz Bass, 1966 Jazzmaster, 1972 Tele Thinline, 1973 Strat, and 1975 Telecaster Deluxe. The 1951 Telecaster, 1957 Strat, 1961 Strat, and 1966 Jazz Bass will also be offered as left-handed models. Street prices run from $2,099 to $2,399.
Fender '72 American Vintage II Telecaster Thinline Demo | First Look
Spec'd To Please
Every guitar in the series sports the era's 7.25" radius fretboard, a mostly abandoned spec found on Custom Shop instruments—Mexico-made Vintera models, and Fender's Artist Series guitars like the Jimmy Page, Jason Isbell, and Albert Hammond Jr. models. Most modern Fenders feature a 9.5" radius, while radii on Gibsons reach upwards of 12". Videos experimenting with the 7.25" radius' playability pull in tens of thousands of viewers, suggesting both a modern fascination with and a lack of exposure to the radius among some younger and less experienced players.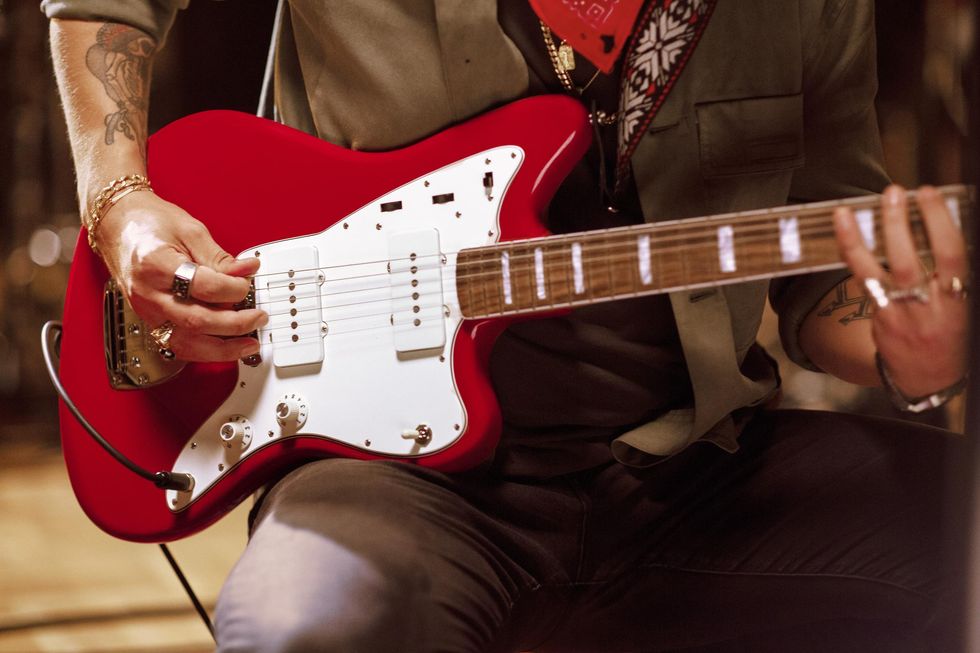 T.J. Osborne of the Brothers Osborne picks an American Vintage II 1966 Jazzmaster in Dakota red.
Bringing back the polarizing 7.25" radius across the entire series is a gamble, and it's been nearly five years since Fender released year-specific models. But Fender executive vice president Justin Norvell says that two years ago when the Fender brain trust was conceptualizing the American Vintage II line, they decided the time was right to "go back to the well."
"We've been doing the same [models], the same years, over and over again for 30 years," says Norvell. "We really wanted to change the line and expand it into some new things that we hadn't done before and pick some different years that we thought were cool."
"It takes a lot of doing to go back in time and sort of uncover the secret-sauce recipes."—Steve Thomas, Fender
To decide on which years to produce, Fender drew from what Norvell calls a "huge cauldron of information" from Custom Shop master builders to collectors with vintage models to former employees from the 1950s and 1960s. The hands-on manufacturing of Fender's golden years meant guitars produced within the same year would have marked differences in design and finish. So, the team had to procure multiple versions of the same year's guitar to decide which models to replicate. Norvell says some purists would advocate for the "cleanest, most down-the-middle kind of variant," while others would push for more esoteric and rare versions. Norvell says that ultimately, the team picked the models that they felt best represented "the throughline of history on our platforms."
Simple and agile, the Fender Precision Bass—here in its new American Vintage II '54 incarnation—earned its reputation in the hands of Bill Black, James Jamerson, Donald "Duck" Dunn, and other foundational players.
Norvell says the American Vintage II series was developed, in part, in response to calls to reproduce vintage guitars. Just like with classic cars, he says, people are passionate about year-specific guitars. Plus, American Vintage II fits perfectly with the pandemic-stoked yearning for bygone times. "For some people, these specific years are representative of experiences they had when they were first playing guitar, or a favorite artist that played guitars from these eras," says Norvell. "These are touchstones for those stories, and that makes them very desirable."
Cracking Codes
Fender's electric guitar research and design team, led by director Steve Thomas, dug through the company's archive of original drawings and designs—dating all the way back to Leo Fender's original shop in Fullerton, California. They found detailed notes, including some documenting body woods that changed mid-year on certain models. Halfway through 1956, for example, Stratocaster bodies switched from ash to alder. That meant the American Vintage II 1957 Stratocaster needed to be alder, too. That, in turn, meant ensuring enough alder was on hand to fulfill production needs.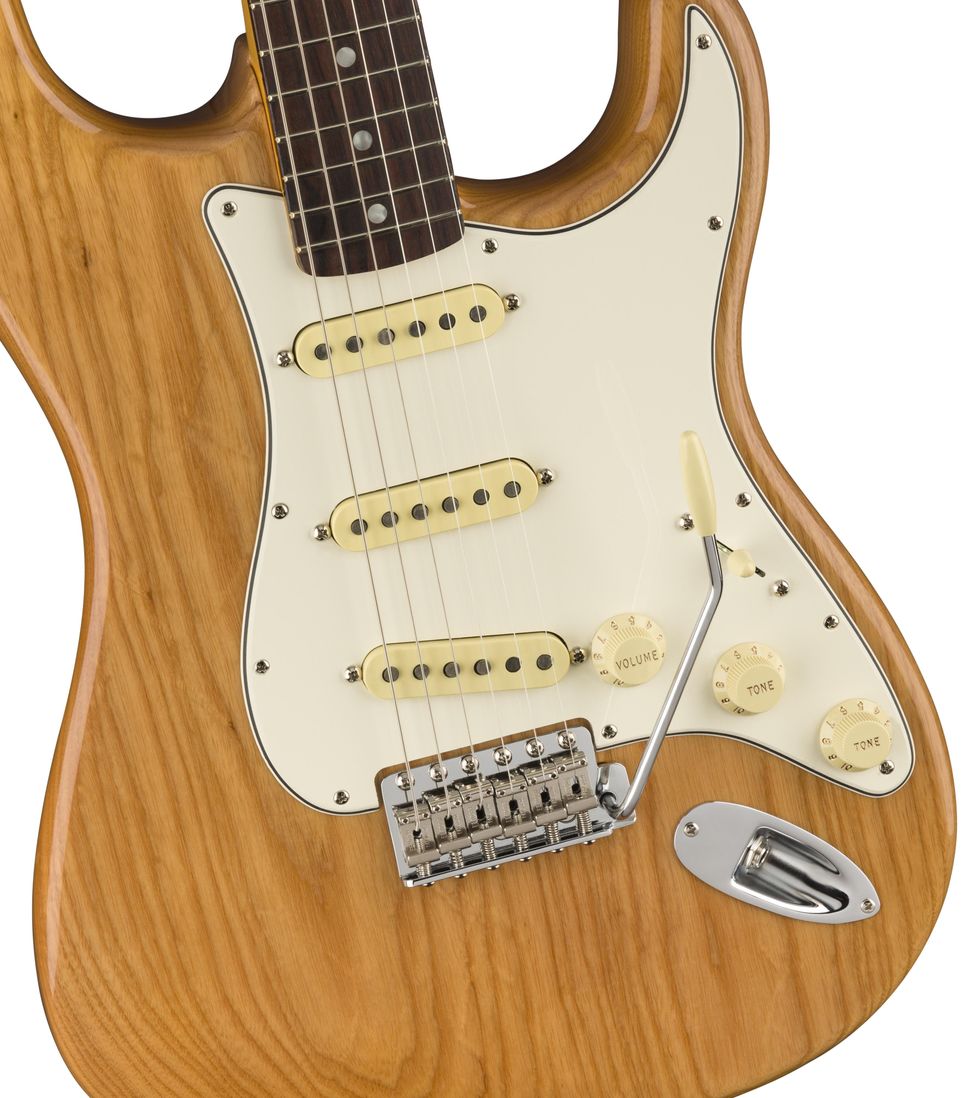 Among the series' Stratocaster recreations is this 1973-style instrument, with an ash body, maple C-profile neck, rosewood fretboard, and the company's Pure Vintage single-coils.
Thomas and his team discovered another piece of the production puzzle when researching how pickups for that same 1957 Strat were made. "We realized that if we incorporated a little bit more pinch control on the winders, we could more effectively mimic the way pickups would have been hand-wound in the '50s," says Thomas. "It takes a lot of doing to go back in time and sort of uncover the secret-sauce recipes."
Thomas proudly calls the guitars "some of the best instruments we've ever made here in the Fender plant," pointing to the level of detail put into design features, including more delicate lacquer finishes which take longer to cure and dry, and vintage-correct tweed cases for some guitars. New pickups were incorporated in the series, like a reworking of Seth Lover's famed CuNiFe Wide Range humbuckers, which were discontinued around 1981. Even more minute details, like the width of 12th fret dots and the material used for them, were labored over. Three different models in the line feature clay dot inlays at unique, year-specific spacings.
Ironically, modern CNC manufacturing now makes these design quirks consistent features in mass-produced instruments. While the hand-crafted guitars from the '50s and '60s varied a lot from instrument to instrument. "Everything needs to be located perfectly, and it wasn't necessarily back in the day," says Norvell. "Now, it can be."
Don't Look Back
With this new series so firmly planted in the rose-tinted past, Fender does run the risk of netting only vintage-obsessed players. But Norvell says the team, despite being sticklers for period-correct detail, sought to strike a balance between vintage specs, practicality, and playability. The 1957 Stratocaster, for example, has a 5-way switch rather than the original's 3-way switch. Norvell also asserts that the "ergonomic" old-school radius feels great when chording. "It might not be [right for] a shred machine, but it feels great and effortless."

The 1966 Jazz Bass is also represented, shown here in a left-handed version.
Norvell also pushes back on the notion that Fender is playing it safe by indulging nostalgia and leaning on their past successes. He says that while the vintage models are some of the most desirable on the market, the team "purposely did not stick to the safe bets," citing unusual year models like the 1954 P Bass and the 1973 Stratocaster.
There's a good reason why anything that hails back to "the good ol' days" hits home with every generation. We're constantly plagued by a belief that what came before is better than what we've got now. But with the American Vintage II series, Fender makes the case that guitars from the '50s, '60s, and '70s can very easily be a relevant part of the 2020s.
The Red Sea was born out of the vision to provide complex signal routing options available to the live/performing musician, that up until now, are only found in a studio mixing environment.
​Introducing the Red Sea, an all-analog signal routing matrix, designed for countless stereo and mono signal path routing options. The Red Sea was born out of the vision to provide complex signal routing options available to the live/performing musician, that up until now, are only found in a studio mixing environment. The Red Sea has accomplished this in a compact, easy-to-use, and cost-effective solution.
Wet | Dry | Wet
The Red Sea gives you the ability to run a FULL Stereo wet dry wet rig using only 2 amps or just 2 signals to the FOH, while also giving you complete control over your Wet & Dry mix! Use the Blend knob to control the overall mix between stereo wet effects and mono dry/drive signals.
Stereo Dual Amps
Run dual amp modelers if full stereo w/ stereo effects. Gone are the traditional ways of one amp in the Left channel and another in the Right channel. Now use the Red Sea to seamlessly blend between two separate amps in true stereo. Think of this as a 2-channel amp where you can blend anywhere between both amps.
Stereo Parallel FX
Red Sea has two independent stereo FX loops. Use each FX loop to run stereo delay's and reverb's in parallel, where each effect does not interact with each other. Huge soundscapes can be achieved with washy reverbs and articulate delay repeats while being able to blend between each FX loops mix level.
The Red Sea can also do the following routing options:
Wet | Dry utilizing a single amp
Clean Wet | Dry | Wet (drives DO NOT run into wet effects)
Wet | Dry | Wet with dual delays (one in the L channel & other in R channel)
Parallel Dual Amps (run dual amp modelers in FULL stereo)
Convert a tube amp's serial FX Loop to a parallel FX Loop
Stereo and Mono analog dry through (avoid latency in digital pedals)
Stardust V3 was designed to capture the sound and response of 3 distinct amplifier models.
Stardust V3 was designed to capture the sound and response of 3 distinct maxed-out amplifier models. An all-analog signal path with discrete gain stages featuring MOSFET transistors provides juicy overdrive tones with great note separation that clean up to that sparkly sound that we all love and heard in recordings of the past. Set gain and tone and control everything from your guitar. Sparkly clean to crunchy mean are all there.

You can select the amplifier voicing via the onboard toggle switch.
BSM: Voiced after a blackface amp head that was primarily targeted for bass guitar players but got famous for electric guitar classic rock tones.
VLX: Voiced after a chimey 2x10" combo offering the perfect amount of controllable crunch
DLX: Voiced after one of the most popular low wattage 1×12″ combo amps that have found their way in countless recording studios and clubs around the world.
​Stardust V3 now comes with top-mounted jacks and soft-click true bypass via a high-quality relay. The pedal has loads of output volume and enhanced headroom provided by 18V DC (boosted internally) so that it can also be used as a preamp going straight into your Power Amp or AudioInterface when combined with a separate speaker simulation device.
Street price: 199 Euro / 199 USD.
For more information, please visit crazytubecircuits.com.
The Sunn O))) Life Pedal circuit has been meticulously tweaked from the original and includes a third footswitch.
Sunn O))) present an enhanced version of the Sunn O))) Life Pedal Octave Distortion + Booster, in collaboration with their comrades at EarthQuaker Devices. The Sunn O))) Life Pedal circuit has been meticulously tweaked from the original to squeeze every last drop of heavy crushing tone available. The octave section has been fine tuned to make it more pronounced without losing the bottom end and we added a third footswitch, utilizing Flexi-Switch Technology, for the octave to allow an additional method of quick and radical tone shaping.

"Working on this new version has been a great continuity of this collaboration which feels so right, and sounds so right," says Stephen O'Malley. "It's a really beautiful pedal and it's also a beautiful art collaboration. I think we made something really interesting that people can enjoy to use for their own music, but also, it makes a lot of sense to release a piece of distortion as a release for our band. We're really happy that this is a trilogy now."

The Sunn O))) Life Pedal is designed to represent the core front end chain used in those sessions, to drive the tubes of the band's multiple vintage Sunn O))) Model T amplifiers (or take your fancy) into overload ecstasy. This is a 100w tube amp full stack's holy dream, or its apostate nightmare.
Tech Specs:
Sunn O))) Life Pedal is a distortion with a blendable analog octave up and a booster
Features 3 different clipping options: Symmetrical Silicon, Asymmetrical Silicon & LED, and pure OpAmp Drive
Distortion and booster can be used independently
Expression and footswitch control over analog octave up
Octave blend allows total control over how much Octave is mixed into the circuit
True bypass with silent relay based soft touch switches
Features EarthQuaker Devices' proprietary Flexi-Switch® Technology
Lifetime warranty
Current Draw: 15 mA
Octave Distortion: Input impedance: 1 MΩ / Output impedance: <1 kΩ
Booster: Input Impedance: 500 kΩ / Output Impedance: <1 kΩ
List Price: $299 USD
Sunn O))) Life Pedal Guitar Demo