Interview: Keb' Mo' - Reflections
Bluesman Keb' Mo' talks about his workingman's approach to gear, his new record company, and what it's like to win (and lose) a Grammy.
Click above to listen to the single, "The Whole Enchilada" from The Reflection
Three-time Grammy award winner Keb' Mo's latest album,
The Reflection
, is his first all-studio effort since the 2006 release
Suitcase.
Between albums, Mo' had gone through several major life changes that would prompt some serious reflecting. He started a family, formed his own record label, and moved from LA to Nashville. It was in Nashville where he lost several prized instruments in the 2010 flood, including his Danelectro Select-O-Matic and Epiphone Sheraton. Mo subsequently donated several of his uninsured and damaged instruments, including a Will Hirsch mandolin and a homemade hollowbody Tele-style guitar, to an auction supporting flood relief efforts.
Despite his hectic schedule, Mo still manages to find time for side projects. He produced and co-wrote (with Gary Nicholson) "Digging in the Deep Blue Sea" for David Bromberg's upcoming release,
Use Me
, and is currently working with Ronnie Baker Brooks, Taylor Hicks, and Mickey J. Crawford on separate projects while simultaneously getting ready for his upcoming tour.
Premier Guitar
caught up with Mo to get the scoop on his new album, talk about winning and losing Grammys, and to see if he could get Gibson (maker of his signature acoustic guitar) to give him an ES-335 to replace his Epiphone Sheraton.
Why the long wait between studio albums?
I didn't have a record deal and didn't really know how to proceed without one. In the climate of independent record labels with a lot of people doing their own thing, the majors are in a quandary about sales being down, and the digital versus physical product. There were a lot of questions—when you put your record out, how do people get it? Record stores were closing daily, hourly [
laughs
]. No more Tower Records, no more Virgin, no more of these big records chains—they were just gone. So I told myself that maybe now's not the time to put out a record. I took the time to get my family started, think about my life, and study the record business as it is now and where it's going.
Mo' strums on his trusty Hamer Monaco.
Photo by Meghan Aileen Schirmer
When did you finally decide to go for it?
Once I got clear in my mind about how I wanted the record to be and clear on how I was going to finance it. I had to pay for it out of my own pocket. I formed my own label—Yolabelle—as opposed to a having record company that would front the money. It was a completely different animal.
And you have some big names on the record like India.Arie, Dave Koz, Marcus Miller, and Vince Gill. It's not a small budget album.
Definitely. I went to my friends and they helped me out. I paid a fair wage, but they didn't try to kill me like they would if a big record company was paying for it.
India.Arie lives in Atlanta, so I called her when I got to Nashville. She was four hours down the road so it was done by sending files back and forth over the internet. We didn't even talk—we did it all through email and texting.
On the flip side, since it's your record company, will you get a bigger cut of the profits?
Maybe, maybe not. When you become the record company, the game changes since you're paying for your record. I made a co-release deal with Ryko New York, part of the Warner Music Group. I'm operating in partnership with them, so it is a bigger split. But come promotion time, there's a lot of things I pay for myself. It could change and it could also not change.
Since you paid for it yourself, were you more conscientious of time in the studio?
Not really, but maybe in the beginning because I went to a studio and had all these guys recording there. In hindsight, I would have taken more time right there in the front end, because I ended up paying for it on the back end. For the better part of two years I was fixing stuff that, had I not been in such a hurry, I could have fixed on the front. Nonetheless, I got it done and I didn't worry about studio time because I have a home studio.
Photo by Meghan Aileen Schirmer
Early in your career, you were a staff writer for A&M records. How was that experience different than writing for yourself? Is there more pressure when it's your own project?
There's not more pressure either way you go. If you're writing for someone else, no one wants a shlock song—I don't want one and they don't want one. It's the same thing. The only thing different is that there's a little more guesswork when you're writing for other people, since you're kind of shooting in the dark. Maybe they'll like it, and maybe they won't. When you're writing for yourself, you know what you like or don't like right away. But the process is kind of the same.
You've won the Grammy a few times. Is it still a thrill?
It's a thrill when you win it. Winning an award is like a tip or like a great pat on the back. But it's over the next day and you've got to move on. What's the greatest thing about winning a Grammy? It's like the cherry on top. You've done some work and you get awarded for it. The biggest thrill is when you do win, you reflect on all the work you did to get there. That's what's fun—all the work getting there. I've also lost plenty of times [
laughs
].
But because you've also won so many times, how much does it matter?
The only reason it matters is because you're nominated and you're in the room. They call off all the names—it's usually five names—and you know four of you aren't going to get nothing [
laughs
]. You got an 80/20 chance. You're all dressed up, you've got your wife there and she bought a new dress [
laughs
], they call somebody else's name, and you stand up and clap for them. It's the
weirdest
feeling in the world because realize you've still got a little bit of ego and it tests it. You want to boo him, but you have to suck it up and move on. And you know three other guys had to do the same thing.
Then there are the categories where you know you don't have a snowball's chance in hell. I was nominated for Country Song of the Year for the Dixie Chicks song "I Hope." I'm not really country and the Dixie Chicks were on the skids from country music, so you sit there and you just know.
What's your current gear setup?
My main guitar is a Hamer Monaco III with Gibson P-100s and a factory Bigsby, although the Duesenberg [Bigsby-style] Tremola is much better. I lost a Duesenberg in the flood but I took off the hardware and kept all the parts, including the Tremola.
I use a Suhr Strat-style that has three single-coils and an ebony fretboard. For electric slide work, I'm using a Gibson
Les Paul
Junior with a P-90 in the back position.
How does the Suhr compare to your red Strat-style, the one you're famous for?
My red one is my favorite and best sounding Strat-style ever. It's an old Schecter body with a Fender neck and Tom Anderson pickups—two stacks and the
humbucker.
And it looks like you have coil-tapping options.
Yeah, there are three on/off switches. One you can put in the stacked position, the single coil position, or off—that way I can do any combination. There's one switch on there that just switches on the back pickup only. On a Strat you can only do the front two or back two.
Is it hard to switch one pickup on while switching another one off?
It's kind of intricate. That's why I stopped using it live so much. When I want a Strat-style sound, I use the Suhr or the Monaco. The Monaco sounds closer to my red Strat-style guitar—it's a little thicker with the Gibson P-100s in it.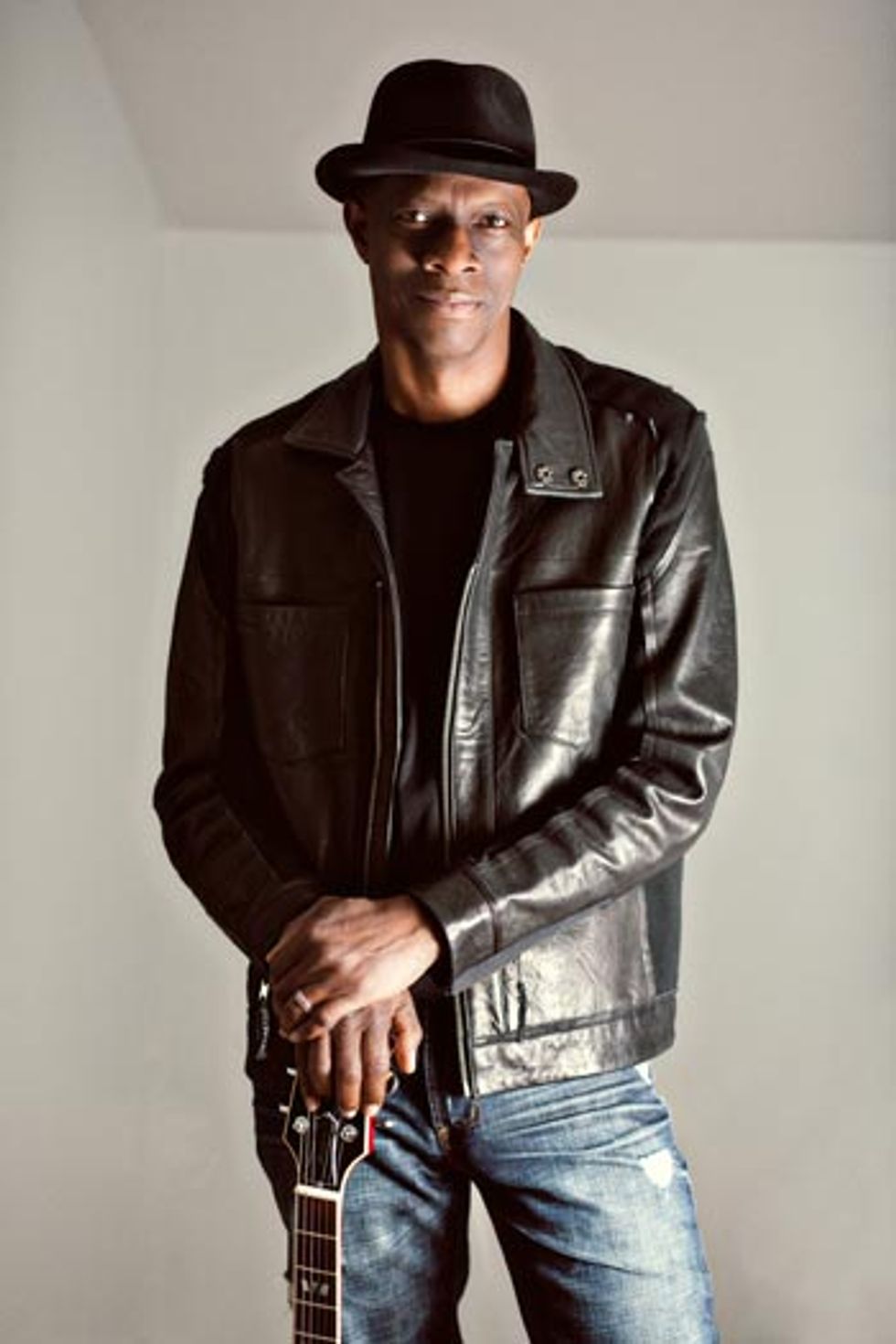 Photo by Meghan Aileen Schirmer
How about your acoustics?
My acoustic is my Gibson signature model. They made it especially for me—the size, twelve frets, and small body really work. In addition to the Gibson, I have a really cool Goodall twelve-fret parlor model with a spruce top that I had custom made. I have a Beltona steel guitar, made by Steve Evans in New Zealand. It's a small resonator with the body of a Les Paul. And recently I got this really cool, small-bodied resonator from a company called Republic.
During the flood, I lost a great mandolin that was made by Will Hirsch, a fourth grade school teacher who makes guitars and mandolins. However, I still have this one guitar he made for me that survived the flood. I just cleaned it up and started playing it again the next day.
What pickups do you use for the acoustics?
I use several different pickups—Highlander, Fishman, LR Baggs, and B-Band. All those pickups are comparable to each other, but you've got to have the proper installation. With acoustic guitar pickups, the most important thing is the actual guitar, and then the proper installation of the pickup. I think Highlander or LR Baggs are at the top of the pickup game, but I generally get the same or close results with others if they're installed correctly.
What about amps?
I've been into using Egnater amps and like the Rebel-30 with the Rebel-112x cabinet and no mods. Live, I use a reissue Fender Deluxe. I don't really buy vintage gear—I just find stuff that really dials in my sound. If I have a nice guitar and the amp is sounding right, it's all in the fingers to me. But I'm working the Egnater into the shows now.
How about pedals?
I keep going back to the Ibanez Tube Screamer for my dirt, but I also use the Fat Boost by Fulltone. I love the Fat Boost because it's got a Tone control. With a lot of boosters, you boost and they boost the high end too. With the Fat Boost, you can go in and add ever so much dirt, but you can pull back on the tone. My pedalboard has a Duesenberg delay, a G LAB Dual Reverb, a Boss tuner, an MXR M109 6-band EQ, and sometimes a volume pedal. My favorite pieces on the board are the Fat Boost and MXR EQ, which I use to cut frequencies. It's great because I can use it to get to those tones that you can't get to on the guitar with a cut below 100. It's a very nice piece and it's not expensive at all. I try to turn people on to it, but most guitarists like a big, fat, greasy sound. I like a sound that fits in the band. I pull a little 800 out—800 is a very nasty frequency—and I'll pull a little 2K and a little bit at 100, all depending on how much low end is on the amp. So when you're playing with a piano or a Fender Rhodes and a bass, your guitar fits right in the hole—you can hear every note.
I don't like amp reverb because you can't shape it, but I know a lot of the vintage guys like the spring reverb. Sometimes I'll put on the tiniest bit, because it's nice in a big room. If I didn't have it on my pedalboard, I'd probably put the amp reverb on two or something like that—just ever so slightly. It kind of glues it into the mix but not so you hear the reverb. With digital reverb, you can really cut the time and level, however much you want.
How about slides, strings, straps, cables, and picks?
I use a Mudslide and for strings, I use D'Addarios—.012s for electric slide and .10s on my regular electric. Straps and cables are whatever, and I use heavy picks from Fender.
Do you think people focus too much on gear?
People do focus a little too much on it. It's okay that people collect guitars like works of art and that they have become like currency, but I have to use my gear. If you're dropping twenty or thirty grand on a guitar, then you don't play the damn thing.
You lost your Epiphone Sheraton in the flood.
Yeah, I miss my Sheraton and I'm probably going to go the store to buy one today. I played it on stage right next to Larry Carlton with his ES-335. He played much better than me, but our guitars didn't sound that much different [
laughs
].
So you're not looking to "upgrade" to a Gibson 335?
I like the Epiphone because I like cheap stuff [
laughs
]. Although I have a couple expensive guitars around here, I'm a workingman and I got my workingman tools. When I find something that's great at a good price, I like it.
But seeing as you have a Gibson signature model, couldn't you just get Gibson to hook you up with a nice 335?
I don't do that. I get free stuff, but that's not my first move. They like me playing their guitars because it's a good advertisement for them, but I give the profits from my Gibson signature guitar sales to the Colorado Wildlife Preserve. I try not to be greedy and my first move is to pay for a guitar.
I remember my first guitar. It was like fifty bucks and it probably spent three months in the pawn shop. I put it on layaway in the shop and I worked hard for it. I didn't take it lightly. Then one day you get famous, and all of a sudden, people start giving you guitars. It's like, "Whoa." I'm always careful that if I take a guitar, it's got to be something I like—a guitar I'm going to play and use and talk about. I want to support companies if they're making good stuff.
Keb' Mo's Gear Box
Electric Guitars
Hamer Monaco III
"That Red Guitar" (Frankensteined Strat-style)
Gibson Les Paul Junior
Suhr Strat-style
Acoustic Guitars
Gibson Keb' Mo' Signature Bluesmaster
Goodall Parlor
Beltona Electro Resonator
Effects
Ibanez Tube Screamer
G LAB Dual Reverb
Fulltone Fat Boost
MXR M109 EQ
Amps
Egnater Rebel-30 and Rebel-112x cabinet
Fender Deluxe