The amp also features the debut of Boss's custom Waza B12W 12-inch speaker, which combines the sought-after tone of "blue bell" speakers from the 1960s with modern power handling capacity.
Los Angeles, CA (November 23, 2020) -- Boss announces the Nextone Special, the new premier model in the Nextone guitar amplifier lineup. Fueled by Boss's acclaimed Tube Logic approach, the 1x12 Nextone Special combo delivers premium sound, feel, and tonal versatility for stage players who demand the best. Fusing forward-thinking innovation with boutique design features and detail, the Nextone Special offers a refined playing experience that stands alongside the finest tube amplifiers, enhanced with key modern advantages like variable power control, consistent sound, and maintenance-free operation.
The Nextone Special provides boutique-grade amplification realized through years of expertise, careful component selection, and detailed craftsmanship. Tube Logic reproduces the complex interactive behaviors of classic tube designs in every way, providing authentic sound and feel with punchy attack, natural compression, dynamic speaker response, and big onstage presence. The amp also features the debut of Boss's custom Waza B12W 12-inch speaker, which combines the sought-after tone of "blue bell" speakers from the 1960s with modern power handling capacity.
A key feature of the Nextone series is an innovative analog power amp design with EL84, EL34, 6V6, and 6L6 class AB circuits, which are instantly selectable from the panel. With the Nextone Special, Boss has further enhanced this design for a new level of user control and expression. Enhanced reactive drive circuitry refines the all-important power section/speaker interaction for even more inspiring feel. Onboard voicing con trols let players fine - tune the response for their personal style, and even deeper tweaks are available via the Nextone Editor software for Mac and Windows. And with the five-way power control, they can dial in "sweet spot" tube tone at a volume to match a ny playing situation.
With two independent, fully featured channels, the Nextone Special provides an uncommon range of sound shaping control. Players can choose between clean and lead voicings, select British or American tone stacks, and shape the power section with dedicated knobs. There's an Extra Headroom switch on the clean channel for maximum punch, plus the ability to set switchable solo levels for clean and lead sounds. And with onboard boost, delay, tremolo, and reverb effects, it's possible to tackle most gigs without any external pedals. Three Tone Setting memories are also available to save favorite channel setups for instant recall.
While everyone loves the sound and vibe of classic tube guitar amps, they're heavy, fragile, and require regular maintenance to keep them running at peak performance. Thanks to Tube Logic, the Nextone Special provides all the benefits of tube tone without the downsides. The weight is reduced over a typical tube combo, making transport, and set up easier. And with no tubes to worry about, players can enjoy consistent sound and ultra-reliable performance night after night.
The Nextone Special's rear panel is filled with connectivity for modern performance and music production. External control is supported via the GA-FC foot controller, standard Boss footswitches, and MIDI. There's also an effects loop, plus XLR and 1/4-inch line outputs for sending a direct feed to a PA, complete with three selectable mic'd cab IR voicings with Air Feel. A phones/recording output is available for silent practice and tracking sessions, along with USB for direct recording and communication with the Nextone Editor software.
The Nextone Special will be available in December 2020 for $899.99.
Starting today, Boss adds the BPC, BMIDIPB, and BCC cable series to the company's growing family of premium accessory products for musicians. Custom designed with top-quality materials, each series comes in a variety of lengths and delivers the great performance and lasting durability that Boss products are famous for.
Boss BPC cables help players fit more pedals into cramped setups. Equipped with custom right-angle plugs that offer a trimmed-down take on the classic pancake design, BPC cables allow for side-by-side connections on gear with tight jack spacing, such as Boss 200 and 500 series pedals and popular loop switching products. Engineered for premium tone, each cable features 24K gold-plated connectors, low-capacitance studio-grade cable, and oxygen-free copper wire. Available 4 in./10 cm (BPC-4), 8 in./20 cm (BPC-8), and 18 in./45 cm (BPC-18) lengths, plus a BPC-4 value three-pack (BPC-4-3).
Outfitted with unique multi-directional MIDI connectors, Boss BMIDI-PB cables optimize space on pedalboards when connecting 5-pin MIDI devices. A custom three-way design lets the user direct and lock each cable end as needed, either at 90-degrees or straight out like a traditional MIDI cable. The low-profile cable is both flexible and durable, with oxygen-free copper wire providing clean data transfer. BMIDI-PB cables are perfect partners for Boss 500 series pedals, ES-5 and ES-8 switching systems, and any device equipped with standard 5-pin MIDI I/O. Available in 1 ft./30 cm (BMIDI-PB1), 2 ft./60 cm (BMIDI-PB2), and 3 ft./1 m (BMIDI-PB3) lengths.
Rugged and reliable, Boss BCC cables are ideal for TRS stage connections between the GAFC Foot Controller and various Boss/Roland amps, including the Katana, Nextone, Acoustic Singer, and Blues Cube series. They're compatible with Boss's EV-30 expression pedal and FS footswitches, and can also be used as TRS audio cables for sound devices. Oxygen-free copper wire ensures precise signal transmission with maximum noise rejection, while 24K gold plating keeps the plugs corrosion-free. A heavy-duty woven outer jacket offers another layer of noise rejection and eliminates tangles over long runs. Available in 3 ft./1 m (BCC-3-TRA), 20 ft./6 m (BCC-20-TRA), and 30 ft./9 m (BCC-30-TRA) lengths.
The BOSS BPC range will be available for $9.99-$24.99 in November 2020.
The BOSS BMIDI range will be available for $14.99-$19.99 in November 2020.
The BOSS BCC range will be available for $14.99-$49.99 in November 2020.
For more information:
BOSS
For these new recreations, Fender focuses on the little things that make original golden-era Fenders objects of obsession.
If there's one thing players love more than new guitars, it's old guitars—the unique feel, the design idiosyncrasies, the quirks in finish that all came from the pre-CNC era of instrument manufacturing. These characteristics become the stuff of legend, passed on through the years via rumors and anecdotes in shops, forums, and community networks.
It's a little difficult to separate fact from fiction given these guitars aren't easy to get your hands on. Fender Telecasters manufactured in the 1950s and 1960s sell for upwards of $20,000. But old is about to become new again. Fender's American Vintage II series features 12 year-specific electric guitar and bass models from over two decades, spanning 1951 to 1977, that replicate most specs on their original counterparts, but are produced with modern technologies that ensure uniform build and feel.
Chronologically, the series begins and ends, fittingly, with the Telecaster—starting with the butterscotch blonde, blackguard 1951 Telecaster (built with an ash body, one-piece U-shaped maple neck, and 7.25" radius fretboard) and ending with the 1977 Telecaster Custom, which features a C-shaped neck, a CuNiFe magnet-based Wide Range humbucker in the neck position, and a single-coil at the bridge. The rest of the series spans the highlights of Fender's repertoire: the 1954 Precision Bass, 1957 Stratocaster in ash or alder, 1960 Precision Bass, 1961 Stratocaster, 1963 Telecaster, 1966 Jazz Bass, 1966 Jazzmaster, 1972 Tele Thinline, 1973 Strat, and 1975 Telecaster Deluxe. The 1951 Telecaster, 1957 Strat, 1961 Strat, and 1966 Jazz Bass will also be offered as left-handed models. Street prices run from $2,099 to $2,399.
Fender '72 American Vintage II Telecaster Thinline Demo | First Look
Spec'd To Please
Every guitar in the series sports the era's 7.25" radius fretboard, a mostly abandoned spec found on Custom Shop instruments—Mexico-made Vintera models, and Fender's Artist Series guitars like the Jimmy Page, Jason Isbell, and Albert Hammond Jr. models. Most modern Fenders feature a 9.5" radius, while radii on Gibsons reach upwards of 12". Videos experimenting with the 7.25" radius' playability pull in tens of thousands of viewers, suggesting both a modern fascination with and a lack of exposure to the radius among some younger and less experienced players.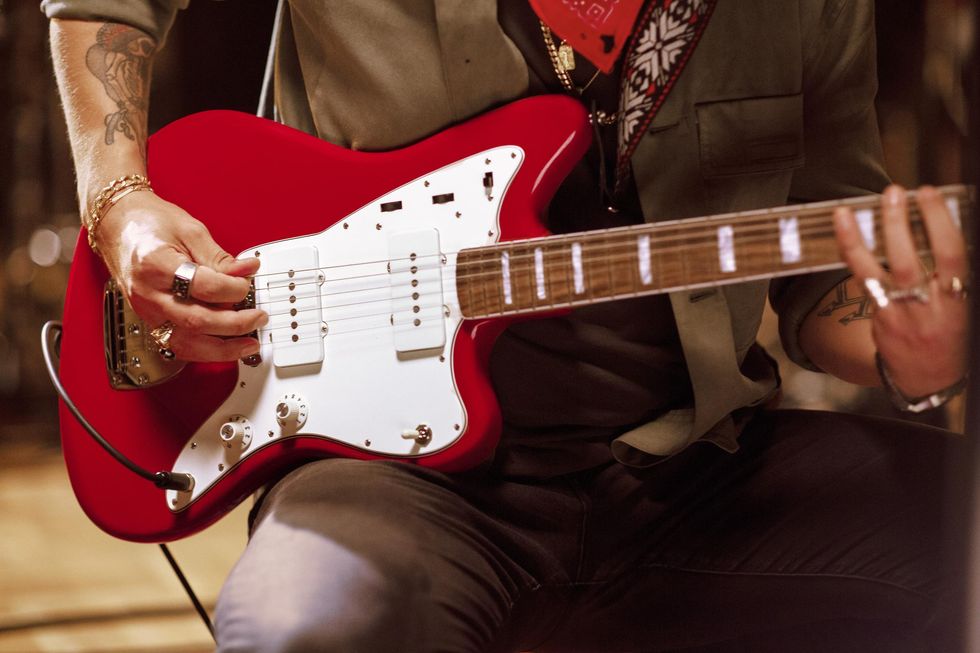 T.J. Osborne of the Brothers Osborne picks an American Vintage II 1966 Jazzmaster in Dakota red.
Bringing back the polarizing 7.25" radius across the entire series is a gamble, and it's been nearly five years since Fender released year-specific models. But Fender executive vice president Justin Norvell says that two years ago when the Fender brain trust was conceptualizing the American Vintage II line, they decided the time was right to "go back to the well."
"We've been doing the same [models], the same years, over and over again for 30 years," says Norvell. "We really wanted to change the line and expand it into some new things that we hadn't done before and pick some different years that we thought were cool."
"It takes a lot of doing to go back in time and sort of uncover the secret-sauce recipes."—Steve Thomas, Fender
To decide on which years to produce, Fender drew from what Norvell calls a "huge cauldron of information" from Custom Shop master builders to collectors with vintage models to former employees from the 1950s and 1960s. The hands-on manufacturing of Fender's golden years meant guitars produced within the same year would have marked differences in design and finish. So, the team had to procure multiple versions of the same year's guitar to decide which models to replicate. Norvell says some purists would advocate for the "cleanest, most down-the-middle kind of variant," while others would push for more esoteric and rare versions. Norvell says that ultimately, the team picked the models that they felt best represented "the throughline of history on our platforms."
Simple and agile, the Fender Precision Bass—here in its new American Vintage II '54 incarnation—earned its reputation in the hands of Bill Black, James Jamerson, Donald "Duck" Dunn, and other foundational players.
Norvell says the American Vintage II series was developed, in part, in response to calls to reproduce vintage guitars. Just like with classic cars, he says, people are passionate about year-specific guitars. Plus, American Vintage II fits perfectly with the pandemic-stoked yearning for bygone times. "For some people, these specific years are representative of experiences they had when they were first playing guitar, or a favorite artist that played guitars from these eras," says Norvell. "These are touchstones for those stories, and that makes them very desirable."
Cracking Codes
Fender's electric guitar research and design team, led by director Steve Thomas, dug through the company's archive of original drawings and designs—dating all the way back to Leo Fender's original shop in Fullerton, California. They found detailed notes, including some documenting body woods that changed mid-year on certain models. Halfway through 1956, for example, Stratocaster bodies switched from ash to alder. That meant the American Vintage II 1957 Stratocaster needed to be alder, too. That, in turn, meant ensuring enough alder was on hand to fulfill production needs.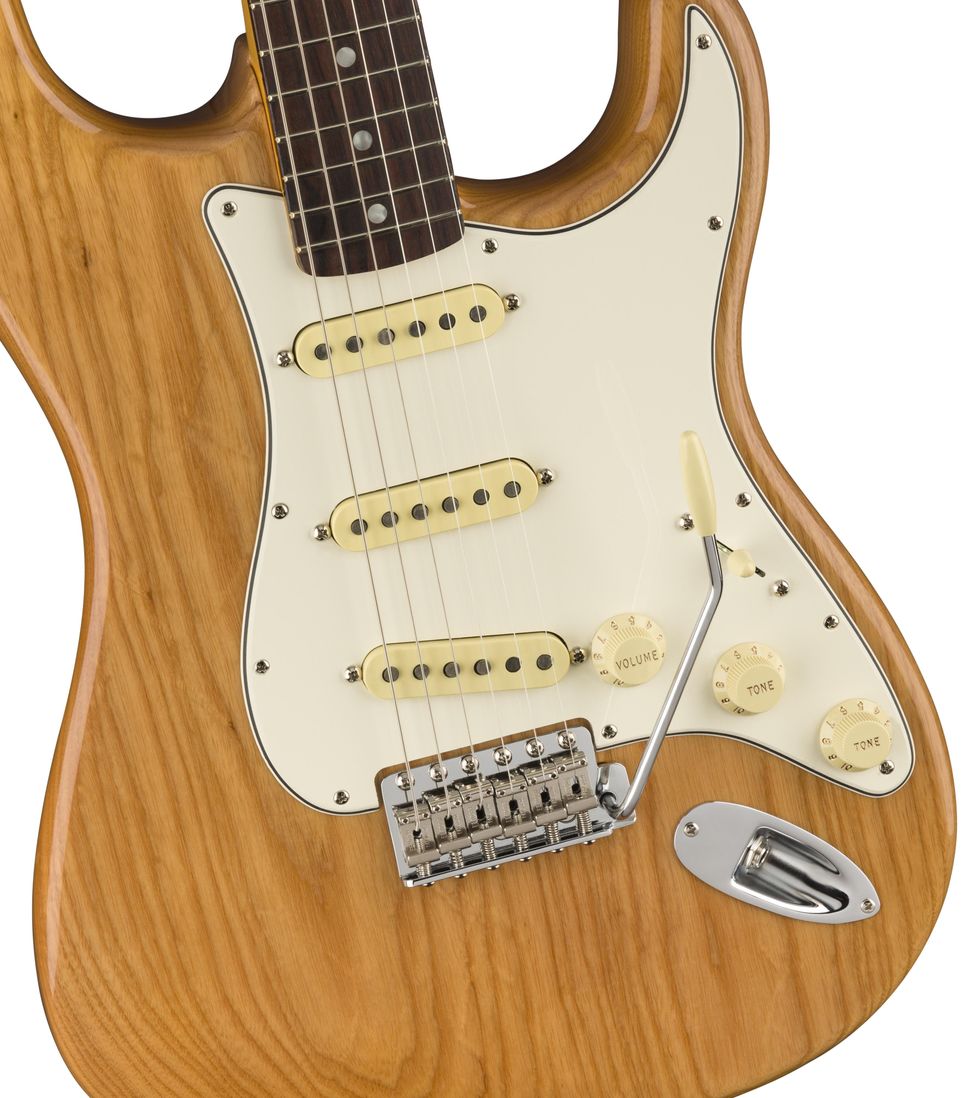 Among the series' Stratocaster recreations is this 1973-style instrument, with an ash body, maple C-profile neck, rosewood fretboard, and the company's Pure Vintage single-coils.
Thomas and his team discovered another piece of the production puzzle when researching how pickups for that same 1957 Strat were made. "We realized that if we incorporated a little bit more pinch control on the winders, we could more effectively mimic the way pickups would have been hand-wound in the '50s," says Thomas. "It takes a lot of doing to go back in time and sort of uncover the secret-sauce recipes."
Thomas proudly calls the guitars "some of the best instruments we've ever made here in the Fender plant," pointing to the level of detail put into design features, including more delicate lacquer finishes which take longer to cure and dry, and vintage-correct tweed cases for some guitars. New pickups were incorporated in the series, like a reworking of Seth Lover's famed CuNiFe Wide Range humbuckers, which were discontinued around 1981. Even more minute details, like the width of 12th fret dots and the material used for them, were labored over. Three different models in the line feature clay dot inlays at unique, year-specific spacings.
Ironically, modern CNC manufacturing now makes these design quirks consistent features in mass-produced instruments. While the hand-crafted guitars from the '50s and '60s varied a lot from instrument to instrument. "Everything needs to be located perfectly, and it wasn't necessarily back in the day," says Norvell. "Now, it can be."
Don't Look Back
With this new series so firmly planted in the rose-tinted past, Fender does run the risk of netting only vintage-obsessed players. But Norvell says the team, despite being sticklers for period-correct detail, sought to strike a balance between vintage specs, practicality, and playability. The 1957 Stratocaster, for example, has a 5-way switch rather than the original's 3-way switch. Norvell also asserts that the "ergonomic" old-school radius feels great when chording. "It might not be [right for] a shred machine, but it feels great and effortless."

The 1966 Jazz Bass is also represented, shown here in a left-handed version.
Norvell also pushes back on the notion that Fender is playing it safe by indulging nostalgia and leaning on their past successes. He says that while the vintage models are some of the most desirable on the market, the team "purposely did not stick to the safe bets," citing unusual year models like the 1954 P Bass and the 1973 Stratocaster.
There's a good reason why anything that hails back to "the good ol' days" hits home with every generation. We're constantly plagued by a belief that what came before is better than what we've got now. But with the American Vintage II series, Fender makes the case that guitars from the '50s, '60s, and '70s can very easily be a relevant part of the 2020s.
The Red Sea was born out of the vision to provide complex signal routing options available to the live/performing musician, that up until now, are only found in a studio mixing environment.
​Introducing the Red Sea, an all-analog signal routing matrix, designed for countless stereo and mono signal path routing options. The Red Sea was born out of the vision to provide complex signal routing options available to the live/performing musician, that up until now, are only found in a studio mixing environment. The Red Sea has accomplished this in a compact, easy-to-use, and cost-effective solution.
Wet | Dry | Wet
The Red Sea gives you the ability to run a FULL Stereo wet dry wet rig using only 2 amps or just 2 signals to the FOH, while also giving you complete control over your Wet & Dry mix! Use the Blend knob to control the overall mix between stereo wet effects and mono dry/drive signals.
Stereo Dual Amps
Run dual amp modelers if full stereo w/ stereo effects. Gone are the traditional ways of one amp in the Left channel and another in the Right channel. Now use the Red Sea to seamlessly blend between two separate amps in true stereo. Think of this as a 2-channel amp where you can blend anywhere between both amps.
Stereo Parallel FX
Red Sea has two independent stereo FX loops. Use each FX loop to run stereo delay's and reverb's in parallel, where each effect does not interact with each other. Huge soundscapes can be achieved with washy reverbs and articulate delay repeats while being able to blend between each FX loops mix level.
The Red Sea can also do the following routing options:
Wet | Dry utilizing a single amp
Clean Wet | Dry | Wet (drives DO NOT run into wet effects)
Wet | Dry | Wet with dual delays (one in the L channel & other in R channel)
Parallel Dual Amps (run dual amp modelers in FULL stereo)
Convert a tube amp's serial FX Loop to a parallel FX Loop
Stereo and Mono analog dry through (avoid latency in digital pedals)
Stardust V3 was designed to capture the sound and response of 3 distinct amplifier models.
Stardust V3 was designed to capture the sound and response of 3 distinct maxed-out amplifier models. An all-analog signal path with discrete gain stages featuring MOSFET transistors provides juicy overdrive tones with great note separation that clean up to that sparkly sound that we all love and heard in recordings of the past. Set gain and tone and control everything from your guitar. Sparkly clean to crunchy mean are all there.

You can select the amplifier voicing via the onboard toggle switch.
BSM: Voiced after a blackface amp head that was primarily targeted for bass guitar players but got famous for electric guitar classic rock tones.
VLX: Voiced after a chimey 2x10" combo offering the perfect amount of controllable crunch
DLX: Voiced after one of the most popular low wattage 1×12″ combo amps that have found their way in countless recording studios and clubs around the world.
​Stardust V3 now comes with top-mounted jacks and soft-click true bypass via a high-quality relay. The pedal has loads of output volume and enhanced headroom provided by 18V DC (boosted internally) so that it can also be used as a preamp going straight into your Power Amp or AudioInterface when combined with a separate speaker simulation device.
Street price: 199 Euro / 199 USD.
For more information, please visit crazytubecircuits.com.
The Sunn O))) Life Pedal circuit has been meticulously tweaked from the original and includes a third footswitch.
Sunn O))) present an enhanced version of the Sunn O))) Life Pedal Octave Distortion + Booster, in collaboration with their comrades at EarthQuaker Devices. The Sunn O))) Life Pedal circuit has been meticulously tweaked from the original to squeeze every last drop of heavy crushing tone available. The octave section has been fine tuned to make it more pronounced without losing the bottom end and we added a third footswitch, utilizing Flexi-Switch Technology, for the octave to allow an additional method of quick and radical tone shaping.

"Working on this new version has been a great continuity of this collaboration which feels so right, and sounds so right," says Stephen O'Malley. "It's a really beautiful pedal and it's also a beautiful art collaboration. I think we made something really interesting that people can enjoy to use for their own music, but also, it makes a lot of sense to release a piece of distortion as a release for our band. We're really happy that this is a trilogy now."

The Sunn O))) Life Pedal is designed to represent the core front end chain used in those sessions, to drive the tubes of the band's multiple vintage Sunn O))) Model T amplifiers (or take your fancy) into overload ecstasy. This is a 100w tube amp full stack's holy dream, or its apostate nightmare.
Tech Specs:
Sunn O))) Life Pedal is a distortion with a blendable analog octave up and a booster
Features 3 different clipping options: Symmetrical Silicon, Asymmetrical Silicon & LED, and pure OpAmp Drive
Distortion and booster can be used independently
Expression and footswitch control over analog octave up
Octave blend allows total control over how much Octave is mixed into the circuit
True bypass with silent relay based soft touch switches
Features EarthQuaker Devices' proprietary Flexi-Switch® Technology
Lifetime warranty
Current Draw: 15 mA
Octave Distortion: Input impedance: 1 MΩ / Output impedance: <1 kΩ
Booster: Input Impedance: 500 kΩ / Output Impedance: <1 kΩ
List Price: $299 USD
Sunn O))) Life Pedal Guitar Demo