Builder Profile: Veillette Guitars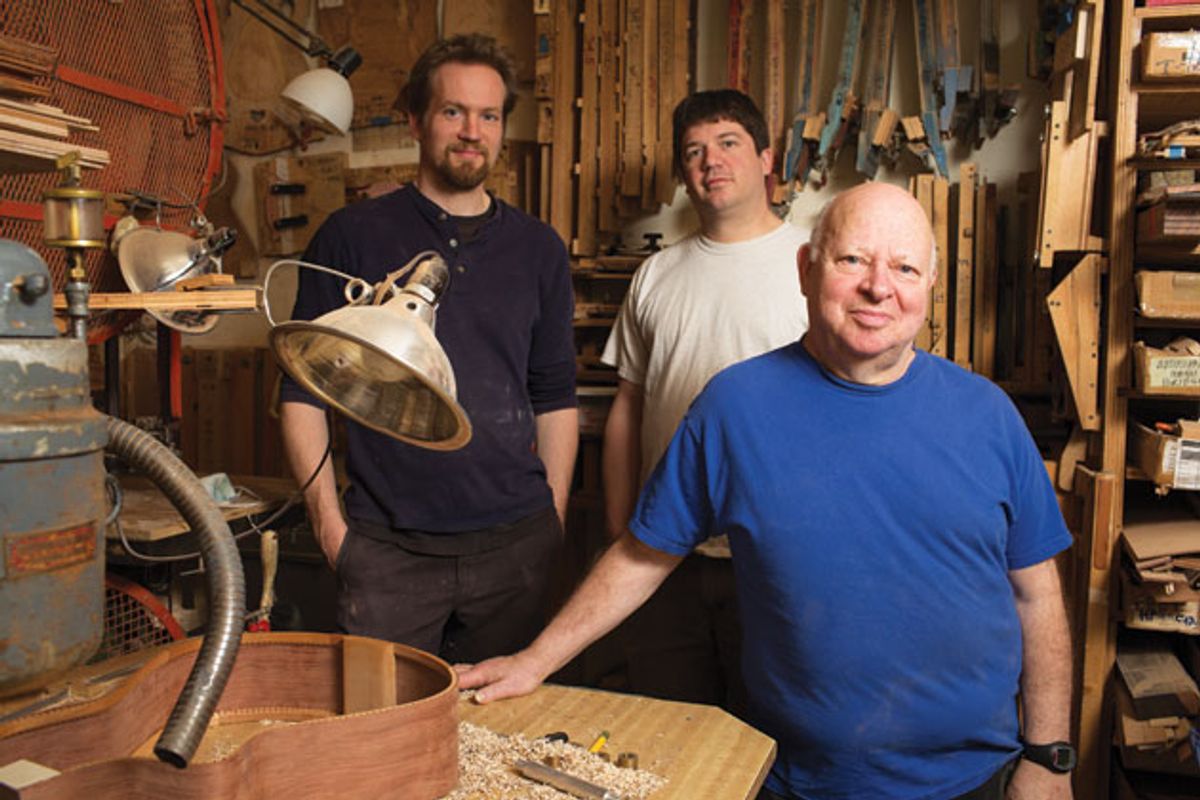 After a life-affirming medical scare, the Woodstock-based luthier refocused his business and is launching an international boutique line.
With so many beloved and acclaimed instruments to his name, Joe Veillette would never be accused of lacking ambition or vision. For almost 40 years, he has produced unique stringed instruments unlike anything else in the marketplace. Yet a recent medical scare inspired new focus and planning in the Veillette guitar shop in Woodstock, New York, and ultimately led to a new product line.
"I had a headache since NAMM in mid-January 2013," Veillette says, referring to the annual National Association of Music Merchants trade show. "By late March, the headache had been with me for three months and it never went away. I got a CAT scan and they rushed me up to Albany Medical Center and said I should've been dead with such a huge hematoma."
After having a drain in his skull for five days, Veillette was eventually released from the hospital and returned to his workshop with new vigor and foresight.
"It was a real wake-up call," he says.
A Man of Function
Joe Veillette (pronounced Vay-ette) was born in Brooklyn, New York, and grew up obsessed with radio. Jackie Wilson was a favorite, along with notable doo-wop and vocal groups like The Penguins and Dion and the Belmonts. An older sister took him to Alan Freed shows, expanding his musical horizons. Veillette sang constantly, but always solo in his room. A random comment about his inability to hold a tune damaged his performing confidence.
In college, Veillette was studying architecture when he received a Gibson J-45 as a gift. "It had a very narrow nut and a very large recess for the truss rod adjustor, which led to chronic breakage of the head piece," he recalls. "It happens to those old Gibsons all the time."
"Coming from an architectural and engineering background, I'm not going to do something because it looks good if it's going to make something less functional." —Joe Veillette

Just after he'd mastered five or six chords, the instrument took a tumble and the headstock broke. The budding guitarist lugged the Gibson to a number of repair shops in Brooklyn and was dismayed by what people proposed.
"I knew enough about engineering to realize that just gluing the thing back together was not going to do it. And then someone told me about a luthier class being given in Manhattan at the YWCA."
Luthier Michael Gurian, who had a shop in Greenwich Village and was beginning to receive praise for his classical instruments, led the class. Over several months, Veillette learned about classical guitar construction, all so he could acquire the knowledge necessary to repair his Gibson. At this point, Veillette had graduated from college and was working as an architectural designer on Park Avenue. Though Veillette described it as a "dream job" in terms of salary and unique opportunities, the work was unfulfilling. He folded up his blueprints and drawings and left after a year and a half.
Veillette says that he really loved guitar building because it gave him a musical outlet, even if he wasn't performing. "I just dove in and it was fun—it was kind of my way of making music, even though I thought I wasn't good enough."
Martin Keith works on a hollow form for a Flyer model in the Veillette Guitars workshop in Woodstock, New York. The treble side of the guitar is being held in place after being bent, the bass side will be added next, and then the end blocks. Photo by Michael Bloom.
His early instruments displayed a restraint and lack of adornment that continues to be a Veillette hallmark to this day. In fact, his second-ever instrument was constructed from a piece of spruce retrieved from Gurian's waste.
"I just wanted to get the techniques down and I figured I'd start doing the pretty stuff later," Veillette says. "But then I found I got such satisfaction out of hearing other people play the instruments that I wanted to make more of them and get better at making things that sound good. And if I wasn't spending time decorating a guitar, then I wouldn't have to charge as much and I could make more guitars and get better. That's my architectural background. I wanted to make tools for musicians. I wanted to make things that did something to help people express themselves. Using more expensive wood and a lot of mother-of-pearl or doing labor-intensive trim and decoration wasn't going to make any more music."
In 1976 that educational background came into play again when Veillette teamed up with another architect, Harvey Citron. Marketed under the name Veillette-Citron, their instruments were promoted by such high-profile musicians as Jorma Kaukonen of Hot Tuna, Jeff "Skunk" Baxter of Steely Dan, and Tina Weymouth of the Talking Heads.
After the Veillette-Citron partnership dissolved in the early 1980s (the pair remain very close friends and confidantes), Veillette switched focus to performing instead of building during a period of self-exile from the workshop. The same pursuit of challenging, fulfilling, enjoyable work that led him to abandon architecture also caused him to put down the planes and turn off the band saws.
"For eight years, I performed with my group the Phantoms, doing a lot of a cappella shows and a lot of band stuff," Veillette says. "We were voted best dance band in the Hudson Valley, we did a lot of gigs in the city, including Radio City Music Hall, and we did background vocals for a lot of people."

A sampling of Joe Veillette's designs (left to right): Flyer 12-string, Flyer 4-string bass, Swift standard-tuned 12-string electric, Baritone 12-string, Double-neck (Joe Veillette's personal favorite for gigging), and the Gryphon. Photos by Michael Bloom.
During his sojourn away from the workshop, Veillette only produced two instruments. One for Earl Slick and the other went to Joey DeMaio of Manowar, an association that might seem a bit odd at first glance. Known for their beefy loincloth look, sword and sorcery lyrical content, and holding the world record for the loudest performance, Manowar isn't the first group to come to mind when considering fine acoustic instruments. However, the Veillette and Manowar connection goes beyond simply building axes: The luthier actually sang backup for the band.
"When I was with Harvey Citron, we got a call from John 'Dawk' Stillwell, the mad genius tech for Manowar, and he ordered an 8-string bass for DeMaio. After Harvey and I broke up, they would come down and visit me sometimes, and they ended up buying two more 8-string basses from me. I became friendly with them and they're really sweet people."
When legendary producer and engineer Eddie Kramer was working with Manowar at Bearsville Studios, which was close to Woodstock, he suggested adding backup vocals to some tracks. DeMaio thought the local Veillette would be up to the task, even though pounding heavy metal wasn't his normal gig. As the session dragged on in the day, Veillette's daughter Jasmine was retrieved from school to join in.
"I got such satisfaction out of hearing other people play the instruments that I wanted to make more of them and get better at making things that sound good." —Joe Veillette

This would be far from Jasmine's only stint at recording. The little girl was also featured on XTC's "Dear God" on the 1986 album Skylarking. Her presence in Veillette's life was another force steering him to refocus his career once again. Veillette and Jasmine's mother divorced, which was a difficult personal challenge. On the professional side, the Phantoms were offered a Vegas residency that involved decent money, but Veillette balked at the idea of playing a repetitive string of monotonous gigs. At the same time, his daughter was growing and he didn't want to leave the upstate New York area he loved so much.
So he launched back into guitar building, first teaming up with Stuart Spector, known for his sought-after basses. After that partnership ran its course, Veillette started building some of his own guitars again. Journey's Neal Schon became a customer, then two instruments went to Eddie Van Halen, and the guys from Blondie came along.
"It started really getting easy," Veillette remembers.
Although today most Veillette instruments feature primarily natural finishes, those early models were all black. "Black spray from cans of Minwax," he says, laughing. "Black fretboards too. It was kind of a cool look."
More importantly he discovered a single-bolt neck system that he still uses on all his guitars. "Essentially from engineering, I know that the screws that are the furthest away from the bridge are doing all the work.
Luthier Joe Veillette, pictured here in his upstate New York workshop, started his professional career in architecture but has been building guitars for more than 40 years. Photo by Michael Bloom.
Not that I'm the only guy that ever made guitars who studied engineering, but if you have four wood screws in a Strat-style guitar, the front two are working at about 10 percent of what the back ones are, because those have the 'moment arm,' the distance from the fulcrum to the pressure. Those front two screws are really just for positioning. They are not holding anything together."
While acknowledging that some players need the psychological security of seeing so many bolts and screws attaching a neck to the body, Veillette argues that his single-bolt system is just as secure, yet it allows much more design flexibility.
A zero fret is another element Veillette began using early on that's frequently seen on his instruments today. Although he says zero frets got a bad rap when used by inexpensive guitars in the 1950s and '60s, the actual principle makes perfect sense: A zero fret reduces the importance of the nut, allowing greater experimentation and improvisation with string gauges.
"Some customers insist they don't want a zero fret," he says. "And that's okay. They don't like the way it looks. But coming from an architectural and engineering background, I'm not going to do something because it looks good if it's going to make something less functional."
Since solidly establishing his own brand and workshop after his series of short collaborations in the early 1990s, Veillette has long relied on the talents and efforts of Martin Keith and Ande Chase. In addition to working in Veillette's Woodstock shop, the two men are dedicated, serious musicians, and Veillette stresses the impact they've had in the instruments that go out to players all over the world.
The Wizard
Much of Veillette's work is dedicated to addressing somewhat unusual sonic palettes. For example, there is the Gryphon, a short-scale 12-string guitar that makes it possible to emulate mandolin, bouzouki, quatro, and other traditional folk instruments. Featuring unison courses, the Gryphon is designed for D tuning. Guitarist Kaki King describes Veillette's work as "engineering genius."
"What I love about Joe's philosophy is that he considers building to be a form of making music," King says. "Because he is not thinking about pretty inlays, he's not thinking 'How can I make this look weird?' He just wants the sound to be so good that, in a way, he is part of the process of writing a song. When you write a song with a Veillette guitar, you are writing it with Joe because that is his intention. And, I will say that for the songs I have written on that guitar, they really do seem to write themselves. So, maybe Joe kind of preprograms them."
King points to her tunes "Fences" and "Great Round Burn" off her 2012 record Glow as being particularly good introductions to the Veillette sound. His Gryphon guitars, along with his baritones, might very well be the best-known Veillette models.
"I've sold a ton of Gryphons," Veillette says. "I've sold probably 200 out of a shop that only makes five a month. Of course, it helps that Dave Matthews has eight of them."

Photos by Michael Bloom.
Colin Hay, a singer-songwriter who may be familiar to radio listeners as the voice of Men at Work, is also a Veillette customer. Today, Hay performs sensitive and fun acoustic shows to packed houses across the globe. He plays a Gryphon, along with Veillette Terz and Baritone models. The Terz is tuned to the player's choice of G or A, has a scale length of 22", and is shockingly loud for its small size.
"They are built beautifully and sound fantastic—especially useful for recording as they inhabit a frequency range not usually occupied by any other stringed instrument," Hay attests.
Wandering around Veillette's website can be bewildering, partly due to the staggering number of models the company offers. The guitars are handmade, often custom ordered, and incorporate a wide array of options. And then there's Veillette's combined passion for chasing unusual sounds and giving his creations whimsical names.
"When you write a song with a Veillette guitar, you are writing it with Joe because that is his intention." —Kaki King

The Gryphon is named after a mythical beast that is part lion and part eagle. There's the Merlin, a high-tuned 12-string—E to E, one octave above standard guitar—that session guitarist Tim Pierce originally described as a "mandolin killer." Then there's the Minotaur, a short-scale bass. However unusual the names, Veillette chuckles and says there is "no rhyme or reason" to his naming conventions.
Fine Tuning
Since his medical recovery, Joe Veillette has approached everything in life, including his work, with a greater sense of rhyme and reason. After his medical scare, he married his longtime partner, Kimberly Kay, in a ceremony officiated by Michael Gurian, the same luthier who taught Veillette his first guitar-building class in the '70s. On the business side, Veillette took a harsh stock of affairs, aided in large part by music industry attorney and veteran Ronald S. Bienstock.
"He said, 'Joe, it looks like you're doing great, but your company is worth nothing. You have no trademarks, you don't have an LLC. It's just some old machines and a bunch of wood."
Veillette builder Ande Chase uses a go-deck and fiberglass rods to clamp down braces to a guitar body so it can set overnight. Photo by Michael Bloom.
Looking to the future, Veillette began putting into place the pieces to help solidify his legacy. Perhaps most notably, he also began to explore offshore expansion leading to the launch of his Avante line, manufactured in Korea. Based on his popular Gryphon model, the Avante instruments are exclusively licensed to adhere to Veillette's exacting standards. They feature spruce tops, mahogany back and sides, a mahogany neck, rosewood fretboard and bridge, a piezo transducer and an active preamp. They have an 18.5" scale and are 32.5" long overall.
As someone who's always focused on making precise tools for working musicians, Veillette was attracted to international building because of the lower prices he could offer when compared to what comes out of his three-man, entirely handtooled shop in Woodstock.
"It's hard selling guitars at four or five grand for basic ones," he says. "If someone sees Dave Matthews or Kaki King playing a guitar, it's tough to tell them that they're going to have to spend $4,500."
The new Avante Gryphon's are expected to retail in the $1,500 range, which Veillette acknowledges isn't cheap but is certainly accessible to more people. And these more affordable instruments will retain the unique characteristics and qualities of his handmade models.
"These guitars are really, really good. They're not one-third as good. They're probably 80 or 90 percent."
Joe Veillette retains the inquisitive nature and determination to pursue his passions that led him to walk away from architecture so many years ago. The business end of his operation may be more solidified these days, but don't expect him to quote sales projections or quantitative analysis any time soon. Content, but not satisfied, he plans to enjoy his work.
"I've been making guitars since 1972 when I quit my job and I really enjoy it," he says. "I love playing music and I love building guitars. I love the process of coming up with stuff that works and finding the way—that one little detail. I'm at a spot now where I'm really happy with my life. I can't tell you there is any place I'm trying to get anymore. It seems like things are really coming together."